EAST RUTHERFORD, NJ - Many players in the NFL have superstitions or rituals they adhere to before every game. They might put on their uniform in the exact same order, recite a prayer or hold what they believe is a good luck charm.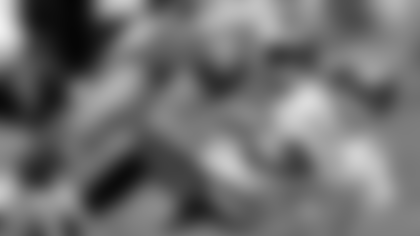 Giants defensive end Dave Tollefson is adamant about sticking to his pregame routine. The most important component to it is that his mother, Debi Crocker, absolutely, positively has to be the last person he talks to before leaving the locker room for warmups. Since he began playing at Los Medanos Community College and on through his careers at Northwest Missouri State, NFL Europe and the NFL, Tollefson has called his mom from the locker room prior to warmups, home or away.
When Tollefson and his Giants teammates play the Vikings in Minnesota on Sunday to wrap up the 2009 season, his mother will be the last person he speaks with before taking the field.
But this is no ordinary phone call between mother and son. As Crocker said in a phone conversation this week, "I'm not one of those prissy moms." That might be the season's biggest understatement. The language she uses in these pregame calls is, shall we say, salty. And that's putting it mildly.
"I have to call her before every game," said Tollefson, a third-year pro who has 18 tackles, including a sack, and eight special teams tackles this season. "She is the last person I talk to. Sometimes I call my wife and if my wife doesn't answer, I don't call her back, but I have to call my mom."
Debi's message to her son cannot be repeated verbatim here, as this is a family-friendly website.
"I will make it so it is rated G for you," Crocker said. "Don't be a wussy out there, Dave. You better kick some butt. You have to play tough, this is tough. This is football, David, you have to be tough."
Tollefson can't imagine trying to play without first talking to Crocker.
"As weird as it sounds, it's really inspirational," Tollefson said. "Women aren't supposed to do that and for my mom to really not care what other people think about her, and to say that to get me fired up, really means a lot. My mom is invested in me as I am in her. I made it to where I am because of her. She broke her back so I can be where I am, so it's important for me to make sure she knows she is included in this. Without this, we wouldn't have what we have now."
The phone call is not as private as it used to be. The Giants' equipment staff has been known to put it on speaker phone and Tollefson's fellow defensive linemen are also inspired by it. Even owner John Mara heard it when he was in the locker room prior to the Dec. 21 Monday night game in Washington.
"(Tollefson) was looking for a quiet place and we were set up in a little room, I don't remember what city it was," said Giants equipment/locker room manager Ed Wagner. "He came in there and made the call and we all got a kick out of it. So every game after that he came looking for us to see where we were set up, or called us over while he did it. I think we won that game and he had a good game. It's quite entertaining."
"It's an eye-opener," defensive end Justin Tuck said. "It isn't the normal pep talk you think you'd get from your mom. When he first told me about it I said, 'Yeah, right.' Then he called me in and she started going on her rant and I was, 'Oh, wow.' It's hilarious. She's cursing at him, telling him not to be a punk. She's saying, 'You better go out there and hit somebody. I didn't raise you to...basically be submissive.' That's the nice version of it."
Tollefson doesn't mind the audience, nor does he need it.
"I think they understand that for me it's not a show," he said. "It's not like, 'Let's get everybody around and hear Mrs. Tollefson.' It's more like that is my thing. I would do it with nobody listening, that is the bond me and my mother share."
Tollefson and his mom have always been very close. His father, whom he has never met (though he kept his last name), abandoned the family when Crocker was pregnant with Dave and his twin sister, Aimee (he also has a younger half-brother).
The family, which lived in Concord, Calif., near Oakland, struggled financially when Crocker managed a beauty salon and when she moved to her current job as a teacher of developmentally disabled high school students. But Crocker took her roles as both mother and father very seriously.
"I am a momma's boy," Tollefson said. "Without question, you can ask my wife, you can ask anybody. I have always been a momma's boy. I am not a typical momma's boy, though. If you know my mom, it's a little different. She is real protective, and if you didn't get stuff done, she wasn't beyond letting you know. She understood the circumstances that we were in and she knew that I was going to be missing that in my life. It wasn't like she beat me or anything like that, but she definitely mentally let know the things it means to be a man."
To Crocker, that included playing athletics and attending sporting events. When Tollefson was young, she estimates they attended six or seven football games a weekend between youth leagues, high school and the local junior college.
"I really loved football," Crocker said. "Living in the East Bay, our team was the Raiders, which was a pretty rough and tumble team. So that is the kind of football we like."
Tollefson began playing football as soon as he reached the minimum age to suit up in organized leagues.
"The youth team he played with was the Concord Cobras," Crocker said. "The rest of the league used to joke that we went and pulled our kids from juvenile hall to make our team. So they were pretty tough kids, but I never was concerned about David getting into trouble or getting involved in any of that kind of stuff. But that was the environment he had to survive in. I wanted to make sure that he did it."
If Tollefson had a game or practice, Crocker was almost always there. But she didn't sit quietly in the stands like most mothers. More often than not, her voice could be heard above all others. And she urged her son to be as tough as he could at all times.
"She was nuts, man," Tollefson said. "I've got a funny story. One time in pee-wee football - I must have been in sixth or seventh grade - I came wobbling of the field and my coach, who I am still really good friends with, is freaking out. He yells, 'Mrs. Tollefson, get down here, it's your son.' She comes down and says, 'What's wrong?' He said, 'I think Dave's injured.' She was like, 'If it ain't bleeding or a bone's not sticking out, put some tape on it and send him back into the game.' My mom always said, 'If a bone ain't sticking out or you are not bleeding to death, I don't want to hear about it.'"
Crocker said, "I kind of believe that God made dirt and dirt won't hurt and unless you are profusely bleeding or have a bone protruding, we are not going to the doctor."
Tollefson's mom was just as involved when he moved on Ygnacio High School.
"She was always the team mom, was always really close to me or my brother while we were playing," Tollefson said. "She was always a presence in high school, especially. Everybody knew my mom. One time I took her car to practice and I wasn't supposed to and you better believe she showed up to practice and she got her car keys back. It was known you don't mess around with Mrs. Tollefson. She is not too much of a woman not to whoop your (butt)."
Crocker delivered her pep talks in person when Tollefson was in high school. When he was moved on to junior college, she could attend only home games.
"She couldn't make it to away games, they were really far away," Tollefson said. "So I started calling her and we would have the talk and she would let me know to get ready to go. Then … I walked on at Northwest and had to call her before every game. Even if she came I would still call her, because I didn't get to talk to her like I did in high school since she wasn't on the sidelines. When I went to NFL Europe it was a real pain, because I would have to call her on my computer through Skype (video chat)."
"There are obviously no team moms in junior college," Crocker said. "I wouldn't be out there all the time. I would talk to him before the game. It's a ritual talk, it's not really a conversation. When he went to Northwest Missouri State I could only make one or two games a season and they didn't have them on T.V. I had to listen to them over the internet, so he would always call me before the game. Now I have to be the last person he talks to before he leaves the locker room."
The logistics have been problematical at times, such as when Northwest Missouri played archrival Pittsburg State in Arrowhead Stadium.
"It's a huge rivalry that has gone on for 1,000 years," Crocker said. "A friend of ours was getting married that week in Las Vegas. So we made arrangements with the hotel and they assured us I could bring my laptop and they had Wi-Fi. When we got there, their Wi-Fi wasn't working. Because I own an Apple I said, 'Let's call the Apple store and see what they can do.' They said, 'Come on down to our store, you can take one of our demos and we'll let you sit there off in the corner and listen to the game.' So I was in the middle of an Apple store in Las Vegas when I got the phone call. There have been different times that we have been out in public. It's embarrassing a little bit."
But when a pregame ritual is that important to a mother and her son, not even a little humiliation can change it.
"We're just not quite as loud," Crocker said. "I kind of hid in the corner, but you have to keep the same intensity, you can't let him know that there are people standing around. It was pretty funny; my mom and dad heard it. They were about 80 and they didn't know I knew those words. I had to say sorry afterwards. But you can't change the routine. They understand."
Tollefson was signed by the Giants off the Raiders' practice squad on Oct. 2, 2007. He played in six regular season games and all four postseason games and helped the Giants win Super Bowl XLII. It was in Arizona before the Super Bowl when Tollefson and Crocker almost missed their connection for the first time.
"It was a fiasco," Tollefson said. "It was like one of those deals where everybody is using their cell phone in that area, so you can't get through to people. I finally got through to my wife (Megan) and she was able to get a hold of my mom. She was in the stands when she talked to me. I got a hold of her and we won the Super Bowl. I don't know if it had anything to do with my mom cussing me out or not."
Not surprisingly, Crocker has become a fervent Giants fan. She has her own pregame routine, which includes putting on her lucky shirt, pants, socks and underwear that she wears for every game. "I've got the earrings, too," she said. "Everything has to be the same."
In the previous two years she came to New Jersey for a couple of games, but Aimee gave birth to her granddaughter in October, which precluded a 2009 trip.
"That was really bad planning on her part," Crocker said. "No more babies during football season."
But even a beautiful newborn can't alter the Tollefson's pregame talk with his mother.
"It would never happen," he said. "My mom clears her schedule. She says, 'This is when Dave is going to call me.' She usually doesn't even have her cell phone on in the house. But on Sunday it's on and I am going to call her and she is going to answer and we are going to talk."
*The Giants went through their final practice session of the 2009 season today. The team will have meetings Saturday morning before its trip to Minnesota.
In addition to running back Brandon Jacobs (knee) and defensive back Aaron Ross (hamstring), both of whom were placed on injured reserve this week, defensive tackle Chris Canty, tackle Kareem McKenzie and cornerback Corey Webster have all been declared out for Sunday with their MCL sprains.
Running back Ahmad Bradshaw (ankles/foot), wide receiver Mario Manningham (shoulder), defensive end Justin Tuck (knee) and guard Rich Seubert (knee) are all questionable. After sitting out yesterday's practice, Tuck returned to work today on a limited basis. Seubert, who missed last week's game against Carolina after injuring his knee two weeks ago at Washington, has been limited all week. Bradshaw, who typically works on a limited basis on Fridays, did not work today and has not practiced this week. Manningham (shoulder) did go through a full practice today after not practicing on Wednesday and only working on a limited basis yesterday.
Eli Manning (foot), wide receiver Hakeem Nicks (hamstring) and defensive tackle Fred Robbins (lower leg) are all probable and all practiced fully today.
If you'd like to submit a question or comment to Michael, click here.