EAST RUTHERFORD, NJ - The 2011 NFL Draft is more than three months away, but the Giants are well into the process of gathering as much information as possible on draft-eligible players.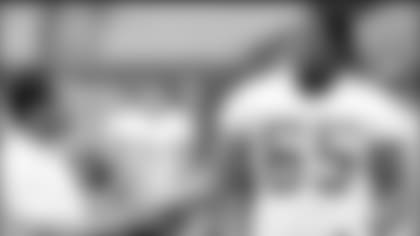 Last week, Director of College Scouting Marc Ross and the team's scouts were in Orlando for the practices leading up the East-West Shrine Game. This week, they're in Mobile, Alabama for the workouts prior to Saturday's Senior Bowl.
Ross and his staff spend the season visiting schools, attending games and practices and watching endless hours of tape, so they have formed their initial impressions of hundreds of players prior the postseason all-star games. In addition to the two games listed previously, scouts can eyeball players at the Cactus Bowl (a Division II all-star game), the NFLPA Game (named after its primary sponsor; it was formerly called the Texas vs. the Nation Game) and Eastham Energy Game. The postseason games offer NFL teams an opportunity to more closely scrutinize players and to validate or change opinions that were formed in the fall.
"It's a piece of the puzzle," Ross said before leaving for Alabama. "We like to have a nice base, a nice foundation going through the fall and this just helps us massage and put it all together. You like a guy to be consistent throughout the whole process. Those are the ones you like – plays well on tape, great personal evaluation, went to the all-star game and played well, was good at his workout, interviewed well, was drafted. Those are all plusses that you like to go across. But some guys are up and down throughout the process and that's when you have to come up with a grade that includes all of his strengths and weaknesses. You ask yourself, 'What is this guy? What positives outweigh the negatives?'
"A lot of the guys at the East-West I've seen throughout the year, so those guys you just want to check up on, check their progress. Some guys I hadn't seen at all, hadn't had a chance to either see in a game, see at practice, or see tape on, so that's my first exposure to those guys. I focused on the ones that our scouts have higher graded, guys that I needed to see."
The Giants' scouts are each responsible for an area of the country and visit dozens of schools throughout the season. At the all-star games, Ross assigns each scout a position to monitor and study during the week.
"They can cross-check guys to see how they stack up and how they compare throughout the country," Ross said.
Last week in Orlando, and again at the Senior Bowl, Ross and the scouts will scrutinize the players with the thoroughness and intensity of a detective trying to solve a murder or a doctor helping a sick patient.
"You get it all in practice," Ross said. "Three good days of practice where they're going at a team, one-on-ones, nine-on-seven, seven-on-seven - you get to see everything you need to see in a more controlled environment. You get a feel for their intensity, the way they compete. Some guys you see their personalities come out, some guys are talkers, some guys are quiet, so you can see some leadership qualities come out in that kind of setting. You have guys from many different schools and you see who is going to step up and lead. You can see the way they take instruction, take coaching, how attentive they are. You're right there on top of them so you can see it all."
Ross and the scouts, like many personnel experts, depart the game site well before kickoff.
"At that point you should pretty much know what the guy is or isn't," Ross said. And it's much easier to watch 40 guys on tape than it is sitting there. During the year, if you're only watching one or two guys (at a game), you can focus on them. But at an all-star game to try to get a lot from that situation…some teams have a guy stay and that's good, but I just don't see the benefit of doing it, because you should know them already from the week and then the tape is going to reveal more than just sitting there."
Despite the time and effort spent studying the players prior to the postseason games, Ross said it is fairly common for the scouts' opinion of a prospect to change during the week of practice.
"It goes both ways - when you like a guy during the year and he doesn't have a good showing that week or a guy you don't really like and then he has a good showing," Ross said. "The best way is if you put the whole picture together during the year – all-star game, (scouting) combine, workouts – and piece it all together and see what happens.
"The people that benefit the most from all-star games are small school guys. There are some talented guys who you really like, but because of the level of competition that they play against every week they just dominate. So then they come to an all-star game and you see how they do against a better level of competition. Some guys make the jump and excel and some guys struggle, so those are the ones that you really want to see in that kind of setting. Last week there were kids from Lehigh, the Citadel, Missouri State."
Wide receiver Ramses Barden was a small school prospect who impressed the Giants throughout the postseason two years ago. Barden was a third-round draft choice in 2009. After catching only one pass as a rookie, he was beginning to get more playing time and had three receptions vs. Dallas on Nov. 14 when he when he suffered a season-ending ankle injury in the second quarter.
"Ramses is a good case," Ross said. "A small school guy, played at Cal Poly, dominated at that level, really was a man among boys there – bigger, faster, stronger than everybody else – goes to the Senior Bowl with a new offense, coaching he's never had, going up against guys he hasn't played against in a game before, the first day or two you could see that he was feeling his way out. But you could see him getting better each day and stepping up to that level and then by the end of the week, game time he was pretty good. So that's what you like to see, especially from a small school guy. Does he shrink or does he step up? Ramses stepped up."
A large and very important segment of eligible players Ross and the scouts won't see at the all-star games are the underclassmen that make themselves eligible for the NFL Draft. This year, a record 56 non-seniors have elected to go pro, three more than last year. Although they can attend the combine next month in Indianapolis, they are not permitted to play in the postseason games.
Although he and the scouts cannot evaluate the players at all-star practices, Ross believes the Giants have a thorough knowledge of the juniors in the draft.
"Our guys do a good job," Ross said. "You can't look at juniors until they declare, but our guys do a good job of knowing their area and knowing the players that are likely going to come out. Some schools will give you indications that they're going to do it. Our guys do a good job, so that when the list came out the other day it's not a mad scramble, they're already pretty much set with their report.
"(Because they don't go to the postseason games) that's when you really have to pay attention, so that when you're in the school you can get a look at them in practice. You actually end up spending more time on those guys, because there is a shorter time period where you can evaluate them. So we try to hit the workout, bring the guys in for visits, interview them at the combine – the ones we're interested in."
Much studying and evaluation will remain after the Senior Bowl. On Feb. 11, general manager Jerry Reese, Ross and the scouts will be at the Timex Performance Center to begin the first round of draft meetings. After they conclude, the group will travel to Indianapolis for the combine, which will take place from Feb. 23-March 1. For several years, an increasing number of players reported to Indianapolis just to be weighed and measured, though Ross said that occurs less frequently now.
"They do now that the NFL Network is broadcasting it," Ross said. "There was a period there where less and less guys were participating, especially the top guys. Nobody was doing it and then the NFL Network got involved and started putting it on there and guys started coming back and working out. Actually, most of them work out now."
Like most NFL personnel experts, Ross considers the combine a vital component in the pre-draft evaluation process.
"We get the (accurate heights and weights), we interview them and it's huge for our medical staff," Ross said. "You get all that stuff together and again, see who competes, even just in drills. You get to see the hands, the movement skills. With quarterbacks you get to see the arm strength."
Following the combine, all major schools stage pro days, where the college's prospects perform a variety of drills in front of a large contingent of scouts.
"I like the pro days to see the players in their own environment, to see how other people gravitate toward them or not gravitate and how they react," Ross said. "It's good to see that because you can learn a lot. When I was in Philadelphia, we drafted Derrick Burgess in the third round. At his pro day (at the University of Mississippi), everybody loved the guy and supported him and everything he did. You could just tell he had that innate leadership ability or something about him that all the other kids and the coaches just wanted him to do well."
In the weeks prior to the April draft, the scouts, coaches and Reese hold another series of meetings to discuss hundreds of players and assign them each grade. Ross knows he can't eyeball everyone, but he is more comfortable selecting players he's seen in person.
"I trust our staff wholeheartedly, but when I'm up there on that board talking about guys, I want to be able to talk about them from me laying eyes on them, me being at the school, me seeing them in the game, not just off of reading what our scouts have done," Ross said. "Some teams don't do it that way, but for my peace of mind, it's what my job is. There's nothing else for me to do but to know all those guys and know as many of them as possible."
He'll get to know a lot more of them this week at the Senior Bowl in Mobile.