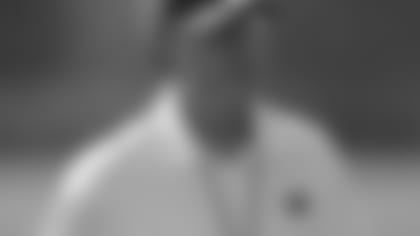 No, I don't have any comment about next year. I do know about the mattresses, and they are ours. So, what do you want me to answer now?Q: How is your bed?
A: I don't know. My rear end is bothering me, but it's not from that.
Q: Do you know what day Hakeem can first practice?
A: Monday, I think they're going to let him go. You have to go through the acclimation period.
Q: Is Shaun Rogers injury season-ending?
A: Yes. Unfortunately, it is. It's very sad, because you don't know the real story. He lost 50 pounds. He went from the high 380s to 334 to check in at. He was really excited about being a part of this team. He got along really well with our defensive linemen. He actually asked to go play some more snaps the other night, which I thought was really neat. It's just a shame. I hate to see…obviously, it's your health first, and there isn't any question about that. The only way I guess they can control these things are with these drugs, these blood-thinning drugs. Once you do that, obviously you're done. I mean, you can't take a chance on some kind of bleeding that is undetected. So, it's just a sad thing.
DT CHRIS CANTY
Q: I guess you've heard about the injuries at your spot with Rogers, Parker and Austin. What's your sense of what the defensive tackle spot is like right now?
A: We've had a couple of guys dealing with some medical issues. When one guy goes down, somebody's there to step up, and we have confidence in those guys that they can get the job done.
Q: Obviously, a lot of this concern would be lessened if you were healthy. What's the timetable for your return?
A: Obviously, I would like to be out there with my teammates. When Coach Coughlin feels like that's appropriate, and the medical staff feels like that's appropriate, that's what we'll do. Until then, my hands are kind of tied. The guys who we have in that position, we have confidence that they can step up and they can make big plays. They've done it in the past, and we have confidence that they can continue to do that.
Q: You said you're getting better? How do you measure that?
A: I'm definitely getting better, just with the level of activity. What we're able to do, my general feelings about it, dealing with pain, things like that. So, it's continuing to progress. We knew this was going to be a long process. Obviously, I didn't think it was going to be this long, but I think we're being smart about it, taking the right approach. It's important for me to do everything that I can do physically to make sure that when I do get the clearance to step out there on the field, I'm ready to go.
READ MORE >>
DT LINVAL JOSEPH
Q: Last year it was cornerback?…
A: Corners, linebackers, D-lineman.
Q: The year before that were wide receivers?
A: It happens every year.
Q: Do you think it's concentrated now on us?
A: No, I can't say that. It's their opportunity to step up and show what they have and we just have to make the best of our situation.
Q: Do you also think hey it's August?
A: I can't even think like that. It's one day at a time. Hopefully, we'll get one guy back or whatever how it goes.
](http://www.giants.com/news-and-blogs/article-1/DT-Linval-Joseph-/7452363a-3017-407e-b4c5-c74aeaf0629f)
DT MARKUS KUHN
**Q: Do you feel like you're ready to take on a larger role if your needed to?
A: Absolutely. Whatever the coaches ask me to do, I try to do to the best of my ability. I'm working hard every day and I know I have to improve on a lot of things. The only thing I can do is work on them every day and hopefully, I get better and everything works out.
Q: What's the mood among the defensive line now? You guys lost a lot of people; Canty's still out, Martin's obviously gone and Marvin's down getting his back looked at?
A: Our coach said it's a game and you never know, it could be over any day, so you've got to make the best of your opportunities. You have to go day by day and work hard every day because you never know when it could be your last. I guess for the younger guys, they have to step up and take more snaps in practice and we'll have to go and see what happens.
Q: You never know when it can be your last, but you also never know when it can be your first.
A: Exactly.
READ MORE >>
DT ROCKY BERNARD
Q: Is there a cause for concern with the injuries?
A: No, I just think we need to pick up each other's slack. I'm pretty sure they'll bring in some other guys.
Q: How are you doing?
A: Good. I'm doing alright.
Q: Little problem last week with the knee?
A: Yeah, I'm alright.