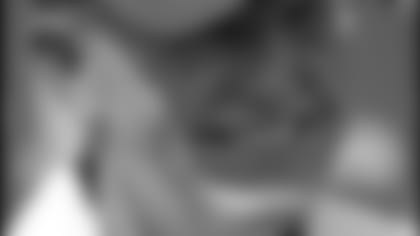 A: Good afternoon, nice to see everybody at the start of camp. Probably the last time I'll say that.
Q:  Tom, what's the message you want to impart to these guys?
A: Well, the message is one of improvement. It's one of taking full advantage of setting the bar, and what we were able to do in the last six games of the year, and analyzing the previous 14 to the last six, and saying to ourselves, 'Which team are we here?' The quality in which we played. The things that I've mentioned the whole offseason, 14 points a game, 1 turnover, big special teams plays. Those have really established the team we can be. An awful lot of emphasis is on improvement. We certainly want to continue with 'All In,' and 'Finish,' but we'd also like to come out of the starting gate and sustain, and then we'd like to finish. We would like to establish the kind of consistency that we think we're capable of playing with. Those are all of the challenges that we gave them in this very first meeting we just had.
Q:  How does all that fit on the back of a T-shirt?
A: You don't see any t-shirts, do you? The message is a little lengthy for that.
Q:  You've got some older guys that have been through this with the Super Bowl team before. How much are you counting on them to sort of spread that message from the top?
A: Well, I'm counting on them. The leadership factor in the locker room is key. I'm counting on these guys not only to show that way, but also to take some of these young people under their wing and point them in the right direction as well. I think that from our very first meeting, people are going to be able to put behind us what has been accomplished. Obviously, we were very proud of that, but the great thing about the mountain is that everybody starts the climb again right at this particular time. I think that the quality of the people that we have in the locker room, and the veteran aspect of it, who have been through it; the message is well implanted, and I think they'll carry it through.
Q: Joe Martinek is a guy who has a big following in New Jersey for obvious reasons. What are your thoughts on him?
A: He just got here. He just ran. He ran pretty well. His weight is down a little bit. I'm hoping I see that in terms of the way he runs and his speed. We're anxious to see him once we get started.
Q: What do you think about the fact that you have 15 practices?
A: Well that certainly is a different approach. We did that last year and we had a few other things to contend with last year: hurricanes, tornadoes and that kind of thing in preseason. We were able to overcome all of that and have a pretty good start. I think the thing we're trying to emphasize with our team is that you notice how the CBA states some of this stuff, they call it two practices. It isn't two practices. But I think the emphasis comes from the jog through, the walk through aspect of it. And that really has to take the place of a practice for every team. So those have to be sharpened. The focus, the concentration, the pressure they put on themselves to perform in the classroom and then in the jog throughs. It's not like it was when we had separates within practice or jog throughs before two practices where guys can kind of put themselves in a 'going through the motion' mode. That's not the case here anymore. You have to take full advantage of everything you possibly can. One of those being a jog through, which is in the place of a walk through, which is in the place of a practice.
Q: Some of the things you were talking about: improvement, which team are we… sustain, all those things. Guys like Eli have been saying those things since the spring. Do you get the sense that they do grasp that message already and won't need a lot of prodding in that regard?
A: Well, I hope so. I mean, obviously, I feel they realize. They've said as much. They've all said as much. The fact that we did so well in the final six games. The fact we played so well in the fourth quarter. The fact we did so many good things on defense in the playoffs. But when you pull out, as we do, the worst to best each year, and you look at the top, the real list of what we didn't do well, that's what we have to impress on our team in terms of what has got to be improved upon. Because the comparison between the last six and the first 14, you kind of just shake your head.
Q: Is there anybody who will start the season on PUP or be limited?
A: There's four that will be on PUP. There's Canty, Beckum, Hakeem Nicks will start on the PUP as well, and Sintum.
Q:  How's Beatty doing….
A: He's going to be limited. But he'll be able to go. We didn't run him. We're going to have to be careful with him, no doubt. But he can medically start practice.
Q: You have to be careful because of his back?
A: Yeah.
Q:  You said, "Which team are we?" Do you have a handle on which team you are?
A: I think so. I'm hoping that we're a good team that finished.
Q:  You had a breakout year last year for Victor Cruz, any players on the roster this year that we don't know about that we might want to keep an eye out for?
A: We'll see. We'll see. We'll have to wait and see on that one.
Q:  Is Hakeem Nicks still on track for mid-August? Were there any setbacks with him?
A: There are no setbacks, but he just started running. He just started running in the wading pool. He's got all of that to go through before he can get out there. He's been on the elliptical, so he can do some things like catching the ball, but he's not going to be able to run.
Q:  How about Canty? That's his knee, right? He was convinced all off-season that he was going to be ready for this.
A: It's going to take a little while.
Q:  How much did you allow yourself to enjoy the off-season? Getting the award from the Army down in D.C., throwing out the first pitch at the Yankees game, and other things of that nature?
A: Well, I tried; I thought I had my fastball. I threw the split-finger in there and it drifted a little bit on me. I was really upset about that. One of my grandkids behind me corrected me on that. So we enjoyed those things, but it doesn't change the fact that now is the time to start over. We've put all of the time and effort into our preparation before we came up here. We're just excited about getting going.
Q: At this point in your career, what do you hope to accomplish in the summer training camp?
A: Well, I only think you could get better. That's the goal every year. You're trying to find things you need to work on, come in and try to come together as a team, make sure you're better than the year before in a lot of areas. So that's what we're working on. We have some new faces, some new guys, we have some veterans. So it's all about building together and how we're going to be able to execute as an offense, as a team and find ways to win games.
Q: How do you displace complacency knowing that you guys won this year and you want to go back to back?  How do you get rid of the complacency of it all?
A: Well I think it's the desire to get better as a team. We know we've got to improve. We were 9-7 last year in the regular season. That's not good enough. We were a better team than that. Obviously we showed that throughout the playoffs. We've got to have that urgency, that consistency, throughout the whole season and play our best football for the 16 regular season games. That's what we're going to work on and just keep grinding, staying hungry to get better and to make sure we can have another successful year this year.
Q: You mentioned having some new faces, but you have a lot of returning guys; like 21 or 22 starters who played significant time last year. What kind of comfort zone does that give you and this team?
A: Well that's always great. It's always great to have veteran guys who know the system, who know how to work, know what camp's like and our preparation and our style of football, how we like to prepare for each season. It's always very important to have great leaders amongst the team that can teach the young guys and the new guys coming in what it's going to be like when we start practice tomorrow. It's always a positive and to have veteran guys coming back to a team is always a good thing.
Q: Last year going into camp, your own individual goal was to cut down on your interception rate. When you're coming off a year like last year, do you have one thing in mind that you want to improve on this camp?
A: Yeah, still cut down on the turnovers. Continue to concentrate every practice, every play, making good decisions. Make sure that, whatever happens, the ball's in our hands on the next play. That's always going to be something you work on. And just keep reminding yourself, and keep having that mindset, 'We've got to take care of the football.' We have to make good decisions on every play. Whether that's throwing a check down or throwing it to the open receiver or just throwing it away, it's always about making the right decisions. So continue to work on that and all the fundamentals, all the mechanics, continue to learn within the offense, learn about defenses and get all of our guys caught up to speed on what we need to do to get better.
Q: You hear guys say that when you're the defending champions, people are aiming at you every week. They want to beat you. The last time you were in this situation, you seemed to handle it well right from the start. What do you think is the key to that? What do you tell guys about that?
A: Well I think it's having something to prove. Not being satisfied with how last year ended up. But instead, saying we can be better, we can be that good. This past year we showed our potential those last six games of the season, the two regular season and the four playoff games, that we can play with anybody and we can compete and we can play great football. It's a matter of getting to that point. Finding that style of football. That the way to be successful and then holding on to it for the season. Obviously you always want to be playing your best football at the end of the year. That's always the goal. But we've got to find a way to be playing better football throughout the whole season.
Q: From a team concept, is it better having the training camp here in Albany away from families and the distractions as opposed to back at the training facility?
A: Well I think both of them have their advantages and disadvantages. I enjoy coming to Albany. I think it's fun to have roommates and staying in dorms. I went to summer camp when I was 10 years old and I kind of feel like I get to go to summer camp at 31. So that's fun for me and I think that it's a great team bonding experience. It will be fun with the Olympics going on this year. When the competitions are going on at night, you get to get a bunch of guys in the same room and cheer for the US. So those types of things are fun when you have dorms rather than being in a hotel. Obviously being at your own facility you have your own meeting rooms, it's a little bit more convenient. You don't have to get in your car a bunch and drive back to different spots. But, either one works. Obviously we're comfortable here. We know the routine and what we've got to do to get our work in.
Q: You mentioned this feeling of something to prove. Do you guys feel like you play better when you have a chip on your shoulder?
A: I hope we get to the point that no matter what the circumstances are, that we can go out there and play great football. Whether we don't have something to prove or not up against the wall like it seems over the past couple of years. And when it's kind of a do or die situation, we seem to step up and play our best. It's just a matter of working extremely hard and getting to the point to where we treat every game, every situation the same.
Q: Did you get a chance to sit down with Hakeem yet here and do you have any idea when he will get back on the field?
A: No, I've talked to Hakeem over the past few weeks and kept up but obviously the trainers and coaches and Hakeem will figure that out. So I know that he'll be working hard and get back out on the field as soon as possible.
Q: Are you used to this?
A: Yeah, it's kind of like Dallas. They had a lot of cameras in Dallas as well, as you all could imagine.
Q: Are you excited about weigh-ins today?
A: I already weighed-in. I'm excited about everything. I'm really excited to play, I feel like it's my first time coming to camp. So I'm super excited to play football. I couldn't sleep last night, because I was so excited. I would have driven down here in the middle of the night, but the wife said I couldn't.
Q:  As far as coming to the Giants, does this feel like a new lease on life, as far as your career is concerned? Playing behind Witten in Dallas, does this give you an opportunity to get you back to where you wanted to be when you came out of college?
A: Yeah. It's tough because most guys who get drafted high, they come in as a starter or with a whole lot of playing time. I kind of had an apprentice role for the first four years, so I feel like I'm really a rookie. It's my first time getting to go out there and play. I had a great time in Dallas, I thought that everybody on the team was awesome. Who better to learn behind than Witten? He's one of the best to ever do it, I've learned a lot from him. Kind of like, every once in a while, plants can't grow when they're shaded by the tall trees, so I get a little something for myself now.
Q: Coming from Dallas to the Giants, rivalries go way back. Are there any weird feelings about putting on the Giants uniform after being in Dallas for so long?
A: No. I really just want to kick those guys' a—es. You know what I'm saying? That's what it's all about, you know? I mean, we're cool, but we ain't that cool. I kind of got some ill feelings towards them. It's a game. Every game is the same way. I kind of hate everybody, honestly, in the NFL.
Q: Do you have that Dallas game marked on your calendar?
A: I have everybody's date marked on my calendar, honestly. I'm kind of pissed off about a whole lot, so I think it'll be a good year for me.
Q: Martellus, you can refresh my memory if I'm wrong, you were about 290 at minicamp. There was a lot made about your weight, so how much have you lost? What are you down to?
A: The thing that people don't realize is that I didn't run for five weeks, and I was just lifting weights. So, I kind of bulked up, so I'm back down. I have no worries, no weight issues or anything.
Q: How about the opportunity for you to step into a team that is currently Super Bowl champ? Having the chance to start and everything?
A: It's a huge opportunity to have a fair shot to go out there to really play and be a part of the team. I'm looking forward to getting out there with these guys. I didn't really get the chance to do a lot out there during mini-camp and OTAs because of my hamstring. I feel really good about getting out there and going out there with the guys now.
Q: You good to go completely now?
A: Yeah. I'm 100 percent.
Q: You said you were angry. Have you ever been this angry, coming into training camp?
A: No. I've been studying myself over the last… I kind of sound like Gandhi right now, but I've been studying myself over the last couple of years, just the way that I approach things. You know, the way I went about things when I was in Dallas and I made a lot of improvements. A lot of it is just being happy. For me, it was never an issue with playing ability or being able to make plays. A lot of it is being at peace with myself, but I'm not at peace with everybody else. I've never been this hungry and enthused about going to camp.
You weren't as strong with what you were saying about Dallas in the spring. You hinted at some stuff, did you kind of sit and simmer on this stuff for the last couple of weeks?
Over the last couple of months, I've been through a whole lot, as far as working out and getting ready for camp and things like that. So, I've had a lot on my mind and every part of the process. It is what it is, like I said. It was great everywhere, everybody out there always has something to say, but I'm not worried about that. I'm just thinking about making as many plays as possible.
Q: You said that you had some ill will towards Dallas. How come?
A: I have ill feelings towards everybody. It's not just Dallas. Pretty much anybody who doesn't play with us, I don't like them. I don't like a lot of people.
Q: Do you like us?
A: I mean, you're all cool, until you say the wrong thing. Most of y'all, I probably don't like already. We all have a part in the community, with our jobs and our roles. I appreciate you guys, though.
Q: Glad to be back here at camp?
A: …
Q: That's a no?
A: I am glad to be back at camp. I had to think about that for a minute.
Q: How different is it coming in as defending Super Bowl Champs?
A: Well, we did it before. A lot of buzz around this football team. I'm sure the fans are very excited. We're excited. The biggest thing is just get our work in and realize last year was last year. Completely different year. That's what our focus needs to be.
Q: You used the word dynasty when we saw you at the ring ceremony. ………
A: I think every team should think about it. That's what all of our goals are, is to win every year.
Q: You don't have a problem with the teams that don't have one championship thinking about dynasty?
A: I understood what Michael was saying. Obviously it's going to be blown out of proportion. I think he was just talking about belief in his football team. So I don't see anything wrong with that. It wasn't a slight to any team that won a championship or anything like that. He's going to believe in his football team. Why wouldn't he say it?
Q: Is there room for two dynasties in the NFC East?
A: We're not a dynasty yet. So we've still got work to do ourselves. So no, it's not. Right now there's not one here yet. So hopefully we can become that first dynasty.
Q: Can you talk about the benefits of being up here in Albany and camp away from the distractions of the city? You guys rooming together, the camaraderie, the lockout last year kind of caused some problems at the beginning of the season…
A: This football team is aware of what the distractions can be whether we're in closer to New York City or we're up in Albany. It's still going to be distractions here. I don't really buy into the fact that just because we moved camp a little bit further north that there's still not going to be distractions. There's going to be distractions here. What we've got to do is just make sure we do our part in limiting those. That has nothing to do with whether we're here or there. I think because we have a veteran football team, we have a team that's poised and understands what it takes to win and hopefully we'll do the right things to eliminate those.
Q: Eli's been talking about focusing on the 9-7 instead of the Super Bowl. Is that easy to do? Do you have to trick yourself into doing that in some ways?
A: You just can't allow yourself to think about it. You gotta be humble and remember the reason why we turned around a team that was 9-7 to a Super Bowl team. Eli is right on. It's going to be another tough year for us. We know what our schedule looks like. So it's important for us to work as if we didn't make the playoffs. Work as if we didn't win the Super Bowl because all that's going to be needed to get back to where we want to be this year.
Q: What are you most curious in seeing about this team?
A: Just how we respond to everybody patting us on our backs all offseason. I'm curious to see if we come in hungry like I think we will be. I'm curious to see where our mind is. I know guys have been training. I know guys are physically ready. But it's a different grind when you're on top of the mountain. But we're always the hunters. I don't agree with that. But in the public eye we're not the hunters, we're being hunted this year. It's a different mindset when you're in that situation.
Q: With you being healthier this year, with Osi being healthier and JPP with another year of experience, how much better can you guys be up front?
A: The season hasn't started yet. So hopefully we're healthy when that starts. But if we all are healthy at the same time and have the opportunity to be out on the football field together, that trio is going to be tough to handle. It's going to be tough for offensive lines to block us. They got to pick and choose. They can't double-team all of us. We feel as though we can win the one on ones and that's going to be our strength this year if we're healthy.
Q: Your team won a Super Bowl with you having a very difficult year personally as far as on the field. How much more ready are you physically to have a better year?
A: Well I came into camp last year pretty healthy too. Damn Jet preseason game. I think more than anything, my mind is in the right place this year. I haven't had a lot of personal problems as I did last year. God Bless. So hopefully that stays the same and hopefully I can continue to focus on football. I think that's the biggest difference coming into this camp compared to last year.
Q: …obviously you have a Super Bowl ring, that's the main thing out of last year. But look at the stats….
A: Me and my old age, I'm less concerned about me personally and what I do on the field personally as far as stats than I am about what we do as a team. It's important for me to win football games. That's what's important. And yes, I would love to be a Pro Bowler, I'd love to be All-Pro and all of those things and that's the icing on the cake but I'll take last year's stats with a Super Bowl any year.
Q: Do you look at this team as 1 of 32 trying to climb the mountain or the guys who are on top and we're the guys that have to be knocked off?
A: It all starts over. Like I said, you throw last year out of the way. Last year is history. You learn from history and you learn how to get to the top of the mountain. I think we, along with the Patriots, are the team that has that experience from last year. Every team is starting 0-0, so we're all, just like a marathon, I hope we're the kings this year.
Q: Knowing how important you are to this defense and how healthy you need to be for you to have the type of impact you want. Can you do something like play less in the preseason to curb the risk of injuries?
A: I have no say on when I play. That's the coach's jobs. They tell me to go play and I go play. That's how it always has been and that's how it always will be.
Q:  Can you even imagine what training camp is like now that you're an established player as opposed to what happened when you first got here?
A: I guess so. Can't really imagine until I get out there, but I'm going to treat it just like I did my rookie year, go out there and play football, compete every day, get guys better, get myself better, and just treat it like any other training camp.
Q:  These are the fields where you made your name. Is it nostalgic to get back out there?
A: Yeah, definitely. I'm excited to see the field again. I'm excited to see some of the areas where I was making some plays and stuff like that, but I'm just glad to be back out here. It's definitely nostalgic being up here with the guys, and you know some of the guys that I shared those times with my rookie season are still here so I can talk to them, and I've been talking to them. It's going to be fun.
Q:  Could you talk about the difference of you coming to camp a couple years ago, you're driving a different car, you've got the nice Audi now. Can you talk about the differences this year considering the success you've had so far?
A: It's a little different. I mean, it's up here, you know I'm not as nervous as I was the first time, not knowing if I was going to make the team, or what was going to happen. You know you never know what's going to happen when you come up as a rookie free agent, but this year it's a little more calming to come up and continue to fine-tune my skills, and just get better every day and keep competing, because that's what I did every year leading up to this point, so that's what I want to continue to do.
Q:   How do you fight off the complacency of it all? You achieved a lot last year. How do you not rest on your laurels?
A: Just understanding that there's a lot more to accomplish. There is a lot more of my career to accomplish. A lot more for us as a team to accomplish. We're relatively young, and we understand that our time is now. We want to continue to keep that pressure on ourselves, to keep winning, keep performing at a high level. Our teammates do a good job of keeping everybody humble.
Q:  Your smiling face is everywhere, you're in the spotlight, you're on the best-sellers list as an author as well. How does your approach change right now?
A: It doesn't change at all for me. I think I've got to keep going the same way I've been doing. Remain myself. Stay humble. Ready to work. Stay ready to receive information, ready to learn from the coaches. Continue every day as I've been going, it's been a blessing to reach this point, to be a New York Times Best-seller, to be a Super Bowl champion. It's just a blessing, I can't change anything now.
Q:  Guys are going to be looking at you now to be a bit of a leader, too.
A: Yeah, I guess so. It kind of comes naturally with the position. I'm all for it. I'm all for helping guys out. I'm all for being an example for the younger guys. Teaching them the 'do's' and 'don'ts' of the NFL from what I know thus far in my career. We'll see how it goes. We've got some good rookies, we've got some good young guys on our team, some level-headed guys, so I think we'll be quite alright.
Q:  Going in as a marked man this year will be quite different than going in as an unknown…
A: Yes, quite different. I understand that teams are going to be probably paying a little more attention my way, but that all comes with the territory. I've understood that. Myself and the coaching staff will do the necessary changes once the opportunity comes about.
Q: With no Hakeem, with no Mario, do you maybe have to take on more of a role mentorship role with the young guys?
A: I guess so. I'm not trying to go out there and be the godfather of the receivers or anything like that. Just go out there and be myself. If those guys have any questions, or if they have anything that they're struggling with, or want to come to me about, I'm more than willing to help them, but I don't want to be reaching out, or overly exerting myself. If it's just them, I'm going to be a natural leader, let my play on the field show that. If those guys come to me and just want advice, or just want to talk about what it's like being in an NFL training camp, and stuff like that, I'm here for them.
Q:  After the craziness of the last few months, is it good to get back to football?
A: Yeah, it's good to get back. It's good to be back with my teammates. It's good to be back playing some football; the madness kind of dies down a little bit. It's definitely good to be back, man. I miss these guys, I miss being out here. I miss the good times and the stories, and I'm sure we'll have more after this training camp. I'm excited.
Q:  What tone do you expect Tom Coughlin to set today?
A: An assertive one. One that…we understand we're here to work. It's not just another walk in the park for us. It's a new season; it's a new energy that we have to come in with. Last year is over, we won the Super Bowl, but last year is over and we want to come out with a renewed sense of energy and a renewed sense of intelligence, and go out there and play football.
Q:  How easy is that?  Is it just a natural momentum, having recently felt what it's like to have that confetti on the field, and being Super Bowl champs?
A: It's not the easiest, but I think as a team, we understand that at some point we have to cross that bridge and go on to the next season and try to do it all over again. I think all of us understand that. We're hungry, we want to keep winning, and win another championship. We understand that in order to do that, we have to put the past behind us, and focus on right now.
Q:  This is a team that seems to thrive when you have a chip on your shoulder.  How can you thrive without that?
A: I think we still have that. Coming into this season nobody is picking us to win, everybody is picking us to be last in the division, and things of that nature. Surely that puts a chip on our shoulder. We want to come out and prove people wrong, like we essentially have to do every year. That chip is definitely still there, and we're going to be working hard to knock that chip off our shoulder at the end of the year.
Q:  What upsets you most about what people say?
A: Well, it doesn't upset me. It's just something that I see on TV, I see on SportsCenter, or different shows, it doesn't upset me at all. It's just something that we take with us into the season knowing that nobody is really picking us to win. They're picking all the other teams to beat us, or finish the division on top of us. It's just something that we carry with us every game.
Q:  Why are people not picking the Giants to win?
A: I honestly don't know. I don't know what else we have to do, what else we have to prove. It seems like every year they doubt us, and don't put us at the top. It is what it is, we're going to go out and play our style of football, which is hard-nosed, grind it out, football. At the end of the year we'll see what happens.
*Q:  Do you feel like you almost have to come into camp working harder this year because last year you were fighting for a spot, but now you're going to be one of those top receivers, seeing double-teams, and people expect that kind of performance again?  *
A: Yeah, I'm definitely going to be working hard. I understand that it's going to be a different type of season for me this year. I won't be sneaking up on anybody, but I'm just going to continue to work hard. I work hard whether I'm a rookie free agent or a guy like I am now, coming off a Super Bowl. I'm going to work hard regardless and work through double-teams, and hopefully if we can simulate that somehow during these practices, if we're really anticipating it, and we can practice on it, and get better on it during this training camp. We'll see what happens and we'll take it one day at a time.
Q:  I know you haven't talked publicly about your contract, but is that something you need to keep yourself motivated this year a little bit?
A: I mean essentially. I don't need a contract to stay motivated. I just want to win, and just the thrill of winning with my team, and winning at home in New York, a place where I grew up, that's all the motivation I need to play football, and to continue playing the sport I love so I don't think a contract is something that will motivate me.
Q: Back already. Does it feel like it was just yesterday?
A: It does, it does, but it's a good feeling because we came off of a great season. We're ready to put another one together and this is the beginning of it right here. So all our goals and dreams are right in front of us. You've just got to go get it.
Q: What do you look forward to the most, as you're stepping into camp?
A: Breaking camp. No, it's just having the opportunity to get back with the guys, we joke around in the locker room again, and we've already put last season behind us, but this is the real next step going towards this season and we've got another chance.
*Q: There are no distractions this year.  Are we sure this is Giant's training camp? *
A: I'm sure we'll find some distractions. I'm sure you guys will find something to make a distraction, but I mean, everything is in the right place right now. So, looking forward to it.
*Q: What did you see in the mini camps and the spring workouts that you really like in this team now? *
A: Just that everybody's focused. Everybody's rededicated. We have a good core of guys, the older guys, who have been around for a number of years, and watching the young guys develop. I think, as a group, everybody's got the right mindset.
Q: Mathias, four years ago, the team used the Super Bowl victory to really come out flying the next season.  Do you see that happening again?
A: I mean, we hope we start off the same way. Now we hope we finish the season a little differently than we did that year. I think the momentum can carry. It could be a good thing. It could be a bad thing, depending on how you use it, and I feel like as a group, we have the right mindset. We're not looking back on last year. What's done is done, but we'll take the successful things we did and try to recreate that again this year.
Q: But because you won it, do you feel as you start camp that you are the best team in football because you won it last year?
A: I mean, until you lose, you've got to be called the best right? I mean, it's a new year, it's a new season, but we have the crown and we've got that target on our back and we know it. That's why we're going to look at it that way. Not to put ourselves above anybody, but just to remember that when we play a team, we're going to get their best game, we're going to get their best shot.
Q: It seems like this team always steps up when there's a chip on its shoulder.
A: Yeah, but we shouldn't need any extra ….. I mean, you're a man …… we shouldn't need something else to ….. play hard, but wherever we find our motivation, we'll take it.
Q: Do you have anything that's going to add to that motivation right now?
A: Just the desire to win. We've been there, recently. Everybody, not everybody, but most of the people who are showing up here to camp were there, on the field, when the confetti came down and we know how rare of an opportunity that is, and how good it feels, and we want to get back there again.
Q: Last year was the first year of the CBA, but because of the way things worked out, you were home.  How do you expect camp to be different, if at all?
A: Just small things here and there in terms of scheduling and accounting for meeting time and practice time, but all that stuff is taken care of without us even knowing about it. I think the only difference really is that last year we were in Jersey and this year we're in Albany and we know how to play, we know how to practice wherever we go.
Q: Are you surprised at how much chirping there is around the league?  In Philly they're saying they're a dynasty.
A: Am I surprised they're chirping in Philly?
Q: And even Carolina is guaranteeing they're making the Super Bowl this ...
A: This is the time you're supposed to say those kinds of things. If your confidence isn't high going into the season, then you don't have a chance at all. So, for us, that's just not what we're about, we'll let our play do the talking, with all those clichés you can throw out there, but for everybody else. I hope they feel confident. As an NFL player going into camp, you better be a little confident in yourself.
Q: You guys were on such a roll at the end of last year.  Can momentum have a six-month shelf life?
A: Can momentum have a six-month shelf life? I mean it all depends on what we do. We've got to create new momentum right now and like I said, it's a clean slate, it's a fresh start, but we'll try to recreate the positives that we did last year and use that to push us forward. As far as momentum, it remains to be seen.
Q: How much does it help that there's not that many changes around here.  I think you have around 21 or 22 starters, projected starters, who played significant minutes last year.
A: No, that's huge. To keep the coaching staff intact and keep, for the most part, the team that was out there contributing a lot. That doesn't happen all the time and we know it, so that's one of the things we've got to take advantage of.