A: Welcome to Training Camp guys. All's quiet. We're happy to be back here at Albany. It's always good to us here. I think our players and our team, our coaches… everybody is excited about being here. We're looking forward to all the big challenges we have this season. Obviously there have been some changes. But I think they're good changes. Our team, like all teams, has to gel and get some continuity with each other. We have a good nucleus of players coming back. We feel good about where we're at. It's all quiet right now.
Q: It doesn't seem like there's a Super Bowl hangover. Yesterday Antrel made it clear that last year is last year. And this year is a new season. Does it make you happy to know that these guys have a whole new mindset?A: Well I think we have some veteran players on this team that understand that last year is last year. So it's time to move on. We moved on from that. There are huge challenges for us this season. There are challenges every season and we're looking forward to it.
Q: 14 practices left here. How much of an assessment and of an evaluation can you make in that short time here.A: Well, everybody's in the same boat. Players have to make their mark pretty quickly in the preseason games and practice. Everybody is heading into the same boat. We'll have to evaluate like everybody else has to do it.
Q: How do you feel about the younger tight ends? Ryan Purvis got some work with the second team yesterday. How do you feel about any of those players standing out?A: We have some big guys. Athletes. Somebody is just going to have to step out of the shadows. Bear Pascoe has been around for a long time. He can do a lot of things for us. Martellus Bennett is a new guy on the block. He has some things he can prove. He wants to prove to us. All the young kids. We have some big athletic tight ends that can do the job.
Q: Jerry, when you come to camp, is your job done or are you still looking?A: Is my job done?
Q: How much more work do you have to do to get this team ready?A: Your team changes almost every day. With injuries and different things that can happen. There are always trade possibilities. You never know when somebody is going to come ask you for a trade. Sometimes they can make it so good. There's a possibility for trades. So your team can change pretty quickly in this business. As the season starts, your team changes every week almost. I think our job is never done. I think you're working every day and trying to improve your team. We're always looking at the waiver wire and different players are out on the street right now to see if we can improve our team in any way and look to improve the backend of the roster.
Q: What are your expectations for Prince?A: I expect Prince to play like a first round draft pick. That's pretty cut and dry for me.
Q: You've said it's been quiet a number of times. That's what you guys prefer, business as usual…A: Quiet is okay. But it doesn't bother me to have a little chatter going into training camp. I actually kind of like it a little bit when there's a little bit of chatter. I like that a little bit. It keeps everybody on edge a little bit. Actually I've got a little bit of nervous energy because it's too quiet. But I'm sure something will pop up sooner or later.
Q: You say that Prince should play like a first round pick. What do you mean by that? Filling the cornerback role?A: Yeah. He should challenge for a starting job and play like a first round draft pick. When you pick a guy that high, in the first round, you expect him to play and play well and be a strong contributor to your team.
Q: One of the words that players on your team, and others have talked about is, "dynasty."A: Who said that?
Q: Justin has said that. Michael Vick has said that.A: OK.
Q: What are your thoughts on that word?A: Well, I just think that's a nice word for you guys to play around, one you could stretch a lot of different ways. What is a dynasty? What constitutes? I'm not even sure what that means. I think the teams are so evenly matched these days that it's hard for a team to quote 'be a dynasty.' It's good to be able to talk about the d-word, but you gotta get out there and play. I'm really not sure what the dynasty thing even means.
Q: What does it mean for the defense to get JPP, Tuck and Osi on the field together, all healthy?A: Well, those guys are pretty good. It takes more than that. It takes the entire unit to play well. We have some guys up front who can get after the quarterback, and I think that helps you out on the second level, and on the back end of the defense. If we can get those guys in there at the same time, it's a pretty good route. Along with some other guys as well, who are pretty good players.
Q: After the Super Bowl in 2007, the team you brought back in 2008, you thought had more talent.A: The team that I thought was our best team on paper was the team that went 8-8. On paper, that was our best team and we ended up 8-8. So, you never know. You have to get out there and play. You have to manufacture some wins, and injuries always come into play. So, you never know until you get out there. Paper is paper. That's not how you play the game.
Q: Do you like what this roster looks like now? Do you think this is a better roster than you had last year?A: Well, I think it's a good roster. I think it's a really good roster. It remains to be seen as to how good we can be. I think we can be strong, and we can be good again. But you have to do it, you can't talk about it, you have to go out there and do it. That's what's important to us, is to go out there and prove that we are a good football team, that we've got a challenge and have a chance to win a lot of games this season. Hopefully, we can qualify for the tournament. Then, if you get in the tournament, like always, anything can happen.
Q: Can you tell us anything about the competition at linebacker?A: Well, it's a good group. I think it's a pretty deep group of linebackers. There's going to be a lot of competition at that position. Some of the young guys that are coming in and we've got veterans. We have Kiwanuka there, who is a SAM linebacker, Michael Boley is there, and you've got Chase Blackburn, who is in there. There's competition at every position, so I like that group of young guys. Our young hungry players like Jacquian, who did some nice things for us. We've got Herzlich coming back; Keith Rivers is the new guy on the block, who we think is a really good player. So, there's a lot of depth. Obviously, those guys that play linebacker have to play a lot on special teams, so right now I think we have a pretty good group.
Q: What about the fourth guy in the NASCAR package last year, who do you see stepping in there.A: Kiwanuka always goes down and plays some end as well, so don't forget about him as a fourth defensive end. We have Justin Trattou, we have Adrian Tracy. Some of those young guys we expect to step out of the shadows and challenge for that fourth spot as well.
Q: Is Hakeem progressing the way you wanted him to?A: Well, Hakeem is on schedule, as far as I know from our trainer, Ronnie Barnes. That's another guy that we never talk about that much, Ronnie Barnes, our trainer, and his staff. They do a tremendous job, they're a really big part of what we do. They really don't get a lot of publicity. They're kind of the unsung heroes for us. They get our guys back out there. We had a ton of injuries last year and they stepped up to the challenge and got our guys back. In the latter part of the season, we got healthy and strong again. That has a lot to do with Ronnie Barnes and his staff. So I'd like to give him kudos for what they do for us.
Q: One guy that has been a constant for this team for the past 5, 6, 7 years has been Eli. If he ever went down for any period of time, do you guys have a backup?A: Well, you know, David Carr is our backup. And I think Dave is very capable of stepping in and winning some games for us. I don't like to talk about injuries to Eli Manning. But we do have confidence that David Carr can step in and win some games for us if need be.
Q: That whole notion of a Super Bowl hangover, when did the celebration stop in your mind?A: It stopped after we got back home from Indianapolis. It stopped for me because we had to get right into our offseason mode of free agency and the draft preparation and the combine. It stopped immediately for me. But the parade was nice. Then we went to the White House. All those things were nice. It comes with winning the Super Bowl. But for me and our staff, we started working right away. So, it ended pretty quickly for us.
Q: Does it make it easier or harder for you to turn ……?A: It's always easy. Every year is a new year. It's pretty easy to turn the page. That's history, it's in the books. It's time to look to the future and see what we can do this season and we're very excited about the challenges of having the opportunity to repeat. That's a good problem to have.
Q: Yalked about Prince, but with him coming back as well as Terrell, would you say the secondary will be revived in a way, this year?A: I hope so. You have two quality players coming back at corner, so those guys should absolutely help us. We lost Aaron Ross, but we have Prince coming back. Corey and Terrell Thomas, those guys are star-caliber corners. You've got to have a bunch of corners in this league to get through the season. And we were able to survive last year, because we did have enough, because we had a bunch of corners go down early in the season. But that's an important position to have.
Q: Jerry, Deon Grant said recently that he kind of expected to be back.  Is that something you foresee?A: We always keep the book open on everything and keep all of our options open. You never know what will happen, but we have some young safeties we want to take a look at. Deon is still out there and he did a really nice job for us last year, so we'll keep those options open.
Q: Does the same hold true for Kareem?A: All of our options are open, yes, all of our options are open. You never know, you can get a run of injuries at a certain position, then all of a sudden you're scrambling trying to find some guys who played and can come in and help you right away.
Q: With all the free agency and everything, are you a little surprised at all at the continuity you were able to achieve from last year to this year, in terms of your starting group?A: Like you said, we have a group of nice guys coming back and you're always going to have that core group of guys and there are always going to be some changes. Free agency means guys are free to go. You anticipate that you are going to have some guys that leave, but we have a really nice core of players coming back, who have played in a couple of Super Bowls. We have some guys that obviously played last year, so it's a good group, a veteran group. We do have some young players, but we have some young veterans, who have played a lot for us so, I like this group.
Q: As a general manager is that a goal?  Is that a long term goal ……?A: It's great to have that, but your team can change quickly. You can have a bunch of young guys all of a sudden, but you really like to have some young veterans. Some veterans and some young veterans in a nice, group of young guys that come in to help you. You want a combination of everything.
Q: How good is it to know that Eli has answered a lot of the questions that were being asked about him at this time last year?A: Well, I think you guys were asking that question. For us, personally, and myself, we think Eli's been a tremendous quarterback for a long time. Again, it's a nice thing for media guys to talk about. In our eyes, Eli's been a really good player for a long time. It's very comforting to have him. Last year we said he was an ascending player, and I still believe that this year. He hasn't leveled off at all. He can still improve, and he wants to improve. That's the thing about him that we love.
Q:  I know you guys say all the time that nothing affects him, and he doesn't hear the chatter and stuff like that.  After last season and everything he did to get you guys to the Super Bowl, did you see a guy that was a little relaxed, with some weight off his shoulders at all?A: Well, he had already won a Super Bowl. The guy's played at a high level in college, and he's a 'Manning." He has that name. He's used to the pressure. I really don't think those things bother him. He's pretty cool under pressure, if you want to frame it like that. He's always the same, we like that about him.
Q:  This time last year you said he needed to self-correct.  You were pretty…not harsh, but you laid it on the line with him didn't you?A: Well, I didn't lay it on the line, and it wasn't Eli coming into my office, and let me call you on the carpet. It wasn't like that at all. We would just talk. We would talk in business. I was saying that he's one of those guys who can self-correct. He put the ball in harm's way too many times. He realized that. Sometimes the sack is a good play, but those are the kinds of things we talked about. He cleaned those up some. He still can clean up some other things that happened last year. Eli is a very smart player. He understands the big picture. That's why we like Eli, he understands the big picture.
*Q:  There's been a lot of promoting this offseason, with SNL and all that, but he really made a point of showing these other guys that he really wants to work. *A: Offeseason is offseason. When the season comes we get out here to training camp, and OTA's. He's all business, nobody works harder than him. He comes early and he stays late. He sets the standard for what we do. He's probably our number one worker.
Q:  Victor Cruz also had a pretty good offseason, he's going to be a restricted free agent.  Do you think you guys are getting closer towards getting that done before the season?A: It could happen. All those options are open, but right now we're just focused, Victor is just focused on being a good football player again. The contract situation will take care of itself.
Q:  It seems like there's such a fine line between a playoff team and a non-playoff team. Do you go into the season thinking, 'I think we're a playoff team,' or do you say 'I think we're a Super Bowl contender.'  How do you approach that?A: I go into the season thinking we're a good football team. The thing you have to have: good coaches, you have some good players, and you have to have some luck. It's a combination of three things. You get a chance to go in the tournament. The NFC East is always a tough (division) to come out of. We come out of that (division), you're battle-tested. We have a tough schedule too. I like a tough schedule because I think it helps you be battle-tested down the stretch. I go into the season just hoping for the best and looking at your team compared to everybody else's team and we have as good a chance as anybody else, I think.
Q: How much of what happened at the end of last year was just a validation of all of your philosophies and everything you had put in place, with how you wanted to structure the team? Because early on, a lot of criticism about not going after high-profile free agents and things like that, letting a couple of guys go. Obviously, it all paid off.A: We just try to make good football decisions for the New York Giants. If it's a splashy move, that's great. But if you sign a center and a punter, you know, that's what you need to do to make your team a better football team. That's what we do as well. It's kind of what we did last year, and we felt very good about the team. Like I said, as a team, the previous season, we won 10 games. We were 10-6. It wasn't like they didn't win a lot of games. We won 10 games, but we just didn't qualify for the tournament. So there is a fine line between being in the playoffs or not being in the playoffs. The ball bounces one way or another, and you're in or out. Or some things can happen, like, when we had the Philadelphia game, and then Green Bay gets in. If we win that game, I think Green Bay was out of the tournament. So things like that will happen, you've got to have a little bit of luck, and you've got to have coaches, and you've got to have players. If you have those three things, you definitely have a chance.
Q: But just a validation of your philosophy though?A: Well, I'm not trying to validate anything. I'm just trying to make the Giants the best football team that we can be. It's all about team for us, we're all a unit and that's what's important. It's not about validating myself or anything we just try to do what's best for the Giants.
Q: You're noted for your draft picks. Is there somebody this year that you think everybody should keep an eye on?A: Well, you never know. David Wilson obviously is our first round pick and we think that he's going to give our run game some pop with his explosiveness, so we're hopeful that he can do that. Rueben Randle, we even talked about him in the first round, we think that he could be a tremendous asset to us in the receiving corps. All the way down the line, there's plenty of young kids that step out of the shadow. Last year, the front end of the draft really didn't play, Prince and Marvin Austin, they really didn't play because of injuries. The back end of the draft led us in special teams, so those are things that go unnoticed that you have to get, but our personnel staff do a really nice job, and again we just try to pick the players who best fit the New York Giants and help us win championships.
Q: Did you see a sharp decline in the letters and angry phone calls this offseason?A: We still get a few, but that's ok.
Q: You mentioned Prince playing as the first round pick, what does that mean, playing as the first round pick?A: He's got to get in the mix and see where he fits in, but obviously when you pick a guy in the first round you expect him to come in and contribute. Your first three picks, you want those guys to come in and contribute in a significant way, especially your first couple of picks, you might even get a start out of them somewhere. So we expect David Wilson to get in there and get up to speed. He needs to take care of the ball and pass protect. We know he can run, he can put the ball in his hands and be explosive, he can catch the ball, but young running backs they have to take care of the ball, don't put it on the ground, and they have to pass protect. Those are the things he has to do to really get going here, but he's natural with the ball in his hands. We're not worried about him as a runner. The other little things that he has to get right to play in this league he has to get up to speed with.
Q: Tom got a new contract after last year, did you?A: We don't talk about my contract. We're not talking about that.
A: An extreme adjustment. It's raining two minutes before you practice, so you have to go where you can practice. That's the issue. That's two in a row. We got yesterday's in, and we had a little trouble with today obviously. When we use the turf field there's some areas that I didn't want to get close to, so we did the best we could with one field. We got our practice in, got a lot of people a lot of work. So for our second day, obviously our defense looked a little better today, the offense not so good.
Q:  Any comments on Jerrel Jernigan's play so far?A: He's made a couple of plays. He's made some nice plays on the outside, and "turn and run" with the ball. We're looking forward to his continuing advancement, and also as a kick and punt returner.
Q:  Why did Justin Trattou come off the field?A: The ankle, he got an ankle. He was hobbled pretty good there. They had to send him for X-rays. We'll see what it is.
Q:  Boley looked like he went down, any idea?A: I don't know. I didn't hear anything about Boley.
Q: Da'Rel Scott ok?A: He had an ankle.
Q:  From yesterday?A: Yeah, he did it yesterday. He went back and practiced on it, and it was swollen this morning, so they held him.
Q:  Boley was some kind of injury, though, right?A: Not that I know of. I'll have to wait and see inside. I didn't notice him not being there.
Q:  Little bit of a scare with JPP for a second?A: Well at first I looked back and I didn't even know he was back there. Then they said he was. He went back in. We'll see.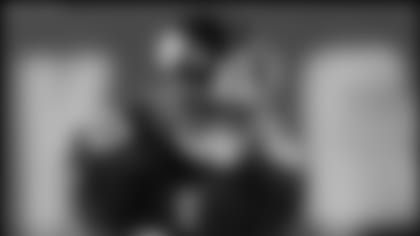 Q: What are your impressions of David Wilson? Everybody raves about his speed. What do you see when you see David?A: I definitely see his speed. I see his explosiveness. I see just a unique ability to change gears and directions at the drop of a dime. He's going to be exciting to watch. I'm excited for when we get the pads on and goes full go. I'm excited to see him play.
Q: Does he add a nice compliment to what you already have? To the stable of running backs that you have?A: Definitely. He's a great compliment. He's going to improve our stable. I think he's going to come in and make an immediate impact.
Q: You made a catch earlier in practice yesterday. You heard those chants from 80,000 people but just to hear it again in a new season, is it fun?A: It's refreshing. Not initially when I caught it, people were going to do it in training camp. It came out and it's always a good feeling just to know that the fans love you and your signature chant. It was cool to hear. I just want to keep it going. Keep on making plays. And keep on giving the fans reasons to chant my name.
Q: There's no dancing allowed.A: No. My teammates and coaches are not having that in training camp.
Q: What were your thoughts on day one? The energy? The enthusiasm? What were your thoughts on how it went?A: I feel like it went well. I feel like everybody was geared up ready to go. I feel like everybody was excited to begin the year and the practices. I feel like as a receiving corps, we went really well. We made a lot of plays. As a team in general, we just felt like everybody was out there just ready to go. It was a good feeling and it was a good start to training camp.
Q: It seems on day one, on a play like you made the first catch, your feet go out from under you, you're down on the ground… It'd be easy to blow it off and say well I'm not catching that one. Why?A: It just goes back to my way of thinking and my way of playing to just catch everything and I'm never down and out. I always wanted to be able to catch the football no matter what happens throughout the route. I want to be able to get my hands on it and make the play. On that instance, I was able to get my balance back to put my hands on the ball and make the play. That's what I want to continue to do is just keep playing football and fighting to the very end and keep making plays.
Q:  Everybody raves about your speed and talks about how quick you are, how does that make you feel when everybody talks about how fast you are and they compare you to all these players they've seen and they say you're the best one that they've ever laid eyes on?A: Yeah, that's crazy, because a lot of great players come through here. Me having the speed advantage, "so-called," over them just makes me wonder how my career will turn out.
Q:  Is that the part of your game you enjoy the most?  Is that the strength of your game?  Is it the speed?A: Yeah, it sounds weird to say, but when I get to use my speed, when I get into open space, that's what I like the most.
*Q:  What was day one like for you? *A: Good, went to practice, and it was smooth for me, and hot. Everybody says that. Other than that I had a pretty good day of practice.
Q:  Was it nerve wracking as a back because everybody else gets reps before you because you're the new guy?A: Nope, it's good because I get to watch them. Make sure I do it right. I'm the new guy, and that's the way it was everywhere I started. You're not going to just come up and be placed in front of the guys that have been there and done it.
Q:  What's the pressure like being a first-round draft pick?  Coming in, a lot of people are already raving about your speed, what is that like?A: It's not even like people or outsiders' expectations of me; it's my expectation of myself. I put a lot of pressure on myself and am very competitive. So I would like to have a successful rookie season and career. That's where it starts. Learn this playbook and adjust to the speed of the NFL.
Q:  You said you want to have a successful rookie season. What would constitute a successful rookie season?A: Well I make a goal sheet every year before my season starts, so once I find out my exact role I make the goal sheet. Probably after the first preseason game, I'll start it out. The goals on there will be not easy to obtain.
Q:  What were your goals last year?A: 100 yards per game. Score or have a touchdown every game. All-ACC, All-American.
Q:  Did you hit most of them?A: Yeah. Over 70% of my goals on the sheet.
Q:  Was being a first-round draft pick a goal?A: (laughs) Yeah. It was. To have one of the top performances at the combine was a goal. To be taken in the first round was a goal. I obtained those goals. I expect a lot of them for myself.
Q:  Coach Coughlin was saying yesterday, running back by committee, not the phrase he used, but that being able to get guys a lot of reps.  Does it make you feel good knowing that everybody is going to be able to get their opportunity to run the football?A: Yeah definitely. You never want to be that guy that felt like he didn't get his fair chance. Everywhere I've been the coaches give you a shot. Whether it's two chances or twelve chances, you have to take advantage of every one.
Q:  Between the coaches and players, they said they have no concern about your speed and athleticism.  It's more about doing the little things.  How far along are you progressing with the rest of that?A: Yeah well we haven't started contact yet. That stuff will come along. I just take it one day at a time, and try to get better everyday.
Q:  Do you feel like you have a confident understanding of the schemes and responsibilities?A: Oh yeah. Learning the playbook is first and foremost. After that you can start learning your rhythm and moving forward.
Q:  Being at your first training camp, so far, has your reality met your expectation?A: Going through practice…Yesterday was my first practice, so there's not a lot I can say about it. Just trying to get better each day is my goal. You never want to take a step back or come in and feel like you didn't get better.
Q:  Kevin Gilbride was the first to say in the spring that you were one of the more explosive players they have.  Eli has said that recently, could you tell your speed and quickness were making that type of impression?A: Not for them to make those kinds of comments. I didn't know it stood out that much. It's just me and I just go out there and use my God-given ability.
Q:  So when you hear that, does it give you confidence to know you're already making that kind of impression?A: No. I haven't played a game, I haven't done any NFL competition other than practice. You can be a star in practice, but until you step on the game field and make an impact on the game. I'm just waiting for that opportunity.
Q:  How much do you look forward to the first pre-season game?A: I'm definitely looking forward to that. Playing against another defense full contact anytime. I know we have scrimmages but…I'm just looking to go through for a full speed contact motion.
Q:  Were you surprised you were able to haul in that pass yesterday, the short one that was over your head?A: No, it was thrown in my area so I figured it was my ball. I didn't want to be the guy to watch it float over and hit the ground. I just went up and grabbed it. Just one of those things.
Q:  First catch for you?A: Yeah it was. After I caught it I looked back to see what was behind me.
Q: How are you doing?A: I'm doing good. How about yourselves?
Q: Good. So we saw you out there on the field yesterday, how did it feel to be back out there again?A: It feels great, obviously. Any time you get back out with a little time off is always good, but at the same time you want to be back out there with the teammates, and getting better.
Q: Everybody knows the story about last year. You want to put last year in the past, but by the same token, it's a great story. When did you kind of realize that you were back, doing what you wanted to be doing? When did you feel like a football player again?A: As soon as I got signed. I've never felt like I wasn't a football player, but at the same point, I wanted to be back out there with my teammates. Having to watch games was tough at home, but once I got back, I felt pretty comfortable coming right back into it.
Q: Coming back into training camp, did that comfort kind of stretch back over again?A: Yeah. Obviously, last year, being at home last year during training camp was kind of nice with my young son. At the same point, it's like one of the things where you want to get back in; you want to be part of it, the whole way through. That's how I feel about it, and it's good to start back and be with the ones, and running with the whole defense, and doing everything together from day one.
Q: You were in the middle yesterday. Is that kind of where you see yourself going for the rest of the season? Or are you fighting to get back in the middle?A: I'm definitely fighting for it. Positions are always up for camp. That's what camp is for. There's a lot of competition, there are a lot of good players in the linebacker group. But yeah, definitely I want to stay in the middle and keep that first team spot. That's what I'm out here trying to do, compete.
Q: Can you describe the difference and the mentality now that you have camp this year?A: Awesome.
*Q: Coming in as a starter this year, obviously you were on the couch last year this time. Is there a difference in your mentality, as far as getting out there for the first practices? *A: Not really. For me, I think in this league, if you don't have that chip on your shoulder, if you're not trying to strive to get better every day, someone is going to pass you by and take your spot. Then you're not going to be here very long. So I'm trying to take the same mentality I had as an undrafted free agent, when I came in the first time. It's just one of the things that, the way I prepared.
Q: Picking off Aaron Rodgers last year, it was kind of a nice welcome back for you. Did that surprise you as much as that surprised everyone else?A: I mean, I was surprised he threw it. At the same point, it was one of the things that happened. We had a lot of pressure on him, and I was able to make a play.
Q: Some of the secondary has said in the last couple of days that they think they're kind of overshadowed because the defensive line is so good. Even when something goes well, the credit goes there, when maybe it was a coverage sack. Does that make any sense to you?A: I can understand that. We have a lot of big name guys on our front, but at the same point, we're a defense. It doesn't matter who gets the credit, when your defense, if you're ranked where we did in the playoffs. Obviously, during the season, we didn't have the stats we wanted. We didn't put up the numbers we would like, but once we got in the playoffs, on our six-game run there at the end, we played better as a defense. I think it was more because we didn't care where the credit went. There's going to be coverage sacks, where we give the defensive line the time to get there. There's going to be things where, such as Green Bay, where we got beat, and Osi was able to get a strip-sack before Aaron Rodgers could get the ball out. So it goes both ways, and obviously it's nice being a linebacker playing behind that kind of defensive line. They take on run blocks well, and you don't have to cover terribly long, because they're going to get there.
Q: Is it strange for you coming into camp after the year you had last year? You have to prove yourself all over again to keep your starting spot?A: I don't think it's strange. I think it's football. I feel like every year I wasn't a starter, I was trying to get the starting spot. I was competing for it, like it was always an open competition. I feel like every position is up for grabs, other than Eli's.
Q: Injuries kind of plagued everybody last year, defense and offense. This year, you start fresh. How does it feel to get at the beginning again? With everybody healthy and everybody's on the same page?A: You know, there's always guys that are hurt. You got Hakeem Nicks, who is obviously still nicked up, and Chris Canty. Clint Sintim is still trying to return from his injury. There's still nicks and bruises and people aren't out, but it's good to have more players available than not. Everyone feels pretty fresh and healthy coming into camp. Obviously, after day one, you're going to get more tired. Already feeling the fatigue, a little bit. It's good to be going through it again with the teammates.
Q: It seems like, at least on defense, linebacker is the position that has the most competiton coming into camp. What's that group like? You guys have a good relationship? You're also competing to try to win a spot.A: Yeah. Again, it's part of football. You have to be able to have those close relationships, because what happens when you do have to play with these guys in the middle of the season, you want to be willing and ready and already know them and still trying to get to know them after camp. You can't go into it thinking, 'I'm not going to do this, I'm not going to do that, because they're my competiton.' That's part of what being a professional is all about, helping them out. I'm a veteran player, so I gotta be able to help the young guys, even if they are trying to take my spot. Trying to give them any kind of clues I can to make them better.
Q: When you look back on your season last year, does it seem kind of crazy, everything you went through with being home for half of the year, and then you're picking off Aaron Rodgers when you're starting, and then you're picking off Brady and winning a Super Bowl.A: Obviously, it was crazy. It was a whirlwind of a year, but it's a good story. I'm happy to be here right now. I'm looking forward to next season. It's one of the things where we're going in and starting fresh with everyone as a team. We know we've gotta get better, we gotta improve. As Eli said before, we were a 9-7 football team last year, just because we weren't consistent. That's one of the things we gotta work towards, and I think we've got the character in our room; offense, defense, special teams and coaching staff to get us on the right page, and do that, just be more consistent throughtout the season.
Q: Perry Fewell has talked about your knowledge of the defense, how you're basically like another coach on the field for him. Do you take a lot of pride in always knowing the defense that intimately?A: Definitely. That's one of the things that I studied under Antonio Pierce. I was here with him for numerous years, and he was that kind of player. He was a film study guy, he knew the playbook in and out. He could play any position if he got thrown in. Maybe athletic wise, we wouldn't be the best fit for cornerback, but we know what they're going to do. It helps you understand it better, when you have a better grasp of the whole defense. You know where the weaknesses are, and you can help protect against them. You also know where the strengths are.
Q: Can you describe your relationship with Herzlich? Like you said with Pierce, an undrafted middle linebacker like yourself, how Herzlich might be the future of the position, years down the line. Do you have a stronger bond with him, maybe Muasau as well?A: Yeah, definitely. They're also playing middle linebacker, so obviously I have that kind of bond, but I always have that for undrafted free agents. I feel like I was one of them, just like Antonio was, and I'm just trying to help them learn what they need to do to stay in this league, and to get better, and have an opportunity to keep that chip on your shoulder, and prepare every day. Prepare like a starter and fight for a spot, even if they are fighting for my spot.
Q: Can you talk about having a healthy Terrell Thomas back? Having Prince back? And what it has done for the DB's?A: Well anytime you can have all hands on deck, it always helps. Terrell was a great part of what we did a couple of years ago, and he's back working hard and healthy as he can be. I think he'll be a plus and add to what we did and build off what we did last year.
Q: What about Prince?A: Prince came in a little banged up last year but is now 100 percent. He's learning the D. He's got a year of experience under his belt with the playing time he had last year and he's ready to move forward and help us. He'll be great this year.
Q: Yesterday Terrell talked about how the secondary needed to make a statement. Kind of tired of being underrated. Do you kind of feel the same way?A: No. I just feel like we go out there everyday and try to get better. I think we're a great group. We have some great guys out there. Myself, Terrell, the young guys, Kenny, Antrel. I think we all have played some good ball. We all have been around for a while. I think we know what it takes and what we need to do to be a good secondary and I think we'll move in and do things in the right direction.
Q: Do you think this is the year you'll finally make the Pro Bowl?A: It doesn't matter to me. As long as I go out there and just try and get better and better everyday, I think everything else will take care of itself.
Q: Is there a concern when you see Terrell having the back stiffen up after missing last season?A: As long as the knee is progressing, everything will be ok. We never work like that. It's kind of hard to train and do those types of things during yesterday. We kind of put some of them setbacks they're in. But we're still moving along, like it's supposed to, with the knee and everything with the injury.
Q: With Deon Grant gone, you guys lose some leadership there. You're the oldest guy in the secondary. You're the most veteran guy in the secondary. Do you feel like you want to be even more of a leader this year.A: I think every year. You get better and better and need to take that role on you. You lose some guys but you learn a lot from those guys. I still talk to those guys. I talked to Deon yesterday. I still talk to Sam Madison and R.W. McQuarters. Those guys are always giving us good input and always trying to point us in the right direction. I think we do a great job of acting like a sponge and soak the information to pass it to the young guys and make their transition much easier than ours were.
Q: Can you talk about how a healthy Terrell and a healthy Prince will add to the meetings.A: Like I said, you got to have all hands on deck healthy. It doesn't matter what position it's at. We had some bumps and bruises at D-Line last year. But when you have all hands on deck, it makes us that much better as a team.
Q: Did you get a chance to defend Rueben Randle yesterday?A: I did not. But me and Rueben worked out at LSU together. I always go against him. We always work out together. Train and stuff together. I know what he's about.
Q: What is he about?A: He's good. I think he's trying to work on his craft and trying to fit in and work on his talents to help this team be a better team.
Q: Any initial impressions of Jayron?A: He's young. I think he's learning. He came from the 'Beamer' ball. I think he's going to help us. Not just on his position but also on the special teams side of the things as well. I think he's fitting in. He's listening to the older guys and trying to make his transition great.
Q: T-Sqauared gave you guys shirts? Or what?A: We're representing T-2. He's going to be giving these out at practice today. You can also get some as well too.