EAST RUTHERFORD, NJ - It took the Giants just one afternoon to comfortably settle into their new home.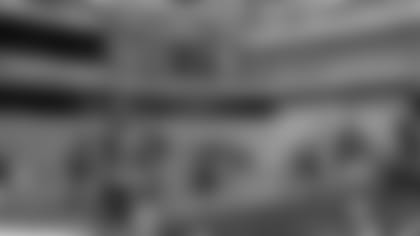 With approximately 10,000 loud and enthusiastic fans cheering them on, the Giants conducted today's second minicamp practice in the New Meadowlands Stadium. It was the first appearance by the entire team in the new stadium and the reviews were overwhelmingly positive.
"It's good to be here, really good to be here," Coach Tom Coughlin said. "We needed to get in here. It is a beautiful, beautiful stadium. I have been in the locker rooms, we have been upstairs. We were in the Commissioner's Club. It's a gorgeous place and it is one proud organization, we are, to think of this as our home stadium."
"It's great to be in here," quarterback Eli Manning said. "We got a beautiful day and a great crowd. It was fun to have a practice with a crowd. I thought we had good focus and a good practice."
Coughlin wanted the players to work once in the stadium before playing a game there, which they will do for the first time in the preseason opener against the Jets on Aug. 16. At the same time, it was a rare opportunity for the fans to watch a practice that was not part of training camp in Albany.
The crowd mimicked that of a game gathering, cheering outstanding plays by both the offense and defense and groaning after missed opportunities. After the workout ended, Coughlin addressed the fans and reminded them of how important they are to the team on game day.
"You know how New York fans are," defensive end Justin Tuck said. "They probably have been chomping at the bit to see some football action. So we are excited about it.  We have the best fans in the world – no doubt about it. I saw a guy with a Philly jersey on and I thought there was going to be a little trouble. They kind of exiled him. I thought he was going to get roughed up a little bit. But it is great to be out here with our fans. We know that our fans love us and we love them, too."
"It's fun," Manning said of working in front of the fans. "I think it's good for your focus. Sometimes in games you hear yelling and there are things going on. I thought it was good for our focus to come in here and have people yelling and saying stuff. We kept our minds straight on what we need to do and what we're here for."
For most of the players and coaches, this was their first chance to see what all the stadium excitement is about. They saw the four huge video boards, the placement of the 40-second clock and got a feel for what promises to be a home of winds that are as famously unpredictable as those in Giants Stadium.
"To have an opportunity to work on the turf, to check the wind out – it is different from Giants Stadium," Coughlin said. "It is a different venue – it did swirl on us here today.  The crowd, the excitement, the energy to talk to our fans, to tell them how much we appreciate them and to say, hey, this is just a reminder of the 12th man principle and how much we need them as we go into the regular season. But this has been a very good experience to come in here. I'm glad we did this on a beautiful, beautiful spring day. The guys really appreciated it and it gives us a really good end to our first day – our second practice – our first day of our mandatory mini camp."
"I think it's important that we came in here," Manning said. "That was the reason for that, to get used to the crowd, the different look, where the play clock is, get used to the turf, get a feel for the wind. We had a decently breezy day today. It's good to get that kind of work, so when we come in here for preseason games or regular season games we're prepared."
But will a workout on a hot, sunny June day provide clues as to how the turf will feel and the wind will blow in the December chill?
"You can tell," Tuck said. "Sometimes when you look up at the goal post one goal post is blowing in and the other one was blowing in, too. So the wind is going to play a factor. But we like that. We will be used to it by the time we play in here, so opposing teams are going to have something to deal with – especially come late fall.
"It is a different. This is a new field. So it has not been broken in yet. It is still kind of soft. So you have to wear the right cleats out here right now. But as we get out here on it more and get more comfortable in here, I'm sure it is just going to be just like we are making old memories like we did in old Giants Stadium."
*Kenny Phillips yearns for the day when reporters ask him about what happens on the field instead of his quest to return to action.
"I know it's not going to change until you guys (reporters) see me out there in practice, making plays," Phillips said. "I'm used to it. I'm just ready for it."
The third-year safety, who underwent surgery last September for patella femoral arthritis in his left knee, is not playing in this camp, nor has he worked in the organized team activities.
"It (stinks)," Phillips said of his continuing inactivity. "It's just like last year. At least last year I got to watch from home. Now I have these up close and personal seats. It (stinks), but it is what it is."
Phillips remains confident he will be ready for the start of training camp on Aug. 1 in Albany.
"The knee is great – I'm coming along real well," Phillips said.
Phillips, who intercepted two passes in Dallas in his final game last year, has been running and working hard in individual drills.
"I'm doing some of everything – cutting, covering, backpedals, opening," he said. "(There has been) no swelling, no pain. Everything's good."
Coach Tom Coughlin concurred with Phillips' evaluation, but is not ready to declare him fit for action.
"He is getting better every day," Coughlin said. "You just have to have great confidence that he wants it so badly he can hopefully overcome anything. He is making steady progress.  And we still have the very good circumstance that he does not swell.  But his running has increased. He is doing some change of direction a little bit.  That is a good thing."
Phillips believes he will be ready to practice when training camp opens.
"Honestly, I do," he said. "I hope the coaches and trainers have the same mindset. If not, I'll just wait till they say go. But I'm looking forward to the beginning of training camp."
But while Phillips is confident, the decision about when he returns to action will be made by the team's medical staff.
"Whatever they tell me – I'm just going with what the doctors and trainers say," Phillips said. "If they say go practice, I'm going to practice. If they say sit out, I'm going to sit out. It's on them."
*Defensive tackle Jay Alford, who missed all of last season after undergoing knee surgery, "tweaked his MCL," according to Coughlin and is not participating in the camp. Alford suffered the injury in an OTA workout last week, but said it is not serious.
"I was pass rushing, his (an unidentified offensive lineman) foot came out, I went down and somebody fell on it," Alford said. "It's a minor setback. It's not major, but they want to take safety precautions. I should be a hundred percent by (training) camp."
*Wide receiver Domenik Hixon suffered a knee injury of undetermined severity this afternoon when his foot caught in the stadium turf as he was returning a punt.
"I'm not sure yet – we'll see," Coughlin said about Hixon's injury. "This turf kind of snagged his foot.  We are hoping that it is not something serious. I think he will be sore tomorrow.  The extent of it, I'm not sure right now. Domenik is a tough guy, now. He has fought his way through some things in the past. Hopefully, this is not something serious."
*Recently retired punter Jeff Feagles attended both practices and worked with his potential replacements, seventh-round draft choice Matt Dodge and Australian Jy Bond. ](http://www.nyg2010.com/)**
If you'd like to submit a question or comment to Michael, click here.