EAST RUTHERFORD, NJ - Qwest Field in Seattle might present more challenges for an opposing team than any stadium in the NFL.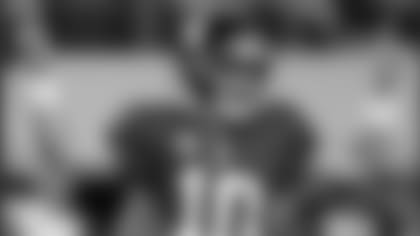 First, there's the noise. It is almost certainly the league's loudest open-air stadium and rivals that of most domes. Since 2005, opposing teams have averaged almost three false starts a game in Qwest, which is more than in any other stadium. Long-time Giants certainly know. When they played there in 2005, the Giants were flagged for 10 false start penalties.
"Poise in the noise is a big factor," Coach Tom Coughlin said.
"Seattle's noise is just on a whole different level," said safety Deon Grant, who played for the Seahawks the previous three seasons.
Then there's the weather. Seattle ranks in the top five nationally with approximately 226 cloudy days per year. The city is in the top 20 with 140 days of measurable rain. And that doesn't even take into account the wind that always seems to blow. In short, it's often damp and dreary when the Seahawks host a football game.
The Giants haven't won in Seattle since 1981, losing games there in 1986, 1995, 2005 and 2006, the first two in the Kingdome, the latter two in Qwest Field.
But it's not just the stadium that makes a trip to Seattle challenging for any team. The Seahawks are often one of the league's toughest home teams. This season, for example, they lead the NFC West with a 4-3 record. The Seahawks are 3-0 in Qwest Field, where they score an average of 16 more points and allow an average of 14 less points than they do on the road. At home, they've recovered seven fumbles. On the road…zero.
"This team leads their division, they have a tremendous amount at stake – as we do," Coughlin said. "They play exceptional football at home…everything they do, they do extremely well at home. We know the quality of this team and many people picked them as the best team in the NFC – we know full well about that."
Of course, the Seahawks are a bit of an unknown commodity this week because their longtime quarterback, Matt Hasselbeck, will miss the game with a concussion suffered last week. Charlie Whitehurst will not only make the first start of his five-year career, he will throw his first regular season pass.
Facing a quarterback that's largely a mystery is another factor the Giants must contend with when they put their four-game winning streak and NFC East-leading 5-2 record on the line Sunday in Seattle.
"We know very well the environment we're going into," Coughlin said. "It is a difficult place to play – it's loud, all of the above, so we're preparing for a team that is 3-0 at home, and I know that they will rally around the fact that they are going to play at home.
"Usually when we go, you have the wind considerations, you have the weather, you have the possibility always of some type of rain, the crowd gets into the game and it is a loud place to play and they're a good football team."
"It's a great challenge for us, and we've played out there before," quarterback Eli Manning said. "We've played in loud places before, so we know what to expect and how we have to prepare this week to get ready."
The Giants lost both of their previous games in Qwest Field. In 2005, they dropped a heartbreaking 24-21 overtime decision when Jay Feely missed three potential game-winning field goal attempts. The next year, the Giants fell behind, 42-3, before scoring 27 unanswered points in the fourth quarter to make the final margin a more respectable 12 points.
It certainly wasn't Qwest Field that beat the Giants in those games. But the players who were on the field remember the noise the crowd – which the Seahawks honor with a "12th Man" banner – made every time the offense took the field.
"The place is crazy," tackle David Diehl said. "It's just a loud environment, a loud place to play. Fans get into it. The Seahawks right now are 3-0 at home and they feed off that crowd noise.
"It's just a loud place. You'd think for a place that's an open stadium that it wouldn't be that way, but like I said, they call it the 12th Man for a reason. Those guys get motivated, they get the crowd into it early, and they use that to their advantage, especially defensively. I think over the years you can see that. This a team that plays well when they have that backing from their crowd and they're going to do whatever they can to start fast and get them behind them right away."
"We play well on the road, too," guard Rich Seubert said. "Going out there is a challenge. We've been out there a few times, and yeah, it's been loud. We've had penalties out there. I'm looking forward to it. Playing out there, that's the way football is supposed to be. It's supposed to be loud. It's supposed to be rowdy. It's a fun place to play."
Defensive tackle Rocky Bernard spent the first seven seasons of his career with the Seahawks, so he remembers many instances in which the Qwest clamor disrupted opposing teams.
"It's definitely a loud place to play," Bernard said. "They really thrive on it. They put things on the radio to have people come out. It's a big thing out there. They really focus on trying to be loud."
Playing at Qwest seems to give the Seahawks a confidence they don't have on the road.
"I think it's a legitimate factor and our fans are dedicated to making it so," first-year head coach Pete Carroll said. "The construct of the stadium, the makeup of the fans – it's just deafening, so that can be a factor for us and we have to keep them going. We have to keep them going and keep us playing well so that it fuels them, so they are very tough minded and they are going to make it as difficult as any stadium that these guys can go in."
"You have to take that into account," defensive tackle Barry Cofield said of the Seahawks' home success. "You have to really prepare to stay composed. They have a crowd that they rally off of, and it's extremely loud. So those things can be distracting. Really, all you got to do is focus on your composure, make sure you stay focused and just play the way that you can play."
This doesn't exactly qualify as a shock, but the forecast for Sunday in Seattle calls for a high temperature of 53 degrees with rain possible. The Giants aren't worried about the weather. They have won in some miserable conditions in the recent past.
But the crowd noise will likely force them to use a silent snap count on offense. And the Giants are expected to play without Shaun O'Hara, their experienced center.
"We all know Seattle," O'Hara said. "I don't think we're that familiar with the opponent, but we know that stadium and we know that it's a challenge. I think really the challenge is on our offense as a unit. I think whenever you go into an environment like this, two big factors stand out: number one, you have to take care of the football. You can't put yourself behind the eight ball and we've done that before. It doesn't turn out very pretty. I think the other thing is your first down production has to be really good, and I think that helps you. If we can stay out of second- and third-and-longs, that's really key."
The crowd's ceaseless sound can make it difficult for the offense to make adjustments at the line, particularly when the play clock is down to a precious few seconds.
"It's tough," Diehl said. "You got to be able to make adjustments and you've got to be able to identify things. We know what type of environment we're going into. We know how loud it's going to be just by you see it watching film, and the best you can do is we go out there in practice and make sure that we're communicating with one another, going off of the looks and doing whatever we can whether it's doing hand signals or whatever to make sure everybody is on the same page and communicating."
"I've played in Seattle twice, and that has been the issue for us twice," running back Brandon Jacobs said. "I wouldn't say it's the noise, it's just you being confused and trying to scramble and not having enough time on the clock for Eli to make certain calls. That's when the noise can be an issue. If we come out the huddle with 18-19 seconds on the clock, we'll have a chance to get through the noise and get past the little stuff."
The Giants, of course, would like nothing more than to silence the Seahawks faithful. They might be able to do that by jumping out to an early lead. Or they can use their rushing attack – the NFL's fourth-best – to control the clock and keep the ball away from Seattle's offense.
"That takes the crowd out of every game - running the ball and pounding the teams and just running it up their guts," Ahmad Bradshaw said. "It'll help us to control the game just running the ball and taking the clock and doing little things, that will always help. When you
run, run, run and then you get a nice pass for a first down - you just see it in the defense's eyes. You see it. You can actually tell where the game's going."
By following their plan in such a hostile environment, the Giants believe it will go in their favor.
*Whitehurst was obtained in an offseason trade with San Diego. He saw extensive action in the preseason, when he threw 90 passes compared to only 42 for Hasselbeck. He completed 46 for 635 yards, four touchdowns and four interceptions.
"We studied all the tape on him," Coughlin said. "We know we have a good profile on him dating back to his college days, so we're well aware of Charlie and his ability."
Coughlin was asked what differentiates Whitehurst from Hasselbeck.
"He's bigger, he's taller, he has good mobility, he has a strong arm," Coughlin said. "I'm not comparing, I'm just telling you what his credentials are. He's had a lot of passes in preseason – probably more than a lot of the starters in the league and he's been in the league, he's in his fifth year, he was traded for, all of the above."
How much have the Giants' changed their defensive preparation since learning Whitehurst would play?
"None at all," linebacker Michael Boley said. "From what we've seen on film, he's a pretty good quarterback. He has a strong arm and he has some mobility. Our game plan hasn't changed at all. The plays we have seen of him, he threw a lot of balls in the preseason, we have a pretty good number of plays that we can catch up on him and see what kind of quarterback he is."
"We're just focused on whoever is in there - doesn't matter if it's Hasselbeck or Whitehurst," safety Antrel Rolle said. "We're going to go in there and play our game and be effective at what we do."
*According to the Elias Sports Bureau, since 1990 the Giants are 3-2 against quarterbacks making their first career start. Coughlin was the winning coach in one of those games when he was in Jacksonville:
| | | | |
| --- | --- | --- | --- |
| Date | Quarterback | Team | Result |
| 9/12/93 | Craig Erickson | Tampa Bay | W |
| 10/13/96 | Ty Detmer | Philadelphia | L |
| 9/7/97 | Steve Matthews | Jacksonville  | L |
| 12/17/00  | Anthony Wright | Dallas | W |
| 11/6/05 | Cody Pickett  | San Francisco | W |
*Coughlin was asked "how big of a concern" is Leon Washington, who leads the NFL with a 33.7-yard kickoff return average and had touchdowns of 101 and 99 yards vs. San Diego. He's also returned three punts for 72 yards, a 24.0-yard average.
"My goodness - I don't have enough time," Coughlin said. "It's dark around here about six. He's had an exceptional year, too – don't forget that. When you look at his punt return averages, his kickoffs – his kickoff return average at home. Do you know what it is? Forty four yards - kickoff return average at home."
*This is the Giants' first West Coast game since Kevin Boss joined the team. Boss grew in 3½ hours away from Seattle in Philomath, Oregon and will have "80 to 100" family members and friends at the game.
"People have been waiting for this game since I got in the league," Boss said. "It's the first West Coast game and the first game in Seattle. I'm excited, I know everyone else, to get up there and enjoy the weekend."
*Center Shaun O'Hara (foot), fullback Madison Hedgecock (hamstring) and tackle Will Beatty (foot surgery) will not play Sunday.
Darius Reynaud is questionable after straining his hamstring on the final kickoff return in practice. Reynaud said he should be able to play, but if he can't, newcomer Will Blackmon is waiting in the wings to run back kickoffs and punts.
*Tackle Kareem McKenzie (illness), defensive ends Osi Umenyiora (knee) and Dave Tollefson (illness), linebacker Gerris Wilkinson (hand) all practiced fully and are probable.
The Giants lead the series with Seattle, 8-5. They are 6-1 against the Seahawks at home, 2-4 in Seattle, and 0-2 in Qwest Field with losses in 2005 and 2006.