DALLAS TE JASON WITTENQ:  Thoughts on the week leading up to tonight's game:
A:  Well, it's been a crazy week. You work so hard for this. It's another big game for this football team, I appreciate the process, it felt like I was getting better and better and better.  It was good to get the good news on that CT scan today.
Q:   What were the risks of playing with your injury?
A:  Well, I think with spleen injuries, anytime you have an organ like that, obviously you want to be cautious with it. The biggest thing was just seeing that healing, wearing pads on there to protect it, I was fortunate to play in that game. I feel great; it's a big win for our football team.
Q:  What did it mean for you to play tonight?
A:  Well I think it helped. I think it opened up a lot of stuff for Kevin (Ogletree) on the outside, I mean for anything else, the morale of our team to see me come out there and play. Hey look, I wasn't anything remarkable, I had a job to do just like everybody else on this team, I just tried to do it. We knew this was a big game, but it was only one game, we have a long way to go.  It's good to come up here and start the season off with a big win.
Q:  When did you decide that you were going to play tonight?
A:  Well, we kind of knew last night. It's been a crazy whole week, but I mean, we knew we had that scan, so this was all part of the process to come up here and do that. Look, I wanted to play in that game. I was feeling good, obviously we had to follow the process and I appreciate the trainers and doc, and obviously Jerry (Jones) for respecting that process. To get cleared was the biggest thing; more than anything else, just the morale for our team to come up here and be a part of this win.
Q:  How big is this win for your football team?
A:  It's huge; we don't need to make more than it is. It's only one game, but hey, that's the world champs. To come up here, we talked about it all offseason long, we talked about this team, and beating them at their place.  They're a good football team, they are, they'll be back.  I think it sets the tone for our team, that we're able to win. Obviously we need some guys to get healthy, and just build on this.DALLAS WR KEVIN OGLETREE
Q:  Thoughts on your performance tonight:
A:  It was a good win, a great way to start off the season. Great payoff for a very strong training camp, which I thought we had, and building that continuity as an offense, defense, special teams. Everyone kicked in today and it was very fulfilling.
Q:  How special was it making a statement like this close to your hometown?
A:  It was great. Just a good deal. I felt really good when I woke up this morning, I had great meetings, got to go see my brother, really good vibes today; couldn't be more proud of the team effort.
Q:  How much were you thinking about your brother after the game was over?
A:  I think about him all the time, an inspiration in my life. He's going to continue to be that.
Q:  How did you manage to be Romo's escape route every time he got in trouble?
A:  Just doing what we practice. Trying every down, every opportunity I get, to be reliable, be accountable, be where I'm supposed to be, and make that play for my team. 
Q:  Thoughts on your chemistry with Tony Romo?
A:  Trust doesn't come with one game, or one play, but we're going to continue to work and hopefully that relationship continues.
![](http://www.pjtra.com/t/R0BKSkZKQ0BLRkVESEBISEtERw)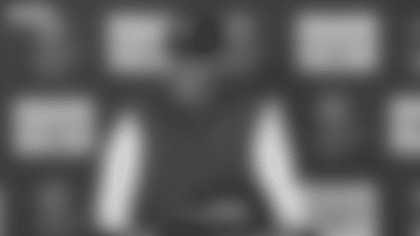 news
Quotes: DC Wink Martindale, OC Mike Kafka, STC Thomas McGaughey
The Giants coordinators met with the media Thursday at the Quest Diagnostics Training Center.