EAST RUTHERFORD, N.J. - ** Like tens of millions of fans in America's football public, Perry Fewell watched with admiration last week as Peyton Manning threw seven touchdown passes in the Denver Broncos' season-opening victory over the Baltimore Ravens. But only Fewell, the Giants' defensive coordinator, is charged with stopping Manning in his next game.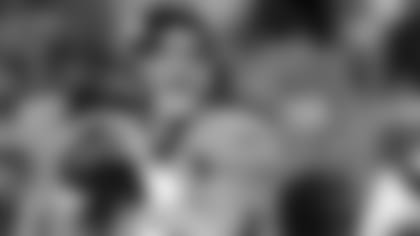 The Giants and Broncos meet Sunday in MetLife Stadium, so Fewell and his players must devise a plan to slow down an offense that scored 49 points, gained 510 yards and averaged 17.1 yards per catch last week. To do so, they'll have to stifle Manning, the four-time NFL Most Valuable Player who needs only 51 yards to join Brett Favre and Dan Marino as the only players in history with 60,000 passing yards.
"As a defensive coach, you're saying 'wow' because they're so explosive," Fewell said. "Peyton is the type of player that he drives the offense and he puts the pedal to the metal to make them go faster, to push them to score points and he just doesn't let up. You can see the other guys gaining energy and gaining confidence from him driving them and so you need to just try to make a play in order to break that momentum. That's what you try to see from the tape. Hey, can you make a play to stop that momentum, because he goes for the jugular every time he's on the field. I think that's what makes him an outstanding quarterback, because he's relentless in his pursuit of perfection."
Fewell has witnessed that pursuit in person. His second game as the Giants' coordinator was against Manning and the Indianapolis Colts in 2010. Manning completed 20 of 26 passes for 255 yards, three touchdowns and no interceptions in a 38-14 rout of the Giants. The Colts also rushed for 160 yards in that game.
"There were some things we prepared for and that we did that I wouldn't do again," Fewell said. "I felt like, from a planning standpoint, that we planned properly but it was not the best plan we could have come up with. Without trying to reveal a lot of things I learned, I would just say that we're doing it differently. We're doing it much differently because there's some things that when you go into a contest and you have a plan against a guy like that and you come out and make some notes and try to improve on those notes that you made so when you take that test again you got your cheat sheet and you hope you're much better."
Manning gets help from a strong and deep supporting cast, including running backs Knowshon Moreno, Ronnie Hillman and Montee Ball, wide receivers Demaryius Thomas, Eric Decker and Wes Welker and tight ends Julius Thomas and Jacob Tamme.
But it's the future Hall of Fame quarterback who runs the show, which begins before the ball is snapped. That's when Manning moves up and down the line, gesturing and pointing and making calls that may or may not be real. Fewell's defense must retain its poise, or Manning will have an advantage before the play begins.
"It's extremely important," Fewell said. "It buys us time to, number one, catch our breath; number two, affect what Peyton sees, because as he's gesturing we could be gesturing also, we could be changing what we initially were in. It's a game of cat and mouse, it's a game of chess. That's why he does what he does, because he sees a certain look. It's important for us to make sure he doesn't see that look when the ball is snapped.
"He can do all that he wants, but it's important for us to understand what our assignment is. As long as we understand what we're doing and not totally focused on what he's saying and what he's doing, we have a better opportunity to have success."
When the Giants are in their base defense, Mark Herzlich will be the middle linebacker, where he will essentially match wits with Manning. Herzlich emphasized the Giants must retain their composure during Manning's pre-snap manipulations.
"I think there are two things we have to do," Herzlich said. "We have to be patient, but we also have to listen to what he's saying, because some of the things he's saying are dummy calls, I'm sure. Some of the things he's going to be saying are going to be real calls. Through the progress of the game, we'll see if we can get any tendencies. Really, for us, we have to be patient, we have to not get flustered by the movement. If there are shifts or motions, we have to adjust appropriately. Just play smart from there."
Herzlich said if the Giants get flustered, Manning gains an advantage.
"We saw on film a couple times the Ravens would be all over the place trying to make all these last-minute things and didn't get set and didn't get focused," he said. "I think that's something we need to make sure doesn't happen and make sure that when the ball is snapped we're ready to go."
Of course, once the ball is in Manning's hands, he becomes truly dangerous. Although not particularly mobile, Manning has a quick release and is extremely accurate. And few quarterbacks are better at identifying and exploiting a weakness in the defense.
The Giants want to see how they stack up against a quarterback of Manning's stature.
"I love the opportunity," safety Antrel Rolle said. "I love going up against the best of the best and we all know what Peyton brings to the table, a Hall of Fame quarterback. You're not going to find a quarterback that understands defenses more than Peyton. He's just that kind of guy, he understands formations, he understands coverages, he understands it all. There's not going to be much you can throw at him to really throw him off and confuse him. But it's not going to stop us from trying and, more importantly, we just have to be on top of our game."
"I think how cerebral he is," defensive end Justin Tuck said. "He sees everything and he does a great job of knowing what the defense is trying to do and getting his offense in the right place. It's rare that you see him off guard or surprised by anything. Just how he sees the field is top-notch.
"You've got to relish (the challenge of facing Manning). That's why we're in this game, to play against the greats, and he is one of the greats. Hopefully, we can keep him to a lot less than seven touchdowns on Sunday."