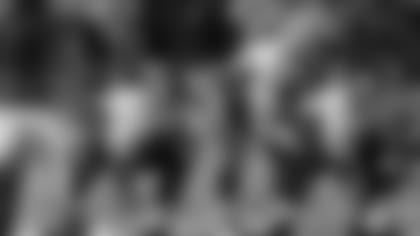 O'Hara, Snee and Diehl were the first three Giants from the same position group to play in the Pro Bowl together since 1962, when offensive linemen Rosie Brown, Darrell Dess and Ray Wietecha – also a tackle, guard and center – all received the honor.


As he walked off the field at Sun Life Stadium Sunday night, David Diehl used his last ounce of strength to summarize his first Pro Bowl experience with those two words. Diehl, the Giants' left tackle, played the entire game at right tackle for the NFC, which lost to the AFC, 41-34.
When Minnesota's Bryant McKinnie was dismissed from the team Saturday for missing two practices, the NFC was left with only two tackles – Diehl and Philadelphia's Jason Peters. So in a game in which liberal substituting is the norm, the tackles became full-time ironmen.
Not that Diehl was complaining, of course.
"This is a true honor for me," Diehl said. "This is what you dream about as a kid – you want to play in a Super Bowl and play in a Pro Bowl. You want to play with all these great players from around the league, the guys you play against week in and week out. This week was awesome. It was a lot of fun. I had a great time, because I got to meet these guys on a personal level, rather than just going against each other and shaking hands after the game. It was awesome to be a part of this.
"Jason Peters and I are exhausted. We were out there the entire time. I wasn't expecting to play the whole game. But I got here doing it as a Giant and being a blue collar guy. Granted, I'm not in the condition I was in during the football season. But when you're called upon and they ask you to do it, you do it. The guys were depending on me to go out and play."
Diehl was joined by three Giants teammates on the NFC team: Shaun O'Hara, who started at center; Chris Snee, a reserve at guard; and wide receiver Steve Smith, who caught just one pass – a 48-yarder in the first quarter from Green Bay's Aaron Rodgers for the first NFC touchdown.
Each one of them enjoyed the practice week and the game, though, as O'Hara said, "I wish we would have won that game."
Each Giant took something away. Diehl reprised the durability that has seen him start all 119 regular season and postseason games since his arrival in 2003. Snee, a career right guard, played primarily on the left side. O'Hara was introduced as a starter and ran solo onto the field prior to the game. And Smith has the football he caught for the touchdown after beating Denver cornerback Champ Bailey.
"It was a go route," said Smith, the first Giant to play in the Pro Bowl as a wide receiver since Homer Jones in 1968. "I (used) a double move. Champ bit and Aaron bombed it. He threw it up there. Champ is a legend. I'm honored to play against him and make plays against him."
Smith is the first Giant to score a Pro Bowl touchdown since Tiki Barber had a one-yard touchdown run in the 2006 game. It was Barber's final appearance as an NFL player.
"I had a great time," Smith said. "First Pro Bowl – I'm happy with it. Unfortunately, we lost. But it was a good atmosphere, working with the best guys from around the league and guys you play tough games against, like the Cowboys and Eagles. Now they're on your team, so it's kind of weird. But it's cool."
O'Hara and Snee played in their second Pro Bowls. Newcomers Diehl and Smith had to get used to the intensity – or, more precisely, the lack thereof – in the game.
"It's weird," Diehl said. "It has its moments. Guys will be walking and then the next play they're flying. It's hard to get a rhythm in the game. You play as much as you can and have fun and make sure you don't get hurt."
"It's a little different – guys aren't going too hard," Smith said. "But there are still great athletes out there trying to make plays. You see the speed of the game with all these great players."
Said O'Hara: "It was pretty easygoing in the first three quarters. In the fourth quarter they definitely cranked it up."
O'Hara, Snee and Diehl were the first three Giants from the same position group to play in the Pro Bowl together since 1962, when offensive linemen Rosie Brown, Darrell Dess and Ray Wietecha – also a tackle, guard and center – all received the honor. The three teammates were frequently on the field at the same time, sometimes shoulder-to-shoulder-to-shoulder.
"We made a couple of Giants O-line calls just for the hell of it," O'Hara said. "That was nice. It was fun being out there with (Snee and Diehl). It was cool. It reminded me of 2004, when I had Chris to my right and Diehl at right tackle."
"It shows the dedication we put in as a group," Diehl said. "It's awesome for Chris and Shaun to be here back-to-back years. More importantly, it's awesome for (offensive line) Coach (Pat) Flaherty to have three guys here."
"I was honored to come down here with those guys," Snee said. "There's a familiarity when you look to your left and see Shaun and to your right and it's David."
Diehl, who has played every line position but center for the Giants, started 16 games at right tackle in 2004 and one in 2005 (when he also played left guard). He just completed his third season at left tackle. Snee, who has started all 98 professional games in which he's played (including the playoffs) at right guard, saw his first action at left guard.
"Chris was uncomfortable all week playing left guard and getting in his stance," O'Hara said.
"It was different – it was something I hadn't done since sophomore year in college," Snee said. "It was a long time ago. But I took most of the reps this week at left guard. I felt better. I didn't feel comfortable, but I felt better."
Diehl, who has played numerous positions since he began his college career at the University of Illinois, took the shift in stride.
"It was weird not being on the left side and then having Chris play on the left side," Diehl said. "I haven't taken a right tackle snap since '05. It's how it panned out. But I'm honored to be here and it's an experience I'll remember for the rest of my life."
All four Giants who played in the Pro Bowl share that sentiment.
*O'Hara became the NFC's starting center when Dallas' Andre Gurode was unable to play because of injury. He was asked about having his name announced and running onto the field as a solo act.
"That was neat," O'Hara said. "It was fun being with these guys and being with the best of the NFL. As offensive linemen, it's a little uncomfortable to get personal recognition. But since it doesn't happen very often you kind of soak it in."
*Quirky Pro Bowl note: Paul Pasqualoni was the Miami Dolphins' defensive coordinator in 2009. He was fired after the season and quickly joined the Dallas Cowboys, the team he worked for prior to the Dolphins. Dallas head coach Wade Phillips and his staff coached the NFC team. The group included Pasqualoni, who returned to the stadium he called home earlier in the month.
*All four starting quarterbacks from the AFC South were in the building. Houston's Matt Schaub, Tennessee's Vince Young and Jacksonville's David Garrard were in uniform. And Indianapolis' Peyton Manning, who will play a somewhat more important game in this stadium next week, was here because the Pro Bowlers from the Colts and New Orleans Saints were introduced prior to the game. Manning and Drew Brees did a halftime interview on ESPN.
*Defense wasn't exactly in vogue in the Pro Bowl. The teams totaled 987 yards (517 for the AFC).
If you'd like to submit a question or comment to Michael, click here.