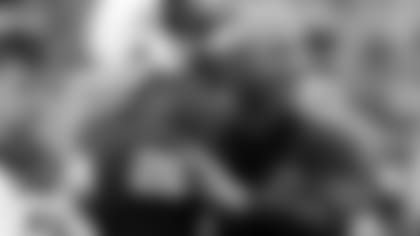 Penn State head football coach James Franklin breaks down RB Saquon Barkley:
For a quarterback, there is nothing better than throwing a four-yard pass and getting credited for 80. That is only scratching the surface of what Saquon Barkley will bring to the Giants.
"The only person that's happier than James Franklin right now is Eli Manning," said James Franklin, Barkley's head coach at Penn State. "Because he got a guy that's going to be a tremendous teammate, he's going to be unbelievable in the locker room. In today's day and age, the way you use a running back is not just line him up in the 'I' [formation] and hand him the ball 30 times a game. It's using him as a runner. It's using him out of the backfield as a receiver, free releasing him and lining him up in the slot and creating matchups. And he can do all those things."
Speaking to "Big Blue Kickoff Live" on Giants.com, the 24-year coaching veteran said he has never really seen anybody like Barkley, and that includes his time in the NFL as an assistant coach with the Green Bay Packers. "I mean, he is a complete freak show," Franklin called him.
Last Thursday night, the Giants made Barkley the highest running back drafted since Reggie Bush was also taken second overall in 2006. In between, the top running backs coming out of college found themselves going at various points in the draft order, ranging from none in the first round in 2013 and 2014, to now three consecutive seasons of one selected in the top five.
You know what Dave Gettleman says about the positional value argument for a running back taken this high?
"It is a crock," he said shortly after making his first pick as the Giants' general manager. "At the end of the day, a great player is a great player. He is a touchdown maker. He is a threat to take it to the house every time he gets his hands on the ball. I think a lot of that stuff is nonsense. I think it is someone who had decided to get into the analytics of it and went through whatever."
There was no argument from Franklin, who witnessed Barkley burst onto the scene by running for 194 yards against the reigning national champion Ohio State Buckeyes as a true freshman in 2015. The Nittany Lions went on to post back-to-back 11-win seasons in his sophomore and junior campaigns, including a Big Ten championship in 2016.
"That's where people missed the boat with Saquon and what he did for us," Franklin said. "Everybody was just so focused on rushing yardage; the guy impacted the game in so many different ways. I think your G.M. is exactly right. It's going to show up in more than just Saquon's stats. You're going to see the whole offense improve based on his presence on the field."
Still, there remains the argument the Giants could have found another dynamic back in the later rounds. The Kansas City Chiefs did it. They drafted Kareem Hunt, who led the league in rushing last season as a rookie third-round pick out of Toledo.
Value, however, is in the eye of the beholder.
"If you've evaluated this running back and he's similar to what you've seen over the last five, 10 years, then that's fine," Franklin said of Barkley. "But when you see a guy that you feel like is different – and from everything I've heard about the G.M., his evaluation of Saquon Barkley is this is something that doesn't come around very often -- I think the rules change when you feel so strongly about your evaluation of a player, not only physically but also when you sit down and you talk to Saquon Barkley. His character is higher than his film grades are."
Both were off the charts the last three years in State College.
The only thing Barkley will have to focus on at the next level, his former head coach said, is realizing that sometimes it is better to lower the shoulder and settle for two or three ugly yards to keep the down and distance on schedule. A lot of the times Barkley would look to bail out his offensive line by trying to create a home run because, frankly, he could make it happen a lot of the times. But he will find that harder and harder to do in the NFL.
The physicality is no concern. "The guy can bench whatever you put on the bar," Franklin said. Meanwhile, Barkley already has a nose for dirty work.
"Two years ago, I remember meeting with Saquon at the end of the year and I said the running back that we had seen at Ohio State, Zeke [Elliott], that was the thing that I was impressed with when people were talking about him for the draft," Franklin said of the running back taken fourth overall by the Dallas Cowboys in 2016. "They were saying maybe he was one of the best blockers at the running back position to come out in 10 years. And I said, 'Look at what they're talking about this running back out of Ohio State in the draft and this is something you can be and need to work on.'
"So he's a guy you tell him something that he needs to work on and he attacks it. Same thing this offseason talking to him about the passing game. 'Hey, don't run routes with the running backs this summer; run routes with the receivers all summer long. Get comfortable running receiver routes from out wide.' And he did it. That's where I think he just kind of understands – I think this generation, a lot kids like to just work on things they are good at, whereas Saquon wants to take weaknesses and turn them into strengths."
Good luck finding more of those.
Saquon Barkley plays football with Make-A-Wish guests