East Rutherford, NJ - Chris Palmer, who helped Eli Manning develop into a Super Bowl-winning and Pro Bowl quarterback, is retiring after three seasons as the Giants quarterbacks coach.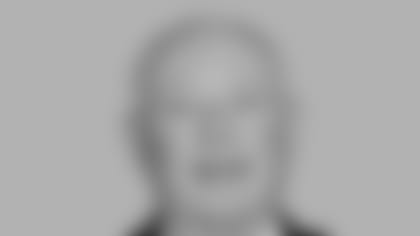 Chris Palmer, who helped Eli Manning develop into a Super Bowl-winning and Pro Bowl quarterback, is retiring after three seasons as the Giants quarterbacks coach.


Palmer coached for 38 years, including 20 in the NFL. He was the head coach of the Cleveland Browns in 1999-2000 and twice worked as an assistant under Tom Coughlin, first as the Jacksonville Jaguars' offensive coordinator in 1997-98 and with the Giants since 2007. In addition, Palmer coached for two teams in Houston – the Oilers and Texans – as well as the New England Patriots and Dallas Cowboys.
During his long and distinguished NFL coaching career, Palmer has tutored Pro Bowl quarterbacks Drew Bledsoe, Mark Brunell, Tony Romo and Eli Manning.
"I think Chris was an excellent addition to our staff," Coughlin said. "I hired Chris to be my offensive coordinator in Jacksonville. Because of my knowledge of his unique abilities as a quarterback coach I wanted him here and I wanted him to be able to work with Eli. He came in and we had a historic year here in 2007 (winning Super Bowl XLII). Eli had a great playoff run and Chris was a part of that.
"Chris did an outstanding job coaching Eli. He has been Eli's coach and confidant in the years that he's been here. Eli and Chris had a very good working relationship. I believe Eli has established himself as one of the top quarterbacks in the National Football League, and I see nothing but continued improvement in the future. Chris was very well thought of here. Ownership thinks highly of Chris and so do I. We wish him well going forward."
When Palmer joined the Giants prior to the 2007 season, he filled an opening created when former quarterbacks coach Kevin Gilbride became the offensive coordinator.
"I had a great run with the Giants," Palmer said. "I want to thank the Maras and the Tisches for three great years. I enjoyed my time there very much. And it was not only the players, but the people and the organization. It was a very, very good situation for me."
Under Palmer's guidance, Manning put together three outstanding seasons and developed into one of the best quarterbacks in Giants history and among the most productive in the NFL.
In 2009, Manning completed 317 of 509 passes (62.3 percent) for 4,021 yards, 27 touchdowns, 14 interceptions and a passer rating of 93.1. The completions, percentage, yards, touchdowns and rating were all career highs. Manning became just the third quarterback in Giants history to throw for more than 4,000 yards in a season, joining Kerry Collins (4,073 in 2002) and Phil Simms (4,044 in 1984). He is the only quarterback in franchise history with five consecutive 3,000-yard seasons and five consecutive seasons with 20 touchdown passes.
In 2008, Manning completed 289 of 479 passes (60.3 percent) for 3,238 yards, 21 touchdowns and 10 interceptions for a passer rating of 86.4 and led the Giants to a 12-4 record and the NFC East title.
Manning was superb in the 2007 postseason, when he led the Giants to four victories, including an upset of New England in Super Bowl XLII. In the playoffs, Manning completed 72 of 119 passes (60.5 percent) for 854 yards, six touchdowns and only one interception.
"I really enjoyed working with Coach Palmer," Manning said. "Over the last three years we've had some great success and I've improved as a quarterback. He's a terrific coach when it comes to technique. He's great not only on the field but also in the meeting room. I'm really sorry to see him go."
"It was very rewarding to me to work with Eli, because you had a player who grew every year," Palmer said. "We won the Super Bowl. He was a guy that you looked forward to coming to work with every day, because he was going to challenge you and he was going to look for ways to get better. We hit it off from day one."
Palmer came to the Giants after spending the 2006 season as the Dallas Cowboys' quarterbacks coach. Under Palmer's direction, Romo enjoyed a meteoric rise from a player who had not thrown a regular season pass in almost 3½ years with the Cowboys to a Pro Bowler. Romo, who took over the job at halftime of a loss to the Giants on Oct. 23, won five of his first six starts, finished 6-4 and led the Cowboys to an NFC Wild Card playoff berth. He completed 220 of 337 passes (65.3 percent) for 2,903 yards, 19 touchdowns and 13 interceptions.
Palmer joined the Cowboys after serving as the offensive coordinator of the Houston Texans from 2001-05, the first five years of the franchise's existence (the team played its initial game in 2002). The Texans' first-ever draft choice was quarterback David Carr, who just completed his second season as Manning's backup. With Palmer at the forefront of his development, Carr developed into a productive quarterback, completing 61.2 percent of his passes and throwing for 3,531 yards in 2004.
Prior to his stint with the Texans, Palmer spent two seasons as head coach of the expansion Cleveland Browns. The team was 2-14 in its inaugural season in 1999 and suffered several serious injuries in a 3-13 campaign in 2000. In Cleveland, Palmer worked with quarterback Tim Couch, who, like Manning and Carr, was a first overall pick in the NFL Draft.
Coughlin and Palmer first worked together when the latter was named the Jaguars' offensive coordinator in 1997. During Palmer's two seasons in Jacksonville, the Jaguars were ranked seventh and 10th, respectively, in the NFL in total offense. The '98 Jaguars won the AFC Central championship and averaged 325.9 yards a game, which was fifth in the NFL.
If you'd like to submit a question or comment to Michael, click here.