Q: Because you missed the Steelers game, do you feel you have to alter your routine at all?
A: I don't think so. I think it's one quarter of preseason football. I think I've played enough games and we've had this crew enough where it's going to effect that fourth game where we'd play more than we usually do.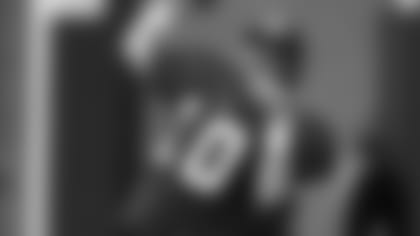 Q: From the sideline today, it looked like you had a modified helmet, is that true?
A: Yes. It's just a different helmet, nothing special about it. There's no new padding or anything. Just a little bit different helmet with a chinstrap that buttons a little different than the way I used to, just to ensure that it's on tight.
Q: The first team hasn't played together throughout camp, how far behind do you think you guys are?A: I don't think we're far behind. Actually, we're not behind at all. It's the third preseason game, and we go out there and try to play well. Guys are coming back healthy, and I think that's a part of training camp every year, guys go in and out a little bit. I think we have a veteran group, especially up front. Receivers are getting better, and they've been pretty healthy throughout training camp. I think we're in good shape, we are getting guys back healthy right now, which is probably the most important thing. You might miss some guys early, but the later you get into the preseason right before the first games start, you want to be as healthy as possible.
Q: So what's the deal with the new chinstrap, how does it work?
A: I've always had both of them on the side. I've done this before on a helmet, but not in the past couple years. It's just to ensure that the helmet stays on, so I'm going to go with that the next couple of weeks, see if we like it, maybe we'll stick with it. If I don't, and once it heals up better, if I want to go back to the one on the side, we can do that also. Nothing I'm really concerned about.
Q: Did it feel weird to be on the sidelines in shorts the other night?
A: Yes, not really what I'd like to be doing. I've missed some preseason games before. So if I'm going to miss a game, I think preseason is the way to go.
--- ](http://www.nyg2010.com/)**