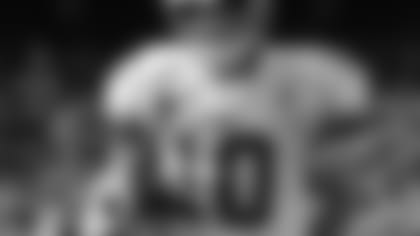 Q: Your thoughts on losing Hixon?
A: it's a shame, a guy who we missed last year and were happy to have back. Obviously you saw his contribution already with the touchdown catch. Those are the kinds of plays that he can bring to us. Unfortunate, but we're going to need some guys to step up. That's why we brought Brandon Stokley in here and Victor Cruz and we drafted Jerrel [Jernigan]. We have guys. We just need some young guys to step up and make some plays also. We still have talented receivers.
Q: How tough and how important is this game?
A: Any time you play a division game, it's always important and the Eagles, we know they're a very good team, a lot of talent - offense and defense. We just have to make sure we have a great week of preparation, be as mentally and physically ready as possible and go out there and we have to play a great game. But that's what we're getting ready for.
Q: How important is it to run the ball with the injuries to the receivers?
A: We have to stick to our game plan. I think we always try to establish the run and be able to hit play action and get into third and manageable situations. I don't think anything's going to change. We know they have good players and they have good defensive backs, their front four are good against the pass rush. If you can establish the run game, slow down their rush, that would be important.
Q: How difficult is it to get on the same page with different receivers?
A: We still have Hakeem [Nicks]. We still have Mario Manningham. Those are our two starters and the two guys that are in on most plays. Our two core guys are right there and with us. Obviously Hixon was a guy who rotated in. We still have Victor Cruz, who's been here all year long. We have Stokley, who's been here a week. He's going to have to do more and learn more of the plays. We still have talented guys and there's no reason we can't go out there and be successful throwing the ball.
Q: Is it the Giants' personality to just play the hand you've been dealt?
A: You keep going. You keep preparing. If everything was easy and went perfectly, it kind of takes some of the fun out of it. It always makes it a great opportunity for some guys to step up and show what they're made of and how they can go out there and make plays?
Q: Does the loss last year still linger?
A: No. It's a new season, a new year, and we're excited about this upcoming season and this game with Philadelphia. We just have to go out there and know our game plan and be ready to play.
Q: How much confidence did you gain last game?
A: I think you're confident going into every game. It's always nice getting the first win of the season, no doubt, and get that out of the way. We just have to stay hungry, stay confident, keep the same enthusiasm, the same dedication to our work and effort and go out there and play hard.