NFL.COM- He has a Super Bowl MVP, a 4-3 postseason record, a lifetime 64-46 record, has never missed a start and didn't make the Top 100 Players of 2011. If that's not enough to make you question a top 100 list that doesn't include Eli Manning, there are other reasons.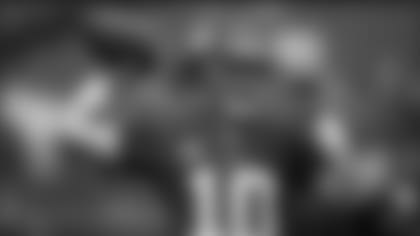 Who threw more touchdowns in 2010 than Philip Rivers, Aaron Rodgers, Matt Ryan, Josh Freeman, Tony Romo and Donovan McNabb? Manning did, but he's not on the list and those quarterbacks all made the top 100!
Who threw for more yards than Tom Brady, Ben Roethlisberger, Rodgers, Ryan, McNabb, Freeman and Romo? Manning did, but he get voted in by the players and those guys did!
Who had a better yards per attempt average than Peyton Manning, Drew Brees, Freeman or McNabb? Eli Manning, but he didn't make the cut and, of course, those signal-callers did!
Manning is no escape artist in the pocket and probably should have taken a few more sacks to avoid some of the 25 interceptions he threw, but he knows how to avoid pressure. He was sacked once every 35 attempts as compared to Roethlisberger (1:13), Rivers (1:15), Rodgers (1:16), Brady (1:21), Ryan (1:26) and Brees (1:27). Still, it was ignored in the top 100.
Want some division history? Manning is 10-3 vs. the Redskins while Jason Campbell was 0-6 vs. the Giants. Manning is 8-6 vs. the Cowboys and Romo is 5-7 against the Giants. Manning is only 6-8 vs. the Eagles and McNabb is 11-10 vs. the Giants.
If the list was constructed on potential, I understand Freeman's inclusion. If the list was constructed on history, I understand McNabb's inclusion.
Someone I respect told me it wasn't a surprise that Manning didn't make the top 100 because he's a middle-of-the-road quarterback who is little more than serviceable. That made me wonder if I would take Manning over Romo, McNabb, Freeman, Campbell, Matt Hasselbeck, Chad Henne, Ryan Fitzpatrick, Mark Sanchez, Joe Flacco, Carson Palmer, Kyle Orton or Matt Cassel? I posed that question to five NFL people with the idea of the 2011 season as the criteria. Romo got one vote, Flacco and Freeman each got two, and none for the rest of the group.
While it's debatable if Manning should replace one of the 12 quarterbacks on the list, I know he's better than some of the 18 wide receivers who made it and there's no doubt he should be included in the top 100.