Q: How are you doing?
A: Icing, rehabbing, just trying to get healthy for next Thursday.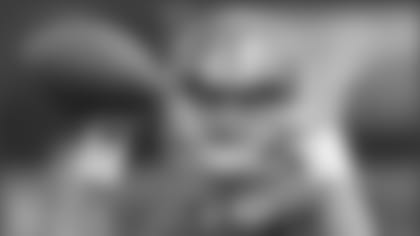 Q: Do you think that's a real possibility?
A: I think so. It's one of those things - three, four weeks, possibly be back in two. And it'll be two weeks Monday so I'm trying. I've got to give them more to look at so I can help them make the decision. In my mind, I feel like I've got to play. I've got to play next week.
Q: Are you worried about a roster spot?
A: I mean I'm still worried about that decision a little bit. You don't have much time left until you've got to make tough decisions in the league. I've seen those decisions go in the player's favor and not in the player's favor. So I'm just going to try to get out there and just make the decision hopefully a little easier on them and hopefully in my favor.
Q: Do you have to start practicing Monday to even think about playing Thursday?
A: I don't know. I don't know the rules on that. My goal is to practice on Monday to play on Thursday.
Q: Has the shoulder strengthened at all? You said you were having a hard time holding your arm out to the side. A: Yeah. There are some things I can do. There are some things I can't do. Trying to stay away from things that irritate it and playing it because you don't want to set yourself back right now. Another week is bad. Another week right now would be terrible so taking it slowly. We've got three or four days until hopefully we have to see if we can push this thing a little bit. We're taking it slow. It's a little unnerving and little frustrating. A few sleepless nights, and you realize you've got to do with what the hand you're dealt, and this is my hand right now and I'm going to do the best I can to get through this.
--- ](http://www.nyg2010.com/)**