A look at some of the best quarterback seasons overseen by Pat Shurmur: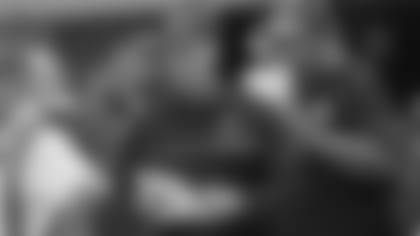 New Giants head coach Pat Shurmur is widely respected around the league for his craft in developing quarterbacks.

You don't need to look any further than this past week's NFC Championship Game for the reason why.
With a trip to the Super Bowl on the line, Minnesota's Case Keenum squared off against Philadelphia's Nick Foles, two quarterbacks whose best seasons were under Shurmur.
Here is a closer look at those players who helped him earn that reputation: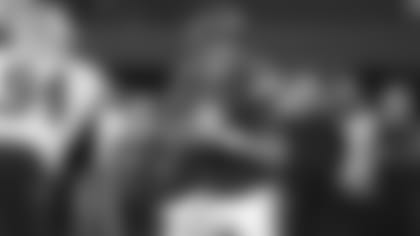 In Shurmur's first full season as the Vikings' offensive coordinator, the offense jumped from 28th to 11th in yards. And Minnesota did so with its third option at quarterback. With Teddy Bridgewater still rehabbing from his catastrophic knee injury, the Vikings began the year with Sam Bradford, another quarterback whom Shurmur coached with a previous team, but he would make only two starts. Enter Case Keenum, originally an undrafted quarterback who played for the Texans and Rams before signing with the Vikings at the end of March.
Keenum went on to enjoy a career year with a quarterback rating of 98.3, the seventh-best in the NFL, and led the Vikings to a 13-3 season, a first-round bye, and a trip to the NFC Championship Game. While the Vikings had 10 different players score a touchdown on offense, they ranked No. 3 on third down, converting 43.5 percent of the time. Minnesota's trio of quarterbacks who played — Keenum, Bradford and Bridgewater — combined for just eight interceptions on 527 attempts.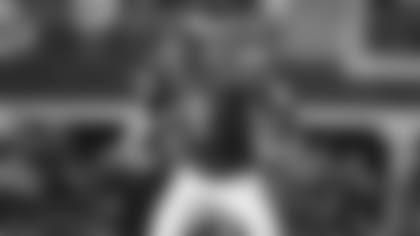 Prior to his arrival in Minnesota, Shurmur spent the previous three seasons as the offensive coordinator of the Philadelphia Eagles, his second stint with the club. He arrived in 2013 when he was hired by then-rookie head coach Chip Kelly. In their first season together, they orchestrated one of the most efficient offenses in the NFL, setting team records in points (442), total net yards (6,676), touchdowns (53), passing yards (4,406) and fewest turnovers (19) en route to an NFC East title. The Eagles also set an NFL record with 99 plays of 20 yards or more. They did so with second-year quarterback Nick Foles, the Eagles' third-round draft choice in 2012.
Foles broke out with 27 touchdowns to only two interceptions while posting the third-best rating (119.2) and third-lowest interception percentage (0.63%) in NFL history. Foles also became just the seventh player in league history at the time to throw for seven touchdowns in a single game (vs. Oakland). In 2014, the Eagles broke their own records with 54 touchdowns, 390 completions, 4,581 passing yards, eight 300-yard passing games and 356 first downs.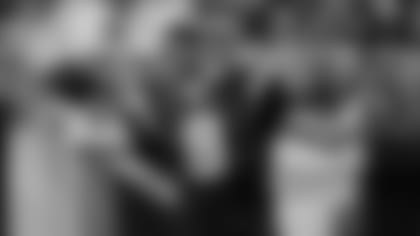 Steve Spagnuolo gave Shurmur his first NFL offensive coordinator job with the Rams from 2009-10. In 2010, the Rams used the first overall pick on Bradford, a Heisman Trophy winner out of Oklahoma. Bradford set NFL rookie records for completions (354) and attempts (590), while his 3,512 passing yards were the second most by a rookie in league history en route to NFL Offensive Rookie of the Year honors.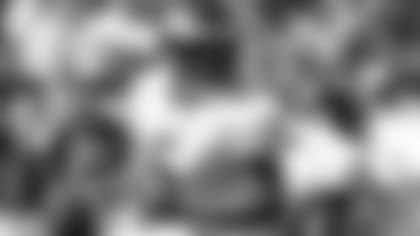 Shurmur's NFL coaching career began in Philadelphia, where he spent 10 seasons under Andy Reid from 1999-2008. He served as the team's quarterbacks coach from 2002-08 and helped guide Donovan McNabb to three Pro Bowl nods during his tenure. In 2004, Shurmur mentored McNabb to the most productive season of his career, as he set franchise records in passer rating (104.7) and completion percentage (64.0). McNabb also became the first quarterback in NFL history with at least 30 touchdowns (31) and fewer than 10 interceptions (eight) in a single season. McNabb's career year culminated with Philadelphia reaching its first Super Bowl (XXXIX) since 1980.
Quarterbacks are not the only players who have thrived under Shurmur. Below are notable skill players he has coached throughout his career:
• In 2017, wide receiver Adam Thielen recorded a career-high 91 catches, the seventh-most in a Vikings season. He also set a career best with 1,276 yards, a total that ranks as the ninth best for a single season.
• Stefon Diggs caught a career-high eight touchdowns this season, not including his walk-off score against the Saints in the Divisional Round. Six of those touchdowns came in the red zone.
• Shurmur helped running back Steven Jackson capture the NFL rushing title in 2009 with 1,416 yards on the ground.
• As tight ends coach for the Vikings in 2016 (Shurmur took over as interim offensive coordinator/play-caller for the final nine games), he helped Kyle Rudolph set franchise records for most receptions (83) by a tight end in a single season and career touchdowns (now 37) at the position. The wide receiver unit was led by Thielen, who had a breakout season with a team-high 967 yards, and Diggs led the team with 84 catches (for 903 yards).
• Shurmur's first three seasons in Philadelphia (1999-01) were spent as tight ends coach, as he helped develop three-time Pro Bowler Chad Lewis. From 2000-01, Lewis combined for 110 receptions, 1,157 yards and nine touchdowns. His reception total ranked fourth among all NFL tight ends during that two-year span, and he was tied for fourth in touchdowns and fifth in receiving yards.
• While coaching at his alma mater, Michigan State, from 1990-97, the Spartans sent three tight ends (Ty Hallock, Duane Young and Mitch Lyons) to the NFL under Shurmur's guidance.