Q: Expected to be a huge weather change for Sunday. Do you take that into account?
A: Yes. We look at the weather.
Q: Does that change anything?
A: Both teams have to play in it. We'll be ready for it.
Q: One of their players talked a little trash this week. Do you get into that bulletin board material?
A: I'm aware of it. I don't respond to it.
Q: What if your guys do it? Does that bother you?
A: I'm aware of it. I don't respond to it.
Q: Where has Sterling Shepard made the most strides since you drafted him?
A: Probably learning the pro game. Learning to get himself ready each and every week. I'd say that's probably where he's made his most progress. He was a guy that came in here conscientious. When he'd make a mistake, he'd learn from his mistakes. He's really putting a couple of good weeks together here. I look forward to getting him better as the season goes on.
Q: I wanted to ask you again about the touchdown route that Odell ran in the game last weekend. Is there a reflection in there about the maturity in his route running in terms of when he first got in the league, would he have been able to run that route that well?
A: Yes. He was a good route runner when he got into the league. He was very good down the field. He's gotten better short to intermediate. He's really had to work there and he's done a nice job there. It shows that he's not just a speed player right now. He has some patience in his game and that's encouraging.
Q: Is the speed game alone what makes those long routes easier? Maybe those were more polished or easier when he first came in? What is the challenge of improving the short game?
A: It's just a different type of detail. When you can get up the field, get running and get on someone's toes, he has natural instincts down the field that way. Sometimes the shorter things are the tighter they can get and the harder they get.
Q: In the red zone does that make him more potent?
A: Yes, absolutely. Especially with the attention that he gets, everything he does has to be precise. There's not a play that goes by where he doesn't get doubled. He really has to push, be precise and be patient with what he's doing.
Q: Where would you characterize his maturity level from when you first met him until now?
A: I think he's doing a great job. I think he's in a great spot right now. I really don't know a good answer for that question.
Q: Have you taken notice that you've won six games thus far? That is the total of the past two Giants teams?
A: We're looking forward to playing Chicago this week. That's what we're worried about right now. It's a short week of preparation. We caught up and are right where we need to be at this point in time. We're looking forward to fresh Friday today and a launch day tomorrow.
Q: That specifically hasn't been brought up?
Q: Do you think putting Eli under center more has helped the run game?
A: I think when you get more attempts at the plate you get an opportunity to be under center more and in the gun a little bit more. I think it helps everything.
Q: Did you see an edge or a difference in Rashad Jennings leading up to Monday and in the game on Monday?
A: I think Rashad is a big back that wants the ball. If you can give those big backs a chance to get going, get their shoulders downhill and get them a couple of carries under their belts and they have a chance to get into a rhythm, look at what happened at the end of the game because of that.
Q: What do you expect Victor Cruz's role to be when he returns?
A: I expect him to be a big part of what we're doing in the receiver room.
Q: When you have a run like you have going right now, can you describe the part of handling prosperity and keeping yourself focused on the task at hand?
A: When we got together in April, we talked about our biggest challenge. We talked about it again this week and it's handling success. Being able to stay in the moment and focus on what we need to focus on. Being where our feet are and getting ready for a game Sunday at 1.
Q: Do you think you're close to putting a full game together and asserting yourself as clearly the better team? Maybe not having it be close at the end.
A: We talk about it. We want to start fast. That's important to us. We want to get a little bit better each and every week. We play the game as it unfolds. One thing is important that we all recognize in the room, the locker room and the meeting room and on the field on Sunday is that it doesn't matter how the game unfolds.
All three phases are capable of making a play to win the game. We have those types of players in the locker room. We expect them to play that way on Sunday with that edge and confidence one play at a time.
Q: Do you feel that you've improved from month to month?
A: We're working to be a better team this week than we were last week. We want to be better in November, obviously, than we were in October. This week, especially coming off of a primetime game in a short week, we needed to dial in yesterday and Wednesday. We did a nice job of it. We were dialed in today and tomorrow is really going to be a big day for us. It's the second day of practice this week. It's important for us to be dialed in a little bit better and find a way for us to win on Sunday.
Q: You talked about being able to run on the Bengals d-line at the end of the game because they were a little bit tired. Is that a concern for you considering JPP and OV's snap counts are way up there.
A: I don't know if it's necessarily play-count total as much as it is sequence and when it happens during the course of the game. That's not a concern for me.
Q: Are you a believer in the idea that the mental part of the game matters at key moments and on the football field?
A: I believe what goes on between the ears plays a big factor in the outcome of everything that we do. Running Backs Coach Craig Johnson
Q: Mike Sullivan said that he kind of sensed an edge from Rashad going into the Bengals game. Did you see that from Rashad?
A: He has an edge this week, too. I know that he was hoping that he was more productive and more consistent than he had been, so what happens with him is that he did have an edge. He was kind of a little chippy, had a little bit of an attitude, probably a little mad at his coach. That is okay. I am okay with that because a lot of times if you run aggressive, run angry and you are mad a little bit at the world then you get going and sometimes you get a lot of good results and we did and that is really what is important.
Q: Why was he mad at you?
A: Oh, well I have a tendency – you do what you need to do to get them to lift their game. That is what the coach is going to do. Sometimes you encourage them and sometimes you prod them. You do what you need to do to get it done and, again, I think he has high expectations for himself and he said that he knows he needs to play better and he did.
Q: It seems like you guys have kind of settled on him and Paul Perkins. How much of that is pre-determined and how much of that goes along with the flow of the game?
A: I think a lot of it has to do with the flow of it. But right now, those two guys have been getting the majority of the reps. They have been in a fairly consistent rhythm. Bobby Rainey has played for us some, Orleans Darkwa has played for us some, but right now those two guys are getting the majority of the reps and it seems like a good fit. Obviously last week Rashad had a really nice game, the prior week Perkins had a nice game, so you just go with it, flow of the game, see what happens and try to get what is best for the team.
Q: What happened with Orleans? Why has his role diminished so much?
A: There is really nothing and a lot of people ask me, but there is really nothing that he has done wrong. The bottom line is that it is hard to get a lot of guys carries and the feel and talking with the guys and just going through a lot of things, it is really hard when you play too many guys.
So we really try to not play as many guys as we did prior, so they can get a better feel and the way the games have been going, how many plays we have been getting, how many carries and all that. We really feel good about having a couple guys in there. Sometimes you will have three and then every week you are going to do what you need to do to win.
Q: What does Paul bring to the table that is different than Rashad?
A: Well, one of the things that I think that Paul has got is a great ability to make guys miss. He has done a really nice job with that. He can really stretch and cut. But in a lot of ways they are very similar. They both can block well, they both obviously are able to run, they are both good in the passing game. They both have a lot of similar traits, they both bring a lot to the same table, but one of the things with all the younger backs is that they are going to bring a little energy, are sometimes going to play too fast, you have to slow them down, but I think Paul has really done a good job.
Q: We look at it and we see the numbers. When Shane Vereen went out, how much of a hit did this backfield take in your mind?
A: Oh, sure. You are always going to try and follow up and Shane was a valuable part of our team and offensive unit a year ago. So when I am told that he is ready to play, then we will see if we can try and find a role for him. I have not heard that yet. But he is really playing at a high level and I think he had one of the best years of his career a year ago and I thought that earlier this year that he had a great start to the year and, so, you have to deal with that.
But injuries are a part of the game all the time. That is just the way it is. All positions get hit, running backs also, so next man up. If he is not there, then we have to have somebody else step up and so that is what I plan on doing and we will continue to move on and see if we can continue to play well. But there is no question that Shane is a valuable asset to our team.
Q: You have obviously talked to Shane. How hopeful are you that that will happen?
A: Always hopeful because, again, he was playing at a high level. But really what I have learned for being in this for a while is that when they tell me he is ready to go, then we will start talking and going down that road. Right now I have not heard that, so until I do hear that, I am going to plan on getting the guys that I know are ready to play, ready to play.
Q: How much did you guys change in the running game from the bye week until where we are now?
A: I don't know if we changed a lot in the bye week. I think that what Coach McAdoo said is that he was not really happy with how we were playing with the offense as a whole unit and every single thing needed to be looked at. So we went back, as most teams do, and looked at all of our plays, how are we doing? What are we successful with? Do we need to do this more or less?
So I don't know if it is so much that, I just think that specifically late in the game in both of our last two games that we have been in a really good rhythm and obviously I would like to have it for four quarters, but this is the NFL. They play good defense here, so I just think that the guys that come and answer the question and answer the bell of what has been asked of them.
Q: From your perspective, what is the skill that Eli Manning brings in being able to change plays at the line of scrimmage?
A: I think it affects the running game a lot. I give all the credit in the world to Eli. He does a great job and is always prepared and he so often gets us into a good running play. We try to make sure that we don't ever put too much on him because he has plenty to do with the passing game. But I think he does a good job of analyzing the defense, trying to find the weakness in it and hurting it, both in the run and the pass. As a running back coach, I like that a lot because, again, we are trying to get the best plays possible that you can in these situations.
Q: He did that. Not in the final first down but in the play before.
A: Well, he does that a lot. Obviously the plays that are the game changers or are the momentum changers that you see where you go, 'Wow, that was a nice job there.' But he does that quite a bit and sometimes he just lets it kind of ride and goes with the flow. It all depends. Kind of like the backs, it just goes with the flow of the game.
Q: Do you think there are as many NFL quarterbacks that do as much as he does?
A: I don't know if I could say it for all the teams because I have not been on them. But I do know that he is very involved with that and I really think that it is the particular style of each offensive coach. Some coaches like you to touch it, some coaches like you to just run the play that is called. There is not a right or a wrong, it is just depending on what you like.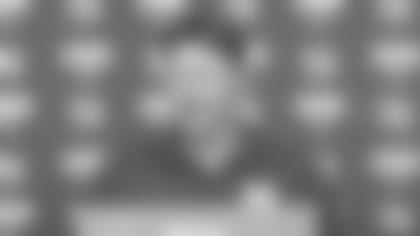 Secondary/Safeties Coach David Merritt Sr.
Q: How do you think Landon Collins has done this year and to what do you credit his significant improvement?
A: I think I said it earlier but number one, the kid is committed, film studying, he's coming into meetings with good questions and doing a great job at accepting his role and any role we put him into. That's the first thing. The next thing is, the kid is working hard;
he's kept his weight down, he's hovering right around the 215 mark, which has been great, and therefore he can continue to run and play fast the entire game. And again, he's trusting the system. That's what I attribute it to. He's done a good job as as a first safety for us.
Q: He's been here for 25 games now; to play with six different guys in that safety tandem, is it a commitment to the system and not necessarily the guy next to him that you would consider to praise what he's been able to do?
A: It's not easy and that's the one thing that Landon and I talk about quite often is the number of guys that he's had to line up beside. He's committing to the players beside him because, one, you better have some trust in the man that's beside you. At the same time, he's also trusting in and believing in the system.
Last year he played over 1,100 snaps as a rookie, so coming into this year, he's a vet and he was the vet in my room at the beginning of the year and I told him that as far as games and the number of starts that he's had, he's done a good job and I know he will continue because that's the type of player he is.
Q: When Nat Berhe and Darian Thompson went down, could you have envisioned Andrew Adams stepping in the way that he has?
A: It's funny that you ask that because when all the rookies come in, I explain to all the rookies that, 'I'm going to treat you guys as if you're starters.' I said, 'I'm going to coach you guys as if you're starters.' And, I gave them past stories, being that I've been here a little while, so I've had experience with guys that come in as free agents, whatever it may be. But, from day one, what Andrew showed was a commitment to taking excellent notes;
with that being said, we all know that if you write things down, just as you all are doing right now, it's a little bit easier for you to remember it as you go back and look at it again and put it all together. That kid, you look at his notebook, he's done a heck of a job at taking notes. And then, not only taking the notes but applying it when he goes out on the practice field and of course that has translated as well over there in MetLife stadium. I told the kid, as well as the other guys, when you come in here as a rookie free agent, you're a starter and you have to think that way.
I think we all remember Geoffrey Pope, the corner that played in the Dallas playoff game back in 2007; that kid was on the practice squad most of the year and then he had to go in and play some snaps. You never know when your number is going to be called and you have to be ready.
Q: Was it tough for you, maybe selfishly for your position, when he got cut?
A: I'm actually okay with the fact that they released him because I knew he was going to be back with us on the practice squad. Having to be able to continue to mold a young man who has that intellect, that's what you want as a coach.
He may not be the biggest, the fastest, the most glamorous looking guy (quite sure my mom said that same thing when she married me), but the thing is that there's something about this kid that I saw in him and is showing up on Sundays and one of the things that I tell all the guys is that, 'I'm not going to praise you,' because once you start praising someone, just like my golf swing, once you give me praise, 'oh man, that's a great shot,' next thing you know I shank it in the woods.
So, I'm not sitting here praising these guys. I tell them all the time, 'Until we're on that float and see the confetti coming down, right now guys, we haven't accomplished anything.' And I gave them a good outlook this morning. Everyone wants to talk about the playoffs; that's great, that's fine and dandy but you know what, you need to win one game a week. You need to go 1-0 each week because there are teams in the past that have gone 10-6, 11-5, who have not made the playoffs. So as far as playoffs, I'm not even concerned about any of that talk. I let these guys know, win one game a week and the most important game is the next one on our schedule, which is the Chicago Bears.
Q: How difficult is that for young players who haven't been to the playoffs?
A: Again, to me, to be honest with you, for me to sit up here and start talking about going for a playoff run, I'm not going to do that if you don't mind. My thing is focusing on the Chicago Bears. But I've heard the buzz around and I'm just trying to hone them back in to being focused and the one thing I say on the sideline to guys, I give them a couple of buzz words, 'technique, technique, discipline, discipline, hands, hands.' So with that being said, they at least can come back into the game and say, 'okay, let me make sure I get my hands ready, let me make sure I play with proper technique.'
Q: Back in week three, it seemed like Nat Berhe was really coming into his own. He had the concussion, how much has that derailed him and do you still have confidence that he can get back and be a factor in the secondary?
A: Absolutely he's a factor. Nat, the thing is that, again, he's a starter just as Andrew, just as Landon and so if Nat has to go in and play 70 snaps, I feel very confident because I know where he is mentally because I'm with him every day. So with that being said, the fact that Nat is in the room, and he is actually applying himself and he's going out to practice and he's accepting his role, which I think is a big thing for a young man like that.
You have a kid that was a starter at the beginning of the year, because of Darian Thompson being hurt, he played a lot, then all of the sudden he was derailed because of an injury and now he's coming back as a guy that is accepting the role as a back yet, I'm constantly talking to these guys, you're all starters. So if you have to go out there and play, you're going to play as a starter and that's what he's done, he's accepted that role. WR Odell Beckham Jr.
Q: Can you expand on how exciting it is to be 6-3? You've never been in this position before in your career.
A: It's a great opportunity that we have at hand. We just have to capitalize and make the most of it. We take it one day at a time. We keep getting better each and every day. Bears this week. You can never overlook anyone. Just have to keep making progress as you get towards the back end of the season. Obviously you want to keep winning.
Q: To watch the playoffs from home, how difficult is that? Have you ever envisioned yourself in the playoff environment?
A: Since I've gotten into the league, I've envisioned myself getting into the playoffs and what it would be like. How the atmosphere would be. That's why I am excited that we have an opportunity and a chance. The past two years have been tough. Coming from LSU, I'm not really used to losing. 6-10 the past two years, it's not easy to handle either. Right now, we have a great opportunity in front of us. Just have to make the most of it.
Q: Do you plan out your touchdown dances or is it just in the moment?
A: It just kind of happens. There's so many things that run through your mind at that moment. I don't know exactly what I'm going to do. It's just kind of the heat of the moment. That type of thing.
Q: Thriller" was just in the moment?
A: It's something I've thought about before. I don't know, it just happens. I don't really know how to explain it.
Q: Have you ever done it or practiced it before?
A: It's just from what I've seen from the videos.
Q: People envision that you're in front of a mirror practicing dances and things like that?
A: That doesn't really happen. I do cut up when I'm at home though. I do it all the time. By myself, with people, it doesn't matter. I'm having fun.
Q: If you think about your own skillset from when you got into the league until now, what have you improved on?
A: I feel like everything has gotten better. I try and take a step up in every way. I feel more focused. I feel like I'm running better routes and that I'm doing better releases. Everything helps. When you're winning, that helps out a lot more. That's a tough question. I would have to think about that more.
Q: The route that you ran this past week against the Bengals. As a rookie, could you have run it that well and that way?
A: I think so. I think so. It's just something that we've set up for a little bit of time now. The route just kind of happened. Do I think that I had the skillset as a rookie to run it? I would like to say so.
Q: Do you view yourself as a guy that rises to the occasion as the games get bigger?
A: Yes. I feel like those moments, that's what you work for. You work for those big moments. What else are you playing for?
Q: Some guys thrive in them and some freeze. You seem to be someone that thrives in them?
A: I love it. I love those moments and the opportunities. It's truly a blessing. That's what you said. That's what you work for. You have to enjoy it. You have to enjoy it and give it your all.
Q: Are those double moves the payoff for all the underneath routes you have to run?
A: It was down on the goal line and it was the right timing. It's a lot of underneath stuff that you have to run right now because of the coverages that we're getting. At the same point in time, we're finding ways to move around and get guys open. Be more creative in our own way. Everything just has to keep improving. Take it one day at a time. Never look too far ahead or in the past.
Q: How do you feel that Ben McAdoo has done as a coach?
A: I think he's done a great job as coach. Obviously, we're 6-3 right now and he's starting to make his strides to get exactly where he wants to be as a head coach. I've been with him for the past three years. It's a little harder for me to take a step back and look at it. He's a coach that I've been with from the start. You can see that he's starting to really enjoy the process and everything he's going through.
Q: Does winning nail-biters build character or mean more? Do they add something to this team?
A: Stress. We'd love to come out and beat a team 45-14. Why not? I'm a firm believer in that you work all week for 60 minutes of football. As an offense, you're not going to be on the field for 60 minutes. Why not make the most of the opportunity that you have now? Instead, you have to wait a whole week for next Sunday. Like I said, live in the moment and take advantage of the opportunity at hand.
Q: How much do you think it has helped to move around after the bye? Play different spots.
A: I definitely agree that we've done a little more moving around. Finding ways to be more creative. It's a lot of underneath stuff because we have to take what they give us. Teams are going to play two-high on my side for the most part. That's what we figured out. It's just finding a game plan that we've worked on.
Q: Have you talked to buddies around the league that have been to the playoffs? Maybe pick their brain?
A: I have, yes and no at the same time. When I talk to Von, Eli or Cruz about a Super Bowl, they're like the feeling is indescribable. I can feel it already. Just being in those moments, I tell E all the time when we're on the field, just lead us. Take me there. He's been there. I'm enjoying it and I love where we're at right now. We just have to keep getting better.