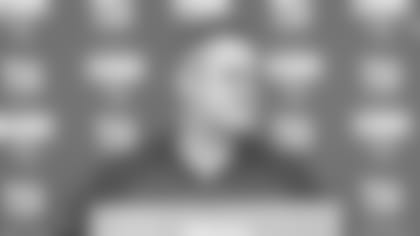 Q: Justin Pugh just not there yet?
A: Not there yet. Has a little ways to go. He's working hard at it.
Q: You'll stick with Adam Gettis at left guard?
A: Yes, we'll see how it goes. We'll have another day to work tomorrow.
Q: How's Marshall Newhouse and Brett Jones coming along?
A: They're coming along fine. Had some limited work yesterday. Had some feet meet work today. We'll see how they do tomorrow.
Q: How close is Shane Vereen in your estimation?
A: He caught the ball well. He was moving around well. We'll see how he does with some contact.
Q: Did he take some team reps? Was he allowed to take reps?
Q: Is there value in the fact that JPP has won a Super Bowl here? Do you see that in any way with his demeanor and things he can share with his teammates?
A: I think experience is important in this business. When you have successful experience like he has to fall back on, it obviously helps. He's a resource for these younger players.
Q: Did you know him that well in the last few years or do you find that you got to know him better as you've become the head coach?
A: This business is about building relationships. It's a two-way street as far as that goes. I have to work at it and the players have to work at it, especially on the defensive side of the ball. I'm a new face to them.
Q: Personality-wise, how would you describe Jason?
A: Personality-wise? I'll let him describe himself. I don't really even want to take a shot at it.
Q: You said that December won't define this team. Can you explain that because a lot of people on the outside might be thinking the opposite with the hard part of the schedule coming up.
A: Everything we've done to this point has made December important. December is an opportunity to go out there and play good football against good football teams. You want your team to be defined in February, not in December.
Q: Have you been able to enjoy this run, personally?
Q: Six-game winning streak or the season to date?
A: Again, we're focused on Pittsburgh right now. We have to put our best foot forward. We have a big day tomorrow in preparation. Make sure we're ready to go at 4:25 on Sunday.
Q: I know you've changed up the schedule a little bit. Are your Saturdays going to stay the same or do you tweak things?
A: We'll take a look at them as we move forward. Everything is on the table. We have to be able to adjust and improvise really depending on the health of the football team and the physicality.
Q: What are you trying to accomplish with tweaking it?
A: Be fresh and fast on Sunday.
Q: You said that QB rating is a stat that you look at. What is it about that that you like?
A: I think it's a good team stat to use. When your quarterback is rating high from an offense, I think it's a complete offensive stat. When you affect the opponent's quarterback from a defensive standpoint, whether it's with coverage or pressure, hits or sacks, you have a chance to really positively impact the game for your team. We look at the difference between offense and defense QB rating when you match up against the opponent. This week will be big for us in that regard.
Q: How did you come up with this philosophy with the changes in the schedule? Is that something they did in Green Bay?
A: It's my background. I studied it growing up. It's something that you read about and try and educate yourself as best you can on. It's something that I rely on the medical staff and strength and conditioning staff on. It's important. You need to be strong and playing your best football at the end of the season.
Q: How much of that was pre-planned at the beginning of the season or how much do you just feel your way through it as you go along?
A: We have a plan. It's about having the pulse of the locker room and being able to adjust and improvise.
Q: Nat Berhe and Mark Herzlich are key special teams guys for you. Does losing guys like that hurt more than maybe losing as starter?
A: We have guys that we're very confident will be able to step up and fill those roles.
Q: They're still in the protocol?
Q: How has Sterling Shepard been able to handle success at such a young age?
A: He's handled success well. He's a young guy that comes out, works hard at his craft. He plays a lot onside for us. We can move him around. He's flexible that way. He works at it and asks a lot of good questions. He'll make mistakes and fix his mistakes. He'll move on. He likes the game, that's a good place to start.
Q: How has he handled this week after not having a catch?
Q: How come you haven't played Victor Cruz in the slot very much this year?
A: That's a good question. We like Sterling there. We do have confidence in Victor if we feel like we need to play him in there. We feel like he's done a nice job outside for us.
Q: Is not talking about your homecoming with this game intentional on your part? Why is it important to not bring it up?
A: It has nothing to do with the ball game.
Q: Did you watch the Cowboys game last night? How do you keep the players from being impacted by it?
A: I caught a couple plays of it. I didn't sit down and watch it. We're here to focus on the task at hand and that's Pittsburgh.
Q: Is Odell going to return punts on Sunday?
A: We'll take a look at everything. See how it goes.
Quarterbacks Coach Frank Cignetti Jr.
Q: Have you noticed a difference in coach McAdoo this week?
A: Not at all. Ben has tremendous focus on the upcoming opponent. It's a task at hand, the day of the week. I haven't noticed anything different.
Q: Is that similar to how he treated the Green Bay game?
Q: What about you? It's homecoming for you, too.
A: I guess it's like Ben, you don't even realize that until you probably step into Heinz Field. You take one day at a time. The preparation, the practice. You focus on what you've got to do with that moment.
Q: Eli struggled a little bit with his accuracy last week. Anything you attribute that to?
A: I just think it happens. When you look at taking a few shots, I think he took six maybe, you know, shots down the field. You hope to hit a couple; you're not going to hit them all. Eli's done a great job.
Q: You have 12 touchdown passes in the four games since the bye. What do you attribute that to?
A: You look at Eli's play; he's making great decisions. Throwing the timing and the rhythm, his accuracy has been outstanding. The perimeter players have done a great job getting open. It starts up front with great protection. You just look at the offense playing well together in those moments.
Q: Is he more comfortable in your estimation?
A: No, I think he's been comfortable the whole time.
Q: I think you guys are down there at the bottom as far as sacks allowed. How much does Eli do a good job of navigating the pocket to avoid that?
A: Once again, it's the ultimate team game, it takes all 11. First off, Ben does a great job with the play calling, putting offense in the position to get the ball out quickly. Eli is making good, decisive decisions, he's trusting his foot work, trusting his training, trusts what he sees. The offensive line is doing a good job in protection. Once again, the perimeter is doing a great job in their spacing, timing and rhythm.
Q: On Manning and Roethlisberger playing on the same field.
A: Oh absolutely. You're talking about two Hall of Famers, two greats, two Super Bowl winners.
Q: You had Logan Thomas and now he's playing tight end. Does that surprise you?
A: No, that doesn't surprise me. First off, Logan is a tremendous individual, tremendous football player. When you look at the physical measurables, you can see somebody taking a shot at Logan playing tight end.
Q: Did you guys ever think about that?
Linebackers Coach Bill McGovern
Q: It has been a while. What are your thoughts on how your position has been playing?
A: We are progressing. Again, we are about two-thirds of the way through the season obviously and we are still a work in progress. You aren't where you were in the beginning of the year, but after the season is over, then you have a better, true evaluation.
Q: What do you want to improve on in the next five or so games?
A: Everything. No, again, we just want to keep taking our game to the next level. We want to try to keep bettering things, looking at it every game, what things we can get better at, whether it be in the run defense or pass defense, whatever it may be. But there is always something to improve on.
Q: We saw a stretch where the tight ends did some damage against you guys. How did you put that into perspective and what do you need to fix to keep that from happening?
A: It would probably have to be a little bit more specific of what play it was.
A: There are going to be situations where we have to do a better job of matching guys up or we had somebody miss on something or we put them in a bad spot, whatever it may be. But it is one of those things where each week you prepare and you are just trying to get yourself in the best matchups all across the board.
Q: Is there a formula when you have good receiving tight end and great backs? A lot has been made about LeVeon Bell. Can you scheme it up or is it man-on-man a lot of times?
A: There will be times where obviously it will be man-on-man. But you do try to scheme it up and try to change it from zone or man, doubles, different types of things, but again, they have a number of weapons. It is not just Bell. With Brown and their tight ends, they are a talented group. Obviously Roethlisberger does a great job of spreading it around, so it is a challenge each and every week, but these guys obviously present some challenges and we are looking forward to that.
Q: Anything unique about Bell as a receiver that makes him so effective?
A: I think that obviously he is a gifted player. He does a lot of things very well. He understands running routes, which a lot of guys are used to just coming out of the backfield, but they use him in empty sets and spread him out and he seems to have a good awareness of what kind of routes he is running and what he is trying to accomplish as he is doing it.
Q: How valuable has Keenan Robinson been to that group?
A: I think he has really been a great addition because his intelligence, his athleticism and all that stuff is adding a lot to the room and he has really done a nice job for us on the field.
Q: I am curious from your perspective if you think the defensive line's performance creates a trickle down that increases the production of your group?
A: It is a good question because it all goes hand-in-hand. I know everyone thinks it is coach speak, but because our guys are having good pressure on the quarterback now, but also the things you don't see is the good coverage that is going on in the back end, too, like the DBs and safeties doing that.
There are some other guys that are maybe trying to step up and draw protection away from them and get them into more single blocks. Everybody kind of works one-on-one and hand-in-hand with one another, but that has been a big thing. It is usually when one group is playing better, then the whole unit is playing better.
Q: What did you think about the line's performance these last games and if that does keep up, what does that mean for this defense?
A: Obviously it bodes well. If you can put pressure on the quarterback, then that is something that everybody is trying to accomplish. Those four guys in particular and that whole group, whole unit, is really doing a good job of putting pressure on the opposing quarterbacks.
Q: Everyone knew Keenan (Robinson) could play. The knock on him was all the injuries. Is there anything you guys have done to manage him?
A: I think it is with everybody that we have on the team. We try to look at each other. I think it goes through the whole organization, through our strength and conditioning, from the training room, all the guys, I think it is guys kind of understanding and taking care of their bodies and preparing that. It is a long grind and we are trying to get guys out there on the field, a number of guys, not just one or two guys, but we are trying to play guys and take some wear and tear off their bodies.
Q: How much has B.J. (Goodson) progressed this season?
A: He has done a nice job. He is getting better and better, but again, you want to try and get him some game reps. We have tried to get him in sometimes, it is just that certain games it kind of dictated that it didn't work out that way. But he has progressed. He is understanding the defense. There are a lot of little subtleties and nuances that a young guy has to learn, especially in Spags' system with the linebackers and right now he is getting to them though. You are seeing the light bulb really starting to go on and seeing him starting to improve.
Q: I know that every position has its challenges, but is the MIKE position even more challenging because of all the calls?
A: Well, I am sure that for any position there are going to be adjustments that they have got to make, but again, we have our linebackers make a number of the calls and the adjustments and everything else, so it goes to that position and being the MIKE linebacker, it kind of runs through you.
Q: How has (Kelvin) Sheppard done in that role?
A: He has done great. He is one of the leaders of our defense. He is vocal, he is intelligent, he is showing up on the field, so he has been a real outstanding addition also.
Q: How has it been for you to juggle? You juggle a lot of different linebacker packages.
A: Well, it is not bad for me. As we talk about it as a staff getting ready, I think that has been a little bit of where Spags has done a nice job in terms of trying to mix and match and taking advantage of everybody's different abilities, strengths and skillsets, but also then it is really a credit to the guys in the room. They understand that we have got a lot of good players in the room and we are trying to get them on the field and maximize their talents and everybody is rooting for one another and are helping to get better.
Q: How has Kennard handled the extra responsibility of being on the D-line also?
A: He loves it. Are you kidding me? He loves it. I think that was one of the things that we mentioned just before, I think we understand guy's skillsets and we are trying to get them on the field as much as we can and I think nobody would be more prepared than DK. He does a great job in terms of preparation. He loves the challenge of going up there, but he also understands that he can be an effective pass rusher for us, too, and obviously he has always done a great job at outside linebacker for us.
Q: With all the mixing and matching in your group and the fact that they all have roles, does that help you keep the room together?
A: Well, I think again, it goes to be a credit to them. I think it speaks to their maturity and their professionalism. If you asked them individually, they would all want to be on the field for every snap, that is just the natural competitor in all of them. But they understand, 'Hey, everyone has a skillset and everyone has some certain talents that we can use and we are going to need them as we go through the year.'
They have been willing to accept that everybody is fitting into their role. DK talked to the group and made a point about being a star in your role and I think that is one of the things that really struck a chord with our guys. I thought it was a great talk by DK when he talked about being a star in your role and that is what we kind of ask our guys to do. Hey, whatever we ask you to do, do it as best you can and be a star at what you are doing.
Q: Does that say a lot about Kennard? He is a young guy.
A: Extremely mature. He is a tremendous professional, he is extremely mature, as is that room. For the most part, we have all of them in there. But really it just shows you that he accepts anything. We were talking about it, if you are not talking about this defense, then he has his face in the iPad studying something and trying to find a little bit of an edge. WR Sterling Shepard
Q: Do you think this has been a smooth transition from college to pro? Why is it going so well?
A: I think it's because of the guys around me. I have great guys around me and great guys to learn from. Eli, he's a great quarterback and he's been around the game for awhile. He knows what he's talking about. I have two guys, Victor and Odell, who have had a lot of success in the league. Those guys are always right there next to me. I can ask them anything. That's the big thing for me.
Q: Do you focus on the other receivers in the draft class?
A: I try and watch them and look at them. I know Will took off at the beginning. My boy Corey got hurt, but I look at some of those guys, sure.
Q: Anything different when you don't see a ball the previous week? A mental difference?
A: I guess you're a little more excited to get to the next week. You want to get your hands on the ball and make something happen. Going a whole week without that is different. It's a little weird. You have to throw that out of the window and move on to the next week. I prepared the way I always prepare. Just ready to get out there and get something going.
Q: Is it more exciting to play a team like the Steelers in Pittsburgh for you in your first year?
A: It is. It's exciting. I remember as a little kid watching that place rocking. I'm excited. The coaches have been getting us ready for it. Practicing with the loud music. I'm excited.
Q: Did you watch the Cowboys game last night?
A: Yes, I watched some of it.
A: We saw them earlier in the season. We'll take care of that when the time comes.
Q: Is the division still the goal of this team?
A: Yes. Without a doubt. We control our own destiny right now. We have to continue doing the things that we've been doing these past few weeks that have gotten us W's. I feel like we have yet to have a complete game as a team. A game where the defense and offense are on the same page.
Q: Is it deflating to see the Cowboys keep winning?
A: No. Not too focused on what they're doing. To be honest, we're not looking at them at all. We're focused on what we have going on over here. We have something special, too. It'll be crazy to see how it all plays out.
Q: You were cheered for at the Knicks game last week. What was that moment like being cheered in another venue as a celebrity?
A: It was pretty cool. That was my second time in Madison Square Garden. They prepped me and told me that they were going to put me on the screen. It was cool hearing all the cheers and the fans that were there. There were a whole bunch of Giants fans everywhere.