Transcriptions from Friday's practice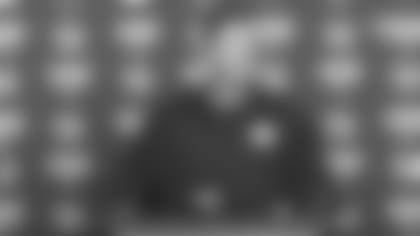 Transcriptions from Friday's practice
Q: Your practice report says that Janoris (Jenkins) would be limited today at practice. Does that mean his ankle is improving?
A: It was just part of the plan going into the week.
Q: Do you expect him to be a game time decision again?
A: We'll take a look to see how he does tomorrow. We'll have a quick practice tomorrow and if he is able to do anything and have some productivity, we'll take a look at him on game day.
Q: You said that there was no setback with Janoris yesterday. What was the reason he was kept off the field?
A: We didn't feel he was able to go with that type of load and that type of practice.
Q: How has Keenan (Robinson) looked since leaving protocol?
A: Keenan had a nice day yesterday.
Q: Is (Evan) Engram still in the protocol?
*Q: So, he is going to see the neurologist today I guess?
*
A: He's still in the protocol.
Q: Is Keenan at a point where he can get into a game? He hasn't practiced in quite a while.
A: He is able to practice and he is cleared to play.
Q: Does he become more important with B.J's (Goodson) status?
A: Well I mean he is able to practice. He is cleared to play. Calvin (Munson) has done a nice job for us.
Q: How much does missing B.J impact the defense?
A: Any time somebody is out, it's an opportunity for somebody else to step up. So, next man up.
*Q: What have you seen from your veteran leadership this week.
*
A: I think it's been outstanding. We have talented men of integrity in the locker room. We've talked about that from last year to this year and they've had an opportunity to really take the bull by the horns this week and it's been great to see. They haven't flinched.
Q: You said earlier in the week you would be open to drastic changes. I know you might not share what those changes are, but have you made big changes?
A: You kind of answered your own question, didn't you?
Q: Well I know you won't specifically say it, but is it fair to say there will be some significant changes that we will notice on Sunday?
A: We are going to go into the game and put a plan together that we feel is going to help us win the ballgame.
*Q: What does a two-tight end set make difficult on a defense? It seems like you guys have had a little success with that.
*
A: The game is about players. It just depends on match-ups. If it gives you an advantage running the football because they can block the defensive ends or you can scheme it where they can block safeties or linebackers, it's an advantage for the offense. If they are pass receiving tight ends, you can move them around, try to get some information from where they line up and if they have the skillset of a receiver, it gives you an advantage there. It just depends on who you're playing and what you're playing against.
*Q: Are there things over the course of a practice week that Ereck Flowers can work on technique-wise to change his performance on game days?
*
A: Ereck works hard at practice. He's one of the first guys on the field every day. Works on his foot quickness and you see that showing up on his game tape. He's quick out of his stance, he continues to work on his hands and his punch, and trusting his technique on game day. That's a big part of it.
Q: How do you think he's held up mentally?
A: Ereck hasn't flinched. He continues to show up, he works hard and we haven't see anything other than that.
Q: Did you have to talk to him at all to make sure he was good on that end?
A: All personal conversations stay personal.
*Q: If Justin Pugh was your first backup tackle, why not give him more work there in the preseason?
*
A: We feel confident in developing the young players on the roster. We felt that moving Justin out and getting (Brett) Jones in was the best chance to keep our best five on the field. It's not who's the next best tackle, it's who's the best five. That's the question.
*Q: Do you feel like a team has to have one play caller throughout the course of the game or can multiple people call plays?
*
A: Play calling is a part of the week. It's not just one guy pulling plays out of a hat. It's the way you prepare going into a ballgame from what you see on the field during the course of the week and how you prepare. So, there are a lot of people who have their hand in play calling. One guy spits the play out to the quarterback, but a lot goes into that. It is not just one guy showing up on game day calling plays.
Q: (Jason) Witten and (Eric) Ebron are two tight ends that have had success against you guys. How important is it to you to limit their tight ends, specifically Zach Ertz?
A: Well I think a quality tight end in a passing game really helps an offense get going. Ertz is really coming into his own as a player. He's been very productive. He's a talented player. He's a tough matchup for any team and we'll have our hands full there.
Q: Former NFL linemen have said that Flowers doesn't have the knee bend that you want and some of his fundamentals are not where you want them to be. Is it possible that he is not taking what you're seeing in practice, into games?
A: I think Ereck has some good plays in there and he has some plays that he obviously needs to work on. It's just consistency and taking the technique from practice into the games and being more consistent.
Running Backs Coach Craig Johnson
Q: How do you feel your run game is doing?
A: Well, obviously, we have left some room for improvement right there. It's not where we need it to be. To have a good offense, the kind of offense that we want to have, we have to have a well-rounded one and all phases have to work. Running game is certainly a part of that. We're going to continue to work to make sure we do what we can do to make sure we have a balanced offense.
Q: What does RB Orleans Darkwa have to do to get more carries?
A: I think Orleans needs to continue to do as he's played. He's touched the ball, running the ball, he's done a good job for the most part, but like most every back that has touched it, he'll tell you, 'I have that play or two I have to do a little bit better job. I wish I would have.' That's kind of what every guy goes through, so he's done some good things. He needs to continue to keep doing good things.
Q: What does RB Paul Perkins need to do better?
A: His average is not where I'm sure he likes or certainly where we like, and I'd say Paul is reflective of everybody that's touching the ball in the backfield. At the end of the day, we are not playing at the level that we need to. We need to all pick it up. He needs to pick it up and so my challenge to our guys is don't worry about all the outside noise – what's happening with everywhere else or anything else. Handle the business that we can control and what we need to do when we touch it, is get consistency so we can make more first downs, so we have more chances to have more plays and then we'll have a chance to run along with that.
Q: Does RB Paul Perkins look less decisive?
A: As I look at it, I'd say he's reflective of pretty much everybody in the backfield. For me to single out and say a guy is doing a good job with the production that we give him would be hard for me to say. So, I'm just going to say everybody that touches that room needs to pick up their game and raise it to a championship level. Right now, we haven't done that. So, the run unit as a whole, specifically the backs, have to do a better job.
Q: Do you expect the running backs to break more tackles and what do you expect out of them where there isn't anywhere to run?
A: I expect them to maximize every opportunity and, well, if you had more carries, well if we do the little things, we might make some more third down conversions, which can help in that or maybe have shorter situations so we can convert third downs. If you're able to do that, you can get more touches. That's kind of how the game goes. So, I'm going to tell them don't be denied. Continue to do everything you can to break tackles, get extra yardage. But, don't press and don't look for the big play. That's the biggest thing that will get them in trouble. Just do what you do and do it better than you've been doing it and everything else will fall into place.
Q: Do you see indecision when there have been holes?
A: I always think they like to have another play over and again, I'm going to go back to don't worry about too much noise, if this, then that. Bottom line, trust yourself. Trust your mechanics. Trust your technique. Trust your fundamentals and when the hole is there, take it. Don't worry if this, then that. That's what gets guys to hesitate. So, I'm trying to keep them from it.
Q: Is that good advice overall for the offense since you're 0-2?
A: It might be, but I very much try to tell the backs let's worry and take care of what we can do. Don't worry about our offense as a unit. Everybody has their units, has their hand. Right now, all we have to do is worry about getting our unit better. Trust your training. Trust your technique. Trust your teammates. Go do what you need to do and don't try to go look for the big plays, the spectacular play because those ordinary plays will become big plays when we're fundamentally better and break tackles and make stuff when stuff isn't there.
Q: How much has trying to do too much been a problem in the last two games?
A: I don't really think it's been a problem so far, but I think a lot of times if people get overly concerned about, 'Well, this is what's being said, this is what we have to do, I need to go make some big plays,' I think for the backs, just do your job, pick it up and do it better. My history as a football coach has told me at positions that when you do that, just take care of your job and doing it better, everything else will come into flow. That will get us in a rhythm. We'll be on the field more. Everybody will be happy that they'll be able to touch the ball.
Q: How has TE Shane Smith played?
A: I think that for a rookie, and I'm always hard on the rookies, but I think for a rookie, he has done a good job when he's gotten opportunities. He, like everybody that's in that room, has left room for improvement. He's versatile. He brings some versatility to our offense. I like that, but I'm going to continue to ask of him as I ask of everybody. Raise your level of play to help our offense get into a rhythm. When that happens, everybody will be happy.
Q: How does your job change when you have a fullback in the mix?
A: I think the biggest thing is a fullback usually has got to bring a physical attitude to the team. So, I have to do a couple extra drills with a fullback tact that I might not do with a halfback type because of the lead blocking that he has to do. So, he'll have to use some of the tight end type skillset for that. Outside of that, I kind of have leaned on some of the backs or having a fullback in the room to tell him, 'This guy is going to be a physical player. He's going to take care of his business. So, he's going to be physical. Backs, you have to be physical like him.' That's the kind of things that you kind of bring to the mentality when you have a fullback.
Q: Does TE Shane Smith's physicality trickle down?
A: Well, that is absolutely the goal for that position.
Q: What does using the running backs to chip block take away and what does it add?
A: That's a great question. I think so much has been said – we as backs, a) are obviously out there to run the ball. Second, we are a part of pass protection with where we're supposed to fit in the pass protection and who we're supposed to help. And then, c) we're supposed to be able to catch the ball and make plays when that happens. As far as a pass protection unit, every game plan is different. I don't get too much into strategy, but the bottom line is, we are a part of the pass protection unit when called for. We have to do a good job on the edge and I tell them, a lot of people can just go out there and catch the ball. If you're able to go out there and help out the line and then go catch the ball – difficult situations, but that's why you're in this room and that's what we expect out of you.
Q: Is RB Wayne Gallman a victim of the numbers in terms of getting carries and how do you deal with his progression while focusing on the backs that are getting carries?
A: I think you always want to continue to develop your younger players. Wayne got a lot of reps in the preseason. In fact, if I'm not mistaken, I think he was our leading ball carrier, as far as attempts. I think he's got a really good future. We've got some guys ahead of him that have a little bit more experience and we're going with them right now. But, he understands this and all the young players have to understand this. When you're a young player and you're trying to find your way, I've always believed that your team and your coaches see when you're ready. I think that they're starting to see that he's doing some flashy things at practice, which is good. But, you have to be ready and you don't get the reps, so you just have to show up when you get put in there because he's an ankle injury or whatever it may be from playing. So, I tell him you have to prepare like you're starting every game. That's hard for a young player, but in the NFL, that's the way the rules are. So, he's doing a really good job. He's shown some good looks and I think that we'll be excited when that time comes that he gets on the field.
Q: How's RB Wayne Gallman handled himself mentally since he probably hasn't been in this position before?
A: Correct. A lot of young players have been getting a lot of shine as I call it when they have been playing and all the sudden they're on the look team and it's a little different. I think that's part of, like when you asked about Shane Smith, kind of the mental toughness. I have to be ready mentally and emotionally even if physically I'm not in the game, but I have to play the game in my head so that when the time comes I'm not slowing down looking, I'm able to do what I've shown in practice, which means play with a clear mind, play hard and show the people what I can do and continue to show it over and over.
Q: How have you seen RB Wayne Gallman do in that regard?
A: I think he's doing a really good job at practice. Can't wait until the time that we get him on the field, when that time comes.
Q: How do you think RB Paul Perkins is handling the expectations as far as his approach?
A: If you watch him in practice, I'll answer it this way that when I watch Paul Perkins, I know that he's one of the first players on the field. He's one of the last to leave. I don't think any of that stuff phases him. He has a strong mind, strong spirit and I think he's going to continue to show people what he's all about. Again, sometimes you get too much with, 'Well, I have to show people.' Just be yourself and go out, play fast with a clear mind and don't overthink things. When that happens for a back, I think good things will happen. But, you have to play with confidence. You have to continue to understand where we fit into the equation, which, if we do our job better, then it helps the quarterback, it helps the line, it helps the tight ends and everybody does their job better. Then, our offense will be like we want. We'll get more swings at the bat, so to speak, because we'll get more plays and then everything goes away. I've learned that from being in football for a year or two.
Q: What do you see in Carson Wentz on tape?
A: I've seen a lot. He's a very good quarterback. Very athletic. So, I know I'm going to be chasing him around this week probably a lot. We have to maintain our rush assignments and that's basically it.
Q: Did you feel like you were close to making some big plays against the Lions?
A: We weren't close enough. We didn't win the game, so we weren't close enough.
Q: Do you think you and DE Olivier Vernon will stay on the field as much as you can?
A: We're both from Florida, so we're good. I don't know about the rest of the team, but we're from Florida.
Q: How much do you need to win this game in Philadelphia?
A: Honestly, it's a must-win game. We know we need this game. It's a division game. I don't see us going 0-3. We've started 0-6 before. This team – we have good talent on this team. We just all need to come together. Offense needs to come together. Everybody sees it, but at the same time, we have to help them too as well. We just have to ball and get in and play some great football. There's nothing the defense can do on that side of the ball, but I'm pretty sure they're going to come out and play this week. They do every week, but just have to find that will power to get things done.
Q: When you watch QB Eli Manning, what do you see?
A: My quarterback. He won two Super Bowls here. I was lucky to be a part of one of them. Eli is a great quarterback. I'm just saying that from the bottom of my heart, not just saying this for everybody to hear, but he is. We need to block up front. That's just the point of the game. When you play football, it starts up front. It starts with the defensive line. It starts with the offensive line. So, we have to play our best on the defensive line. Offensive line has to play their best. So, they're going to come out and do good this week. All this week has been just rushing to the ball because we're putting an emphasis on it. So, I think they get the picture.
Q: What makes you convinced that you won't have an 0-6 start this season?
A: The players that we have. I don't see the players that we have are going to allow that. Even with our defense, last year we started off pretty bad and we picked it up. I don't know how we picked it up, but just communication and coach Spags (Steve Spagnuolo) is giving us a lot of play calls and we find it within ourselves to not put everything on the coaches. We have to actually do the work. That's what we did and we finished on one of the top most defenses. Right now, we need to get off the field, third downs, we need to get off the field. That's basically it.
Q: Have you spoken to any of the offensive linemen?
A: I don't have to speak. They know. They know. It's really nothing to be said. We're all a team here. The outside world is the outside world. The fans are going to be the fans. The media is going to be the media. We don't care about any of that. At the end of the day, we care about this team and to hold it together, we have to be accountable for everything. Our actions speak louder than words. That's what I always live by. Action speaks louder than words and whatever you put on tape is what you're going to see on the field.
Q: We haven't seen a dominant defense yet.
A: You haven't seen it yet. So, that's pretty scary.
Q: Will we see a dominant defense come Sunday?
A: We'll see. That's how we play football. So, we'll see.
Q: What is it about playing in Philadelphia that is so challenging, especially in recent years?
A: I don't know. I just think every football game – this is how I see it and this is how I play – go out there like this is a Super Bowl. You have one game to play. Go out there and this is a Super Bowl. Don't worry about the 14 games we have left. Go out there and play like this is the Super Bowl and you're coming up with a win because when it's a Super Bowl, you're under the big lights. Forget Monday night. Forget Thursday night. Forget Sunday night. When you're under the big lights, when you see those bright lights, you want to perform at your best, right? So, why not do it every day?
Secondary/Cornerbacks Coach Tim Walton
Q: How much does it impact you if (Janoris) Jenkins can't play on Sunday?
A: A lot. Anytime you are missing a good player of his caliber, it affects you a little bit. He has the ability to take out some number one guys. So, it always hurts when you lose a guy like that.
Q: Do you think you'll have him Sunday?
A: It's going to be a game-time decision. Let's see how it goes tomorrow and see what he is able to do. See how he feels and kind of play it by ear from there.
A: Very tough. Very, very tough. If he is able to do it, he will be able to go.
Q: Is it different than last week? Did you have to change the game plan on the fly last week?
A: Injuries all work different kind of ways. He's a tough guy with it. So, we are going to see how he does tomorrow and see how he feels and what kind of load he can handle on it and see if he can go.
*Q: How much did he want to go last week?
*
A: Yeah, he wanted to, but it was bothering him to a point where certain stuff was irritating him. So, it was hard to come out and play.
*Q: So, he kind of knew the reality?
*
A: Yeah, we do a lot of change of directions on the back end so planting and cutting is a big deal.
Q: What have been your thoughts on Darian Thompson so far?
A: Darian's been solid. Right now, I think as a whole back end group, we want to play better overall, period. We have a standard that we try to set with all of the guys. He's been solid so far, but as a group we need to try to play dominant football. That's out goal.
Q: How do you balance DRC's (Dominique Rodgers-Cromartie) workload? He's a veteran guy so you want to keep him fresh for later in the season, but you also need him now.
A: You know, you just got to go game-by-game with it. If we get in a certain situation where we get in more base or more zebra, we can try to get a few plays out of him that we can spell him here and there. But right now we are trying to win and he's ready, he's in good shape and we need him. He does a lot for us back there. He's been good with it and he's been playing well so I've been pleased with his performance so far.
Q: Ross (Cockrell) has been here two weeks and he's jumped ahead of Michael Hunter. What makes you think he was ready for that?
A: He has experience. He played a little while in this league, four years in the league so far. Smart guy, he's very consciousness, he picks up stuff fast and goes about his business in the right way. He's played a little bit so I'm proud of him so far in the way he's stepped up the first couple weeks he's been here.
Q: Darian Thompson has a reputation of being a ball hawk, but he made one play last week where he came up on (Ameer) Abdullah that was very impressive. Is that film study combined with instincts and physical ability?
A: He plays good with his eyes. He plays good with his eyes and that's one of the most important traits a guy can have. It's really overlooked, but he does a lot of film study. He is very smart also. He's a guy that is very sharp above the neck. So, he is able to pick up tips and things like that and he made a good play. So, he's smart though. He knows how to diagnose stuff pretty good.
Q: Last year it seemed like whenever Eli (Apple) gave up a big play, more bad plays would follow. Have you seen that again this year?
A: He's fine. He didn't judge the ball well on a third down on the touchdown the other night, but he responds well. You have to have amnesia in this league. If you play enough, they are going to catch balls on you. That's the thing we have to preach to those guys, all of them back there. At some point and time, our best players are going to give up a pass, it's how you bounce back and he's been doing a good job of that. Of those 60-70 plays, he plays a lot of really good plays. Like I said, we just have to try to correct the few that show up that we need to do better at and he'll do that. But he's been doing a solid job for us and his mind is in the right spot with being able to move on to the next play.
Q: Where do you see him being in his progression?
A: He's doing well. He gave up one pass the other night. Some people don't really know our defense and what goes on. So, he gave up the one the other night and he needs to find the ball. Then on the Dallas play, he needs to squeeze him, but there is a little more that goes into that on that play. But he's doing good. Those were two plays that he needs to play better, but other than that he's been playing pretty well. Plus, a guy like that, he plays 70 snaps, he plays an entire game, all of them. So, when you start adding it up, he's got 140 snaps under him so that's a lot more. Some of those guys play a lot more than a lot of guys so he's just got to make sure the ones that count, he makes. So, he'll improve with it and be better with it.
Q: Is it tough because you have an offense that can't score so you guys have to almost be perfect?
A: Nah, we just got to keep going and play our part. They'll do great. They'll get their stuff going. We just have to stop them. Our goal is to stop them. So, that's what I talked to Eli about. You got to make those plays because that's our job. It's our job to make plays. So, that's what we were supposed to do. We are supposed to stop guys from scoring. That's our mentality. We have guys that do it and we have to get that done on a consistent basis, not let them score.
Q: What does Michael Hunter have to do to instill confidence in you?
A: Michael is doing a solid job. He's just got to keep growing. It all depends what the offense is doing and what we are seeing as far as what those guys role. Everyone has a role. So, he'll be ready. He got a couple snaps in the Dallas game, one or two snaps this past game, but just keep practicing and keep doing the right things and when his opportunity comes, be ready. That's the thing. Opportunities jump up before you know it and you just have to be prepared for them. He's doing that and I think he'll be ready when the opportunity presents itself.
Q: Does the team's record impact how you prepare?
A: No. No, every given Sunday man. You got good teams you play every week, you play good players every week, we have to go out and win each game. So, we prepare the same every week knowing that you're going up against a good quarterback, that you're going up against a good running back, good wide outs, and our job is to win games and stop the other team from scoring. So, our approach is the same every week.
Q: What have you seen from that three-safety package you have been using?
A: It's fine. You sprinkle it in some. We just to get the right guys in the right place against the right personnel group because it is a matchup league. So, we are just trying to matchup the right things. Andrew Adams, Darian, and Landon (Collins), those guys are all good players too, so we are just trying to put them in the right situation for them to have success.