Q: Where do you start the fix?
A: It just comes with our preparation. We've got to do a great job of that and we've just got to play better. We've got to have greater energy and greater enthusiasm. We have to play better technique and make better decision making. There are some plays out there that we left on the field and sometimes we just got flat-out beat. It's not a big surprise of what we have to do to fix it. We've just got to go out there and play better football.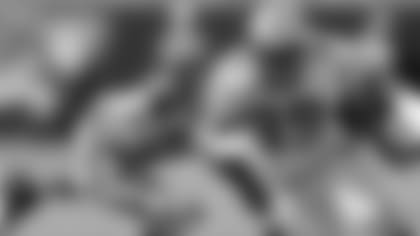 Q: All of the coaches said they like the preparation.
A: Yeah. I think our preparation is good and there are not a whole lot of mistakes and guys doing the wrong thing. Obviously this game was different than the first two. The first two, at least offensively, we did a lot of good things. We just had turnovers. You had mistakes that cost games. We've just got to be more patient. Don't force the plays. This game we just got flat-out beat and just didn't give ourselves any opportunities to make any plays. We were going backwards. Two of our first three drives we had third-and-20s. You're not going to convert those. It wasn't mistakes. We got beat on too many plays for us to have any chance for success.
Q: Have you given any thought to why the week of practice isn't transferring over to the field?
A: You can talk about this week. We just got outperformed. We got outplayed. It's unfortunate that happens. You don't like it. You don't have the exact reason to why it happened, but it did and all we can do is look at ourselves on each play and try to get better, try to figure out what the problem is and why that it occurred and how to fix it and get better the next time.
Q: Tom Coughlin said the main message to the team was to stick together. Where do you feel this group is in terms of that?
A: I think we're good. I think the guys know the only way to make a difference and the only way for us to start winning games is for ourselves to go out there and stick together and be smart in what we say, how we handle everything and how we prepare and practice this week and how to play. We've got to come together and the only way we're going to win is if we come together as a team and play well as a team.
Q: Hakeem said that he couldn't throw the ball to himself. Did you guys talk at all about it?
A: No. I didn't talk to Hakeem. Any time a receiver doesn't get a reception, it's tough. I like for all of my receivers to be happy and to get a lot of catches. Obviously the other day there weren't a whole lot of opportunities just based on the coverages and trying to get the ball out. With some of the third-and-longs we were in, it didn't present itself and so that's what happened. It's unfortunate, but I think he knows I have great confidence and trust in him and we'll get back and he'll start having some big games for us.
Q: When you don't have much time, is there a way to counter that with a shorter passing game? Is there a way to counter that kind of a rush?
A: Yeah. We did some of that. We threw some short stuff, but you still have got to have some plays where you're going to have to stretch the ball down the field or based on what the defense is doing the short stuff may not be there. They might be taking away the short stuff to make you throw the ball down the field and that's what you've got to do. You've got to have time to protect or I've got to move around. Overall, we've got to be in better down and distance. When you get in third and longs, you're going to have to hold it longer. If you get a lot of third and threes and fours, you can get the ball out quicker and you can slow down that pass rush.
Q: How do you feel physically?
A: I feel good physically. I was able to do everything today. That's not the problem. I'll be fine.
Q: Do you think pride and passion was missing from the game?
A: I think we just got beat. When you lose, 38-0, anything you say about us is probably deserved to be said. It's something we're not happy about as players. You're embarrassed about it. We've got to fix it. The only way to change that or get people saying something different is to go out this next week and play better than we did last week.
Q: Do you have any concerns about the season actually starting to slip away?
A: No. My concerns are this week, versus Kansas City and making sure we're getting better and have a great week of preparation. We're playing against a team that's 3-0 right now. They're playing good football and we've got to play better football and get things rolling quickly.
Q: Coach Coughlin said he did challenge the team's pride today in a meeting. How do you think that went over?
A: I think the players… We understand that. We saw the game yesterday. We were right there in it. We saw the film. It wasn't pretty. We've got to do something and we need guys to step up and we've got to start playing better football.
Q: What did Coughlin say to the players?
A: You've got to ask him.
Q: Do you have the confidence in your offensive line after a game like that?
A: Yeah. I do. Sometimes you play games and you get beat and it's unfortunate. The first two games I thought our offensive line played very, very well and we were able to sit back there and go through progressions and go through reads and make throws. This past game they got after us a good bit and made it tough for the offense to execute. That was unfortunate, but I think our offensive line has good players. We've got guys who do take pride in what they're doing and want to play well and are going to step up and play well. We had a bad game and they'll get better.
Q: Is it a bad sign that Hakeem said he wasn't able to throw the ball to himself?
A: No. I don't think so. Receivers practice all week and they prepare and they go out there and are working hard. When you don't have much to show for it, it's frustrating. I think everybody after that game is frustrated and obviously Hakeem going back to his hometown, his home state, he wants to play well and as a team, we didn't play well. Sometimes you're going to have guys that are frustrated and say some things. I think Hakeem and I are close and he knows when we look at the film it's just one of those things. It wasn't us not going at him or not throwing his way or picking someone else because of him. It's based on the coverages, on the plays and on the situations. That's what happened.
Q: Have the team leaders spoken since yesterday's loss? Kind of players only type thing?
A: Guys talk and we've been in the locker room. We're trying to figure out how to get that going, how to get back playing at a high level. I think everybody is on the same page and knows what we have to do and that's going to get our preparation, our practice and us staying together as a team is important for us to turn this around.
Q: Tom said he's open to the idea of meeting with the team leaders. Is that a good idea?
A: Those things can be good. Obviously you can talk and we can meet all we want, but we've got to play better. We've got to get on the field and we've got to play better football. We've got to do a lot of things better than what we're doing right now. So that's what it's going to come down to, is our performance. I think our preparation has been good. It's got to be better. I think guys know what they're doing, but our practice and our technique and making practice better and challenging ourselves has got to be better. We've got to do those things and get better on playing days.
Q: Does it give you confidence that you have been in rough situations with Tom and eventually worked your way out?
A: Yeah. I think coach always has a way of getting us to perform at our best. During seasons, you're going to have ups and downs, and it's about keeping the team together and getting us mentally and physically ready to play each game. When you have down times and low times, he does a good job of building us back up and getting us playing well.
Q: Going back to last season, you lost four of the last six games. Is there any concern that his message is not getting through?
A: No. We lost a tough one yesterday. It's unfortunate and I think the other games, I thought we were competitive for most of the game. We had great chances to win the game, but yesterday we didn't have much of a chance.
Q: What do you see with Kansas City's defense?
A: I haven't seen any film yet on Kansas City and so we'll start watching some today and tomorrow and start getting the game plan. We've faced good pass rushers before. I know they're a good defense and they have some guys who can get to the quarterback and get sacks, so we've got to do a good job of obviously protecting, but our guys will do that.
Q: Are you at all getting worried that it is too late? It's only three games but you're falling behind.
A: We are falling behind. We dug ourselves a nice little hole but it's not too late. If this is our little bad streak and then we're solid through the rest of the season, October and November, I mean, November has been our slump. We get that out of the way now and play hard and physical and don't let down, then we can still have a good, productive playoff season. We have made it harder for ourselves, definitely, so we need to be sharp and we need to be perfect.
Q: Is there any thought as to why the good practices haven't transferred to the field on Sundays?
A: I don't know. We are having what we feel like are good practices. I think that it's tough to replicate the physicality of practice so that might be something that we make sure we get our minds right on Friday and Saturday before the games. It's got to be energy and fire and we're not having that as much as we should and we have to get better at that.
Q: I think Carl Banks was doing the radio broadcast and one of the things that he ripped you guys on was that he saw no passion. He said you guys were getting hit and saying hit me again.
A: That's what happened. They kept hitting us, hitting us and hitting us and we didn't stop them. Carl's right, we need to have more passion, we need to have that fire.
That's what it comes down to. This is gut check time, you've got to fight back. Period.
Q: Have you given any thought as to why the good practices aren't transferring over to game day?
A: I'm sure if you really sat there and thought about it you could come up with something, but it really just comes down to execution. You need to transfer what you're doing to the game field.
Q: Do you feel there is enough energy going into the games when you first come out to the field?
A: I think that' something that we've addressed and is something that, moving forward, we'll definitely be more conscious of. Guys around here have a pedigree, we all come from winning high schools, winning college programs, we've had successful NFL careers, Super Bowl wins, so we know about energy, we know how to win games. It's just time for us to go out and do it.