Q: How would you assess this week?
A: The guys came out and their attitude was good. They went to work. We've had some good practice days trying to overcome some of the obstacles that we have in terms of the way we've been playing and our execution, and they've grasped and tried hard and worked hard this week. We're trying to advance some of these younger offensive linemen along, as far as guys that haven't played much, as fast as we can. We're just working the best we can and the players have a good attitude about it.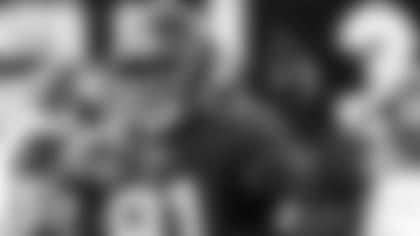 Read More Fact of Fiction](http://www.giants.com/news-and-blogs/fact-or-fiction.html) Q: How difficult is it to play in Kansas City and that environment?
A: The fans are right on you, but it's a good environment. It's a loud, boisterous NFL community and it will be a good experience for us. There will be some issues, obviously, with the goal line and that part of the field. Hopefully we won't have issues hearing, but I'm sure we will.
Q: In your 10 years here, is this the youngest offensive line you've gone into a game with?
A: You'd have to check. You're probably right, but I wouldn't be able to say.
Q: Is there anything definitive along the offensive line in terms of who's going to replace Snee and Baas?
A: You'll have to see.
Q: Do you have any doubt Will Beatty will put last week behind him?
A: No. I think he can.
Q: Is that the kind of person he is? He forgets about bad stuff?
A: That's kind of what you have to do. You can't dwell. Yesterday is gone. You've got to take care of the moment and he seemed to be in a good place this week in practice. He's not alone.
Q: What kind of problems does Alex Smith present?
A: He's the second-leading rusher. Over the years, he really has had a successful career. He does a good job in taking care of the ball. He will pull the ball down and run and they run the option and do those kinds of things.
(Cell phone ring)
A: That's 5000 for the Jay Fund. Thank you very much. I appreciate that. I can collect now or you can send it to me.
(Back to Alex Smith)
A: He's a very, very good, experienced, veteran quarterback who is being utilized for his legs as well as his mind and his arm.
Q: You've been around successful teams and teams that have struggled. Is it important to flush the negative stuff out?
A: It's a constant. You're battling to get your team to focus on the things that have prevented us from getting to where we want to go. But once the game has been discussed and you have gone ahead and pointed out the things that were not done properly or need to be improved on, you've got to apply them to the next opponent and do so in such a way that brings your guys back up. It's easy to stay down and feel sorry for yourself, but the difficult thing is to come back and stand up and again be positive and try to inspire people to overcome the obstacles that are there and to do it together as one. That's the only trick that I know.
Q: The margin for error narrows as you lose. How difficult is it when you know you're facing that kind of situation?
A: I think that if you start dwelling on all that stuff… They are young people, young athletes. The main thing is you don't want people tied up. They've got to go play. They're not going to be able to be successful unless they come out of their shell and play and don't worry about it. Let me worry about the errors. Let me worry about what to say. You go play the game. I'll take it on my shoulders. That's been the way we've approached it.
Q: Did you sense a rallying together of the team after the Carolina game?
A: I did. I definitely did.
A: I think our job as a defense is always the same and it's always to try to be the backbone of this team. We have the same goals week in and week out for defense. Guys just always have to step up, no matter what the circumstances are.
Q: When you look back at last week, do you sit down and say, "we were good for a half and then really bad for another half?"
A: When we look back at it last week we just know that we simply did not get the job done. Carolina outplayed us and we just have to learn from the game, like we did, and get prepared to play next week. That's how it is in the NFL, that's what I'm learning, is that there's a good team every week and our job is to try and go 1-0 every week.
Q: It's not a real explosive offense but they run the ball a lot and are pretty good at it. How do you guys combat that knowing that they don't throw for a ton of yards but they run the ball pretty hard?
A: I think our mentality is the same as a defense and that's to always stop the run. Once an offensive team feels like they can run on you, it's kind of like pick your own poison because now they have play-action and they basically can control the game. Our goal, number one, is to always stop the run.
Q: What kind of problems does Alex Smith present?
A: He's just a very precise quarterback. He doesn't make a lot of mistakes, you see that they have zero turnovers, and, I mean, we've seen on film a couple guys drop the ball but he's just a precise quarterback, doesn't try to do too much, doesn't do too little. He does enough and he handles the game very well.
Q: When you have a tough week like last week and you haven't won a game yet, how difficult is it to flush all of the negativity out and the must-win feel like you can't lose this game?
A: The NFL is week to week. I've been in this league for some time now and I have some experience. It's all about the guys in this locker room. We have to come together and play for your brother. Sell out to win, leave it all on the field because right now, this is a must-win. Let's make no mistake about it. We need this game. We need to get back on track and start stacking some wins.
Q: How does a team that doesn't make many mistakes, as far as turning the ball over, how do you guys try and force some of those, and get them a little bit off their game?
A: Execution. Flying to the ball, being aggressive, relentless, physical. Other teams have had opportunities. He threw some balls right to some guys, but they just didn't catch them. We just have to capitalize. If we have those opportunities, we need to catch the ball. If the ball is on the turf, we need to recover the ball. We've had some opportunities in the past three games when the ball was on the turf, but we didn't recover it. We just need to start capitalizing on those opportunities and we'll be fine.
Q: Can you talk about the problems Alex Smith presents.  His winning percentage the past couple of years…
A: He's very effective. This year particularly he has a high completion percentage. He's getting the ball out quick. Not taking many sacks and he has playmakers around him. Jamaal Charles is the leading receiver as a running back. That kind of gives you a window on what type of offense they're operating with and their mindset. They want to get the ball out quick and get the ball to the playmakers and let them make plays. It's been working so far for them.
Q: A lot of people are going to look at you guys, not the defense but the offense, because Baas is out and Snee is out.  The offensive line is young.  Do you sit there and say, they've got to handle it themselves?  They're players.  Do you worry about them at all?
A: Those are our teammates and it's not offense, defense, special teams. It's New York Giants. We represent each other. If one group is down, we need to go out there and play that much harder for our group because the tables may turn. You never know. We're behind our guys 100 percent. We have full confidence in whoever steps out on that field. Whether it's offense, defense, or special teams, those eleven guys who represent the New York Giants are more than capable of getting the job done.
We're excited about the opportunity. We can work our way back with a good game on Sunday against a very good opponent, so it will be a big test for us and we're excited about that.
Q: Have you played in Kansas City before?
A: I have a little bit.
Q: It's a pretty difficult, loud place.
A: Yeah, it's a loud place. And I'm sure it will be even louder considering their start, you know. They're off to a great start. I'm sure they're excited about their team out there because it's been a little while since they've been 3-0. We know what we're getting into, it's always a hostile environment, great fans out there and a quality opponent as well.
Q: How do you neutralize the noise factor? Is it as simple as communicating louder or do you guys…
A: Well, communication shouldn't be a problem. Guys know how to communicate, we've played in away games, we've played in games where you can't hear much, so in order to get the crowd down, you have to execute on offense. We've done that before as well, so we know that the best way to take a crowd out of a game is to execute at a high level on offense.
Q: Does the communication matter more because there are guys who are inexperienced in there?
A: Communication is always key. Sure, if there are guys that aren't normally in there, you might have to say a little bit more but I don't think it's something that's difficult. I think it's something that you handle, whether it's in the huddle or on your way to the line of scrimmage. There are a lot of things that take place before you get to the line where communication really doesn't become essential once you're out there pre-snap. Guys know what they're doing, so I'm not too worried about communication.
Q: Is every run going to go left?
A: Why would it go left? I don't know, who's left? Who's center? I don't know, you'd have to ask coach.