Q: Can you explain the thinking behind, I'm not sure I've ever seen a practice squad guy go on IR, usually you just play one practice guy short, so what was the reason behind putting (wide receiver) Cole (Beasley) on IR?
A: Wasn't ready to go, so brought another receiver in. See what happens down the road.
Q: Did he do something extra yesterday to it?
A: No, just wasn't ready, so brought in (wide receiver) Cam Sims. Another set of legs. When Cole is ready to come back, we will see how it goes.
Q: With the Cowboys, (quarterback) Dak Prescott and the interceptions was a big thing with him, a big topic all offseason here with him. What do you make of it when you looked at it?
A: Dak is a productive quarterback, he's got a very good skillset, he's won a lot of games, he's been very productive, scored a lot of points. They've got a good football team, so we are going to need a really good week here of preparation.
Q: Do you look at that as an opportunity to now more so than maybe, it wasn't something he has a track record of in the past, the interceptions I am talking about specifically. Do you look at as like more of an opportunity now?
A: He's a heck of a quarterback. Scored a lot of points for them, multiple years, so we got to have a good week of practice.
Q: I know you take things day by day and every game one at a time. Can you explain the importance of divisional games and just competing within your division?
A: I'd say just, we got 17 games. We are locked on this one. That's how we always are. Got to put everything we have into this week of preparation, practice, how we are in the meeting room, walk throughs to get ready to play our best game on Sunday.
Q: Does (Cowboys head coach) Mike McCarthy's history as a play caller in Green Bay have any bearing to what he will do as a play caller in Dallas?
A: I think it's the first game and even the first part of the season, there is a lot of unknowns. Got a lot of respect for Coach McCarthy, I mean he was a coordinator back in 2000, I think, for the 49ers. So, he's been doing this a long time. Has a good track record, been very successful. What he is choosing to call or how he's calling it, we won't know that until Sunday.
Q: You guys didn't have a sack against them in either game last year. Did they do something scheme wise; did they get rid of the ball quick?
A: I think they really did a good job of controlling the game. They were playing on early downs, there wasn't a ton of third downs, particularly in the second half, they ran the ball well. They did a good job protecting, they've got a good offensive line, they played good football on offense in terms of taking care of the quarterback, controlling the line of scrimmage, and then making timely plays down the field.
Q: Both those games were close, one-score games. Is it encouraging that in that specific department, you were out pressured a lot quarterback wise, but you were still so close. Does that make you say, hey, if we can even that thing out a little bit?
A: I don't really think what happened last year or any other game really has any bearing on this game. You take a look at it, you look at the players they still have, you look at their schemes. Obviously they have the same defensive coordinator, but again it's a new season, they'll be a bunch of new stuff that we will have to adjust to, and we've got to focus on ourselves and make sure we are ready to go.
Q: What do you make of (Cowboys linebacker) Micah Parsons?
A: I think I said it last year, he's a dynamic player. You know, these defensive ends that can rush passer and get a lot of production on the quarterback, they are like skill players, so he's an explosive, dynamic playmaker. They line him up in a variety of spots, he's productive, he's hard to block, he's a really good football player, one of the best in the National Football League.
Q: He overshadows somewhat (Cowboys defensive end) DeMarcus Lawrence, who for a long time has been a thorn in the Giants, long before you got here last year. He's been a thorn in the Giants side, what is it about Lawrence?
A: Same thing, he's a dynamic player too. Obviously, was very productive, particularly in that first game, but he's been a good player in this league for a long time, knows how to play the position, got a ton of respect for him and how he goes about his business and, again, a dynamic edge player and they have a few of them.
Q: Obviously you mentioned that first game, (tackle) Evan Neal was the one who had the tough game. What did you see from Evan Neal this preseason as he goes into a big year two?
A: I think we have talked about that. I think he's improved. Now, we will go out there and play against a really good defensive front and he's going to have to trust his techniques and fundamentals and communicate with the offensive line, but he's done a good job really the whole offseason.
Q: Because of the unknowns that you mentioned about week one, is your game planning, your preparation, do you almost have to be more of a wide scope going into the week, knowing that you might have to bring in some things that you weren't anticipating?
A: I think the biggest thing in the early parts of the year for games is making sure that you are really focused on the things that you can control, which is your execution of the plays, whether it's an offensive play or the defensive looks that we get out here and really focusing on your fundamentals, your techniques, your communication, all the things that help you play well. That puts even more of a premium on it in the early part of the season because, again, you usually have a log of a few games here in the beginning part of the year after, call it, October. We are going to have to do a good job of executing our stuff against a really good team.
Q: Do you have anybody not practicing?
A: We'll get into that tomorrow with the injury report.
Q: Is there anything you're changing this year in the game week leadup from last season?
A: For this particular week, it's pretty similar. Yeah, it's pretty similar. Reps are pretty similar. Scheduling is pretty similar. Again, talking with the sports science people and the trainers, we kept it pretty similar to what we had going into Week 1 last year.
Q: You mentioned this week specifically. Are you thinking of anything changing for next week, or is it just kind of seeing how this week goes?
A: Let's get through this week, get through today here.
Q: Going into camp, what were you looking for or hoping to see from (running back) Saquon (Barkley), and what did you see from him?
A: I was with Saquon for a year. I know his mindset, how he practices, how he prepares. So, he had a good camp. He's ready to go.
Q: Talk about going against (Cowboys defensive coordinator) Dan Quinn and his defense.
A: He's been doing it for a long time. I've known Dan for a long time. We worked together back in '07, I think it was, '07-'08. He's had a really good track record as a play caller, and I was a position coach. We competed against him in some games there towards the end of the year, and he's got high energy. I think the players really respect him. He's got a good reputation in the league. He's smart.
His defense flies around. They have a specific way they like to play. They create turnovers, they get off to fast starts. He's a heck of a coach.
Q: Is that one of the biggest traits of a Quinn defense? The speed, they're always fast.
A: They're fast, yeah. Whether it was at Seattle when he was there, or Atlanta, or when he was down in college, those guys play fast. They execute well. They're tough to block up front. They create a lot of turnovers. He's a heck of a coach.
Q: Is Cam Sims' ability to play gunner on punt attractive to you guys?
A: Yeah, he's a good—we had some guys in working out like we always do. He had a good workout. He definitely has had some production in the league, I'd say both at receiver and as a gunner, too. He's a big body guy. I had him at Alabama back in '17. Really haven't spoken to him really until yesterday since he's left. He had a good workout.
Q: Do you need (quarterback) Daniel (Jones) to kind of pickup where he left off at the end of last season?
A: I don't think you can pick up where you left off. I think it's a new season. We're going to have to do the things we need to do leading up to this week. He's had a good training camp, and now we've got to turn the page and get here on Dallas, which we've been the last couple of days, and go out there and practice and make sure we correct the things that are going to happen and ultimately play well and make good decisions and move the ball down. That's his role. But he's had a good camp.
Q: Do you ever worry about guys at any position who got a big contract in the offseason and then coming out and trying to do too much, trying to live up to it, and it wearing on them?
Q: What do you think of the idea that Saquon is really out with a point to prove? He's out to prove his worth.
A: I just think Saquon's a competitor. I saw him compete last year and I know he'll compete this year.
Q: What about him in camp stood out to you?
A: He just executed the offense well, did his job, competed, came in here prepared, studied, worked on things. If it wasn't great one day, worked on it the next day. Had some good leadership about him. Again, really, now it's all about Dallas and going out here and have a couple of good days practice here.
Q: How much better was camp because he made the decision he made to come in, and there were no distractions? It became about you getting your team ready.
A: Camp was camp. It was a good camp. I said it before, glad everybody was here, and I think we took steps each day.
Q: Do you have to adjust anything with the weather being a little bit more unseasonable the next couple of days?
A: No. We talked at length, I'd say, before they left for break, and even when they got back, for the hydration plan, whether it was a plane trip, or we knew the weather was going to be a little bit more humid and hot this week. So, our nutritionist spoke to the team, our training staff spoke to the team. We've got pros, and hopefully they hydrated the right way, they ate the right way, and we planned for this here the next couple of days.
Q: A lopsided divisional series, can that play on players' heads a little bit?
A: I think we're focused on this week and trying to get ready for a really good team.
Q: I know you look ahead, you're not looking at last year or anything, but some of these players have almost never beaten Dallas. Can that get in there somewhere?
A: I think the only thing that we've got to focus on is coming out here, practice, prepare, do the things we need to do to get ready to go on Sunday.
Q. Does it add anything extra that it's the Cowboys right out the gate?
A: All of these divisional games are big, for sure. It means a lot, so it's a big opportunity for us and we'll be ready to go. It's a big game because it's the first game, it's a big game because it's a divisional game and it's the next game.
Q. How do you feel about what this team accomplished in training camp and where you are now going into Week 1?
A: I think we're in a good spot. I think we improved a lot throughout camp and made a lot of progress to get to this point and I think we're ready to go. We'll work throughout this week at practice and make sure we tighten up every little thing in the game plan and make sure we put our best foot forward on Sunday night, but I think we had a good camp. I think we're ready to go.
Q. How important is it to get over the hump against the Cowboys and the Eagles? Two teams that kind of had your number in recent years.
A: It's a big divisional game for us. All the divisional games are certainly big and match up with a lot of tradition and history so yeah, it's a big deal. But it's about what we do, it's about how we play and taking care of our business first.
Q. Do you look to build off of what you did last year, or do you just throw that out and start again?
A: I think it starts over for us. We made progress last year and a lot of guys are back this year, but we also have a lot of new faces and a different group of guys, so it starts over. Our identity, what we do as a group starts over so we've got to go out and play well and we're prepared to do that.
Q. With all that roster turnover, do you gain anything to go back and look at previous games of whoever you're facing? Or does personnel change so much that you don't learn as much?
A: There are things that you can certainly look at from past matchups. The system, the defense, ways we were able to attack them, then things they did well and what they had success with, too. You can learn a lot from those matchups, but I think it's important to understand that it is a new year, it's a new team. It's a new team for us, it's a new team for them and there will be certain wrinkles that come with that.
Q. When you're out and about interacting with fans and everything, at some point do the Cowboys ever come up? A lot of fans really hate the Cowboys. Do you sense that out there?
A: Yeah, absolutely. Giants' fans are passionate and like I said, there's a long history, there's a long tradition of these matchups in the NFC East and Cowboys is certainly up there. We understand that, but we know it's about what we do as a group and how we play and making sure we're ready to go Sunday night.
Q. You don't want to lose to anybody, but does it get tiresome to lose to the same team so often like the Cowboys?
A: I mean, we haven't had success recently. You know, we understand that but focusing on what we're doing kind of right now and preparing to play and focusing on what we're doing Sunday night, obviously, is the key to playing our best. Looking forward to doing that.
Q. You spoke pretty highly about (tackle) Andrew Thomas' development and how much his protection means to your success. Can you see (tackle) Evan Neal following that same path?
A: Yeah, absolutely. I think Evan's had a great camp and he's obviously an extremely talented player. He had a great camp, made a lot of progress and I'm excited to go out there with him on Sunday night and play. He approaches his work the right way, he prepares and plays hard. Yeah, he's had a good camp.
Q. You've talked about the turnover and the history a little bit but is there a common theme that you see from the Cowboys team that carries over from year to year?
A: I think on defense they're fast. They run to the ball, they attack the ball, they've got a strong pass rush, a couple of guys up front and they're good in the back end. They fly around, run to the ball, make plays, they're disruptive, cause a lot of turnovers, they're a good group – strong group, but we'll be prepared for them. But like I said, it's about what we do and we're preparing to play our best.
Q. Is this the most weapons that you've had to use against them?
A: I feel great about our guys. I feel like we're in a really good spot with who we've got and how we can attack a defense in a lot of different ways and a lot of different skillsets and dynamic guys to get the ball to in space. I feel great about our group.
Defensive Lineman Dexter Lawrence
Q: Does it mean anymore that it's the Cowboys right out of the gates here?
A: A little more juice knowing it's a division team, but I think the mindset is the same for everybody. We've been preparing through camp and we're going to prepare well this week. We're going to go out there and play football and do our best.
Q: Where do you feel this team is at coming out of camp?
A: I think we're confident. I think we know who we play beside. The chemistry on the team has definitely grown through camp and I think now it's just the Sundays are coming, and we've just got to go out there and prove ourselves.
Q: What's that match up with (quarterback) Dak (Prescott) like? Can you just walk us through the challenge of facing the Cowboys specifically?
A: I think it's a challenge. They're a team that—they have a lot of talent, and they just keep getting more talent. So, they just bring that dog attitude to them. I think they have a good mindset over there. Tough team. I think it showcases through the front on the O-Line and D-Line every year. I'm just ready for the matchup.
Q: What does it tell you about two rookie corners in (cornerback Tre) Hawkins (III) and (cornerback Deonte) Banks and their makeup that they're probably going to be starting here Sunday night?
A: I think it just shows how they worked through OTAs and camp. I kind of noticed it late. They're just going out there and working, honestly. Understanding the playbook, knowing their assignments, and not making a lot of mistakes, making plays on the ball in camp. It's good to see that.
Q: The Giants haven't beaten Dak Prescott – not the Cowboys, but Dak Prescott – since 2016. Why do you think he gives you guys so much trouble?
A: I mean, they were just better that day.
Q: There's nothing about him specifically that's a matchup problem for you?
A: I think it's a team sport. The team, they just beat us those days.
Q: After all the work you put in in the offseason, the contract, and everything, how exciting is it, and how fired up are you just to play a game that counts?
A: Yeah, I think it's just time to shine. You just worked in your wherever you were, in the dungeon – a figure of speech – and now it's just time to shine. With all the work you put in through the summer and offseason and camp, now it's just time to go play and you get the opportunity.
Q: Did you get any trash talk from (quarterback) Daniel (Jones) about (Duke beating Clemson)?
Q: How are you feeling going into Sunday night, first game as a Giant?
A: I'm excited man, just trying to stay within the day, you know? Every single individual day of practice leads to a good game on Sunday, so not trying to get too excited, peak before then. Just trying to keep building as the week goes.
Q: What was the feeling in today's practice?
A: Definitely excitement. It's a longer week, we have more practice days than usual practice weeks so it's like, alright definitely take advantage of the opportunities, make sure we are consistent, making plays in practice, but you know, it's hard not to be excited for the season to get rolling. We've been practicing so much against each other; you start getting a little antsy.
Q: When you look at the Dallas defense on tape, what's their general approach against the tight end? Are you seeing a lot of man, a lot of zone, safeties? How do they general try to match up with tight ends like you?
A: They are zone team early downs and then once you get third down, they are a little more man coverage. They have some good safeties, they've got (Cowboys safety Jayron) Kearse, he's solid, big dude, he's got a lot of skills. I think (Cowboys safety Donovan) Wilson, I mean really all those guys, (Cowboys safety Malik) Hooker, can play and you'll see some of those corners as well because they'll match. It'll basically be man when you are out wide. They've got a lot of talented cover players, so that's who you want to go up against.
Q: I know you had divisional rivals in Baltimore and Vegas, but what do you know about Giants-Cowboys now and what have you come to appreciate about it?
A: Like I've said before, growing up in a house with my parents, NFC East fans, I know the history I know how heated and competitive these games have been over the years and I know what I'm about to step into on Sunday. I am honored to take the field.
Q: Does it help to step right into it Week 1? Does that make a difference to you?
A: I think these games are dope. When I was Vegas we had a primetime game pretty early, we played the Saints and then we played the Ravens the following year so just having those games out of the gate, it's exciting. Those are the kind of environments that you want to play in, you know everybody's watching and playing against a really good team. I feel like it's going to bring the best out of you pretty early on.
Q: Do you have a Giants-Cowboys memory? Like is there a game, a play, is there a player growing up that you hated as a Giants fan on the Cowboys?
A: I didn't really hate the players, I just know my parents were kind of like anti-Cowboys as far as their team, so I understood what the deal was. But as far as the players I always loved the players but probably the biggest one (has) to be Odell (Beckham Jr.) probably.
Q: People who expect you to come out Sunday night and have like eight catches for 100 something odd yards, do you feel any of that?
A: I mean of course you do, it's there, it's available, it's noise and the expectations people have. I actually watched a video, I don't know if you know who (motivational speaker and former college football player) Inky Johnson is, but he had a video talking about expectations are external, but standards are what's internal. You can have a standard that's what you have for yourself, and know like, alright my standard is however many plays come to me, however many opportunities come to me I try to make the most of those and if it ends up being eight for some bigger plays then that is what it is, but just one at a time, trying to keep it as simple as possible.
Q: Talk about what your game does for a guy like Saquon Barkley, how much you can open up for him?
A: I feel like defenses kind of have to make decisions, they want to put the extra guy in the box, which is something that you have to do to stop 26. You know, you need as many bodies as possible, but when you do that, you are more susceptible to those play actions and over routes, which I feel like I've succeeded a lot at in my career, so it creates a good harmony. Whatever defenses want to do, it allows different guys including receivers to have advantages in different strengths of their game.
Q: How does it feel, you went from one great back last year with (Raiders running back) Josh (Jacobs), now you are coming over here with Saquon?
A: Spoiled. Spoiled, for sure. Definitely a blessing.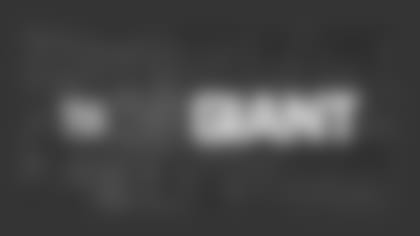 Giants Launch Season-Long Brand Campaign, "BE GIANT"
Series of community and brand building initiatives will unveil throughout the Tri-State area