Head Coach Tom Coughlin Conference Call**
The interesting thing last night, which occurred, was there were so many situational concepts that appeared in the game and this was a very good experience for our sideline. We had 79 guys there and all different combinations of personnel on special teams, first and second half. We actually played four quarterbacks in the game, as did Pittsburgh. But the number of things that came up in a game that was relatively penalty free, the unfortunate thing being the turnovers.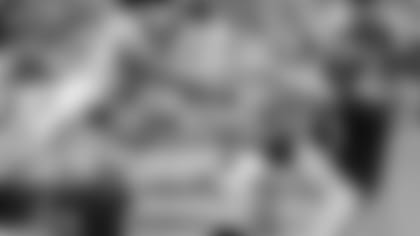 Gameday Photo Gallery](http://www.giants.com/photos/photos/Gameday-Giants-vs-Steelers-Game-Photos/5707cfd6-4833-4d46-871b-ea5eaaabcb1a) Obviously I wasn't really happy about. Especially the idea that their only touchdown came off of a turnover, but the idea of a blocked punt would have been nice if we could have taken it off of the punter's foot and scored a touchdown there. We had a hard count, no-brainer type of a situation where they were trying to draw people offsides in lieu of the field goal. That was a good situation. We almost had what we call a 'cobra' situation come up. We had a two-minute drive at the end of the half, which was great experience for our guys. There were a number of people that were in the game at that time. Our defense got a safety. We had a kickoff return after a safety. We recovered a muffed punt. We had a four-minute drive at the end of the game that resulted in the opportunity for Josh Brown to step up with a 47-yard field goal, which we could emphasize the pressure of the moment saying that was the deciding factor in the game to go up five rather than two. There were so many things.
We had three penalties in the game, which was a good thing; a lot of good things happening on special teams, as I mentioned. The areas of concern were obviously the offense… our inability to rush the ball with any kind of consistency. And also as other people entered the game throughout the game, just to adjust to Pittsburgh's blitz package. Just understand what they're trying to do and understand what we're trying to do to offset that and be consistent with that conceptual idea. That was kind of an on- again and off-again for us throughout the entire game. So that and the fact that our first defense had what we call two wins and seven losses against Pittsburgh's running game and that's a big objective for us coming in and we've got to shore that up and be able to stop the opponent's run.
But it was everything we thought it would be in terms of the physical capability, the physical test that the game provided for us. It was a good first preseason game.
Q: Do you have any updates on the injuries from that game?
A: Kris Adams' surgery is taking place even as we speak. A left ankle fracture is what they're calling that and anyone else, DeGeare included, is being evaluated and we'll have to wait until the results of all of these tests come back to us. We do have the normal aches and pains from having played the next day and I won't know the real consequence of those things until I get an evening report from the training room.
Q: Would you imagine Ryan Nassib getting more snaps in the next preseason game?
A: He needs to keep getting his feet wet just like anybody else does. It's a brand new experience and we'll keep that in mind as we set the order and the number of snaps as they are to be divided up for the next game. Now in truth, he got just as many snaps as anybody else. A couple of them were the victory formation at the end.
Q: What did you see from the first team defense that the Pittsburgh running game was giving them problems?
A: Right off the bat, we were reached. They came out running the outside zone play and we did get in a position where we were reached. We didn't get off the blocks and didn't get to a point where we could reject the front and the ball carriers were able to slash and make yardage and a couple of times cut the ball back. I think we'll do a better job once we get a look at this tape and understand our gap responsibilities, but this is going to continue to be an objective for us.
Q: Is that partly to go with the different combinations you're trying to find up front and with your linebackers? Do you think that will continue through the preseason?
A: I hope not. I'm hoping that the combinations that we go with, whether that's by our decision or by the result of the injury factor, we're hoping those combinations will provide the necessary strength or techniques in order to accomplish what our objectives are. We're not saying it's going to be a perfect alignment. That just doesn't happen. So the guys that are available to us or the combinations we decide upon are in there for that reason.
Q: What do you look for from Eli out of a preseason game? Do you think he got enough work?
A: There are not enough snaps for that to happen. I think Eli had nine and the most I was going to allow that to be was 12. We had a couple of things that we thought were going to be excellent opportunities. The one was a ball down the sideline where Rueben could have released faster and they could have hooked up on that one. That would have been a nice thing to see. I would like to have scored from the five, the touchdown once we did block the punt and then the play to Victor, which was Eli to Victor and it worked out very, very well. The ball was thrown exactly where it had to be thrown, but I still think we could do that a little bit better. It's the idea of getting in the game, adjusting to the game tempo, knowing the speed… The speed of the game is something that has to be accomplished… You only get that by being in the game. Those are things that are going to happen here when we look at this tape with the players and then we project getting into the week of our next game. I'm hoping that if nothing else, the speed of our play improves and the tempo with which we operate improves from game one to game two right away. Those would be two objectives before anything else.
Q: Does Eli or some of the other veterans have to re-adjust to game tempo?
A: Yeah. It's much different. Practice is one thing and the game is another. We all need to get up to speed with regard to that and not necessarily Eli for the position he plays, but the speed with which the opponent moves and the very fine line between outstanding execution and almost, and we've got to get where we're executing with all three phases the way we need to be able to do it going into the season. So the challenge from game one to game two, of course, is to make these kinds of improvements and adjustments once we look at the tape.
Q: With the fumble from Andre Brown, does that concern you?
A: It concerns me. Naturally it concerns me and it concerns Andre too because it was careless. I don't care how much and how long you've played the game. There are certain things that have to happen before you run the ball. You've got to look the ball in. If it's going to be a toss or a pitch or a pass or whatever… first, you've got to catch the darn thing and put it away and cover it up before you can go on to the next objective. I'm sure he's going to learn a lot from that and to his credit he went right back in and did some good things. So that idea of looking the ball in, I don't know how that escaped last night, but for me, that was the whole reason for the turnover.
Q: What did you think of Herzlich last night?
A: In that position, the mike backer position gets the signals and calls the game as it comes off the sideline. So Mark had that opportunity. He does an outstanding job with that. We're analyzing the linebacker play the entire preseason so that we can get the right people on the field in the right spots. So it's ongoing and Mark, I'm sure, will be a guy that will tell you that we played pretty good last night, but we can all play better.
Q: Did any of the linebackers jump out at you in having a good game?
A: I think there were flashes. I really do. I think there was flashes and I don't know if it's any one particular individual that made enough plays or a whole lot of plays for me to say that, but we were steady. We didn't give up a touchdown, so somebody was doing a good job in there.
Q: What did you think of David Wilson and his pass protection?
A: You know what, he had one very, very good cut block when he stepped up and took the blitzing linebacker on and he tried to carry that same route of execution out and the backer stepped over him one time. So he's got to learn that you don't cut people at the feet of the quarterback. That's not going to accomplish anything. If you step up and take up the slack and you're far enough away from the quarterback, you can use that as a changeup, but basically you're going to have to stand in there. So he'll learn that. They did a good job. Andre did a real good job of chipping last night and helping where it was obvious the help was needed.
Q: Do you expect Justin Tuck to be back tomorrow and the guys with the concussions?
A: I expect Justin to be back. I think (Justin) Pugh has been cleared and we're going to find out about (Ryan) Torain tomorrow and hopefully (James) Brewer is getting very close.
Q: Pugh has been cleared?
A: I did say Pugh has been cleared to return to practice.
Q: Did you see more big plays last night?
A: I don't know. To be honest with you, for a long time last year we were close to or on top of the league with big plays in that regard from an offensive standpoint anyway and we did have a very good year in terms of turning the ball over. So last night, you're kind of dominated by the things that didn't go well in terms of the two turnovers that we had. One creating a touchdown for them, but we're constantly looking for more of that. We spend a lot of time on punt return. We're trying to enhance that in terms of field position. Overall, we didn't have a lot of big plays last night, but defensively now we did have some numbers. We had five sacks, nine hits on the quarterback, and eight tackles for a loss. We had those types of things last night, which would fall into that category and I think from a positive standpoint we had four big plays in the passing game and we had a very nice punt return or kickoff return after the safety in which the Pittsburgh punter provided the ball down the field and Jerrel Jernigan had a nice return there.
Q: What do you think Eli gained from the preseason when he was backing up Kurt Warner?
A: He constantly wanted to be the starter, but he was learning as much as he possibly could through the eyes of Kurt Warner as he waited patiently for his opportunity. The competitiveness of preseason was very close. I made the decision to go with the veteran player. We did that up until a point and we did have a winning season going at that point in time, but Eli was spending all of his time preparing himself, studying and acting as if he was the starter in meetings, and keeping himself informed as to every detail if we was the starter just in case he would have to enter a ballgame and when he did get his chance, he had been in the routine of preparing as if he was the starter and that's the way he wanted it.
Q: When you recall making the switch, do you remember it as a difficult decision?
A: I felt in my gut that the timing was right and it was the right thing to do because Eli was the future of the New York Giants and we needed to be about the business of moving in that direction and we had to kind of take in a little down turn in terms of our production and I was concerned at that point in time that if something else had been occurring, then maybe it would have been a touchy decision. But for me, at that point in time, I wasn't concerned with other factors and other people thinking about our record or what the objective of the move was or whether it was a popular decision or not. I just felt in my heart it was the right thing to do and it was.