Head Coach Tom Coughlin**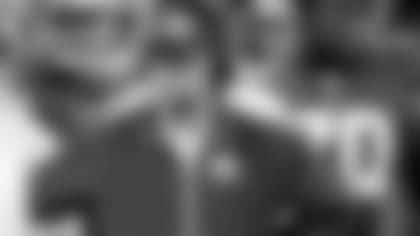 View Gameday Photos from Week 5 We've got quite a day planned here moving ahead. I said basically what I needed to say. I usually do it on Sunday. Again, unfortunately the game is very, very close at the end of the third quarter and we did not get the job done and it's my job and I take full responsibility for it. I know that we're maligning my quarterback today and believe me, there's a bunch of people involved in that. Those things don't happen just one on one now. It's a team concept. Whether you have a pressure situation, whether you have somebody that comes loose in front of him and he tries to move, whether the receiver doesn't do what he's supposed to do, whether people don't come back for the ball… whatever it is. It's a team game, and yes, the head coach is the guy that's responsible for the losses, and the players need to be there for each other in all circumstances and in this one, criticizing the quarterback for the outcome for everything there at the end of the game really is not right.
Q: Are you surprised at the amount of criticism Eli is receiving at this point?
A: I don't really know what it is. I'm just speculating. I can understand what the football world may think. Actually, what should happen is people should shift it to me. The guy is trying to play the best he can. He's certainly trying to do too much. He knows his team and he knows his responsibility. He's an extremely accountable guy and he's going to do everything he possibly can. Sometimes it's not to be done that way. I'm not making any excuses either. We all know the number of turnovers is in a terrible state and it's the one thing that I preach, period. That rubs salt on the wound with me every time something like that happens.
Q: You mentioned the third quarter again. Does that make it even more difficult to deal with because they are close games?
A: No. Believe me. We scored twice in the third quarter, so we were coming out of that with whatever was going on there. It looked as if we were going to be in charge and have an opportunity. As a matter of fact, when it was 22-21 both teams punted the ball. We punted the ball back to each other. The game was going to be a very close game and that's exactly… You can sense it at that point in time and you know that's the time for you to take it and mount a drive and make something good happen and that's the frustration. Nothing else. No other reason. They're close games at that point in time and then they become, because of the turnovers, non-close games.
Q: Have you told Eli to dial it back a little bit and try to let the game come to him or however you would phrase it?
A: Don't put words in my mouth. We did visit today and he feels bad about the game, just as we all do. We're suffering from remorse from an opportunity lost, but he's certainly going to get right back up again in preparation, a very short preparation for the next opponent. I know that part will be done properly and I wish I could bring his spirits back up, but it takes a little bit of time. Unfortunately it's very, very close to yesterday and he'll bounce back. He'll bounce back, but we did talk. Yes.
Q: Is it important to say that it's not on Eli, but it's on you? Is it important to say that for the players?
A: That's the way it is. I'm the head coach. Things aren't going the way they should. My concern is about our team and our team staying together and rallying, looking at the facts. I will say this to you: every guy on this team wanted to win and play hard to give our team a chance to win yesterday. Of course, when you spend that kind of effort, it hurts. But my concern is for these players and the fact that they come bouncing back from this and get ourselves ready to go.
Q: What can you do moving forward to get the team back where it needs to be?
A: There's no simple formula. I'm not going to give you one statement that answers all. We have to go back to work. We have to go back to work and we have to do a better job. We've got to figure out how to solve this issue. We talked about playing well. We did play well in the third quarter. We talked about four quarters. We've got to figure a way to play a whole game and not turn the ball over. You can't do it. Twelve penalties and four turnovers. You're not going to win anything.
Q: Tom, where do you guys stand physically?  I know Wilson left the game and are there any other injury issues?
A: Yeah, he's got an injury and he's being thoroughly evaluated and we'll see the results. Hopefully we'll get some results about that. He has to have a full medical appraisal of what happened. We'll wait on that.
Q: Tom, what did happen?  Did he hit his shoulder or something, or have a burner in his arm?
A: He did suffer some kind of tingling, so he was immediately pulled out of the game, not to return.
Q: Is it to the point where you might have to sign a running back?
A: We will see. If we do, it has to happen quick.
Q: So are you thinking of maybe putting Cox in the running back mix this week?
A: We'll see.
Q: Did you notice an improvement in his running before he got hurt?
A: With David?
Q: Yes.
A: Well I noticed a very nice touchdown run. Well blocked, well executed, very good looking play. If that's what you're referring to, he made a couple of nice runs.
Q: Can you talk about Johnathan Hankins, Damontre Moore, Will Hill, all those young guys that came in and tried to contribute?
A: Will Hill did an outstanding job. He came, practiced all week, had an opportunity to play, made, what, 11 tackles and played on special teams. He was a physical force back there, which was a big plus for our team. Johnathan did a good job. He got in there, hung in there. He hadn't had any action for a few weeks and he got in there and got in the mix. He competed like heck and made a couple of nice moves and got in on some tackles. I was pleased with that. Damontre strained a hamstring and that really limited what we could do with him.
Q: It seemed like Antrel slid into the nickel role and Terrell Thomas wasn't in the picture as much.  Can you talk a little bit about that decision?
A: We practiced that way all week. We had a limited number of people who were going to be available. We had Antrel learn the nickel spot as well as the safety spot and we had done some things of the nature of rotating around the guys that we knew were going to be available. Terrell was obviously working throughout the week in that capacity as well. We got in the game and, to be honest with you, things were going fairly smoothly. Our guys were doing a nice job in terms of recognition and getting lined up and playing a lot of man coverage. There was a strong feeling that we were doing okay with this, let's stay with it. That's kind of the way it went.
Q: You took this loss on your shoulders, but at any point have you considered a change at all in terms of who's calling the plays on offense or who's calling the defense?
A: No.
Q: Obviously there isn't much downtime here.  You have a game coming up so quickly.  Any sense that's helped you not think about, in some ways, the desperate situation that you're in?  Do you find yourself just putting your head down?  Are you at the office nearly 24/7?  What's it like?
A: It's not a great place to sleep. The accommodations and the help is not good. Not to make light of it, there's two ways of looking at it. We're so busy today that, we've graded the film, we spoke briefly to the players about that game, we've introduced the opponent, we're going to go in the field house in a couple of minutes and jog through some of the things we've prepared. We are very busy and I suppose it is a good thing. Don't worry, we've spent our time, whether it be last night or early this morning, we spent a lot of time in reflection on that game. It's not been very pleasant.
Q: I'm curious what your message is to the team.  Last week you said you mentioned the division standings, is that something you will bring up again?
A: I haven't had any message of the nature you're talking about, the division standings, how we started the meeting a week ago, on Monday afternoon with our team. The idea here is to basically recognize the issues from the day before, again, to come back together, to go to work, to improve on the areas we have to improve upon and try to get ourselves a win. The whole thing is to get started and find a way to win a game. That's basically the message and it was the message last week as well. It just so happened that we were playing in a divisional game. It's the same message. Work hard, prepare, stay together, stay focused. Last week is was, the effort was, we needed to be the smarter team, and we needed to play four quarters. From that standpoint, you still have to accomplish the total smarter team concept, with the elimination of the penalties, turnovers, and four quarters. That will be the message.