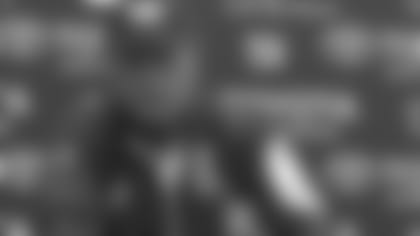 QB ELI MANNING
Q: Eli, there were reports that Rashad was instructed not to score on the first two plays of that last possession inside the five-yard line and the communication apparently didn't come from the sidelines. Is that something on the field you were instructed to do?**
A: Well, I told Rashad on first down that—I was a little, not misinformed, I was a little—I thought they only had one timeout after the play to Odell. They would've had to take their timeout. I guess because there was a defensive penalty, even though we declined it, that stopped the clock. So I thought with the decline, they would just have one timeout. So I thought that they may let us score to get the ball back, so that's why I informed Rashad if they let you score, just go down at the one-inch line. Don't score. He still ran hard, we got two yards on first down and second down, third down that was my—it's still my mistake. That did not come from the sideline. Coach Coughlin and I talked about scenarios like this, but this did not come from the sideline and I can't be the one to inform a back. That's not my decision to do that in that scenario, so that's where I've got to make sure if that's the case, it's coming from the sidelines and doesn't get pulled to me and I can relay the message under those, if it's the right scenario. Because they had two timeouts, it wasn't the right thing to do, so I made that mistake. Then we got on third down and not taking a sack there. I've got to do a better job managing the game, managing the clock and make better decisions in that scenario.Q: Eli, just to be clear, did you tell Rashad on both first and second downs not to score? And at any point did you discuss that with any of the assistant coaches on the sidelines?
A: First down, I told him, yeah, if they give up, don't score. Second down went to the sideline, told coach that. I told him not to score if they were giving up. He still ran hard and got a few yards. Second down, I told Rashad—we talked about it a little on the sideline and I thought we were on the same page where we're still not trying, trying to get as close as possible but not get in the end zone. I was wrong on that so that's my miscommunication and my mistake on thinking that was a scenario for second down and expecting that from Rashad. So I've got to do a better job of not making those game management situations.Q: When you did tell the coaches on the sidelines, none of them said anything? None of them tried to stop you?
A: Well, I mean on the first down it was already done. On the second down I thought we were on the same page; obviously, I think that's where I—they called the play, time to go. That was my fault in informing Rashad on that second down play and first down.Q: Are you talking about…
A: They did not inform me to do that and I thought I had bad communication with them for that second down and that was not the case. I thought we were on the same page for the second down play. First down was a 100 percent on me, it shouldn't have been done. Second down shouldn't have been done also, but I was wrong in doing it there as well.Q: Eli on third down, with the play call to throw the ball and you executed the play call or did you choose to go that route?
A: No, the third down was a play action. That was the call. We were trying to get the touchdown right there and score and that's where I've got to do a better job of understanding that if it's not open, wide open, then you don't have a chance to get a touchdown, I've got to take a sack so we can run 40 seconds off the clock and get that field goal. I've got to be smarter in that scenario and understand that the clock is the most important thing there and that we weren't going to go for it on fourth down. So that's bad management of the game in that scenario and understanding how important the clock was right there.Q: After the second down play, they called their third timeout, it's a 30-second timeout. Do you have the opportunity to go over to the sideline and talk to them or just stay in the huddle or how did that sort of work out?
A: I went to the sideline. I was on the sideline and that's where I got the play.Q: Eli, did anybody at that time remind you to take the sack there in that situation if nobody is open?
A: No, no. I've got to know that being a veteran and understanding the circumstance or I've got to ask are we going to go for it on fourth down if we don't get it here and get the understanding from the sideline what our game plan was. Usually, if we ever go for it on fourth down, they'll tell me beforehand and it will affect your decision making. They did not tell me that. That was not expressed, so I've got to assume we're going to kick a field goal and take the sack right there.Q: At what point did you notice or realize that they hadn't used the timeout on that three timeout play? Was it when they announced they used the third…
A: No, when they used their second I went to the sideline and realized they still had a timeout left and I thought they were out at that moment. We were kind of talking scenarios there and that's when I realized they still had another timeout left. Yep, I've got to do a better job at understanding the circumstances and all the scenarios and how many timeouts they had and understanding the rules of a situation where you have a declined penalty does not mean that the clock keeps rolling under two minutes.Q: What were your thoughts on the offense in general? You only had the one touchdown?
A: We didn't have many possessions to start with. I think we only had 10 possessions really. We only had one three-and-out. I thought we had some decent drives going, we just didn't do a very—once we got in the red zone, we just didn't do a very good job converting on third down. We had some third-and-10s, some third-and-long situations that we didn't convert on so those are hard. It's usually occasionally you had to do better on first and second downs in those scenarios. We did—I thought they did a good job, they weren't going to let us have very many big plays. They wanted to keep everything in front and for the most part, we took that. We were taking our completions and those were the best drives that we had where we just got completions, we were getting six or seven yards, we were getting the ball out quick, getting in third-and-manageables and converting on third down. I thought overall it could've always been better. I think I've got to do a little better job on first and second downs, finding completions, throwing the ball more accurately. But I thought there was definitely some good stuff but also definitely some room for improvement.Q: You have a lot of new faces on this team, how do you think they're going to react to this loss? It was a pretty devastating loss last night.
A: I think—hey, the guys are disappointed, the guys are upset because we were so close and had a great opportunity to win the game and we didn't do it. It hurts but it's supposed to hurt when you play your tails off and you work hard and you do a lot of good things and don't come out on top, it hurts. We've just got to stick together, we've got to keep fighting, we have to have another great week and get ready for Atlanta and go out there Sunday at home, we've got a home game and home crowd so hopefully have them fired up and ready to go find a way to get a win.Q: You talk a lot about taking responsibility for this, did you say anything to the team?
A: Yeah, I talked to the offense in our meeting today. Just told them that my mistake on informing Rashad and making that decision and the third, really the third down decision is what bothers me more than anything, for my sake. I think not making the better decision right there and taking that sack. That would've made a bigger difference than anything.**
Alright, good afternoon. It certainly doesn't feel any better this morning than it did last night. It's remorse for opportunity lost, obviously. And again, I feel very badly for our team. I thought they played hard, gave good effort. Certainly the football wasn't by any means perfect. In many, many categories, we were deficient compared to what Dallas accomplished. However, we were plus-three. Our defense did score one touchdown, and really put us on the one-yard line. You might as well say scored two touchdowns, and did an outstanding job of taking the ball away from a very good Dallas team. And putting us in a position where we had an opportunity to win the game.
I stand by what I said last night. The responsibility for the management of time and the play calling decisions etc. etc. are mine. Therefore the responsibility goes to me and nobody else. And all the other jibber-jabber, whatever is going on out there, simply comes down to the fact that we were within striking distance of being 10 points up. And that's all I ever wanted—was to get back to the 10 point lead. Dallas has had success driving the ball late in the game against us for a couple years, and scoring late touchdowns to defeat us. By going up 10, that would not have been an issue. When on third and 13 we went to the air and made a first down, that obviously made me ever more the aggressor, in terms of we were thinking about being able to score and to go up 10. And then the clock under two minutes, whether it took a minute or whatever it took there for them to score. If they were, in fact, going to, we would still have the lead and there wouldn't be any time left on the clock or they would have no timeouts.
So it was very disappointing. The thing I do regret the most for the evening really is that at 5:08, we had a 13 play, 79 yard drive and we came away with field goal rather than a touchdown. That was very disappointing to me. The third and one play, which I again take responsibility for—it should have been a run, it wasn't. The throwing the ball away created the stoppage of the clock. The clock had been stopped many times along the way for penalties, for refusal to accept penalties, all of those things that take place within the last two minutes. So the clock hadn't really been running. There were timeouts taken that were given back to the defensive team. The explanation to me this morning is that the referee has the right within whether he thinks it's a sequential operational play or not, to give the timeout back to the team that has taken the timeout. Even though in the situation we talked about, we did have the personal foul.
So, all these things having been said, as I mentioned, the other thing that was most disappointing was the last two drives that Dallas had. They really didn't—we didn't give them much opposition. They had a six-play, 76 yard drive and later a six-play, 72 yard drive. Their final play left seven seconds on the clock. So, most-disappointing for us, and again, I really thought that we played hard, that we gave good effort, that we were physical. Both sides played hard and we were in position to win the game and didn't win it. I'm very, very disappointed and upset about that. Our players feel very badly today, but we'll bounce back.Q: There was a report out there that Rashad Jennings was instructed not to score on the first three plays inside the five-yard line. Was that something that was instructed from the sidelines?
A: No. No, that was not instructed from the sidelines. In talking with Eli today, I think that he was confused by the number of timeouts that were remaining. His intention was with one timeout, that we would milk the clock the best we would. However, they had two timeouts left. So, that's all I'm going to say about that.Q: Was there any consideration on going for it on fourth down on the next play?
A: Was I thinking about that? If we had run the ball, I might've. But not in that circumstance, no. What I really didn't want have to have happen is to—they have an outstanding kicking game, an outstanding kicker capable of 50 plus yards. I did not want to give them the opportunity to tie the game with a field goal. So my mind was in tune to put some points on the board, although as I had explained I think in great depth, my intent was to be up 10.Q: Going back a second, when you talk about he was confused about the timeouts, were you talking about Rashad or Eli?
A: No, it was Eli.Q: At the two minute warning, you guys had the third down. If you get a first down there, is the plan at that point to sort of run the clock down and not get in the end zone? Had that been discussed by you guys at any point?
A: Well the thing that is always discussed is we want to get them out of timeouts and then be in a position where we can kneel. That's wasn't the case.Q: On that final drive—the Cowboys game-winning drive, it looked like you were in base defense for most of that drive. Is that correct and if so, what was the thinking behind that?
A: No, we weren't in base defense, we were in nickel. Trying to match their personnel.Q: How do you think Uani ['Unga] did there? First start, playing middle linebacker.
A: You know what, he played hard, he was aggressive, he made a lot of tackles. He certainly got himself out of position a couple of times. But for a guy put in that position, I thought he responded very well.Q: Do you have any updates on Jon Beason or Victor Cruz or any of the other injuries?
A: No I don't. I wish I did, but I don't. Q: How about Ereck Flowers? He looked like he hurt his ankle.
A: They're doing the usual number of MRI's etc. etc. I don't have any information in front of me about that. He did injure the ankle early on and he gutted it out and finished the game. But today is a different day.Q: How'd you think he did playing-wise?
A: He was limited to a certain extent because of the injury, but I thought he battled away, and that's what we always counted on—that he would battle. And he did.Q: Was there any point in that final drive by Dallas where you thought about maybe, "I'll call a timeout and make sure my defense is on the same page."
A: Just one time, but they stood over the ball long enough for us to settle in. There was one time when the ball was approaching the red zone, that it looked like there was some confusion, but then the ball was not snapped right away and people were in position. And it ended up being an incomplete pass. That's always a consideration.Q: Eli is obviously a guy that's always in control, and the confusion over timeouts is a little out of character for him. When something like that happens, is it easy to dismiss or do you have to change any of the process of communication late in the game because of that?
A: It's never happened before. I completely trust Eli, I always have. He's extremely into the game, he's aware of all the circumstances. As he comes over to the sideline, he relates what he sees and so on and so forth, from his position. To be honest with you, nothing like that has ever happened. His mind was in the right place here, he just didn't have all the facts right, and unfortunately we didn't get it corrected.Q: There was a timeout before that third down play. Is it normal for you not to communicate directly with the quarterback?
A: Well, those are 30-second timeouts. The coordinators on the headset are with the quarterback at the time as well.Q: He came over to the sideline?
A: He came over to the sideline, I think, prior to those plays. He may have come over to the sideline right there, too.Q: Do you regret not telling him, "Hey, we got to make sure not to throw the ball away at that point?"
A: Do I regret? If I had a minute and a half, I could have gone down through the litany. But again, it was a third-down call, we were trying to score. That was the whole idea. We were trying to score with the play that was called. Again, hindsight is 20-20. I think Eli would agree this morning that if in fact he was pressured and didn't have an opportunity, that he would go down and let the clock run. So, that would be my position on that.Q: You didn't know that Rashad at the time was not trying to score, though. Is that something that you found out later and when did you find that out?
A: Well, I don't know if that's exactly the case. I do know that it came up after the game, which I hadn't heard that before.Q: How is your team today? I know it was a crazy trip back and obviously a brutal loss. You always say Monday is rough, but is this one especially rough?
A: Well they were tired. There was not much sleep, nobody got any sleep. The guys were tired, and they were sad, they were disappointed. They were relating to the sequence, as it is, following a game—your Monday, but they were doing it without any sleep. It was a different kind of day, let's put it that way. And again as I said, we talked about yesterday's game and about going forward and how I urged them to get to bed early tonight and again tomorrow night. Because sometimes it's a couple of days before it really hits you. And then come to work Wednesday morning excited about looking forward not backward.Q: What did you think about your two top picks and how they played in their first NFL game? Flowers and Landon Collins.
A: Well I thought that they both played hard, and they both handled the situation very well. To be starting and playing in a game in the NFC East division, in Dallas, in their first regular season game—I ."
DT CULLEN JENKINSQ: How do you straighten this out by the time you get back on the practice field after such an emotional game?

A: We have to stay positive and rally together. I know it's tough and I know just for myself this is probably one of the toughest losses that I've had in my career. I found myself, even today, needing a boost. Some of the coaches helped pick my spirits up. [Michael] Strahan was in the building and he talked to us and that helped a lot. It's things like when we just have to rally together, stay behind each other, and get through this together.Q: Obviously the 4th quarter wasn't what you wanted out of the defense, up until that point were you starting to see strides of things coming together? Or was it still not what you wanted to see?
A: I thought we were playing. We were fighting, we were playing together really well, we were rallying behind each other, rallying to the ball, playing physical, and I thought we showed a lot of good things out there. The things that we just have to do better, we just have to get more crisp in our technique and our responsibilities. I think that, that really changed the bit of it, that fourth quarter, but we have to build off of that. What we put out there on the film is a start and it's something that we can build off of, and it's something that everybody has to look at positively, and understand that we can be even better, and even more dominant.Q: What seemed to break down on that final drive? Was it a matter of a missed assignments or some fatigue? Can you pinpoint what happened on Dallas' final possession?
A: I think that the assignments, some of the technique in the assignments, weren't the best. [Tony] Romo made some great plays, they had some great calls against us, and I think for us, we, especially the last drive of the game, maybe we mentally had gotten a little down and we can't let that happen.Q: One of the things that was missing was a pass rush, how much of that was Dallas? How much of that was you?
A: I think they schemed us pretty well. The ball came out very fast most of the night and when it does that…you're trying to get as much push as you can and trying to get your hands up in hopes of tipping a pass and affect the throw.Q: Do you have to guard against the team or some teammates just being so devastated by the loss that it's tough to bounce back?
A: Definitely devastated, and I think I've probably been one of the most devastated in the defensive meeting room. I had a lot of guys coming to me trying to pick me up and help morale because it was tough. You go out there and you fight, we fight as hard as we did, and we put ourselves in position, and we just couldn't close it out and finish it. It's a game, it tough, but it's definitely a learning experience for us now and it has to be something that we get some positive from to help us during this long season.Q: Do you think that when Dallas went to the hurry-up it exposed the communication a little bit between the first time middle linebacker [Uani 'Unga] and you have the starting safety [Landon Collins] who's also a rookie?
A: I thought for the most part we were communicating well the whole night. Towards the end we did have a couple plays where the communication wasn't the best, but I think that was more to do with just the players not being on the same page with their responsibilities and their checks. I don't think it had to anything to do with the communication from the sideline. I think we just have to jell better together as a group and know what each other is thinking kind of. We have to anticipate calls from each other and just be on the same page.