Q: How did your injured guys, (Tackle) Andrew (Thomas) and (Running Back) Saquon (Barkley), look coming out of yesterday? How are they feeling based on what they did?
A: They were with the trainers really the majority of yesterday. We had the kind of walkthrough in the beginning as far as going through some different adjustments we were doing as a team. Both guys were active in that. In terms of moving around with the trainers, from all of our understanding, it was a positive day. It should lead into their opportunity to keep on progressing with the team. The good thing is we have a little bit of flex time. It's a Monday night game coming out of the bye. They're going to have the remainder of this week to work with us, early next week and the way the schedule will flow, we'll have time to kind of build these guys up and then rest them. We're optimistic about it. We'll see how it comes out of the bye.
Q: What happened with (Cornerback) Sam Beal? We saw him out here at the beginning and then left and then obviously he got cut by the end of the day? Was he cut then? What happened with him?
A: We released him prior to the waiver wire being released.
Q: So he didn't get cut off the field?
A: No. There were no movements personnel-wise made on the field yesterday. No, nothing like that.
Q: What is Saquon's injury? Is it an ankle sprain?
A: I'm not going to go into the exact specifics of it. Obviously, this guy's dealing with – he's come off a significant injury last year. He had the ankle coming out of Dallas where he stepped on the guy's foot and rolled it. We've just got to make sure he's ready to go full speed and stay on the field when he gets there.
Q: Did he have any kind of setback during the rehab process over the last month?
A: No, I wouldn't say there's been any setback from anything that's directly happened. Sometimes these things – I say it all the time, everybody's body is different. Every injury is different. It's why I'm slow all the time to say it's this kind of an injury because someone may want to diagnose it and say, 'oh, that's a 2-3 week injury, that's a 4-6 week injury.' Everybody's different and every injury is different, so we've got to give everyone the timetable on their own body to come back and go play effectively.
Q: Any update on (Running Back Devontae) Booker's hip? We didn't see him out here yesterday.
A: He saw the doctors yesterday. He'll be out here today through the first part of practice with us. We'll kind of take the rest of this week as far as him rehabbing with the trainers and getting some treatment. We'll see where it looks next week when we get into it.
Q: When you decide to put guys on IR or not, it's obviously a three-week recovery. For a guy like Saquon, you didn't put him on it and it might have been longer than you guys anticipated. Do you go look back on all these things and then say, 'OK, let's see what did we figure – where did we either go wrong or did something change?' You know what I'm saying? Do you kind of self-analyze because looking back, you'd rather have him on IR if you know he's not going to be ready?
A: So we discuss everything we do in this organization. We have to make the best decisions that we can make with the information we have presented to us at that moment. A lot of these guys that we choose not to put on IR, it's because based on the information, there's a chance they can come back before that window. It's not always absolute, but you want to leave certain guys open within certain timeframes to be able to get them back. Other times there's an injury where you say, 'hey look, we know this is going to absolutely be within that three-game window or we know that even if he's a little before that window, he may need the extra time to get back and there may be another roster move that hinges on that spot being available.'
Q: Just to clarify with Saquon, he hasn't had issues with his knee, has he? The one that he got repaired.
A: Again, I'm going to keep everybody's medical information kind of a little bit more in-house. But in terms of being asked earlier about setbacks on injuries, no, he hasn't had any setbacks.
Q: What about (Linebacker Lorenzo) Carter and Shep (Wide Receiver Sterling Shepard)?
A: So Carter was out here yesterday moving around with the trainers. Again, he's kind of in that same boat as Andrew and Saquon. I think Shep right now is on a little bit different of a timetable in terms of just how we're going to manage his body throughout the week, but he's in the same plan in terms of dealing with the trainers and has a little flex time. A lot of these guys, we're going to really get them as much rest as we can. Some of the guys – Saquon, Zo, Andrew – yesterday was a good day to kind of test the waters, get them out here, get them back moving. For Saquon, it was important because he missed time last week with the COVID stuff being out of the building. So everyone's on a little bit of a time track right there. For Shep, he's part of this group of some other guys where we're going to kind of let them have this week to really just get their body back as much as possible. Rest is good for these guys. There's still treatment and rehab their doing internally in the house, but in terms of having them on the field, they'll be a little bit different than everybody else this week.
Q: A couple players have said (Assistant Head Coach/Defensive Coordinator) Pat Graham, for lack of a better term, simplified things a little bit recently on the defense. How have you seen that and has that played into a guy like (Safety) Xavier McKinney's strengths where he can just kind of trust his instincts like he did on that second pick?
A: Well, first off, I'll say about Xay directly, Xay's extremely intelligent. In terms of simplification helping him, Xay's very capable of being back there as a signal caller and operating all types of multiples. In terms of simplifying the defense, I don't think we've brought anything down to an elementary level, but we've been more selective in terms of game planning and what we're looking to do.
Q: Maybe just scaled back is the right term?
A: We've looked to do some things to help the players and I think Pat and his staff have done a good job of that and our players have done a great job preparing and executing.
Q: How valuable are these practices for (Offensive Lineman) Isaiah Wilson to kind of really have the hands on work with the coaches?
A: I think they're huge. I think they're big for every player that's out here and involved and as I've explained to these players before, this is not a punishment. You're out here because we're trying to get you extra work and develop them because we're counting on every player out here to contribute, produce and help us win games this year. For a guy specifically, Isaiah, he's been making progress for us. He had some really good work yesterday in the one on ones against the defensive line and the defensive rush. He gets extra work at some of the schematics and just you can take it back to really like a base level with a lot of these guys because you get them at different points of the year, it's good to almost go back and reset and start by going over like it's OTAs or training camp with a lot of these younger guys and make sure they get every detail of the install on the way up. When guys come in, you get them the information, you get them the install, but it's good as a group to all hear it again together for the first – well, not for the first time, but like it's the first time.
Q: Where is he at? Is he a guy that can progress to helping you guys on Sundays this year? Is he more of a long-term projection?
A: I think we have long term plans for this guy in terms of where we see this guy being able to help in the future. However, in terms of this year, he's made a lot of progress and if the situation arises and the opportunity comes up, we're getting him ready to go ahead and help us.
Q: There was so much upheaval on the offensive line early in the season with guys going down pretty much every week. Now Andrew will come back at some point, but I'm interested in the interior guys. That looks like it's your group, you've had that same starting group for a while now. When you look at those three guys, are they good enough and the fact you know they're going to be there as you kind of into the second half, can you kind of game plan around them to their strengths and weaknesses like you've been doing? Because that's not the group that you thought would be there at start of the year obviously?
A: Well, this is a league of change. There's always changes on the roster throughout the year and that's on every team, not just us. We're not unique to that. We've been able to acquire some linemen, whether it was at the 53 cut and get some guys from different circumstances and I really like the way those guys are working and coming together as a unit. I think (Offensive Line Coach) Rob (Sale) and (Senior Offensive Assistant) Freddie (Kitchens), Flats (Offensive Consultant Pat Flaherty) and (Assistant Offensive Line Coach) Ben (Wilkerson) do a really good job of working with the offensive line and getting these guys ready. The one thing I think (Offensive Coordinator) Jason (Garrett) and his staff are doing a good job in terms of playing to all of our players strengths right now as a team and finding out, you know, you go through the Spring and what you want to install. You go through training camp and what you want to have as a playbook. Then, you get into the season and you really find out what your identity is going to be and how you play the best as a team. I think we're playing our best ball and improving as a team going forward every week. We've got to keep on doing it, it's going to be important down the stretch. In terms of the offensive line specifically, I've seen those guys improve a lot throughout this year and we need these guys to keep on improving as a group because this is going to get tougher and tougher down the stretch.
Q: The interior guys, the three interior guys, what would you say their characteristics are as a group? When you built it with (Center Nick) Gates and with (Guard Shane) Lemieux and (Guard Will) Hernandez, two of those three are not there. With this three, what would you say? Are they a bunch of grinders? Are they a bunch of tough guys?
A: I think anybody who plays on the interior of the offensive line is a gritty guy. That's really a praise-less place. It's a place where you're obviously seeing a lot of contact and dirty work throughout the game every week. I think these guys do a very good job of coming out and then also building enough flexibility. (Guard) Ben's (Bredeson) worked both sides at guard, he's worked at center. (Offensive Lineman) Wes (Martin) has done the same thing. You look at (Offensive Lineman Matt) Skura and he goes back and forth with us between right guard, left guard and center throughout practice. We're always building in that versatility in there and making sure these guys are always prepared for emergency situations as well. Each one of these guys has the feel to play tackle as well in case something were to happen. We take three tackles to the game. That means you're two plays away from someone from the inside going to the outside and working through those situational scenarios. But I like the way these guys come to work every day. That unit's really a unit. The offensive line in most buildings, you kind of see them flock together and travel together. These guys have really bonded. They've done a good job of fighting through a lot of things and playing and improving on a weekly basis. They're tough, it's a smart group and it's a group that we've got to keep concentrating on getting better like all of our players every week are going on down. The goal is to have the best offensive line we can have at the end of the year.
Q: How much growth have you seen from (Cornerback) Aaron Robinson in the last couple of weeks? I mean, he's a guy who spends months with the training staff essentially and gets thrown right in and kind of has to feel his way through. Yesterday, today and really what you've been able to do, I would imagine you've seen where he is as far as the progress he has shown compared to what you anticipated maybe back in May and June.
A: Every rep he gains on defense or special teams, through practice and games is very, very valuable for him because he hasn't had any yet, right? Your first snaps being on Monday night in Arrowhead, that's not an easy situation for a rookie to step into and go ahead and just jump in. We understand on the front end that it's not going to be perfect, and we have to make sure he understands that, look, we're not going to accept it not being perfect. We're going to coach you to get it right. However, we also understand where you're at as a player in your career. It's about your development and progression as a player. He got a lot better from Week 1 to Week 2. We saw a lot of improvement just technique-wise on the field. He looked good yesterday in practice in the one-on-one stuff. He's going to keep on improving. I love the way this guy works. He's very intelligent, he's a good communicator, he's very tough, but he comes out and he's a very locked in and focused guy and he comes out and he works to get better every day. You're going to see that continuously throughout his career.
Q: Every year we see throughout the league guys get in trouble during the bye week. What's your message to your players?
A: Yeah, we talked about it this morning. Just make the right decisions. We talked about a few of the instances that happened this year and last year around the league. Look, it's natural for a lot of guys to kind of let their hair down this time of year. You get a few days off, you step away from a stressful situation for a couple days, you kick back. You've got to make sure that you put yourself in the right surroundings and you make the right decisions. We talk very openly with our players about making the right decision. Before they get out of here again today, I'll remind them of the same thing. It's good for guys to refresh physically, refresh mentally and come back ready to go. Within that time, we're not exempt to consequences and we're not exempt from tragedies, so we have to understand that and make the right decisions.
Q: Just going back to the tweet you posted about Henry Ruggs, why did you think it was, 'goofy,' for people to publicly criticize someone who drove 150 miles per hour and killed somebody?
A: Like I said, pray for the families involved.
Q: Is there anything you want to clarify about your tweet or your intentions behind it?
A: Pray for the families. That was clearly stated in there. I don't know how everything else came about. Take it how you want it.
Q: You said you thought it was, 'goofy,' that people were publicly criticizing Henry. Why did you think that?
A: Were they praying for the families? You're making all these faces. What do you mean?
Q: You wrote that it was, 'goofy' that people were publicly criticizing someone who drove 150 miles per hour and killed somebody.
A: Like I just said, pray for the families involved. Why are you drilling the same question? I'm not going to answer that.
A: Pretty good. I'm just looking forward to the rest of the season right now.
Q: Did you feel like you could've been yourself in the last game? You had the one catch and obviously you want more.
A: Yeah, pretty much myself. Like I said, we're just getting ready for the rest of the season.
Q: This is a break now. Are you going to go home and be with your family?
A: I don't disclose my plans to other people I don't know. I'm just going to enjoy my time off and get ready for the rest of the season.
Q: Is this a good time for you to take a break? Is it good to have a break now?
A: Yeah, it's always good to take a break from what you love to do. It always makes it kind of new when you come back. Just driven right now to finish the season as strong as we can, put ourselves in the best position right now.
Q: You've had a start and stop kind of career because of various circumstances beyond your control. With that being said, where do you feel you're at in terms of your development? Do you feel you're where you want to be or is there still more you want to show?
A: In this sport here, you never get to the peak of your career until you learn everything that you need to learn. I'm not a vet, so every day is a learning experience for me, like today. Just going out there every day, just repetition. Every day is a day to get better.
Q: When you look at this team, there are so many people hurt. Are you looking forward to the day when you have all the weapons back and you guys maybe can put up some points?
A: Yeah, I pray for all my teammates to get healthy because at the end of the day, everybody has injuries, no matter how good you are or how bad you are. In this sport at the end of the day, we're at full power with everybody, but only time will tell what will happen in the future. We can't predict nobody else's future.
Q: Do you think this offense can score more points when you're all out there?
A: Of course. We've got a lot of talented players out here. That's what everybody's here to do.
Q: What's the secret to not giving up trick plays, not tipping trick plays? Obviously, you've got to fool defenses to some extent, sometimes it seems like you guys run those gadget plays and the defense is sitting on them.
A: We can always use more salesmen at the end of the day.
A: Yeah, that's what you call it in the play when you're trying to fool the defense, I guess you could say, like what you were just saying. You can always use more salesmen. Every play is designed to go for a touchdown, but every play doesn't end up in that result. In other words, you could say you win some, you lose some at the end of the day. I don't know what you really want me to say.
Q: When (Running Back) Saquon (Barkley) comes back, how do you see that potentially freeing up you guys on the outside because defenses will have to kind of respect him?
A: What do you mean? They've got to respect everyone that we've got in our room.
Q: You'll have another running back there. You'll have him and (Running Back) Devontae (Booker), another weapon where they'll have to – do you feel like that could free up some opportunities for you guys on the outside?
A: I mean, the opportunity is there, we just have to execute when it's time to execute at the end of the day.
Q: (Head Coach) Joe (Judge) said he talked to you about the tweet the other day and it was the second time that something you said kind of drew attention from the outside…
A: I mean, there's going to be attention anyway just because of who I am, I guess, with anything I say.
Q: What have you learned from that? What was his message to you and what have you learned from the attention that you're in a bigger platform now that when you do say these things, people do recognize? So, do you approach it differently? Do you have to handle it differently? What have you learned in that regard?
A: Really from Joe, it's more so what you've got to say, and mean what you say. At the end of the day, you shouldn't have to go back and clarify anything that you say, which I'm not doing here.
Q: You said because of who you are, is that because you mean because you're a first round pick playing in New York or have you always –
A: No, I mean everybody in the NFL gets the same attention I get. No matter what we post, no matter what we do, no matter – so, it's not specific to me. (It's) not individual, it's everybody at the end of the day.
Q: You say, 'Say what you want to say' – I'm not judging either way, but do you have any regrets for what you said or no?
A: Like I said, pray for the families involved. How could you regret having empathy for both sides? I don't really get it.
Q: This is the first half of your rookie year. Is there anything you look back on and say, 'I didn't see that coming, I didn't expect that. This is not what I thought about the NFL'?
A: No, not really. Every day, I wake up to look forward and not really look backwards. At the end of the day, I've got to correct certain stuff. That's what I look forward to doing every day, so that's my approach right now.
Q: How surprised were you that you only ended up with one target the other day? Was that just kind of the way it shook out?
A: I mean, we won, so I don't really know what to tell you. If we come out victorious with one target, okay. We won.
Q: (Cornerback) Keion Crossen said he's the fastest guy on this team. I think most guys who don't see him on special teams would say you're the fastest guy on this team. Who's the fastest guy on the team?
A: I mean, Keion's fast. At the end of the day, I don't know. It's just up for debate, I guess you could say. I don't know.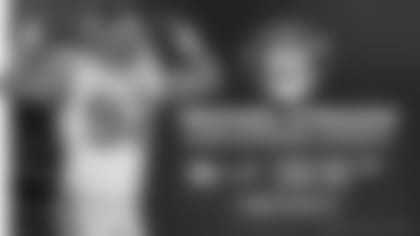 Tickets for Michael Strahan Ceremony
Limited tickets are available for Michael Strahan's jersey retirement game on November 28th