Opening Statement:We'll start our prep today, obviously, for Tampa Bay. A little bit of a longer week, so we have a good build up. Our model for this week will reflect basically what we did practice-wise for the Kansas City week in terms of having a Wednesday, a Thursday and then basically simulate two Friday practices going into the game. We'll travel on down there on Sunday and get the guys brushed up for Monday night obviously. The focus is to get our guys built up to the game through the information part of it and then we'll deal more with the people as we go through tomorrow and Friday working on situations all day just to give us good multiples of work in situations with an extended week.
That being said, this is obviously one of the best teams in football. It's got some of the best players to play this game ever at their positions and some great coaches as well. I think the thing that stands out about this coaching staff is you look at (Tampa Bay Head Coach) Bruce (Arians) and, first off, it's about aggressiveness, no risk it, no biscuit. Bruce has always been a very aggressive mindset coach whether that's pushing a ball downfield, whether that's blitzing you on defense, or trying to make plays in the kicking game. Bruce is going to do things to go out there and win the game and never goes ahead and plays on his heels not to lose it. You look at the three coordinators, obviously going (Offensive Coordinator) Byron (Leftwich) to (Defensive Coordinator) Todd (Bowles) to (Special Teams Coordinator) Keith (Armstrong), the unique thing is all three guys played for Bruce and they've been trained in how they think and they're all in the same accord in terms of how they approach the game, which is very unique from a lot of different teams. You see it come across in all three phases in terms of how they play and how they're all on the same page.
You talk about the different phases itself, obviously offensively, they're very, very balanced, they have a very good run game. The screen game is also an extension of the run game, it's very effective in terms of keeping the ball moving, staying balanced. They've got explosive weapons all over the field. We all know the quarterback is a great player. They do a great job offensively with not just the explosive plays, but it's just staying balanced, staying ahead of the sticks and scoring points, obviously. There's a reason these guys are top of the league with scoring points and that's really the down in and down out execution.
Talking about defense, Todd's a great game plan coach and when I say that I mean, this guy knows how to break you down as a team and knows how he wants to attack you going into the game. You have to understand that you get in the game, it's not always going to be what you saw on tape directly from another game. You have to see how he sees you and how he's going to attack you. He does a tremendous job getting his guys playing aggressive, make a lot of plays in the back end because of the pressure they make up front. Team does a great job in terms of forcing turnovers and creating extra opportunities for their offense. Offense does a great job of capitalizing on the turnovers and has scored 45 points on the season directly off of turnovers. You can't give them any extra opportunities on that.
In the kicking game, you talk about Keith Armstrong, his players play tough, they play sound and they're a physical unit. Keith's' going to have enough multiples in his bag to give you some things to prepare for. Ultimately, it comes down to execution with his guys and they're going to come in with a physical mindset and you've got win your individual matchups.
With all that being said, we're going to need a great week of preparation. It's a very good situational team, it's a very explosive team in all three phases. It's going to take our best football Monday night and it's going to take a solid week of preparation to get ready for them. With that being said, open up to any questions you guys have.
Q: Are the three guys -- (Kicker Graham) Gano, (Running Back Devonate) Booker and (Fullback Eli) Penny -- back from when they weren't here on Monday?
A: They are. Gano will not be in the building today. Him and (Linebacker) Lorenzo Carter have a stomach bug type of thing, so we kept them out of the building to keep it away from everybody else.
Q: Does a lot with (Running Back) Saquon (Barkley) depend on this week in practice? Are you encouraged in general?
A: The answer is yes to both. We're very encouraged he'll be out here today for both of our sessions. We'll see how he progresses with the team throughout the week of practice. That will obviously give us the answer we need as far as him going to the game. Couldn't give you an answer yes or no right now, but we will be able to have him out at practice with us.
Q: A lot of teams coming out of the bye week get off to a slow start. What's the key to not getting off on that slow start and picking up where you left off, especially with having won two out of the last three games?
A: I can't speak for any other team. I know for us it's going to be important to have a good week of preparation. I think Monday was a solid start to us getting back and getting our bodies back into football mode. This time of year, you're kind of in dog years. You get a couple of days off and it seems like a month. It's amazing how much you come back and how much you need a day to get back in the flow of things which is, to be honest with you, personally, is why I always make sure I do something every day because I can't afford to come in and start slow in that week. Players did a good job for us on Monday coming back, going through fundamentals, going through some individual technique stuff, getting back and going. They came in today very locked in and tuned in. We've got to do a good job as a team to make sure we build up to the game and not come in with a lot of adrenaline and energy and burn out early in the week. It's going to be a solid build up for us this week. In terms of starting fast, it all comes down to just the preparation and, individually, it's the execution when you get to the game itself. To me, it's when that ball is kicked off on Monday night, we've got to be ready to go.
Q: The Giants have lost nine straight prime-time games. That obviously pre-dates you. Did you look at anything about how you prepare for those games? Maybe change your schedule at all?
A: Just in general, the prime time, the later in the day? No, we've looked at that before in different places we've been and there's been times we've altered maybe the time of day we've practiced in. To be honest with you, we're all kind of creatures of habit when you get to football. We talk a lot about specialization of training. Everyone's got different ways of how they want to practice and do things. If you're an Olympic sprinter, there's a little bit different build up to a game. There's different things that lead into it. Really in the world of football, we've kind of found it best to just stay consistent with our plan in terms of they know what to expect on Wednesday, Thursday, Friday. This week we have Saturday, so it's important for us to keep the schedule as close as we did before for our guys to have a mode of what they have to do throughout the week and that really ties into the preparation on the field, but then it also ties into recovery off the field, their sleep, the tape study, how they structure their week in general. We have not changed anything specifically because of prime-time games. I've been a part of that, it hasn't always really made the biggest difference either way, to be honest with you. To me, it's we'll get prepared and we'll get out there.
Q: Obviously you're really familiar with (Buccaneers Quarterback Tom) Brady and he has succeeded because he has sort of evolved throughout his career. So, when you look at him on film now, what particular points of evolution, differences do you see from maybe last year, the year before? Has he tweaked anything in terms of continuing to be effective?
A: I think the thing that Tom does that's – I don't know if you want to say it's evolved – to me, it's almost the way he prepares kind of gets him ready for each unique opponent. Kind of the evolution of him kind of comes week by week to me as you watch how he plays each game. The thing Tom's always been very committed to when you just watch him on tape and this has nothing to do with being around the guy and working with him, just the thing he does so well is he is so committed to being patient within the game plan. A lot of players, a lot of quarterbacks and offensive coordinators as well, get impatient. They hit a few five-yard gains and then all of a sudden, they've got to push that 30, 40, 50-yard gain for that shot and explosive play. Tom stays so committed to he'll just move the sticks very, very patiently on you. He'll hand it off. He'll hit the screen. He'll hit a checkdown and then when you give him the opportunity to push it down the field, he'll take it. But he doesn't rush it. He doesn't force anything. You've got to play 60 minutes because that's how he's going to play the game. He's going to play it one play at a time and take what you give him, and he knows the answers to all the tests before they happen, so you've got to go out there and you have to execute. But in terms of how he's evolved in his career, he's definitely done things throughout his career. He'd probably be able to give you a better answer on that. Look, I'll be honest with you, I don't see much of a difference in this guy in terms of how he's playing from when I first saw him with my own eyes back in 2012. He's moving as well now as ever. He throws as accurate a ball as there's ever been in this league. He gets the ball out of his hands extremely fast. He knows where to go. He diagnoses the defense. He throws a very catchable ball, too. That's something that some guys can throw the ball hard, he throws a very catchable ball. You don't see a lot of drops coming off the receiver's hands from anyone who he's ever played with. That's cause just the way that ball comes out and how accurate it is that allows guys to catch it in stride and keep on moving.
Q: Do you ever think that he's thriving in the NFL and he's quite a bit older than you? Does that ever seem crazy to you?
A: I'd say yes and no. Does it seem crazy that he's still having an extreme amount of success? No, from being around him. When you look just on paper in terms of the age and the level that anyone at that age is playing, like yeah, that kind of seems crazy. But this guy, you have to understand what he does every day to put himself in that position. We talk to our young players and we do, we use him and a couple of other guys as examples early when we get these guys in the spring and say if you want to have these long careers, you want to play 10, 15 years in the league, like a lot of guys say when they first come in – which is a lifetime. But you want to play those long careers, you've got to start now at a young age – how you eat, how you sleep, how you train, how you prepare, what you do off the field, your level of preparation on film to make sure you start your career out the right way to give you an extended career. So what he does on the front end really is giving him this back end.
Q: How much is it an in-game chess game with him? It seemed like last year, I'm sure you looked at that film plenty this week, you guys had him off in the first half and it seemed like he maybe found some answers in the second half. Is that the back and forth you deal with him maybe more than other quarterbacks?
A: Look, Tom's extremely intelligent and he's seen it all. He's going to figure it out. That's one thing right there. The thing is you're not going to trick the guy. It's not about going out there and tricking him, okay? Everyone tries to trick him every week and he's seen it. He's obviously been successful through that through the duration of time. You can't make it about one player. He's obviously a great, great player, but we've got to line up and we have to play the players on the field, and we have to play our guys with good execution for 60 minutes. That's really what the focus has to be. In terms of trying to make this a one-on-one game versus Tom and trying to fool him, the reality is that's not going to happen. Ask a lot of coaches who came before us, it didn't happen for them either. It was about execution.
Q: You mentioned before that one of the main reasons the Bucs are the highest scoring team in the league is their down-in and down-out execution. Would you say conversely is that one of the reasons why your team is one of the lowest scoring teams in the league because of the lack of that down-in, down-out execution?
A: I would say our focus right now as an offense is continuing to improve. I've seen a lot of improvement over the last month and we've got to keep on that track right now going forward.
Q: What would you say is the mindset, the confidence level, the overall feel of your ballclub and the pulse of your team as you go into this stretch here?
A: In terms of the confidence, I kind of say this all the time, but I always tie in the confidence and the mindset based on how the guys come to work. That's the best way. Guys can tell you whatever they want, it's really about what you do. Our guys come in every day, they prepare hard in the meeting rooms, they come out to practice, they practice very hard. They practice with a great spirit, great energy and urgency. I think we have a great chemistry right now as a team. We're really building going forward. That's been very encouraging. I see the units playing together, offensively, defensively and in the kicking game and really coming forward right now as a team. I'm very encouraged about what I see from our team. I'm very pleased with how they're working together and the progress we're making.
Q: Just as a follow-up on what I asked you before, when you guys were self-scouting the lack of touchdown production specifically, is there a couple things you can pinpoint and say, 'if we do this and do this, we'll get that production'?
A: I think there's a number of things we went through in the self-scout in terms of maybe how we're calling the game and then plays we have to make when they're in front of us, so it's a combination of things we've talked about as coaches and with the players. We've got to do a better job all the way across the board and make sure we finish drives with touchdowns.
Q: Does getting playmakers on the field equate to that also?
A: It's our responsibility to have whoever's available for the game be out there and produce and for those guys to come out there and be productive within their roles.
Q: How far away is (Tackle) Andrew Thomas from even opening the window to return?
A: We should be opening that pretty soon. We expect him to possibly be out here this morning. We're going to touch base with the trainers real quick, but we expect him to be on the field with us this week, at least starting practice with us.
Q: What has (Tackle) Matt Peart shown you at a left tackle since Andrew went down because he hadn't really played that much for you guys since he came in the league?
A: Matt's continuing to improve for us as a player and he's doing a good job of locking in the techniques and making some adjustments. Obviously, there's been some good chemistry that's developed with him and the guards next to him – (Matt) Skura, Wes (Martin), different guys playing that position right there. I like the way he comes in and prepares and competes. I like the way he practices and he's still growing and developing within his role. He's a developing player, but he's done a good job and he goes out there on Sundays and is giving us a chance.
Q: If Saquon comes back this week, does Book (Running Back Devontae Booker) share time with him or does he get what you don't give Saquon?
A: The focus for us will be more in terms of just splitting the time in terms of sharing it and making sure we're fresh. I don't really go into a game ever looking that we have to get this guy this many reps, this guy this many reps, this guy this many touches. It's let's keep our guys fresh. If we're going to take six receivers to the game, let's use all six. If we're going to take four running backs to the game, use them all in their roles. Some guys have heavier roles in the kicking game than on offense, but let's make sure we do what they can do to help us have production and let's make sure we do enough within the game to keep them fresh.
Q: How's Booker's hip? Is that a problem or do you have to manage it?
A: We'll see as far as how he is with the trainers today. He's in there with them right now. We'll find out as far as what he's going to do later in the day. Today's been kind of a quicker morning for us in terms of some things meeting-wise, so I'll get a final run down before we get out of here.
A: It was good. I was able to get home, see some Duke soccer and some Duke basketball, so it was good.
A: It was good. We were 3-0 in the games I saw.
Q: You've been here before. The 25-23 game against Tampa on Monday night was a heck of a game for you and for the team. What did you learn from that and what can we expect from you this week?
A: I think when you look at that game, it was back and forth, it was a four-quarter game like you said, down to the end. We made plays, they made plays. I think when you look at it, there were a couple costly turnovers in the second half that hurt us, and you see how important those plays are in a game that goes down to the wire. So, we've got to do a good job protecting the football and making plays when they come. There are things we'll be able to learn from how they played us and how they game planned and what we were able to do. We'll certainly look to that game.
Q: I know you don't play against (Buccaneers Quarterback Tom) Brady, you're not on the field at the same time, but for you, what does it mean to have this opportunity on Monday night and how much do you embrace this moment?
A: Anytime you play these Monday night games, it's an opportunity for us and you get up to play these games. Certainly, a lot of respect for Tom Brady, what he's accomplished, how he's played the position for as long as he has, but like you said, we're playing against the Bucs defense and preparing to play against them. We're looking forward to it.
Q: You get Tom Brady every year. Is it like a present for you?
A: I don't know, but like I said, a lot of respect and appreciation for what he's accomplished.
Q: You also get (Buccaneers Defensive Coordinator) Todd Bowles every year. How much different do you expect him to approach it than he did in previous matchups?
A: I think there are certain things that are a part of their system, part of his system, so you see that carried over week to week. He's a great coach. You can see going into each game he has a little bit different of a game plan for each opponent and for both of the games we've played against him. They'll be prepared, they'll be ready to go. We've got to prepare based off what they've done this year and what they've done against us.
Q: You've had a lot of memorable games against Tampa – your first start, then last year. Do you like playing against them?
A: I think each game is different and we've got to prepare for this game this week. Like I said, there are things we'll look to to see how they prepared for us in the past. But beyond that it's really about preparing for this team this week and getting ready to play our best.
Q: When you're playing an explosive offense like the Bucs have, does that require you to be a little more aggressive as an offense?
A: I don't think so. I think, like I said, we're playing against their defense and we'll look to execute what our game plan is going in against their defense and trust our defense to play well and make their plays. That's how we're thinking about it going in.
Q: They have some injuries on the defensive side of the ball, and I know the mantra is next man up, you've got to prepare regardless of who's in there. But still, does that change anything in terms of how you might attack a defense if the guy in the middle is missing? I think (Buccaneers Defensive Lineman Vita) Vea is going to be missing, the cornerbacks, I don't know if they're going to be playing. So, does that change your mindset going in?
A: Not really. I think we certainly study the personnel and know who it is, know who the matchups are, the guys you're going against, what they're good at and how they play, so we'll factor that in. I think when you talk about their defense and who they are as a system and as a scheme, they've got guys who can make plays and they play well together as a group, so we'll certainly prepare for that.
Q: How aware are you that you haven't won a prime time game yet? I think the number is 0-7 so far or something. Do you recognize or realize that?
A: I really haven't thought about it. I didn't realize it until recently, but we're preparing for this week. Each game is different. Each game is a different opportunity, so we'll look to prepare for this one.
Q: Do you do anything different though? Do you change anything up with like the team or anything? Do you look at it that way or do you just look at it as sort of just unfortunate that that's kind of the way that it's turned out?
A: I think each one of them was a different game. We haven't won enough games here recently, period, so you look at whatever the situation is. We've got to look at this game individually and preparing for that game.
Q: The last few weeks you guys have had some success keeping games close by executing a patient offensive game plan. Is it a challenge to be patient running an offense as a quarterback? Like, not trying to push it down the field, but knowing that the patient approach is the way that the team needs you to play.
A: I think that has a lot to do with the defense you're playing and how they're playing you and what you're doing well as an offense. I think understanding that, factoring that into your decision-making and what you're trying to do with the ball on certain plays, I think that is a big part of playing the game and playing the position. We'll continue to do that but look to take our opportunities when they're there.
Q: How much would (Running Back) Saquon (Barkley) help in that regard? You might have Saquon back for this game.
A: He's obviously a dynamic player for us and someone who's capable of making a lot of those big, explosive plays. I know he's working hard to get back. I can't speak on his status, but I know he's working hard.
Q: What is it about the way that Brady plays the quarterback position that has impressed you the most?
A: I think it's how consistent he is in his decision-making. I think you talk about understanding what the defense is doing and making a good decision on where to go with the ball every single time and how consistent he is with that, how well he understands that part and how accurate he is when he throws it.
Q: Is it hard to wrap your head around that he's still playing at age 44 or that he beat the Panthers in the Super Bowl when you were probably like five years old?
A: It's impressive to say the least. It says a lot about him and how he prepares himself to play the game, how he recovers, how he goes about his process. Yeah, it's certainly impressive.
Q: How different is your offense when Saquon is your lead back versus (Running Back Devontae) Booker?
A: Like I said, I think he's a dynamic player and can do a lot of different things with the ball in his hands – throwing it to him, handing it to him. But I think Book's done a great job in the time he's played and the opportunities he's gotten. I think he's really stepped up and played big for us. I think they both have different strengths and different things they bring to the table.
Q: Do you ever sit back and say, almost dream of the possibility, 'Man, if I could just have Saquon back, (Wide Receiver) Kenny (Golladay) is now getting closer to full strength, get Shep (Wide Receiver Sterling Shepard) back and have everybody together,' and think about the possibilities of what you guys could do if everyone's on the field at the same time?
A: I think kind of as you prepare for each week, you're focused on the guys who are playing and what they do and kind of the game plan depending on certain guys and who's going to be in what spots and how you see that working out in terms of what the defense is doing. I think that's kind of how I'm focused on it and I know the guys who are hurt are really working hard to get back.
Q: How big of a piece was (Tackle) Andrew Thomas to what you guys were doing well before he got hurt?
A: I think he was a big part of it and played really well for us before he had that injury. He's another guy who's working hard to get back. (Tackle) Matt (Peart) and (Tackle) Nate (Solder) played great while he was down. He's a great player and I know he's working hard to get back.
Q: Do you think this team is in a position to make a run?
A: I think we're certainly excited about where this team's going. I think we feel like we've improved week to week as a team. But right now, our focus is on this week and making sure we're prepared to play the Bucs and play our best football on Monday night.
Cornerback James Bradberry
Q: Can you talk about the challenge of (Buccaneers Quarterback Tom) Brady? What makes him so good?
A: I think he's a very, very smart quarterback. He has an elite brain, and obviously he uses it well playing against defenses. That's why he's been able to play so long, so I think that's the main thing.
Q: What do you guys need to do this week to be competitive, to make this a game, and to win this game?
A: I think for defense-wise, you got to kind of disguise certain things, so that he doesn't pick out what you're actually in. Also, you got to do your job. You've got to execute and make sure you take away their explosive plays.
Q: Do you disguise them, or is that kind of more of a safety thing?
A: I think that, against Tom Brady, it's all of us, a back seven thing, but typically, it's mainly the safeties though.
Q: Do you try to play games with quarterbacks?
A: This week I'm going to try (laughs).
Q: Where is this team right now coming off a win, but also having a bye week? Where do you think the club is heading into this stretch morale-wise, focus-wise and confidence-wise?
A: I think it's strong. Us as players, we take it week-by-week. We don't really focus over like the long haul of the season because you never know week-by-week what's going to happen. So, it's strong week-in and week-out and we're looking forward to playing against one of the best.
Q: It seems like a simple question, but obviously when the defense goes on the field, the goal is to give up no points in a series. But sometimes you're give up field goals. Is the difference between giving up a field goal and a touchdown for a defense mentally more than even four points? It's like, 'Alright, at least we held them to a field goal and not let them get into the endzone.'
A: I think the four points is the biggest thing because, of course, if you add seven up over time, you're going to score more points. So, when an offense drives down the field and they're only able to get a field goal out of it, that's kind of taking their momentum away, but also, they can't win the game off of just straight field goals, at least I don't think so in today's NFL.
Q: It's easy to say, but the lack of touchdowns or scoring touchdowns – the Bucs have a lot of touchdowns, the most in the league. Can it be demoralizing for a defense when you see them get in the endzone so much?
A: It's not really demoralizing. You've just got to have that reset mentality as a defensive player. They're going to score, they got elite players on their team. They get paid a lot of money; they're going to score. You just got to be able to weather the storm, be able to fight back and make plays on your side of the ball as well.
Q: What made (Tampa Bay Wide Receiver) Mike Evans such a tough matchup for you last year?
A: Last year? I think he's just who he is. He's a physical, big receiver, able to use his body well and he attacks the ball. He has a huge catch radius. I think that's what made it so hard to play against him last year.
Q: Is he probably the receiver you're most familiar with in the league with your background?
A: Man, I played him quite a bit. I'd probably say yeah, I'm probably most familiar with him.
Q: How does that work? Do you guys both try to do things different or just kind of do what you do?
A: Just got to go out there and play. That was my mindset when I played against him consistently. You just go out there and just play.
Q: Does it make it different that he has Brady to work with? How much did that change the equation for you?
A: He was still tough to guard, but (Saints Quarterback/Former Tampa Bay Quarterback) Jameis (Winston), I feel like Jameis does more deep balls than Tom Brady does just because I feel like Jameis Winston has a really, really strong arm. Tom Brady, he's also an elite quarterback, so he makes smart decisions back there quite a bit and he's very accurate as well. Just two different quarterbacks, but both of them are hard to play against, really.
Q: As a player, do you ever look at Tampa's lost two in a row, Brady has lost two in a row, we really have to be on our game because Brady never loses three in a row?
A: I just look at it as me facing Tom Brady, one of the greatest. Just with that, I've got to be on my A game. I don't really look at how many losses he's had or how many losses or wins that we've had. It's a new week and he's a great competitor.
Q: How is (Linebacker) Tae (Crowder) been doing with running the audibles and stuff? That's kind of new to him since (Linebacker) Blake (Martinez) was doing it mostly last year.
A: Yeah, I think he's been doing well. It's tough being kind of new in the league, a young player in the league and also having a lot thrown on your plate. I think he's handled it well. I think the biggest thing for us is just being able to communicate and that's what we always harp on every time we're out there on the field. Just communicate and after that, we'll just execute.
Q: This team has not done well in prime-time games. Is there something different about them that maybe some guys don't handle as well?
A: I just enjoy playing football in general. Whether it's playing at night, during the day, prime-time or not and I don't think prime-time is actually getting to us. I can't really point out what it is. Yeah, I just like to play football, honestly.
Q: A lot of times in prime-time games, you're playing against a good team.
A: Not sure, to be honest with you. I think we play good teams' week in and week out. Teams play bad on Sunday during the day, then they play bad at bight sometimes. Just on that day, any given Sunday or Monday can be your day, or Thursday.
Q: You've got more time to kill during the day? Does that make a difference? What is your routine like?
A: That is true. When I have more time on my hands, usually I try to fit a nap in there. Try to take some of that time up, but I like waking up and just playing honestly on Sunday around 1:00 pm. Those prime-time games you get more sleep, so that's a positive.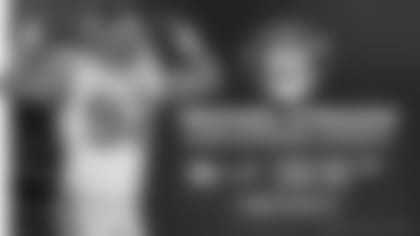 Tickets for Michael Strahan Ceremony
Limited tickets are available for Michael Strahan's jersey retirement game on November 28th