Coach Tom Coughlin**
I'm disappointed tonight, we didn't make any plays. Might have made one or two, but certainly nowhere near enough. You know, we had many opportunities and then didn't come away with anything; I thought we had two interceptions there on two touchdowns of theirs, and we were down in scoring territory a bunch of times and didn't come away with touchdowns, so that continues to be an area of concern for us, for us all. Too many penalties tonight, starting with mine, which was foolish. You know, I'm taking full responsibility for that, I was wrong. The situation that occurred, I was out on the field too many times, they warned me about that, but in that situation, you're told by the officials to go ahead and come down if you need to take a timeout when the clock is running out, but that didn't happen. I guess when they threw the flag as far as me leaving the bench area, so I take responsibility for that. I was wrong, wasn't a very smart move, but the frustration in terms of how we played was there and I am disappointed in tonight's game.
Q: Any update on Victor Cruz?
A: Nothing that anyone's told me, other than he jammed his heel and was sore, so that's all I know at this point.
Q: How about David Baas?
A: I have no more information on that either.
Q: You at least get a sense that Cruz is not a serious injury?
A: I don't know, I mean he runs to make his living, he's obviously got an issue with the heel; hopefully it's not going to be a long thing, but I really don't have the information to tell you if there's an exact medical position on that or whether, in fact, if he does have a sore heel, and they're going to continue to do some tests on him.
Q: You get any sense of his availability for-
A: I have no, I don't know. You're asking me stuff I can't tell you.
Q: What about Justin Tuck's hamstring?
A: There's another one. I mean, I guess he's had all the tests, all I've heard is a slight hamstring strain, but I'm sure we'll know more either later tonight or tomorrow morning.
Q: Larry Donnell was announced as not playing and he got some snaps in there. Can you just talk a little bit about that please?
A: Yeah, I mean I take my hat off to Larry Donnell, he hurt himself the other day in practice. I was afraid of the seriousness; he came back with the ligaments in tact but we thought he would be sore. He vowed that he wanted to play, he had the doctors and the trainers with him on the field this morning and he ran and went through a series of exercises and the medical people cleared him to play. So his attitude, really more than anything else, determined that he wanted to play and he did.
Q: Was there anything in particular that went wrong inside the 10 that you can put your finger on?
A: I can't, not to tell you exactly other than some opportunities where one ball wasn't caught or wasn't a great throw, but it wasn't caught. Another one we thought we had the tight end a couple of times real early with David Carr, one was sailed over the tight end's head and the other we thought he was open again but didn't get him the ball, so we took a little bit too much time on that as well. We thought with nine seconds, if we quickly caught the ball and threw it, we'd have as much as three opportunities. It didn't work out that way. I'm sure there was a lack of precision in the execution and that's what we're going to see.
*Q: Did the linebacker situation clear up for you at all yet? *
A: We'll have to look at the tape.
Q: The starting situation at Mike linebacker, was it just Dan Connor's turn or did you see something this week that you elevated him-
A: No, it's very competitive, so we flipped it around and just wanted to see him operate with the ones.
Q: How did Justin Tuck look before the hamstring injury? It looked like he was in the backfield a lot.
A: Looked fine. We were in the backfield a lot, we didn't make many plays back there, but we were there.
Q: What did you see from Justin Pugh and his debut here?
A: Well, I was glad to see him compete. Some of those kids on the edge were good rushers and he did a pretty good job of that. I like to look at the tape. I know we got tremendous pressure after he came out of the game, for example, he and a couple of others, so I'll have to look at the tape.
Q: For the second week in a row it looks like Michael Cox showed some athleticism again. Would you agree?
A: He did. He did. He's got a lot of fight. He breaks tackles. He's very persistent in what he does. He does the same thing on special teams, so he's making good progress.
Q: Is it possible to describe the level of frustration with injuries in the preseason when you're in so much of an evaluation stages? Is that almost worse than the result of a game sometimes, that now you have to manage your starters-
A: Well the unfortunate part about it is these things happen. I mean David Baas, what are we, two plays into the game? Cruz, I had no idea. I saw him when he came off the field, I didn't really know what it was. He had run by everybody for a touchdown and we didn't get the ball out there, and that gave us some excitement for later on thinking what we had and then he was out of the game. So the injuries are always frustrating, there isn't any question about that, because what we really need to do now is to come back in -- stop reading the clippings -- come on back in here and go to work and get better over the course of the week and, of course, when guys are hurt they can't practice.
Q: What do you mean by 'stop reading the clippings'?
A: Well, let's go prove what we are, who we are and what we have. Instead of everybody telling us how good we are, let's go prove something.
Q: With the exception of the fourth and one, was the running game better this week?
A: I think it was, yeah, I think it was. You know it seemed to be a little bit more in the top end of it, and then in the back end of it, and we started out with quite a few yards right away, which was good. That was the goal.
Q: Run defense also, did that look a little better, especially early?
A: I thought it looked better, yeah, I thought it looked better, I don't know what the yardage is going to be, but I thought it looked better.**
Q: What would you identify as a spot to improve?
A: I think obviously the red zone. It's something we've got to get better at. We had three opportunities with that first group of getting down there inside the five-yard line or near it and not get any touchdowns. So obviously that's something where we've got to get better and make sure that we're having good drives and getting the ball that close to the end zone to finish up with seven points instead of settling for three or in one case get nothing when we went for it on fourth down and didn't convert.
Q: If there is one factor that you can point to, to describe the struggles on third down, what would it be?
A: I don't know if there's one thing. Some of it is just obviously being in some third and long situations. I think every third down has got it's own story of why you convert or don't convert and so we've just got to look at the game film and make sure everything is happening in a timely fashion, we're getting good protection, guys are running their routes correctly, and we're getting the ball off and hopefully do a little better on those conversions.
Q: Is there a concern with both David Baas and Victor Cruz going down early?
A: Anytime you lose some starters in a game, there's always some concern, but I don't know the status of the injuries or how serious, but hopefully those guys can bounce back quickly.
Q: What was your first thought when Victor came off the field?
A: I didn't know. I didn't see him go off with an injury. We kind of changed formations where he wasn't going to be in the next play based on the personnel. Obviously, when I got to the sideline, they said he was out of the game, but I saw him back on the sideline fairly quickly so usually that's somewhat of good news.
Q: What was your assessment of Hakeem Nicks?
A: I thought Hakeem did some good things. He had two catches. He had a little scramble drill. He got open. He had a slant for a big play, so those are two plays, but also threw it one time with the interception; just a bad throw on me. So we'll go back and look at the film and see how everything went, but it's good to get him back out there and get that game experience knowing we have two more games and a few more weeks of practice to keep improving.
Q: Is it almost a relief that Victor only has a bruised heel?
A: Yeah. You don't want any of your starters or any player ever getting injured or getting hurt. Hopefully it's not very serious and he can bounce back quickly.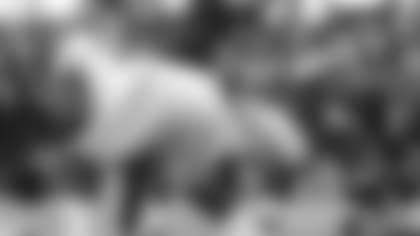 Watch: Giants vs. Colts Highlights](http://www.giants.com/videos/game-highlights.html) WR Hakeem Nicks
Q: How was it to finally get back in there, knock off some of the rust and start running around?
A: It felt good to just get the first preseason game under my belt. I just want to keep getting better and keep going uphill.
Q: People look at the offense and the struggles, granted that it's preseason and you all haven't played together in a year. Are you concerned about the fact that you guys haven't been able to gel at this point or is there a lot of time still left?
A: This is the second preseason game. We just have to go watch the film, critique ourselves from there and see what we have to do to get better next week.
Q: What do you think is happening in the red zone? You guys were down there three times today.
A: I think we just have to go over the film and see where we went wrong, pretty much. Then we can try to see where we can get better.
Q: Have you talked to Victor at all? How does he feel?
A: He felt fine, actually. I don't really know the details of the injury, but he said he was fine.
Q: Are you kind of shaking your head, being that as you're getting back healthy something happens to Victor?
A: No. I really don't think it's that serious. I think they were just playing it safe by holding him out. But I don't really know too many details about it, so I can't really comment on it.
Q: Do you think this was a good building block for you to go into the third game as you get ready for the regular season?
A: I definitely think it is. I think it was beneficial for me to get back out there and just get my feet back up under me; to get the long drives and just try to get that timing back with Eli.
Q: What were the positives from your performance that you really think you can build on?
A: Just doing what I've been doing. Pretty much just trying to contribute to the offense the best way possible and do whatever I have to do to get the job done.
Center Jim Cordle
Q: You don't get to play with the first group often.
A: Actually, last season I practiced a lot. Baas wouldn't take many reps, so I have been in there, but this training camp he's been healthy. He came back and he's taking a lot of reps, but I have in the past.
Q: Do you have any sense of how bad he's hurt?
A: No, I don't. He stood up and walked off, so hopefully it's not too bad.
Q: They have some options if he's out for a long time. Would you feel comfortable if they had to go with you?
A: Yeah. I feel comfortable. This is my fourth training camp, so I know the offense and I feel like I'm a better player than I have been. I'm confident in myself. If Baas is down for a while, hopefully the team is confident in me.
Q: You got a lot of snaps there.
A: Yeah. I thought I'd get more, but I thought I'd stay in with the second group. But I guess since I went in so early… Stephen Goodin went in. He was the third guy to go in and they kind of rolled in from there.
"We definitely need to get a lot better. There are a couple of areas we need to improve on. Individually, it's good with the first unit, you can see some guys out there making plays. With the second unit, where there are a lot of guys with jobs on the line, they're making plays, too, and that's encouraging. It's the preseason. We've got some work to do to get the defense as a whole where we want it to be."
Q: Did it make you feel more comfortable, the fact that you were on the left side?
A: Yeah, I felt comfortable over there. I think just knowing what I had to do was something that definitely helped me out. I had some good plays, I had some not-so-good plays that I wish I could get back, but I think overall, definitely learning from this, I'll be able to get better next week. I'm just excited to get out there and practice and correct some of the mistakes I had.
Q: What is this rookie experience like for you?
A: It's kind of like being a freshman all over again. You're in a new place, new surroundings, new locker room, you kind of have to learn what your role is within the team. It's been fun, though, just competing and getting better. I have a great group of guys in front of me so it definitely helped me out.
Q: It must be hard waiting for your chance to get into this game?
A: I actually got in, we have this jumbo package and I got to go in and then the penalty got taken away, so I had to come run back off the field so I was all excited to get in there. But, you know, it worked out, they had a turnover and I was able to get in there in the second quarter, get some points up on the board, but obviously it's tough going from starting to having to come in late in the second.
Q: Were you kind of anxious because you had to wait a week?
A: Yeah, obviously missing that first game and then having this whole week where I was able to get in there and practice, I wanted to get out there and play. Everyone practices so they can play in a game. I was happy to get in there and take the opportunities I had and do some good things. I'm excited to get out there next weekend and improve.
Q: Concussion had no effect?
A: No, not at all.
Q: So you had kind of a false start there with the jumbo group?
A: Yeah, exactly. It was funny because I thought, "Oh my god, I'm in here with the ones, we're going to get a touchdown, they're going to run right to my side," and all of a sudden you have all these things going on in your mind and they wave off the flag and I've got to come back off the field. I'm sitting there waiting for the refs to get done so I can report my number eligible, but it didn't work out.
Q: You didn't come in in any other jumbos, right?
A: No, that was the only one we did throughout the night.
Q: You think that's going to be a good spot for you initially, if that's the role they want to have for you?
A: Whatever role they want, it's a good spot for me. Wherever they want me, as long as I can get out there and play and contribute and help us win, I'll be happy doing that. I think some of the stuff I was able to learn tonight will definitely help me out.
**
CB Aaron RossQ: (On the near interception/touchdown) when he threw it initially, did you think it was going to be a pick?**
A: Oh yeah, I knew it was a pick. I saw it leave his hands and then as soon as I looked up, the lights just took the ball away. I couldn't see anymore and that's what kind of made me fall. As soon as I fell back, it hit my hands and it kind of shocked me. So it just popped up and I turned around and Reggie was catching the ball. One of those plays you can't get back.Q: How do you evaluate the way the starting defense played tonight?
A: Of course, we always have something that we can improve on. We need to get off the field on third downs. I really don't know what the mental part of the game was. There was so much we did in the film room. But as far as us getting off the field, we just need to do a better job of getting off the field and capitalizing on big plays.Q: Is one more preseason game enough for you guys to get where you need to be defensively going into Dallas?
A: I believe so. That's what the preseason is for. It's like a live scrimmage against another team. It's basically another practice, so it's one of those things where you make the mistakes here and learn from them so you don't make them when it really counts. We'll definitely be ready.
Q: How did you perform today?
A: I think I left some plays out there, especially on the deep ball. I thought the safety was right there. I thought I was going to run into the safety, so I didn't really go for it. I let up a little bit and other than that I was pressed most of the time. I don't know. It was a great battle. I was going up against Darrius Heyward-Bey most of the time and he's fast and he gave me good reps and I know I gave him some good reps too.
Q: What do you think of T.Y. Hilton's speed? Is he as fast as he looks from the press box?
A: I don't know. On that one play… He's the one who ran the post. He did look fast, so that's why I opened up pretty fast because you have to respect his speed, but to stop that you get hands on him and you press guys like that. So I didn't really see him too much on the outside.
Q: What do you think of Jayron Hosley and how he's been playing? He struggled early in the game, but he bounced back with that interception.
A: He's definitely a playmaker. He makes a lot of plays in practice and we're all just hoping it carries onto the game. It looks a lot like it did today.
Q: What did you think of Andrew Luck?
A: He's a great quarterback. He seems like he's learned a lot. He's got a great veteran quarterback with Hasselbeck back there and he seems like a smart guy. He went to Stanford. I think he's a great quarterback. He's progressing well.
Q: How much did you tease Aaron Ross?
A: Us DB's, we have a rule where every time you drop a pick, we always say to get your 10 pushups. He was beating himself up on that play. He really wanted to make that play and he's beating himself up because he knew that he wasn't going to have a lot of reps, so I guess he's going to try to make it up next game.
Q: What do you think about your performance today?
A: We were running well. I ran the ball well. We didn't get a 4th and 1. I kind of wish I had that play back, but we held onto the ball and protected it (well). The passion was good so it was great work today. I'm looking forward to next game so I can continue improving.
Q: How do you feel about what you have been able to work on this preseason?
A: Definitely when we get the ball in the red zone we have to improve on that. I'm sure coaches will emphasize that coming up in this next week of practice. As far as personally, attention to detail is very big and making sure that I have my proper footwork, I'm out when I need to be out, and I'm helping out the offensive tackles when I need to help. I'm just upset about the opportunities that we lost in the red zone area. We are going to try to get better next week as far as that goes and we will continue to work. That's all we can continue to do.