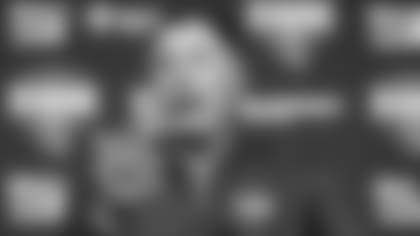 Coach Shurmur, Lorenzo Carter and B.J. Hill meet the media Saturday at rookie minicamp:
Day two. I think day one was very productive. I thought the guys competed pretty well. They were able to take from the meeting rooms and the walk through to the field and really perform at a pretty high level for the first time out. We'll try to add to it today. Because of the rain, we walked through inside. We'll still try to go outside if we can. We will make it a game time decision whether we've got to come back inside here. But otherwise, I thought it was a pretty productive day, and we'll just try to build on yesterday, today. So I'll take your questions.
Q: What did you learn about Saquon (Barkley) yesterday?
A: Well, a little bit about what I just led with. He's got real good awareness. The first thing you see is he can catch the ball, certainly. He had a couple runs yesterday that looked really good. Nobody was tackling, but the other thing that you see when you work with him is his awareness, his spatial awareness, his ability to pick out who he has in pass protection. We purposely tried to have some blitz drills early to try to challenge the running backs, and I felt like he did a good job with that.
Q: Is the blitz pick-up the hardest thing for a running back to do in the transition to the NFL?
A: Yeah, I think so. When you talk about the difference between college ball and pro ball, you throw the ball quite a bit and you really depend on blitzers getting picked up, and I think that's the thing we're interested in seeing when we get a running back and he did a good job of that.
Q: Do you think that's a result of the passing game in college? Backs are used to picking up blitzes in college now?
A: Depends on the system they're coming from. There are some teams that obviously play more of a pro style, pro-style-type protections, but it's a matter of the background the player comes with. That's why in some cases, it wasn't the case with Barkley, but in some cases you have to project whether he's going to be able to do it because he wasn't asked to do it, but we were able to see enough to know he could.
Q: How do you think Kyle Lauletta handled the things you threw at him?
A: I thought he did a really good job. You can tell by the way he handles his business that he's going to be able to pick everything up very quickly. He's very smart, he's in the building early, he was here late. He understands how to study, so to speak. When he's on the field here when you're coaching him and a lot of times in coaching, it's kind of like a quick drive by, you want to make a point and keep moving, he's able to take it in and run with it. So I thought it was a good first day and we'll see how he does today and tomorrow.
Q: How do you view your quarterback position as a whole? How does Kyle fit in with Davis (Webb) and Eli (Manning)?
A: Well, he's here competing with all of them. I've made a lot of comments already with regard to the health of the quarterback room. You want really good players in there trying to get better each day and then helping one another get better, and I think seeing the way he functioned in day one, he's going to really add to that room.
Q: How do you feel about the wide receivers after Odell (Beckham) and Sterling (Shepard)?
A: Well, I think they're doing a good job. I think it's a little bit easier to catch the ball versus air, so we'll start to be able to evaluate the receivers as a whole once we can be as competitive as we can be with the OTA's. So I think that will start to separate what we think of the wide outs.
Q: Does Evan (Engram) help there because he can play a lot of different spots?
A: Yeah, I mean Evan is a tight end and we'll use him as such, but our game says that you can detach him and extend him like a wide out, so we're going to try to use him that way if we can, as well.
Q: Do you feel like there is a number three receiver on this roster right now?
A: I don't know. We'll just have to find out as we go, but we've added some guys to the mix. You guys tell me who's one, two, or three, or four or five and six or whatever. But Cody Latimer is here. We've got some young guys, Travis Rudolph has done a good job. So I think there are guys on our roster that we're going to develop a trust in and put them out there and we expect them to produce.
Q: What did you see from Grant Haley and Aaron Davis yesterday?
A: It's hard to tell, but I think they competed well. There is going to be competition at all spots and certainly we're going to depend on those younger players to really get in the mix and try to make the team. But they did a good job in their first day. I think that can be said about all of the position groups. And after today, another install on both offense and defense, a little bit more learning, and then they have to go back and review. So we'll see how that all kicks in, and then second day, some of these guys probably haven't been running as much as they did yesterday, so we'll see if there's a little soreness. So as we go forward, with all of the positions, we'll learn more.
Q: What have you been able to see from Lorenzo Carter so far?
A: The terminology is different, but for the most part, how we align and how he lines up is similar to what he did at Georgia. He's very long, he's very athletic. He did a good job in the coverage drills, in the one-on-one stuff yesterday, and you can see he's a bright guy. I watched these coaches yesterday give him some coaching points and he was able to use that in his next couple of reps. So certainly the arrow is up there.
Q: What are the expectations or hopes as far as what he can do for you guys?
A: Again, like we talk about what an edge player should be able to do, he should be able to obviously set the edge in the run game. We expect him to be able to drop into coverage at times, and then certainly the element that he will bring to us also is his ability to pass rush, whether we play five on the line or we get into a four-man front.
Q: So you see him as a three-down guy?
Q: Can you elaborate on why teaching these guys manners is important to building a football program?
A: To your point, I don't know if we're teaching them that. I think what we're reminding them is those are things that you know and they're important. I think that's what matters. It's not like a buffet table. If you're going to be a professional, you can't pick one of these, one of these and one of these and then skip all of these. I think it's important that they function and live their life in a professional way, and I think if they do that, then they don't have to worry about what they're saying to the media, they don't have to worry about things that come up in their life. They just live a good life, live a very productive life, and then it will translate to their performance on the field.
Q: It can translate to what they do on the field when they're playing?
A: Well, 'please' and 'thank you', we don't want to hear any of that out here. I've mentioned how this is man whipping man, I get all of that, and there's the physical nature of this game and the reason they're playing it is that they appreciate it and they look for it. But we all understand how it goes. We want to make sure that they're good citizens, as well. Most of these guys, and really all of these guys, are good citizens. But part of teaching them the right way at the beginning is to remind them that those things are important and those are things that you want to live your life doing.
Q: Does Garrett Dickerson's versatility at Northwestern make him more appealing at the tight end position?
A: I thought he had a really good day, number one, and then secondly, yeah, his ability to line up on the line of scrimmage or maybe in the backfield or move around, that will help a young man make the team because there is versatility, and until you become a starting tight end and play on all three downs, you're technically a role player. So if you're a good enough player to make our roster, we'll find a role for you. So that's a long-winded way of saying, yes.
Q: So going into day two, he certainly showed you enough yesterday that he may be in the conversation?
A: Could be, yeah, and we'll have to decide as we go. And I think what is important to remember, too, is this isn't a tryout and then they do or don't make it and then it's over. I think the players need to understand they're here because we saw something that we really liked in them and as we work with them, even though the 90-man roster might look a little bit different tomorrow, those guys are on the list of guys that we might consider moving forward. So he may be one of those guys.
Q: Have you had any conversations with Ereck Flowers since after the draft?
A: Yeah, we've been in contact with Ereck. It's our understanding that he's in good shape and, again, I've got nothing against (him). I can't wait for him to be here. I've mentioned it in the past, there were some things that he did last year that were really good, and I look forward to him getting here at some point and working with him.
Q: Landon (Collins) said this week that Flowers was upset that you guys signed (Nate) Solder.
A: Yeah, that's not for Landon to talk about. I think the important thing is, let's let Ereck talk for Ereck when he gets here, and we'll worry about that later. But really, I don't think our players should be talking about another player's situation.
Q: Is there an expectation on when Ereck will be here? Will he be here for the mandatory minicamp?
A: We'll see when he gets here. We'll talk about it then. We're communicating with him. There's been times when Odell hasn't been here and we've communicated with him, so we're looking forward to him being here and we feel like we're a better team with him here than without him.
Q: How did it feel running around out there yesterday for a little bit?
A: It felt good, I was talking to my former teammates that are all over the place. We are all just excited and I'm really excited to get out here and play football. It's been a long time.
Q: What do you feel you bring to this team?
A: I feel I bring a lot of athleticism, versatility. I can do a lot of things out there, and just energy. I'm young, I have a lot of energy. I want to soak it all in, soak it in from the vets, soak it in from the coaches and just be a sponge.
Q: One of your college teammates, Aaron Davis, is here. What can you tell me about him as a corner?
A: I love Aaron. Once I saw he was coming up here, I got excited. He's a very smart player. He understands plays, he can read plays before the snap happens, and it helps having a guy like him in the backfield.
Q: What are the similarities between Kirby Smart's system and the one here?
A: The main similarity when you come out here, it's time to go to work. We can have fun, but keep the main thing the main thing. Be where your feet are. We are out here to work and get better and that's what we are going to do every day. The coaches are going to be on you from the first whistle to the last one.
Q: What has been the biggest challenge or adjustment for you so far?
A: I think the biggest challenge has been getting in the playbook, making sure I understand all the adjustments we need to make and learning the terminology. Everywhere you go, it's going to be different terminology, so you just want to be speaking the same language as the coaches.
Q: Lorenzo, when are they going to start playing some classical music during practices?
A: I might have to talk to somebody about that. I don't know if that would be a great time for classical music. I would be down with it.
Q: You are a big fan right?
Q: Do you listen to it before games to get yourself pumped up?
A: No, not pumped up. Classical music is more my after the game to relax and get my mind off things.
Q: How did you get into that?
A: In elementary school, fifth grade, I started to play the cello and it stuck with me. I love the sound of wood instruments, and I just fell in love with classical music.
Q: So, you have a pretty good talent for the rookie show?
A: Oh, yeah, I forgot about that. Yeah, I will bring a cello in here and get down for them.
Q: Did you play any other instruments besides the cello?
A: Yes, I played cello, tuba, baritone, which is the same thing as the tuba. I tried to play bass for a little bit. It's a little big, I don't like the sound of it. I've dabbled in a couple of instruments.
Q: Dalvin Tomlinson came here last year as sort of the Renaissance man, the guy who plays instruments and stuff. Maybe you two get together in the defensive meeting rooms and put together a band?
A: I see what you're talking about. We can get a band together real quick.
Q: B.J., playing in a defense where a lot of guys get multiple reps at different spots, how has that versatility helped you with your opportunity here?
A: It's been great just coming here and competing with some guys, just learning the defense and doing my job. It's not hard because I have been kind of doing the same thing, same defense I had in college, so it's not bad at all.
Q: How much do you know about Damon Harrison and hope that you can maybe learn or model your game after him a little bit.
A: He is one of the best run-stoppers in the league, and I take pride in stopping the run, too. I want to learn from him.
Q: Has he reached out to you, have you to talked to him?
Q: Have you spoken to any of the guys on the defense that are already here?
A: I haven't had a chance to meet them or see them yet.
Q: There are a lot of big names on the defense. Are you excited to get to know them?
A: Oh yeah, I'm ready to get started with them, get to know them and learn from them.
Q: What has it been like sinking your teeth into the playbook for the last couple of days?
A: It's been fun, just learning a new defense with a new D-line coach. It's been fun picking it up and playing fast.
Q: Anything new or different from what you did in college or a lot of the same stuff?
A: It's pretty much the same concepts, just different wording, so not bad at all.
Q: Were you excited just to get back on the field and play football and not train for the combine?
A: It felt great today being back on the field. You don't have to worry about the 40, the shuttle and all that stuff. You are actually putting your hand in the dirt, attacking people and doing your job, playing football, finally. It felt wonderful.
Q: What can a player at your position show the coaches in a weekend like this where you're wearing jerseys and shorts and really not thumping each other?
A: Show that you can pick up the playbook quick, play with technique, use your hands well and effort is a big thing, too.
Q: Where do the Giants view your role, as an end or an interior guy? How do you view that?
A: Like I said in my interviews, I'm an athlete. I can play anywhere on the line if they need me to play 1, 0, 3. I can play it all.
Q: What did you do yesterday?
A: I played mostly 3 and 1.
Photos from Day 2 of Giants rookie minicamp