Assistant Head Coach/Defensive Coordinator Patrick Graham
Q: How tough is it to play man against a team that has as many talented receivers as they have?
A: Tough, tough. (Buccaneers Quarterback) Tom (Brady) does a great job in terms of just the coverage part of it and just getting the ball out to the skill players. I think that's probably one of the biggest assets, one of the best characteristics about Tom, how quickly he gets the ball out, recognizing matchups, getting the ball to the skill players and getting the ball to the young people. He does a good job of that, so it's tough. They do a lot of good stuff with their scheme in terms of getting guys free and open, whether it's picks, rubs or just concepts whether they bunch them up or stack them up, forcing communication. Anytime you play man coverage and you're dealing with a team that is in condensed splits, it forces us to communicate. And it's not like they're just stationary out there and they're just lined up five across, and you're like, 'Okay, I've got this guy. He's going to run this.' They're usually bunched up somehow, some way, so that makes it hard.
Q: Just looking at the numbers PFF-wise about why you guys have been better defensively, your coverage grades, according to them at least, have been better. When you watch the film, why in particular is that? Why are you guys playing better coverage?
A: I think part of it is getting comfortable with one another. I think a big part of coverage is communication, I think that's a big part of it. Obviously, I had to do better, improving and hopefully keep improving in terms of putting guys in the right spot to help them do their job, but I think a lot of it is communication. Also, awareness and then just in general – when you just think about it, what is it Week 9 or Week 10 of the season? There's more film on tape. There's more film on tape, so you start to recognize what they're doing. The first four weeks, you think you know, but you might not really know. Then, you have injuries and people in different spots, but once you start to collect that tape – again, guys don't really vary too far from what they're going to do, so you kind of have an idea and the guys have some more awareness. I think in the zone coverage part of it, I think a big part of it – and you can even see when you watch Tampa's defense – in zone, if you know you get your depth, you've taken away the deep route, so you can anticipate breaking up some of the lower routes. I think understanding that and getting that, that's a big part of it, as well.
Q: How has (Cornerback) Aaron Robinson progressed now that he's finally gotten some practice and game snaps under his belt?
A: He's been good. Mentally, (Assistant Defensive Backs Coach) Mike (Treier) and (Defensive Backs Coach) Jerome (Henderson) did a great job of working with him when he was injured. You can see the growth, whether it's the walkthroughs or just him with the extra meetings, but you can see the skillset on the field easily. I mean, the guy can run, he can tackle, he's fast – run, fast, same thing (laughs) – he's got quickness and he's smart, so you're starting to see that. Again, he had to get comfortable. It's hard, your first game you're going against the best offense in the league the last four years of NFL seasons. So it's hard, but I think he's getting more and more comfortable. Again, that whole idea of getting comfortable with each other, once you insert another piece in there then everybody's got to figure that out, too. He's fitting in pretty good.
Q: How much did you rely on last year's tape when you're going back and saying, 'Okay, this is what we need to do to be successful?' You were very successful in the first half and then it seemed like Tom kind of figured it out there in the second half.
A: Tom's going to figure it out (laughs). Tom's going to figure it out. I mean, you look back at the tape to try to have a reference point because, again, most of their offense is the same offense. They're the only team in the league to come back with all 22 starters. There are some different pieces, so you look back to have a reference point there, but each game is so different and Tom, (Buccaneers Head Coach Bruce Arians) BA, (Buccaneers Offensive Coordinator Byron) Leftwich, they're all treating it as it's a different game. But you do look back to see what worked, what didn't work, maybe incorporate some of that in the game plan or what would they be anticipating. Because I assume for them, they're like, 'Okay, we played this okay' – they won the game – but, 'They played this okay. What're they going to pull from this game plan? Is it drastically different from what they've been doing the last nine games?' So, there's definitely a point where you look back at it. I don't know if you rely on it completely because each week is different, but you definitely look back on it.
Q: Because you said, 'He figures it out,' do you have to sort of keep mixing it up even in-game more against him than you would against other quarterbacks or do you have to be careful not to do too much?
A: You look back, (Chiefs Quarterback Patrick) Mahomes, who's a young player, (Raiders Quarterback Derek) Carr, who's relatively young, they're good players. They're elite players at their position. You've got to mix it up on those guys. It's just Tom's been around for so long he's seen everything, every changeup, every spin of the safeties, whatever you're doing, the front changeups. It's just, I assume, at a higher level because of the experience, no different than whether it's coaching at a higher level. With more experience, you're at a higher level in terms of deciphering and being able to figure out what teams do, (and) adjust. He makes it hard because he's pretty much seen everything. He's seen everything.
Q: (Cornerback) Adoree' Jackson, has he been showing you in the last few games what you expected of him coming into the season and why has he been showing that now?
A: I've always thought Adoree's energy is always great. I think he's a confident player. I think he has an outstanding skillset, and you can definitely see, the last month this guy is playing at a pretty good level in terms of whether it's man coverage, zone coverage, his tackling is improving. I think part of it – and, again, I say this to all the players – you've got to make a decision. When you get better, you've got to make a decision, like 'Okay, I'm going to get better at this.' Again, whether it's been the coaching or guys talking to him, ultimately it comes down to him making the decision, 'I'm going to get better at this,' and that's when you've got a good group of guys. When you start to see the improvement, there's been a point where they're like, 'I'm going to get this fixed. I'm going to play better doing this,' and he's definitely done that for us.
Q: You've been around a lot of good defensive players and you've seen (Buccaneers Outside Linebacker) JPP (Jason Pierre-Paul) in the last five years play with a mitten on one hand that's missing fingers, and a ton of injuries. Are you surprised he's still going strong?
A: No. I mean, the crossover tape, you see it. The skillset, it's elite. There are not too many human beings walking around on this planet that can do what he does and do it when he's got injuries. I don't know exactly what's going on with him, but in terms of whether it's the shoulder – whatever, you read this stuff or see it on ESPN or whatever – but he's a different human being. He's just different. He's just different. I'm not surprised because he's a good player, he's an elite-level player and I'm happy for him. I just hope on Monday that it doesn't go too well (laughs).
Q: Was part of you hoping that the Bucs would beat the Washington Football Team handily, that Brady would have a five-touchdown game so that he wouldn't be coming off of two straight losses at home on Monday night?
A: Again, I was around him for seven years, every week is different for him. I don't know anybody that's more competitive, more serious about the game and on top of that he's a great person. I mean, if they won by 20 touchdowns or if they lost, it doesn't matter. If he's playing the New York Giants on Monday night, that's where his focus is and it's laser focus. If you had a chance to be around him, it's laser focus, truly. To be around one of the best to ever play the game and just see that focus – I mean, I remember practicing against him – it just makes you have to raise your level as a coach because he'll take advantage. If you don't have it fixed, he's going to take advantage of it. I don't think that will play into it at all really, not with him at all I don't think so.
Q: Did you have to change the way you verbally call plays when you went from talking into (Linebacker) Blake's (Martinez) helmet to talking into (Linebacker Tae) Crowder's helmet?
A: No, because in practice we practice it with everybody, so they get used to it. I'm not one to do a whole bunch of talking between the play. I give the call out and I'm not like, 'Alert this, alert that.' I don't do that per se as much. So not really, didn't have to change it too much, no.
Q: What have you thought about Crowder's play? He hasn't come off the field since Blake got hurt.
A: I have a lot of faith in Tae, and I would say Blake pointed it out first last year before I even saw it. I remember Blake came up to me one day and he said, 'I like this dude.' It was after the Rams game, he said, 'I like this dude.' I've been around Blake in different tandems of 'backers and it's not a knock on anybody else, but he said, 'I like this guy. He helps me out there.' So, to hear Blake and the relationship I have with Blake, for him to say that that's when I was like, 'Okay,' and you start paying attention more. Tae is really attentive, he's smart, he has leadership skills. I don't know if he's the most boisterous or vocal guy, but his leadership skills remind me (and are) similar to guys I've coached before. Like (Patriots Linebacker) Jamie Collins might not say anything, but he was one of the leaders of the team because everybody follows suit with him. Like when I coached that guy, they've just got a different style of game, you know?
Q: The 'Pat Graham, Head Coach' buzz is starting again. Do you hear that? Are you flattered by that?
A: The 'Pat Graham, get fired' buzz was starting, too. I don't even think about. Again, I'm a New York Giant, I love being a New York Giant. This is my dream job to be here representing this organization for the people. I've told you, some of my best friends, the head coach is one of my best friends, the ownership, the fact that the people I learned football from are New York Giants – I couldn't ask for a better situation. I could care less about that stuff.
Q: Were you by any chance with the Patriots when they lost on Monday night against Kansas City?
A: Oh, yeah. You're trying to bring back nightmares (laughs). We rolled into the game, I was like, 'I remember this trip.' Absolutely I remember that.
Q: So, you saw Brady and the team recover from that? And I think that was two-straight losses.
A: We lost to Miami – we were up by 17, we lost to Miami – then, we came back, and we beat Minnesota, then we beat Oakland, so we were 2-1. Then, we lost to Kansas City, we were 2-2 and we were the worst team ever to play football and somehow, we figured it out.
Q: So, you've seen him respond to those kinds of situations?
A: Yeah. Tom's going to respond. To give you insight in practice, I've been on the other hand of it in practice when he might've gone 27 for 28 in practice and he'll let you know about it, and you didn't even come close to touching the ball and the only incompletion was a drop. With Tom, you don't have to worry about that. Laser focus.
Q: Did he like to let you know about it?
A: Let you know about it? He just walks off the field. He just lets you know about it – 27 of 28, I mean that lets you know. Tom is a great person, great competitor, great leader. I consider myself lucky to have been around a guy like that, to learn football from him because, again, whether it's directly or not you're learning ball from him because you're witnessing one of the best to ever do it. It's a privilege to compete against him, to be honest with you. It's a privilege to compete against him. One day, my grandkids, when he gets inducted into the Hall of Fame, like, 'Yeah, I coached against that guy. Coached with him.' It's cool, it's cool. It's Tom Brady.
Offensive Coordinator Jason Garrett
Q: What was the bye week like for you in regard to self-scouting and self-evaluation of the offense?
A: It's a big part of what we do during the bye. We try to do that stuff really on a weekly basis. We've got a lot of people who can help us in that regard, so you get that analysis really every week about what you've been doing, what's been good, what's not been good. But when you get a few days during the bye, you get a chance to maybe do that a tick more thoroughly. You can do it more broadly and take a deeper dive into it, so that's what we tried to do.
Q: But what did you see? What stood out to you through that?
A: I don't want to go into too much of it, but I think the obvious stuff. There's some things we've done well in the running game, some things we haven't done well. There have been aspects of the passing game that have been good for us, so you go back and you look at that stuff and you just do that evaluation. That's stuff that we try to keep a little bit in-house because we'll act on that and we'll act on that stuff going forward. It's really a good time. It's a good time for all of us to sit back and reflect a little bit and decide how we want to use guys, some of the different things we want to do in the run and pass game in the different situations that come up.
Q: (Wide Receiver) Kenny Golladay started the year and predicted pretty accurately that this might take some time and you've got a bunch of guys coming back who haven't practiced. Now those guys are back, but what have you seen from Kenny since he's been back, and do you agree that maybe now it can hit the ground running a little better because guys are much more acclimated?
A: Just a big fan of Kenny. We were excited to bring him here and obviously he missed a lot of time in training camp, and he's missed time throughout the season, but his approach is outstanding. He's always working hard to get himself back and when he has an opportunity to practice, he practices hard and when he's been healthy, he's played really well for us and made a big impact. That's been the case with all of our guys. I think the approach that our guys have taken in terms of being ready, different guys have played at all different spots all year long and those players are ready. They're embracing their opportunity and the guys who haven't been able to play on a consistent basis are doing everything they can to play. It's fun to get them all back and hopefully we'll get more and more healthy as a group as we go forward. I think when we do, I think those combinations of guys give us a good chance to have some success on offense.
Q: Is the Saints game kind of in your head and you're thinking, I know you don't want to look back too much, but you kind of had those guys then and look what you did?
A: Yeah, certainly that was a game where we were most healthy, and our guys played really well in a tough environment against a good team. So that's something you certainly want to build on, but each game is unique. Each part of the season is unique and whoever's out there, they have to be ready to play and go have some success for us and that's what we're trying to do. We're trying to help our team win and guys have embraced that.
Q: How much have you had to maybe change things protection-wise because you probably can't just line up and block with five guys all the time? How creative do you have to get and how much of a focus is that?
A: That's obviously a big part of it. Football starts upfront in the run game and in the pass game. It's about offensive and defensive linemen. That's what it is. The best teams have built their teams that way. That goes back through history. The game is won on the line of scrimmage. We've had some guys, different combinations of guys playing and it's our job to try to create an environment where they can have some success. Again, I think those guys have embraced it. It applies to the run game. It applies to the pass game and that's what we try to do each week to give ourselves a chance against the team we're playing.
Q: It took (Running Back) Saquon (Barkley) a couple of games to find his stride coming back from his knee injury. What have you seen on the field the last couple of days? Do you expect there to be a little bit of an acclimation period for him if he comes back?
A: He did a great job coming back from that knee injury and I think we all saw that in the early part of the season. In Week 1 he did a good job, he was better in Week 2, better in Week 3, better in Week 4 and obviously he's had this setback and he's been out here the last few weeks. He's one of those guys I'm talking about – a pro who loves to play and does everything he can to get himself right. We haven't really had a full-speed practice. We'll do that more here the next few days, so we'll get a chance to see him more, but his approach is outstanding, and we love having him around. I'm excited to get him back when he's healthy. 
Q: What would getting him back mean to this offense?
A: He's just a great football player. I've told you this before, I was on the other side of this for a couple of years against him and he's one of those players that can just really impact a game. There's a lot of two-yard runs, three-yard runs, four-yard runs, non-descript plays and then it's a 68-yard touchdown on a screen or somehow he gets outside, breaks a tackle and gets to the edge and he can be impactful. We saw that in New Orleans. He made those kinds of plays for us. He's a hell of a football player, but don't lose sight of the fact that Book (Running Back Devontae Booker) has done a really good job when he's had opportunities. When we've handed the ball to (Fullback) Eli Penny, those guys have embraced their chances, too. We're excited about them as well and whoever's available and healthy, we'll put them in there and those guys will do a good job for us. 
Q: You just mentioned a minute ago about creating an environment for this offensive line group to do well. For years in Dallas, you had a different kind of offensive line. The environment was you just go out there and play and they're really good players. How much more of a challenge is it to have to create that environment as opposed to knowing you have five guys, you just line them up and they're really good?
A: It's just part of where we are. We're trying to rebuild a team and that's a process. It was a process for us in Dallas. At different times, you have to make the decisions and say, 'OK, we've got to allocate this resource because this is important to us,' and we did that time and time again and all of a sudden, you built a really powerful, strong offensive line that's still going today. They're really good players, cornerstone players. So that's what you have to do. In the meantime, you have to somehow, some way create an environment with the guys you have. The guys that we have here have done a hell of a job coming to work every day, practicing, doing everything they can to compete as well as they can on Sundays. We love that as coaches. We love the group of guys we're coaching.
Q: Do you feel like you have one or two of those cornerstone pieces there?
A: We're in the process of doing that. Certainly, we allocated a big resource to draft (Tackle) Andrew Thomas. I think we've all seen his progression. He's going to be a hell of a football player for a long time, so he's one of those guys. Again, we love all those pieces upfront and we're excited about the challenge we have this week against Tampa.
Q: In the game notes there was this little stat that said (Kicker) Graham Gano is second in the league with 19 field goals. What do you have to do to be better in the red zone so you can cut down on the field goals?
A: I think it's all the stuff we've been talking about. It's about winning upfront in the running game to have some success in the running game to create some matchups that you like in the passing game, and then just the efficiency down there to be able to throw and catch and make the plays we need to make. I do think we've made progress over the course of the season. Last week I think we were 0-for-2 in the red zone, but there were kind of third downs that were a little bit out. But I think there's been a trend upward here the last month. I think we've been two out of three scoring touchdowns in the last four games, so that's better and better and better. It comes down to us trying to put our players in a great position and then executing.
Q: When you are game planning, what's the balance between stopping what a defense can do to wreck the game versus you dictating what you guys can do to make big plays?
A: I think that's a balance for everybody every week. You're always trying to find what that is. The best teams do what they do and the units on the other side have to defend them. I think it's rare that you can just simply do that week in and week out in this league, so there's always a balance. Typically, players on the other side are guys who can wreck the game, so you have to be mindful of those guys and what those matchups are. The better you get, the more you dictate and that's the goal that you certainly want to have. 
Q: I know it's a couple weeks back now, but what did you make of (Wide Receiver) Kadarius Toney getting one target in that Raiders game? Was it what they were doing, maybe him being banged up a little bit or was that just sort of the way it played out?
A: I think the biggest thing about that game was they're pretty stout upfront and the game they want to play is rush, go get the quarterback. The game they don't want to play is direct runs. They don't want runs right at them. That's just the way they're built. Again, I know that scheme well. I've been around that scheme for a long time, and you don't want to let those defensive end players destroy the game. I thought we did a good job of that. Our guys were physical upfront, we went north and south against them. I think we had eight drives in the game, we scored on four of the eight drives and a lot of that was north and south. I thought DJ (Quarterback Daniel Jones) did a really good job in that game. I think we only threw it 20 times. He was 15 out of 20. I think he threw the ball away three times, so he really handled himself well. We played the game on our terms and if you had followed that defense up to that point, they had been playing the game on their terms, so that was an important thing for us. The byproduct of that is limited touches for all the receivers. Unfortunately, sometimes that's the case, but our guys embraced their roles and did what we needed to do to help our team win. 
Q: You guys have been leading with Booker, if it flips and Saquon is the leading ballcarrier, does that dramatically change what your running game looks like and what you're calling for a different runner?
A: Oh, I don't think necessarily. One of the things we love about both those guys is they can really do whatever you ask them to do. Our run game's going to be a collaboration of what we feel good about upfront, on the edges, against the team and the front we're going against. We can ask Book to do anything. We can ask Saquon to do anything and they'll embrace it and they're physically capable of doing it.
Q: Can you do anything to get the flight patterns into and out of Newark changed (because of the noise drowning out the interview)?
A: It's a beautiful day though. We're dealing with the flight pattern but it's a beautiful day. Are you kidding me? The middle of November, blue skies, sunshine. I think we need to embrace it, right? 
Q: I know it's not your unit facing (Buccaneers Quarterback) Tom Brady, but this is a guy that's been in the league for 22 years. I think his first game against the Giants, you were, I believe, a player for the Giants. Do you ever sit back and sort of stare in amazement at a 44-year-old quarterback?
A: They're going to make a Mount Rushmore of football players at some point and the first face they chisel will be that guy's face. He's the best that ever walked and he's a hell of a football player and what he's done over the last 20 years has been remarkable. To think he's 44-years-old and probably playing the best ball of his career, it's really amazing. He's an inspiration to everybody in and out of sports.
Special Teams Coordinator Thomas McGaughey
Q: You got a kicker today?
A: Yep, got one. Yeah, had a little bug, so he'll be back. He's here.
Q: If something were to happen to (Kicker) Graham Gano, is that something (Punter) Riley (Dixon) works on?
A: Yeah, well from time to time he'll do some kicking. Maybe once every three or four weeks. It's nothing that, you know, you don't want to screw with that leg swing. That's a whole different set of circumstances. We deal with it when we have to deal with it.
Q: Do you have other players that would want to do that?
A: (Guard) Will Hernandez. He can kick (laughs). No, he's been bugging us to try and kick off. He'll tell you, he'll show it to you if you ask him to.
Q: You don't ask him, do you?
A: No, not at all (laughs).
Q: Does he have that straight on approach too?
A: You know what? Will has a soccer background. It's not the old toe punch.
Q: Before the Raiders game, you tried out a couple of punters. Was that purely a guard against positive COVID tests?
A: Yeah, we're always just in case. You just never know with all this COVID stuff. It's just always having a short list of guys that you can go to in a pinch. That's something that we're always doing – kickers, punters, long snappers, making sure we always have a list of guys that we can go to if something happens.
Q: What did you like about with (Wide Receiver) Pharoh (Cooper)?
A: Pharoh Cooper is what we thought he was. He's a pro. He comes in here with really good recommendations from guys that have coached him in the past that I know. He's done exactly what we thought he was going to do. He works his tail off. He's smart and he's a former Pro Bowl returner with experience. We just have to do a better job of blocking for him and giving him space to let him work.
Q: Why do you think you guys haven't had that return specialist kind of guy in the past few years?
A: I think the past few years has been a little different than it is now. I think we kind of had a run on guys that were just kind of, we were trying to make it fit within the roster and we did. Guys like (Lions Defensive Back) Corey Ballentine and some of those guys that we had in the past. It's all cyclical, it depends on different times, the year, what you have on the roster. We've got a lot of depth on the roster. We've had a rash of injuries, that's just part of it, that's football. Whoever we got out there, we're going to coach them up, get them ready. It's just when you start going through injuries and all that different stuff, it just gets crazy sometimes. You've just got to make do with what you've got.
Q: It also seems rare because sometimes you don't even know who the kick returner is depending on who you play. Do you think that factors into it? Is it that there are fewer of those guys that are around the league than maybe there were in the past?
A: Yeah, definitely. That goes without saying because of the rule change and all that stuff. In the Northeast, it's a little different because the ball doesn't fly like it does in Charlotte or in Tampa or dome teams. Teams in the Northeast, they're going to have, most of them are going to have a return specialist because you're going to return kicks when you start getting into the meat of the season. In November, December, January, where it's 30 degrees, 20 degrees, you've got wind, ball's not going to fly out of the back of the end zone, so you want to have a guy that you can depend on to return kicks.
Q: Since everything is sort of connecting, in all of your years of running special teams, when (Buccaneers Quarterback) Tom Brady is on the other side of the field, have you ever made decisions knowing he's on the other side of the field? Does he affect something you did because of special teams?
A: Yeah, I mean Tom is a great player. Anytime you can start him in five to 10 or backed up, you know, make the field longer and really that goes for any quarterback. When you know you can pin a guy like that back there and to really take away a potential advantage that he would have, the stakes are a little higher and you want to make sure, hey look, we want to get this ball down inside the 10. We want to make sure we tackle the ball inside the 20 and not let him get the ball out to the 35-yard line where they get two completions and they're in field goal position. It happens so fast, they've got a big play offense. He is who he is. You always want to make sure that the field position game is a crucial part of it.
Q: With all the great quarterbacks…
A: Absolutely. With the (Green Bay Quarterback) Aaron Rodgers of the world, these guys that can get in a two-minute situation, you look up and the ball is at midfield just like that. Especially if the ball is at the 25-yard line. You want to make sure that you can push them back as far as you can.
Q: I saw (Defensive Back) Keion (Crossen) on kickoff return at one of the back two spots. He is a bigger body. What is the thinking there?
A: Ball handling, ball handler. Obviously, he's fast, he can get out into space. If somebody just happens to kick it to him, he can run with it. Having Keion back there is always a good option for us, and he's got what we depend on too.
Q: What did you say to him about that penalty he got last game?
A: Wasn't smart. I'll be the first one to tell you and he'll be the first one to tell you, you've just got to pick your spots. Everything in this league is optics, especially when it comes down to these penalties out in space, what does it look like? You've just got to be smart, like you just can't – there's some things that you can't do. You've got to make sure that you're playing with good fundamentals, you're playing with good technique, good knee bend, and you play within the context of how we're trying to play the game. Being smart, being physical, but not being dumb.
Q: Were you okay with him picking up that ball when he thought it was touched by (Raiders Wide Receiver Hunter) Renfrow?
A: Yeah, yeah, I'm fine with that. He thought that they hit the ball and obviously that ball had a head of steam and it probably could have rolled inside the five, but in his mind, he's thinking, okay, they potentially could have hit the ball, we want a clear recovery and he's doing what he's taught to do. Yeah, I'm fine with that.
Q: Your thoughts on Jaelon Darden
A: I've watched this kid for a long time. I watched him all through the COVID year because my son worked out at the same place where he worked out. He's from Eisenhower High School in Houston and they work with this guy named Richard Whitfield, footwork king, and this kid is lightning quick. He is lightning fast, he could stick his foot in the ground, change direction, he's dangerous. I've seen him for a while, we watched him coming out, we liked him coming out, but he is lightning quick. He has some game-changing, big play ability.
Q: There are no punt return touchdowns this year at this point. I think that might be the first time this late in the season that has ever happened. Why is that?
A: That's a good question. Could be a number of things. You've got to realize, too, the opportunities because the ball, a lot of touchbacks, the ball is coming off the 25-yard line, two first downs and now you're in plus-territory. So, the ball is at the 25-yard line, offensive drive down, they stall out at midfield. Now the ball is going to be punted down inside the 10 or the 15 and your chances to return and for a touchdown diminishes as opposed to the ball being backed up. You punt from the 10, you catch it at the 40 or whatever, you get the chance to return it. It's just hard. It's just the opportunity to return a punt for a touchdown is not as prevalent as it's been in the past because of where the ball starts for the most part.
Defensive Back Logan Ryan
Q: (Cornerback) Aaron Robinson missed all of training camp and the first eight weeks, so you're kind of easing him back in. How do you feel like he's adjusted these last few weeks now that he's gotten on the field?
A: He's done a great job. I think he's improved week to week. We didn't ease him back in, we threw him on there at Kansas City, got thrown in Monday night. You always remember your first game and he did some good things, did some bad things. He's improving, getting much better. It's different going out there, doing it with the group and kind of getting our chemistry. We have an experienced secondary that has a lot of nuance to why we do things, so just getting him caught up to speed. It's going to take reps and time, but he's good enough to be out there, that's why he's out there.
Q: We were asking (Assistant Head Coach/Defensive Coordinator) Pat Graham about this earlier, if you look at the PFF numbers of why your defense has been better lately, the coverage grades are better. You guys have been consistently pretty good I coverage the last three games. He was explaining why he thought that was. Why do you think that?
A: Our pass rush is doing a great job, he's doing a great job of putting us in position to succeed. It's a team thing. I think people are taking their matchups. I just think we're playing with a greater sense of urgency and responding to the challenge. Every week is different, and our game plan is going to change based on the team's strengths and targets. I think we're just doing a good job of taking away what they do.
Q: He was talking about communication, that was probably the first thing he mentioned. Like, once you get to midseason, guys can do a better job communicating and that probably lends itself, he thinks, to better coverage. What have you noticed in that regard?
A: If my employer thinks that, I think that. Yeah, communication is definitely a part of it. So, if PG feels that – I mean, he stays here all night and studies the team. I focus on my job and the guys around me, but—
Q: You're on the field though, so are you guys communicating better?
A: Yeah, if PFF says so (laughs).
Q: I can look up on the internet what they say. You're here now, what do you think?
A: I think we're doing a better job of communicating better and Pat's putting us in great positions to make plays. I think, like I said, (Defensive Lineman Leonard Williams) Leo is getting great pressure, (Linebacker Quincy) Roche forcing the fumbles, those guys are stepping up for us and making our job easy on the backend.
Q: You're playing the defending Super Bowl champs on the road on Monday night against a quarterback who has only lost three games in a row once in his career. Why do you think the Giants should have a chance in this game when that's stacked against you?
A: Because when we play well, we can compete with anybody. That's just it, that's how we feel. We're playing against the greatest of all time, in my opinion. He has weapons that he has to distribute the ball to and facilitate, and those are the matchups that we have to challenge and contend with. Everything about him – his resume is impressive, so it's going to be a tough challenge. I think it's the greatest challenge in football playing him and it's a lot of fun. I love to play the chess match against him and that's why I'm here, to help us have a good chess game.
Q: When you're playing against him, what's the first thing that goes through your mind?
A: Don't let him look me in the eyes. He can look you in the eyes and don't look in his eyes. I mean, what is he seeing? He studies everybody really well, he knows players' tendencies, he has tips and tells out there that are just minute details. All the little things matter, which way you look pre-snap, your mannerisms in man versus zone. I mean, the littlest thing. I talk about disguise every week, but it's important this week that our star knows how to disguise it, our D-ends make sure to disguise. A linebacker can tip the whole defense and we might not have noticed that until we play (Buccaneers Quarterback) Tom Brady, so every little nuance is something that he can pick up on. You can't chase ghosts. You just have to do a good job of playing complementary football and it's just a challenge every single play because he's going to come back at you every single play, whether he's down or he's up. People crack me up when they say, 'Oh, he's coming off of a loss. How is he going to come?' This guy, anything can set him off in terms of wanting to win. I think he's best off a big win, he's best off a big loss. Anything motivates this guy. He prepares really hard, so you have to do the homework and really be willing to accept the test and the challenge.
Q: Do you give him false looks then?
A: Yeah, for sure. We did a good job of it last year, so I'm sure he's studying that. There's some stuff we'll use, there's some stuff we'll change, but he's seen it all. We've said that, but you have to give him some false looks or it'll be a long day.
Q: How much did he sort of figure it out though in that game? It seemed like you guys had him off his game in the first half and then he sort of in the second half came out and kind of did his thing.
A: I don't remember exactly how it went down, but they won the game at the end, so he made enough adjustments to win the game. We played a good game last year, but we didn't win the game. All he cares about are wins and losses, that's all I care about. We've got to find a way to win the game in the end. But it'll be a good challenge. Like I said, it'll be a chess match. PG knows him well, (Head Coach Joe) Judge knows him well, but he's as old as our coaches, so he knows the game well, too. It's really just a go out there and do the best I can do, do my job, lead the guys and hopefully get the game close in the fourth quarter and then finish the game.
Q: Everybody obviously hates to lose, but everybody always talks about Brady's insane level of competitiveness, so what's your best or most honest – obviously, Tom Brady is super competitive – story that may not even involve football? We see how he is on the field. How oddly competitive or weirdly competitive is he off the field?
A: Rookie year, my OTAs, I get up there and it's just OTAs. I don't even think (Patriots Head Coach) Bill (Belichick) puts numbers on the guys, everyone is just in a blue t-shirt or a gray t-shirt. I was in with the 1's, a receiver slipped on a curl route, completely the receiver's fault. I pick the ball off, I pick-six him in like May or something and he takes his helmet off and breaks it on the ground in OTAs. That's just a story that sticks out because it was my rookie year and I was kind of getting drafted to the New England Patriots – it was like the Chicago Bulls, it was like the show – and it was competitive in practice every day. He wanted to win every one-on-one. We had push-ups as bets in one-on-ones, who would win. He's just competitive in everything he does. That's why he is who he is and that's why it's fun to play against him.
Q: Non-football question, if you don't mind. Thanksgiving, athletes go out and give out hams and turkeys. You're going to Camden and giving out dog food?
A: Yeah, I love animals. It's part of my foundation. It's part of what my family does. I'm doing something tonight for Covenant House and pre-teen, teenage and child homelessness. I try to help people, I try to help animals. This is where I'm from. I'm going to give back in any form or fashion. Dogs need to eat too on Thanksgiving, so make sure they're fed well.
Q: You didn't trash talk on the field after that interception?
A: No, not then. No, not then. I just gave the ball to the ref and went back and prayed that he took it easy on me after that. I trash talk him now, though. It'll be fun. Hopefully I'm mic'd up and it'll be some good audio.
Q: Did you text him this week at all?
Wide Receiver Kenny Golladay
Q: You said at the beginning of the year that you thought it was going to take some time for you guys to come together as an offense. You're at mid-season now and you're starting to get a lot of guys back together again now, do you still feel that same way that it's going to take some time?
A: I can't say I still feel like it's going to take some time, but you do miss games, you do kind of fall out of rhythm a little bit. Especially when you're not playing, you're not running. All of that plays a role.
Q: How are you feeling? I'm sure the bye week was good for you.
A: Oh, the bye week was definitely clutch. I played the last game, had a bye week, had a solid day yesterday. I stacked another good one today. I feel pretty good. 
Q: How close do you think you were to being at full strength in that last game being that was your first game back and I know you had the knee injury?
A: I don't even know to be honest.
Q: I'm assuming that means you weren't quite there? Is that fair to say?
Q: Do you think this is the healthiest you've been since that New Orleans game?
Q: What do you remember about the last time most of you were together in New Orleans, and the second half of that game was quite good. Was that the potential of what this offense can be when you guys are on the field?
A: I mean, yeah. Everybody touched the ball. (Quarterback Daniel Jones) DJ was able to pretty much hit everybody. That's one of those good games when you come back and you're smiling the whole time you're watching the film. Of course, you make some mistakes during that game, but that's one of those games you feel great about the next day. 
Q: Is that something that kind of excites you that you're going to play, (Wide Receiver) Kadarius (Toney) is going to play, (Running Back) Saquon's (Barkley) going to play?
A: Definitely. When we're at full strength it's very exciting I feel like. So, we've just got to see how it all shakes out Monday.
Q: Do you feel like you guys are running out of time to be the type of offense you want to be?
A: What is it, eight games including this one? At the end of the day, we have to get the job done with who we have. People have got to step up and we believe they'll step up. I don't feel like we're running out of time.
Q: As a receiver, how hard is it to play in a game like the Raiders game where offensively you're trying to slow down their pass rush, so you're getting the ball out quick and you're really trying to establish the run and you're not passing that much?
A: I know for me, that makes it easy on me to be honest. (Running Back Devontae Booker) Book was running the ball really well. (Fullback Eli) Penny came in and got some good runs in. I can't be mad at that. I'm not that type of player. I went out there and made the plays I did make when my number was called. But hey, I just want to win at the end of the day. 
Q: How much different do you expect the offense to almost look with you healthier, with Saquon back, with Kadarius more involved than he was probably earlier in the year?
A: I mean, when we had all of us at almost full strength I would say – I think that was the Saints game – I feel like we played pretty well, but it's any given Sunday. We've just got to keep going out there each game and producing. 
Q: When you envision what it's supposed to look like, is that Saints game is in your mind pretty much what it is?
A: That's pretty close to what I envision. Everybody touched the ball. DJ threw for like 400. Say had a long touchdown reception, then he capped it off with the game-winning rushing touchdown. That's a pretty damn good game. But I mean, I feel like we left some plays out there as well, so I feel like it can get better.
Q: When you're a player, people look at a defensive lineman and say, 'sacks, sacks, sacks.' But when you're looking at a wide receiver, you're saying, 'touchdowns.' Is it getting to you yet that you haven't gotten one?
A: Me personally, of course I want to set goals and put how many touchdowns I want. Is it frustrating? For me, yeah, just because I haven't gotten in the (end) zone yet. But at the end of the day, as long as I'm making catches to help us get touchdowns, I'm okay.
Q: Does Monday night mean a little extra for you? Does it do anything for you? I know you missed the last one and you probably didn't play in a ton of them in Detroit.
A: It's the only football game on TV, so it's definitely exciting. You're going to come with a little bit more juice, but it's a regular game once kickoff starts.
Q: Do you think this team's capable of making a playoff push?
A: Yup. We've just got to keep stacking games on top of games and coming out with Ws.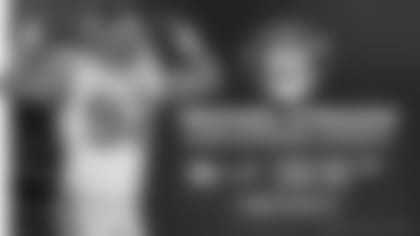 Tickets for Michael Strahan Ceremony
Limited tickets are available for Michael Strahan's jersey retirement game on November 28th