**Back home on a ranch in Tennessee, Peyton Hillis thought his football career was over.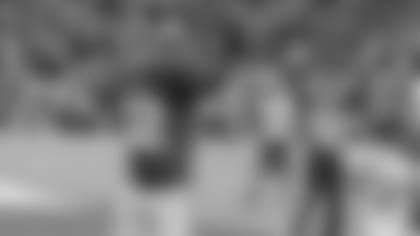 Giants vs. Vikings Gameday Photos](http://www.giants.com/photos/photos/Game-Photos-Giants-vs-Vikings/0b89d293-48fa-46f1-959a-15e00a46e5ae)
After being released by the Tampa Bay Buccaneers in late September – his third team in three years and the fourth overall of his career – he spent the last three weeks hunting and contemplating his next move. Two years ago, the running back was on the cover of "Madden NFL."
It was the New York Giants, who were in need of depth at the position. They worked him out, signed him, and five days later, he led them in yards from scrimmage en route to their first victory in seven tries this season.
"It seems like the movie The Natural, where he's out of the game for 10 years and he comes back and he starts doing well for the team," Hillis said, referencing the classic 1984 baseball film based on a book by the same title. "It just feels like that. It feels like I've been beat around here the past couple years and really never getting the opportunity. And when I got this call, when I thought my career was over, I was like, 'I'm going to go out there and give it all I can and see what happens.'"
While he wouldn't break any stadium lights, he led the Giants with 18 rushes for 36 yards on the big stage of Monday Night Football – eight more yards than Vikings running back Adrian Peterson – and added another 45 yards on five catches. He scored on a one-yard touchdown run in the third quarter to give the Giants a 10-point lead and never looked back.
With fellow running backs Brandon Jacobs and David Wilson out with injuries, Hillis knew the Giants would rely on him. But maybe not this much.
"I was surprised, but the team needed me," Hillis said. "And they needed me to produce. Even though I didn't do it greatly, I think I did some things to help the team win. I'm proud about that.
"When I came here on Monday, the team just had open arms for me, wanted me to do well and treated me like one of their own. That made me want to give back. Eli [Manning] has been great through this whole process in helping me out, and I'm very grateful for that."
The Giants quarterback was just as grateful.
The 6-foot-2, 250-pound Hillis stood in there and took the pounding to protect Manning.
"I thought Peyton played really well," Manning said. "Coming in here on a week's notice, he did a good job just understanding protections, blocking when you had to, getting out on the routes, a couple big completions and third down conversions. He did a good job and he got out at times and ran the ball hard. He's going to be a help for us. He's a big, strong, athletic running back, and that will be good on third downs. So it was good getting him and I think he'll be good for us down the road."
Hillis also hopes this is just the start of something more with the Giants.
Admitting that his legs felt like "Jell-O" both after the game and during his workout with the team, the former 1,000-yard rusher hopes to only get stronger as he learns the system.
"I still believe if you would just give me a couple more weeks and I can get the grasp of the offense and get my legs back underneath me, I can show you some glimpses," Hillis said. "But I just need some time and hopefully I'll have that time to be here to show you all."