From the buildup to the actual event to the ensuing perks, the NFL Draft has become a year-round production.
Defensive end Damontre Moore, who was selected by the Giants in the third round this past April, is part of this new generation of college stars, and he rode the wave along with 254 other drafted rookies.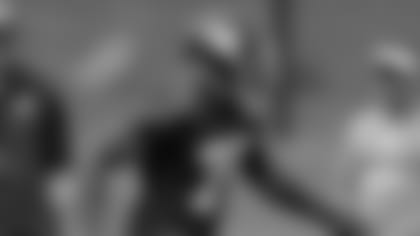 PHOTOS: DE MOORE'S COLLEGE CAREER](http://www.giants.com/photos/photos/DE-Damontre-Moore/09689ce3-b4a1-4059-9661-cbd454fe6943)
But the pageantry came to an end yesterday when Moore took the field at the Giants' first practice of training camp.
"It switched gears because now all the show's over with -- all that was just show," Moore said Sunday before his next practice. "Now it's time to get to work. Yesterday I was excited, but once that first whistle blew, it all went out the window, and it was like, 'All right, this is my job now.'"
Moore said there were mixed emotions as he trotted out to practice because it felt like a longtime coming after dreaming about being an NFL player for so long.
Justin Pugh, the Giants' top pick of their 2013 draft class, is going through the same things but on the offensive line. They were able to get their feet wet going up against each other on Saturday – defensive end versus offensive tackle.
"It's a great competition [between us]," Moore said. "With Pugh, we have that connection because we came in the draft class. We got real aggressive while we were going, and then right after the play, we were sitting right there just joking around again. So it was all fun."
After practice, it was back to their respective position rooms, where they will both be sponges for the rest of training camp and beyond.
"I have a great group of leaders that are already in there and played the game," Moore said. "Then it's about achieving goals that I want to achieve. So it's just kind of one of those things where I've just got to sit back and be quiet and just soak it all in."
But that won't stop Moore from remembering to enjoy the ride.
Out of all the perks from being drafted – which included broadways shows, baseball games, and private tours – Moore said the best was taking his family members for a spin back in his hometown of Dallas after installing a new sound system in his car.
"I let my little brother ride with me and went and picked up some of his friends on his birthday and he was all excited," Moore recalled. "All his friends were talking about how cool he was. That was probably the coolest thing to me – just to see that I made them happy and just to be around them and they kind of get to enjoy the whole experience with me."