East Rutherford, NJ - The man charged with improving the performance of the Giants defense said today the unit does not require a major overhaul.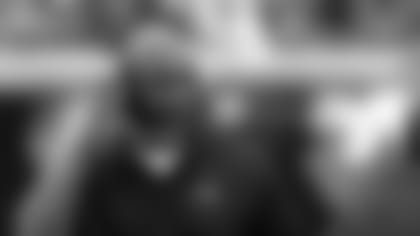 Defensive Coordinator Perry Fewell will be in charge of improving the performance of the Giants defense. Fewll stated today that the unit does not require a major overhaul.


"I think I have some talent here," Perry Fewell said. "I think the strength, as I look at it right now, the strength of our football team looks like our defensive front. If we can stay healthy in the secondary, as well as at linebacker, I think we have talent.
"I think it is a workable challenge. I look forward to the opportunity to work with this defense and see if we can keep the opponent out of the end zone. Football is a game that people like to see points scored and as defensive guys, we like to deny those points. So it will be a great challenge."
Fewell was hired two weeks ago as the Giants' new defensive coordinator, a position he held with the Buffalo Bills for the previous four years. He replaced Bill Sheridan, who was dismissed following the 2009 season, in which the Giants finished 8-8 and allowed 427 points, the second-highest total in franchise history.
The defensive line was considered one of the team's strongest units entering the 2009 season but didn't perform as well as expected. The Giants allowed about 15 more rushing yards per game than they did in 2008, and their 32 sacks were the team's lowest total since 2006.
"I can't speak of scheme and what happened a year ago," Fewell said. "I am just speaking of talent level (on the line). I see a talented group of men that can play football, that are football players. As I evaluate the number of athletes at that position, I think I haven't been with very many teams that have that many talented athletes at one position. That is why I say it is the strength of our football team."
As the Giants continue their offseason planning, several questions on the line need to be answered. Can Chris Canty stay healthy and be the contributor the Giants expected when he was signed last year? Will Jay Alford return at full strength after undergoing knee surgery last summer? Will Fred Robbins have a role next year?
But perhaps the most significant questions concern Justin Tuck and Osi Umenyiora. Tuck hurt his shoulder when he was tripped by Dallas' Flozell Adams in the season's second week and played at less than full strength for the rest of the season. He had postseason surgery to correct the problem. Umenyiora, who missed the 2008 season after undergoing knee surgery, led the Giants with 7.0 sacks, the fifth time in six years he topped the team list. But he was removed from the starting lineup after the Thanksgiving night loss in Denver and said late in the season that he wants to return to fulltime duty in 2010.
Fewell was asked about both of the former Pro Bowlers.
"With his injury situation, you want him on day one, (but) will he be available on day one?" Fewell said of Tuck. "That will depend on the nature of the injury and how quickly he recovers. But if he is there and able to take the mental reps, that is good, also. When you have a player of that status you would like to have him there day one. Will he be available? That's up to the doctors. We just have to do the right thing by Justin."
When asked about Umenyiora, Fewell said, "Again, I can't speak to what happened a year ago," Fewell said. "When I look at Osi, I see a football player. When you have a football player, obviously you want that player to be on the field all the time. But in today's game, we substitute players, we roll players just so we can keep them fresh so they can stay healthy and play the entire year. I see Osi as a football player."
Middle linebacker Antonio Pierce missed the final seven games with a bulging disc in his neck. Fewell is uncertain what Pierce's status will be for the coming season.
"I don't know the status of his injury right now," Fewell said. "We will have to wait and see how that plays out."
Fewell discussed several other topics in his wide-ranging conference call.
*On the defensive scheme he expects to install:
"I am currently evaluating that, just looking at our players, just trying to get what they do best in my mind and what I can bring to the table to help them do better," Fewell said. "Scheme-wise, I am still in the process of formulating that.
"Obviously, I want to be fundamentally sound. I want to be multiple in what we do. I want to attack. I want to be aggressive in what we do. I want our players to play fast and have fun playing the game. Definitely create turnovers; I believe you score on defense. I think you have to be physically tough. We have to play with discipline, and we have to play as a team on defense."
*On creating turnovers. The Bills' had 33 last season, tied for the fifth-highest total in the NFL. That included 28 interceptions, second in the league behind Green Bay's 30. The Giants had 24 takeaways and 13 interceptions.
"Turnovers are opportunity," Fewell said. "If the ball is on the turf , it is our opportunity to grasp that ball and get that ball. If the ball is in the air, it is our opportunity to intercept the football. So I think creating turnovers is about opportunity. Looking at some of our defensive personnel, our front four has the opportunity to rush the passer or they have the ability to rush the passer very well, which can cause that passer to throw the ball quickly or not throw the ball on point. We can create our own opportunities, now we have to capture the moment and seize the moment. I thought we did a good job of doing that in Buffalo last year. Really, the players bought into the system and studied. I think that was really key, that our players did some extra work when the meetings were over. They really prepared well for their opponent. If we can bring that type of mentality to the table, I think we can increase our turnovers here with the Giants."
*On his early impressions of the players:
"I have had a chance to meet several of the defensive linemen," Fewell said. "I really have a favorable impression of all the men that I have met at this point in time. (They are) very professional, good looking, strong men. As I see on tape, they love to play the game. They play the game excited, they get excited about football. I am excited about football."
*Fewell made the Bills' defensive calls from the coaches' booth when he was the coordinator, then from the sideline when he was the interim head coach for the season's final seven games. Tom Coughlin and he have not decided where he will be during Giants games.
"I get pretty excited on the sideline," Fewell said. "I am probably a little bit more controlled when I call it from the press box. So, when I call it from the sideline sometimes you can get caught up in the ballgame and you know, you chest bump a player or slap somebody on the hind end or something like that, and then you've got to go back and get by yourself and gather your thoughts again. Up in the press box your emotions are a little bit more controlled. It depends on how those emotions are running, etc. I can go either way. Again, it is just a matter of being in that moment."
*On working with Coughlin as the Jacksonville Jaguars' secondary coach from 1998-2002:
"My first (NFL) job was with Coach Coughlin," Fewell said. "It really set the foundation for being prepared, not only mentally but physically, for the challenge of a football season. Setting a foundation to be fundamentally sound in what you do and just being detailed in what you do."
*On keeping the majority of the defensive staff from the 2009 season:
"I never had worked with any of the other guys that are on the staff right now, but I knew of them," Fewell said. "I watched them in their careers. I have admired their work in the past. Obviously, Coach Coughlin and I thought really highly of these coaches. I am happy to work with them. Right now, we are learning Giants language. Football is not always a universal language, so we are learning how to speak with each other. They are helping me in the evaluation as I look at our football team."
*Fewell was asked if he was disappointed he was not selected as the Bills' permanent head coach.
"I was very honored to have the opportunity to lead the Bills," he said. "When you enter a process like that it is a situation where beauty is in the eye of the beholder. Did I think I did a good enough job? If I would have won one more game, then yes, I would have said I did a great job in leading the Bills and I had a winning record. But I won three games and I lost four games, so they thought they needed to make a change and did. I was just appreciative of the opportunity to lead the Bills, number one.
"Obviously, your aspirations are to be a head coach, so you are a little disappointed when you are not the guy."
If you'd like to submit a question or comment to Michael, click here.