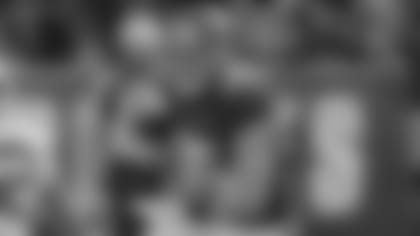 Tight end Rhett Ellison has more familiarity than most with head coach Pat Shurmur's offense:
Somewhere along the way, Pat Shurmur learned the value of simplicity, and the new Giants head coach is implementing it with his team in the middle of its voluntary offseason workout program. For the last month, players have been in the playbook and on the practice fields picking up the new offense, which Shurmur most recently ran in Minnesota.
"From what I can tell, guys are picking it up real fast, and that's attributed to the coaches that Shurmur has hired and just Shurmur's philosophy," veteran tight end Rhett Ellison said. "I think that he is really good at explaining and teaching and keeping things simple and fast, so you can play fast."
Ellison knows Shurmur better than most of the Giants on the roster. The Vikings originally drafted Ellison in 2012, which was Shurmur's final season as head coach of Browns. In 2016, Shurmur arrived in Minnesota as Ellison's position coach. Eventually Shurmur took over as interim offensive coordinator during his first season in Minnesota and then assumed full-time duties in 2017, when the Vikings advanced all the way to the NFC Championship Game.
"With Shurmur, he just does a really good job of utilizing the talent and the skills that he has on a team," said Ellison, who played in all 16 games with 14 starts in his first season with the Giants in 2017. "He's not going to force you into a play if it doesn't fit the personnel. So it's hard to say exactly what it's going to look like, but with my time with him in Minnesota … what I noticed was he was able to get playmakers the ball in unique ways. That's kind of his thing. He keeps it simple. He keeps it so you can play fast. It has kind of depended on the players what happens on Sunday."
There's that S-word again.
Simplicity has been a theme in the Giants' regime change. New general manager Dave Gettleman still holds that the three pillars of football, despite the complexities of the modern game, are run the ball, stop the run and rush the passer.
The Giants took care of the first objective in a major way two weeks ago, when they drafted running back Saquon Barkley with the second overall pick.
"That's the thing – if you can run the ball, you can be multi-dimensional," Ellison said. "It's old school, but if the defense can stop the run, they're going to force you in like 11 personnel (one running back, one tight end), they're going to force you to throw the ball. You don't want to be forced into one dimension of the game. So it all starts with running the ball. It's old school, it's not as pretty, but that's football."
Shurmur is a hog molly from Big 10 country at heart. A three-year starting center and co-captain at Michigan State, Shurmur rose through the ranks coaching offensive linemen and tight ends.
When he took over the Giants, he hired Mike Shula as offensive coordinator and promoted Lunda Wells from assistant offensive line coach to tight ends coach.
With Shurmur's background coaching his position, does Ellison think tight ends will be featured more?
"I hope so," said Ellison, who is in the same room as promising young pro Evan Engram. "Obviously, your position group, you want to be on the field as much as possible, as many of you as you can get on the field, whether it's 12, 13 personnel. But again, it just all depends on what we're good at. Shurmur is not one of those coaches that's going to put us out there just to put us out there. We have to be effective to be put on the field. Every position group is kind of competing to get their time on the field."