EAST RUTHERFORD, NJ - The first major injury suffered by a Giants player in 2010 proved to be one of the team's costliest.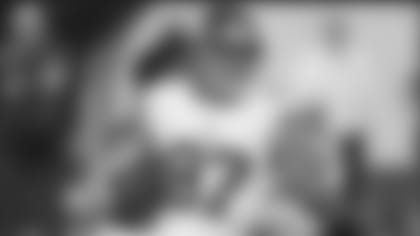 Domenik Hixon tore the anterior cruciate ligament in his right knee in a minicamp practice on June 15, ending his season six weeks before training camp opened. The previous year, Hixon had given the team consistent production on both kickoff returns (a 22.6-yard average on a team-record 57 runbacks) and punt returns (a 15.1-yard average on 17 returns, including a 79-yard touchdown).
Without Hixon, the Giants' return game sputtered last year. The Giants used four kickoff returners and three punt returners and finished 31st in the NFL in each category with a 19.0-yard average bringing back kickoffs and a 6.1-yard mark returning punts. They were one of only three teams that did not have a return touchdown in 2010.
Hixon, who spent most of the season at his home in Akron, Ohio, agonized over each short return.
"When you see your team struggling (in) something that you kind of specialize in, you want to go help your friends out, help your teammates out," Hixon said this week. "It was frustrating to have to sit back and watch."
Not to slight the returners the Giants used last year, but Hixon believed the improvement he demonstrated in 2009 would have continued last year.
"Leading up to the summer I felt like it would have been one of my best years yet," Hixon said. "There were some things that were going on in practice and how hard we were practicing – you get used to certain guys and how they block and how different things are handled. I felt like the year before we had big returns and we were going to be more consistent (last) year. And I was really looking forward to that."
Hixon had to defer his dreams to the 2011 season. He is a free agent and the Giants, like all teams, are not signing players until a new collective bargaining agreement is reached. But Hixon will be ready whenever teams can begin formal preparation for next season.
The one advantage to tearing a ligament and having surgery in June is that it gives a player plenty of time to recover and rehabilitate. Unlike teammates Adam Koets (torn ACL on Nov. 7) and Clint Sintim (Dec. 13), Hixon is running at full speed.
"It was probably a couple of weeks ago," Hixon said of his first flat-out sprint. "I started to do one on ones and different things like that against people."
A torn ACL is a fairly common football injury and one that requires a lengthy and arduous rehab. Hixon underwent surgery approximately 10 days after he went down, a standard practice that allows the swelling to subside. He took his first steps – figuratively, not literally - toward a comeback that afternoon.
"The day of surgery I started rehab," Hixon said. "As soon as I came out of surgery they put my leg into a machine.  They gave it kind of the range of motion in the machine without me doing anything. The machine straightened it all of the way out and then bent it up to probably about 90 degrees, and just kept on doing that."
Hixon said he was pain-free that day because he was still benefitting from the effect of the anesthesia used in the surgery. He was not so fortunate the following morning.
"I learned a lot - it was very educational," Hixon said. "When you get so much fluid (in the knee) it shuts down your muscles around it.  The day after the surgery we had to start from scratch to run on my quad and kind of get that moving.  So literally it's like lying flat on your back and trying to lift up your right leg just in the straight leg position. The first day it put tears in my eyes, it was just so painful to do.  You start from there and you start getting your range of motion back to where you can bend your knee. You learn how to re-do everything."
Strengthening the knee was not Hixon's sole challenge. He learned it's difficult to complete even the most basic tasks while encumbered with a knee brace and using crutches to get around.
"It was my right knee, so driving somewhere was impossible," Hixon said. "Just imagine making yourself a bowl of cereal and trying to balance that. There's a lot of everyday stress, because you're on crutches. I couldn't put weight on my knee and different things like that.  So my parents were a tremendous help, helping me do all of that."
Despite the obstacles, Hixon soon began making steady progress while working with a physical therapist near his Ohio home. He also traveled to New Jersey to be examined by the Giants' medical staff.
"We started off trying to ride a (stationary) bike to get range of motion," Hixon said. "The first time I got on the bike I couldn't go all of the way around because my knee wouldn't bend that much.  It had too much fluid and stuff in it. So it went from that to by the end of the week I'm riding the bike and I'm going fast enough to actually turn it on. So that was kind of the first step, and then getting the strength back in the quad.  I didn't start running or even jogging until about four months (after the surgery). Something else I found out is that the ACL has a lot to do with your balance. We were doing a lot of balancing on a ball and trying to balance with a quarter squat on one leg. We did different things like that to try to regain my balance."
Hixon wanted as few surprises as possible during his rehab, so he consulted with current and former teammates who had undergone serious knee surgery and endured its aftermath. The advice he received proved helpful as Hixon continued to move forward.
"Amani Toomer and I had dinner," Hixon said. "He had gone through knee surgeries (the Giants' career receiving leader tore his ACL in 1996 and 2006). He and I talked extensively about that and how to prepare yourself when you come back. Because after you have missed the whole year you have to knock the rust off before the season and before training camp. He gave me a lot a lot of tips. I talked to Osi (Umenyiora), Keith Bulluck (who was rehabbing a year ago). I talked to them about some of the things they did after their injuries to make sure they came back. Osi (who missed the entire 2008 season) hasn't lost a step."
Hixon is convinced he won't either. After a year away from the game, he is energized just thinking about returning to the field.
"I was actually telling one of my buddies, 'I can't wait for training camp and to feel sore and different things like that,'" Hixon said. "I have a new appreciation for everything, for being able to play football and to run around.  That is one thing throughout rehab – going from not walking to walking, not being able to balance to balance, to runs, just different steps along the way. I'll give you one quick story. I'm on the third floor of the hospital. I walked up the steps every day.  This lady was looking at me, she said, 'You are always smiling walking up the steps.' I said, 'Yeah, a month ago I couldn't walk at all.' It's the little things like walking up steps that people take for granted.  And when it is taken away from you, you never know what you have until it is gone.  And I don't want to have that feeling again."