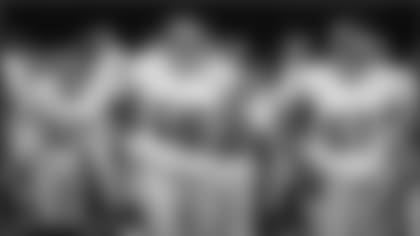 With a 9-5 record, the Giants control their own destiny in the postseason race. But to close the deal they're going to have to win away from home. Their final two games are Sunday in Green Bay and next week in Washington. A victory over the equally-motivated 8-6 Packers in Lambeau Field will put the Giants in the playoffs for the fifth time in six years.
So how do they get it done?
"You stress the road warrior mentality," Coach Tom Coughlin said, "and the idea that we have been able to come together as a team and really depend and rely on each other for strength and support and confidence as we go to play on the road in a difficult place to play."
The Giants have been one of the NFL's best road teams under Coughlin. A huge factor in winning a championship in 2007 was their ability to play well in hostile venues. That year, the Giants set an NFL single-season record with 11 consecutive victories away from home (seven regular season, four postseason, including Super Bowl XLII). Since the start of the 2007 season, the Giants have the NFL's third-best record in regular season road games at 20-10, trailing only Indianapolis (23-8) and New England (21-10). They have played well on the road late in the season. Beginning in 2005 – the first year they made the playoffs under Coughlin – the Giants are 9-4 in regular season road games in December and January.
Why do the Giants play so well on the road?
"There are a couple things that of jump out at me," said offensive coordinator Kevin Gilbride, who has coached in the NFL since 1989. "One is they genuinely like each other. When you're going into, for lack of a better word, a hostile environment, the fact that you feel good about the people around you and don't feel like there is a need to have anybody else to be there in order for you to have a chance to win is a good starting point. Then, I think there is some mental toughness and I have great respect for our guys in that sense. They were able to weather the storm fairly well. The teams that do that seem to be the ones that go out and can handle the vicissitudes of the season, the ups and downs, and handle the changing venue. Whether it's home with your home crowd, or when you're away and the visiting crowd. For the most part, they're able to block that out and focus in.
"I think there's a realization, I preach it all the time, the fans aren't going to win or lose the game for us and the media isn't going to win or lose the game for us, it's us. I think there is some maturity, some character, some toughness, and the fact that they believe in each other for the most part serves us pretty well."
The Giants are 4-2 on the road this season, winning in Houston, Dallas, Seattle and vs. Minnesota in Detroit and losing in Indianapolis and Philadelphia.
"We always like playing on the road because we know there's no mystery of who's on your side there," running back Brandon Jacobs said. "We've always done well on the road. We win as a team and lose as a team, no matter where it is. We have a tough team in front of us on Sunday that's playing for the same thing and we have to go get it."
"This team has to make its own way," defensive tackle Barry Cofield said. "We've had a relatively successful year on the road this year, and it's just a 'you against the world' type of bonding experience. The last road trip we were on (which took the team to Kansas City and Detroit instead of the scheduled destination, Minneapolis) was obviously a very interesting one, and I think we grew a lot as a team on that trip. So it's just fun. It's fun to quiet a crowd, and it's a great opportunity to go up to a legendary setting, a legendary field and have a great win."
One of the their most famous road victories in recent seasons was earned in the place where they must win this week, fabled Lambeau, the site of their epic 23-20 overtime victory in minus-23 degree wind chill in the 2007 NFC Championship Game. Twenty Giants who played in that game are on the current roster, including eight members of the starting offense (the five-man line, Eli Manning, Kevin Boss and Jacobs).
Although their focus is on the upcoming game, it is impossible for the Giants who played on that team not to recall their last visit to Green Bay.
"You just remember the fond memories," Cofield said. "You remember the success you had and the feeling and you try and build off of that. You just know that you can go up there and win against a good Green Bay team, and that's what we did at that point."
"It helps because we know what it takes to win there," guard Chris Snee said. "This is a playoff game, and obviously that was, too. Yeah, we have guys who can take a leadership role and show the way."
The Packers also have 21 players on their current roster who were in uniform that night, including quarterback Aaron Rodgers, who stayed on the sideline because Brett Favre played the entire game.
"I remember I was about as miserable as far as the cold as I've ever been," Rodgers said. "It was definitely a game that when you're not playing it was probably that much more cold on the sidelines. I remember the excitement of being right in the game, of being one quarter away from the Super Bowl and going into overtime and unfortunately not coming up with the victory there. One thing I do remember though is that the first person I saw as I went on the field was Jeff Feagles. I had known Jeff for a couple of years, and he was crying. I think it was his 20th year at that point and going to the Super Bowl for the first time. I remember the joy on his face and thinking about how badly I wished we had been the ones to come up with a victory that day."
The Giants are well aware that Rodgers and the Packers are highly motivated to leave the field celebrating this time.
"You think those guys want to taste that again?" Jacobs said. "No. It's basically for the same thing. They want to try and evolve from that as well. We have to go in there and make sure we do everything that we have to do to come out on the winning end of it."
Can the Giants somehow channel the magic they found in that game and use it this week? Although it's not a championship game, it is critical for the postseason hopes of both teams.
"They're clear as a bell," Coughlin said of what's at stake in the game. "Just like last week was. In this day and age everyone is aware of exactly what is at stake, so it's very honest and very straightforward to express that and to make players aware of it. They are aware of it and it'll be a playoff atmosphere. Both teams are striving to do the very best they can and put their team in position to be in the playoffs."
"It's obviously a completely different team, but it's a must-win," Cofield said. "We're looking at it as the playoffs have started and we're focused on being a good team in a hostile environment."
Another factor in play is the Giants' ability to rebound from last week's last-play loss to Philadelphia and to play at their best with their backs to the wall.
"As long as I've been here, since 2007, we've always done well in those situations," Boss said. "When we feel that way, it's when we play our best ball. I don't know if it's the character or the guys we have on this team. Coach Coughlin does a great job of trying to play into that and get us going. We talk about it a lot and we've been doing it for four years now."
"We've been pretty good on the road and we have to make sure that we go in there knowing what the conditions are and what the circumstances are," Manning said. "They're playing to keep their season going also. Both teams are playing for big things so it should be a great environment."
Great and hostile. Just how the Giants like it.
*Tuck was asked what comes to mind when he thinks of the 2007 title game.
"My mouth piece getting frozen to my helmet and having to play without a mouth piece for a couple of plays," Tuck said. "I still remember the Corey (Webster) pick (that set up Lawrence Tynes' game-winning field goal). I still remember Coach Coughlin's face. I still remember the back of David Diehl's head where the sweat had dried up and frozen into icicles inside his helmet."
Like almost everyone else, Jacobs' memories begin with the conditions.
"It was cold as hell, I remember that," he said. "It was a tough game. We went to the wire and we were able to come out on the winning end of it. That was then and this is now, it's a new year. We have a new team and they have a new team. They have some different things that they do that we're going to have to contend with, and vice versa. We're not going to go in there and lay down because it's cold and because things are different. That's not going to happen."
*This is the Giants' first regular season visit to Lambeau since a 14-7 victory on Oct. 3, 2004.
"That's a special place to go, period," Snee said. "I went there my rookie year and kind of just went out and looked around because I love the history of the game. The place will always have a special place in my heart. Once the game starts, I won't think about that."
*Defensive end Dave Tollefson and cornerback/return specialist Will Blackmon will not play because of knee injuries. Coughlin did not specify who will return punts in Blackmon's absence.
"We have some guys that can," Coughlin said. "Darius can return, Aaron Ross can return, Corey Webster – we've had people work back there all year."
"We're all just getting reps right now," Reynaud said. "We're going to find out right before the game starts who is going to be returning."
Reynaud returned punts in the season's first seven games and has a team-high 23 runbacks for a 5.7-yard average. Ross appeared to have the inside track on the job in training camp and he returned a punt 45 yards in a preseason game vs. Pittsburgh. But he hurt his foot in that game and has just one punt return since, against Washington, for zero yards.
Ross said he has been campaigning for the job "for four years now. I don't know right now. Coach hasn't really made a final decision. If he calls (number) 31 to go back there on Sunday, I'm willing and ready to do it. If he calls my number to get back there and return a punt, you might see me jump for joy. It's something that I feel like the Lord gave me the ability to do, and I just need my number called to do it."
Webster returned one punt in 2009, for eight yards. But he frequently fields punts in practice.
"I normally do it every week," he said. "I like to go up there and get some vision judging the ball and stuff like that. It helps with that aspect of it. I always work on catching the ball and stuff anyway. If we can get out there and put our hands on the ball with the punt, catching passes from the quarterback, I always do that."
*Everyone else on the Giants' injury report practiced fully and is listed as probable: offensive linemen Shaun O'Hara (foot), David Diehl (illness) and Shawn Andrews (back), defensive end Osi Umenyiora (knee) and wide receivers Mario Manningham (heel) and Devin Thomas (hamstring).
For the Packers, defensive end Cullen Jenkins (calf) and guard Marshall Newhouse (back) are out. Linebacker Frank Zombo (knee) is doubtful.