ATLANTA – Jim Fassel had no intention of attending Super Bowl LIII until his son convinced him to travel to Georgia.
"He has to get off the couch and be in a football stadium," John Fassel said. "Come on, Pops. You can't be missing the Super Bowl sitting at home eating chips and guacamole."
Of course, John Fassel is not just a football fan urging his dad to experience the excitement of the Super Bowl for the first time. He is the inventive special teams coordinator of the Los Angeles Rams, who will face the New England Patriots Sunday in Mercedes-Benz Stadium.
And Jim Fassel knows a little bit about Super Bowls, as well. The Giants' head coach from 1997-2003, he led the team to Super Bowl XXXV against the Baltimore Ravens.
"In 2000, he was the head coach and I was on the sideline," John Fassel said. "Now the roles have reversed. I just thought he needed to be here."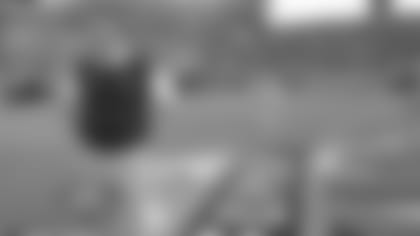 Jim Fassel would have been content to watch the game on his oversized television in his Las Vegas home, but after some prodding, he agreed to be there in person for his son.
"I like the commentary and not fighting the crowd and all that," he said. "But John said, 'Dad, I was there for you, I want you there for me.'"
John Fassel has a well-earned reputation as one of the NFL's most creative and productive special teams coordinators. He schemes all kinds of unusual punt and kickoff returns and fakes on placekicks and punts. Indeed, it was a 12-yard pass from punter Johnny Hekker to cornerback Sam Shields that jump-started the Rams' comeback in the NFC Championship Game in New Orleans. Los Angeles trailed, 13-0, but that play led to a field goal and the Rams went on to win in overtime, 26-23.
"When he was 15-years-old, he was talking about fake punts and this and that and I was like, 'Okay, that's fine,'" Jim Fassel said. "He's always had his own ideas. If the head coach says fake the punt or fake the field goal or onside kick, he's ready. He's always kind of - not out of the box, but don't be afraid. Don't be afraid to have some special teams plays."
John Fassel was the Baltimore Ravens assistant special teams coach from 2005-07, and the Oakland Raiders' coordinator from 2008-11. He joined the Rams in 2012 under coach Jeff Fisher. When Fisher was fired with three games remaining in 2016, Fassel finished the season as the interim head coach.
"John got permission from Jeff Fisher before he took the (interim) job," Jim Fassel said. "Have you ever heard of a coach do that? That's loyalty. Whenever I'm asked about John, I say I'm proud of him, number one, because of the person he is and, second, I'm really proud of him as a coach. He's managed family and football better than anybody I've ever seen in my life, including me."
When Sean McVay was hired to coach the Rams in 2017, Fassel was one of just three assistants he retained. McVay, like the other coaches Fassel has worked for, soon became accustomed to his unique special teams ideas.
"There have been times where they say, 'You are nuts,'" John Fassel said. "I go to coach McVay with a lot of ideas. He is so receptive. He'll say, 'That is great, let's practice it.' It gives you a lot of confidence to try and be creative and give the guys a lot confidence and a chance."
When Jim Fassel coached the Giants, John and younger brothers Brian and Mike were often around the team, attending practices and watching games from the sideline. A prominently displayed photo in Jim's house is of he and John embracing after the Giants upset the 13-0, defending Super Bowl champion Denver Broncos in 1998.
That's also a treasured memory for John – "I don't forget things like that" – but asked for a specific Giants recollection, he chose something a bit, um, different.
"Being in the locker room and falling asleep under one of the lockers and then getting kicked out," he said "I was told I couldn't be sleeping in the locker room. I was a little kid."
A year after the photo of the Denver post-game embrace was taken, John began his career as the wide receivers coach at Bucknell, the first of two stints at the school. He also made stops with the Amsterdam Admirals in Europe and Idaho State, before beginning a three-year run as head coach at New Mexico Highlands in 2003. He moved from there to the NFL.
"I never, ever, ever once promoted him for a job," Jim Fassel said. "Never. He's earned his way and I'm very proud of that."
The Rams have finished 11-5 and 13-3 in McVay's two seasons as head coach. The negative moments have been infrequent, but John has been able to draw on his Giants observations to help the Rams move past them.
"My dad was the head coach of the Giants when they made a Super Bowl run," he said. "They won four and then lost two. Everyone was like, 'This is the end.' You just have to ride the highs and the lows. This is our 28th week. It is a long season and there is going to be a lot of both. Just to be consistent. The mental toughness of our team (has helped them get here)."
Eighteen years later, John Fassel has his own Super Bowl opportunity to savor, just two years after he was the interim coach for a 4-12 team.
"It is crazy," he said. "It seems like an eternity ago, but really it was just 730 days ago since the end of the 2016 season. The transformation of the team and everything in the building. I have been really fortunate to be a part of the turnaround and that coach McVay kept me around."