EAST RUTHERFORD, NJ - The late practice concluded with a spirited two-minute drill pitting the first-team offense against the starting defense. The offense started at its 40-yard line with 1:12 on the clock and advanced as far as the defense's 38, where it faced a fourth-and-10 with 11 seconds to go. Eli Manning's pass for Kevin Boss was intercepted by Antrel Rolle.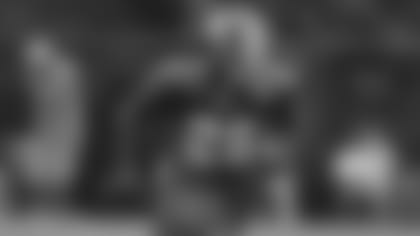 "You just have to understand that they need 10 yards to get a first down," Rolle said. "So I just pretty much sat at the sticks and waited for the tight end to break either way and I was able to make a good break on the ball."
Rolle, who joined the Giants this offseason after five seasons with the Arizona Cardinals, is enjoying his first Giants camp.
"The competition level has been tremendous and it's only going to get better," he said.
Rolle punctuated his interception by running the ball back for a touchdown and doing a little dance after scoring.
"It's all about fun," he said. "You have to have fun when you're playing such a great game."
*Defensive end Dave Tollefson was very noticeable in the practice. He would have had an easy sack on one play and would have tackled Andre Brown for a five-yard loss on the next. After the second play, William Beatty, the tackle across from him, was removed from the huddle and chided by line coach Pat Flaherty.
Tollefson would love to have made contact, but didn't want to draw his coach's wrath.
"Tom (Coughlin) loves getting on me, because I'm a little rough sometimes," Tollefson said. "I love contact. Anytime I can be part of a big hit, I love it."
Tollefson may have difficulty getting quality snaps with Justin Tuck, Mathias Kiwanuka, Osi Umenyiora and Jason Pierre-Paul ahead of him, but he's been relentless in camp.
"I'm having a blast," Tollefson said. "I love the guys I'm playing with. I want to play. I'm a football player. I'm trying to show them that I can.
"I think I've strung a few good practices together now, but it's not winning the battle – you have to win the war. I just have to keep it up and play well in the preseason games."
*Derek Hagan had another strong practice and out-jumped D.J. Johnson to make a terrific catch of a Rhett Bomar pass…Sinorice Moss had several good catches…Lawrence Tynes made all seven of his field goal attempts from 20 to 41 yards and is 15-for-15 in camp.
*Center Shaun O'Hara (ankle), safety Deon Grant (groin), wide receiver Mario Manningham (groin) and tight end Travis Beckum (hamstring) did not practice.
*Today's combined attendance was 2,445, raising the camp total to 8,205.
--- ](http://www.nyg2010.com/)**
If you'd like to submit a question or comment to Michael, click here.