PROBLEMS ON THE OFFENSIVE LINE
I think, offensively, when you're not able to get anything going on the ground, that's where it starts. Any offensive coordinator wants balance, wants to run the ball, wants short and manageable third-down situations. When you can't run the ball effectively, that's when all those other things happen.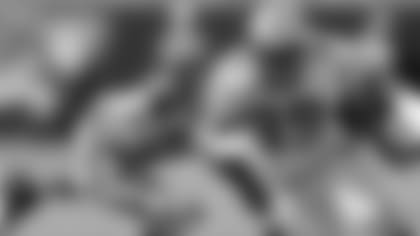 I think obviously Eli Manning is great throwing downfield. He has good perimeter weapons – Victor Cruz, Hakeem Nicks, Rueben Randle, tight end Brandon Myers -- all those guys. But I think you have to simplify some things a little bit and maybe throw some shorter routes and a lot of slants. You have seen some of those work this year. You just have to continue to go to those things because there is enough in the Kevin Gilbride artillery that will work. You just have to rep it out and do it more consistently on a game basis.
IMPROVED DEFENSE NEEDS TO TRANSLATE TO VICTORIES
I think defensively the Giants have come a lot further along than a lot of people have seen on film. Obviously 38-0 is not a good indication of that, but again, there are 10 defensive linemen on this roster. Take away quarterbacks and kicking, and that's 20 percent of the roster. So high production is expected from the defensive line. A lot of the new guys they brought in are going to continue to play well. In the secondary, guys like Prince Amukamara, Terrell Thomas, Aaron Ross, have all played well, but they've got to get some three-and-outs. They've got to get teams off the field. The offense has to help the defense by giving them rest, so that when they do come out they're a little bit more effective.
WHERE THE GIANTS GO FROM HERE
I think, unfortunately, because you're 0-3, you haven't really been able to show the good things that you can do really since that Dallas game and parts of the Broncos game. So you go back to the drawing board, you look at the matchups that you have, you have familiarity with Andy Reid and his system in Kansas City from what he did in Philadelphia, and you start to say, 'Where were we successful against his system? Where were we successful defensively? Offensively? We don't have any game tape to show ourselves doing it against the Chiefs, but we've got to just put together a string of one, two, three series in a row.' And then that will build the confidence.
SENSE OF URGENCY
I think at this point it's really not about playoffs, and it's not about what 0-3 teams have made the playoffs. It's about winning one game. They've got to win one game, build that confidence, and it's got to come from the leadership. Tom Coughlin has been here 10 years, and most of the coaching staff has been pretty much the same. But the leaders on this team have got to step up and lead by example and do whatever it takes in the locker room.
Offensive line: C-*
You can't have holding penalties. There were penalties, the pocket was shrunk, and you saw where David Wilson was just scrambling to get back to the line of scrimmage on a couple of those plays. So you've just got to play more stout up front.
* * Running backs: C+
They just didn't get a lot of opportunities. Again, it's not just on the running back. It's on everyone else as well that helps the running game.
Receivers: C
It's really attempts and targets, and you didn't see many of either. You were hoping for a play that would open the game up, but it just didn't happen.
Defensive line: C
You didn't put a lot of pressure on Cam Newton. Kiwi [Mathias Kiwanuka] played well early, and you thought, 'OK, here they come, here come the five sacks.' But it just didn't happen. [

HOW CAN THE GIANTS REBOUND? EXPERTS ANSWER](/news-and-blogs/article-1/Experts-discuss-how-Giants-can-rebound/8f62b3a0-b6dd-428c-8447-92e2f03094a5)
* * Secondary: C+
They wore down a little bit late, and I think that was a result of just being on the field. The offense was not helping the defense by getting some three-and-outs and not having them rest for part of the quarter. In some of those cases, they would have been a little bit more effective. And that touchdown to Ted Ginn, I think was just a miscommunication. Aaron Ross can't get beat inside on a single coverage. That's a big no-no.