DAVID WILSON'S INJURY LIMITED SOME OPTIONS**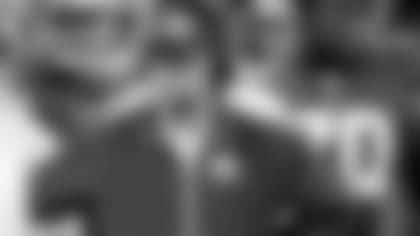 View Gameday Photos from Week 5 There just weren't opportunities with 70 snaps total and 17 rushing attempts. You really want to try to run the ball 25-30 times to give yourself true balance. There were some opportunities to be had on the Eagles secondary, and that's why they threw the ball a lot. The Eagles were the 31st passing defense in the league, but again, the balance wasn't there. When you have to throw the ball at the end, that's when you have the turnovers.
HOW TO FIX THE TURNOVER PROBLEM
I think coach Tom Coughlin alluded to the fact in the postgame interview that he felt like Eli Manning at a certain point was trying to do too much. When you're a leader, when you're the guy that can drive the bus and wear the hat, you do have to rally everyone around you. But I think there were some times where Eli Manning was trying to do too much because some of those options weren't there. I think David Wilson leaving the game did a little bit to what the approach was offensively, but you've got to find a way to execute.
MIXED DAY FOR PASSING GAME
You knew that Victor Cruz was going to be targeted -- you knew that he was going to be double-teamed all day -- so you expected Rueben Randle and Hakeem Nicks, who did have big games, to have some good looks. There may have been a fast start for the Giants had Randle caught a couple of those balls early, and it would have been a little more in the Giants favor.
TAKE SOMETHING FROM SUNDAY AND BUILD ON IT
In this part of the season, when you haven't had a win, it really comes to confidence – "What can we build confidence in? What two or three plays can you build confidence on?" And then that will give you another two or three plays and then you have some scoring drives. The Giants did score a little bit more than their 15-point game average, but they just didn't play a complete team game that would have resulted in a victory.
The bottom line is trying to get a W. There were two minutes when the Giants were ahead. So they played better than they did against Kansas City, but at the end of the day, the team still broke down. They couldn't find a way to win.
Offensive line: B*
They actually gave Eli Manning good protection overall. There were some breakdowns, like on Eli Manning's interception. That blitzer came from the slot, and that's what shrunk the pocket. Obviously you're always going to want more in the running game, but you only had 17 attempts.
Quarterback: C
Three turnovers in the fourth quarter were unfortunate. Eli Manning would have had to play a perfect game, which would have meant no drops, no mistakes.
Receivers: B-
It's not always about the production, but it's about the production in key areas.
Running backs: C
They didn't have much in the running game at all.
Linebackers/Secondary: C
They did contain Eagles running back LeSean McCoy, but in key areas, they still gave up some big plays. Same with secondary.
Defensive line: C
They got that one sack, but the Eagles offensive line almost blocked better when Nick Foles was in there because they knew he didn't have the scramble ability.
Special teams: C-
The downed punt that they missed was huge.