EAST RUTHERFORD - The Giants today released the names of the 54 players who are currently scheduled to attend the rookie minicamp to be held Friday through Sunday of this week.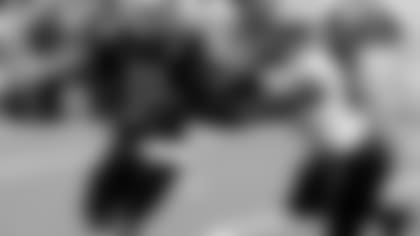 The group includes 11 players on the current 80-man roster, who are eligible based on credited seasons. They are quarterback Rhett Bomar, fullback Jerome Johnson, tight end Carson Butler, guard Rueben Riley, defensive end Tommie Hill, defensive tackle Dwayne Hendricks, linebacker Kenny Ingram, cornerback Vince Anderson, safety Sha'reff Rashad, punter Jy Bond and kicker Sam Swank.
The seven players the Giants selected in the just-completed NFL draft will be here: defensive end Jason Pierre-Paul of South Florida, defensive tackle Linval Joseph of East Carolina, safety Chad Jones of LSU, linebacker Phillip Dillard of Nebraska, guard Mitch Petrus of Arkansas, linebacker Adrian Tracy of William & Mary and punter Matt Dodge of East Carolina.
The Giants have signed 13 undrafted players who will attend the camp: quarterback Dominic Randolph of Holy Cross, tight end Jake Ballard of Ohio State, wide receivers Tim Brown of Rutgers, Duke Calhoun of Memphis and Victor Cruz of Massachusetts, offensive lineman Dennis Landolt of Penn State, center Jim Cordle of Ohio State, defensive end Ayanga Okpokowuruk of Duke, defensive tackle Nate Collins of Virginia, linebacker Lee Campbell of Minnesota, cornerbacks Seth Williams of Richmond and
Leon Wright of Duke and safety Michael Greco of Central Florida.
In addition, 23 players are scheduled to attend the camp on a tryout basis. That group includes quarterback Riley Skinner of Wake Forest, running backs Deshawn Wynn of Florida, Tony Hunt of Penn State and Andre Dixon of Connecticut, runningback/fullback Brian Toal of Boston College, fullback Anthony Cotrone of Maine, tight end Mitch Ryan of San Diego, tight end/long snapper Jon Loyte of Boston College, wide receivers Lance Leggett of Miami and D.J. McAuley of William & Mary, centers Robby Felix of UTEP and Nick Richmond of Delaware State, tackles Kyle Webber of Gardner-Webb and Ben Benshoof of Wingate, guard Chris Poole of Holy Cross, defensive end Brandon Crawford of Ball State, defensive tackles Abe Koroma of Western Illinois and Santonio Thomas of Miami, linebacker Micah Johnson of Kentucky, cornerbacks Wondy Pierre-Louis of Florida and Ben Hannula of San Diego, safety John Busing of Miami (Ohio) and long snapper Ryan Neill of Rutgers.