Few players in Giants history could run as well as Ron Johnson.
After a rookie year spent with the Cleveland Browns, Johnson was traded to the Giants prior to the 1970 season. That year he rushed for 1,027 yards to become the first Giant in history with more than 1,000 yards in a season. In 1972, he ran for a career-high 1,182 yards. Not coincidentally, those were the only two winning seasons the Giants had between 1964 and 1980.
Johnson retired following the 1975 season. Thirty-seven years later, he is still sixth on the franchise's career rushing list with 3,836 yards.
After leaving the NFL, Johnson started a successful food service company, Rackson. In 1992, he was inducted into the College Football Hall of Fame (Johnson starred at the University of Michigan, where his 347 yards against Wisconsin in 1968 is still the school's single-game record). Johnson was named the chairman of the National Football Foundation and College Hall of Fame in 2006, when he became the organization's fifth chairman in 59 years.
Sadly, Johnson can run no more. In 2008, he was diagnosed with early-onset Alzheimer's disease. He stopped working the following year and in 2011, as his condition continued to deteriorate, he was moved into a long-term care facility. Johnson, who turned 65 on October 17, is still there, lovingly cared for not only by the staff but by his wife Karen; son Christopher, 30; and daughter Allison, 29.
"Unfortunately it's just been a progression," Chris Johnson said. "My dad is with a full- time care home now with some great folks making sure he's getting the best treatment he can get 24/7. That gives the family the time to visit him on better terms as opposed to some of the difficulties that come with disease."
Chris Johnson works at Rackson and has taken on a much larger role in the wake of Ron's illness. But his commitment to his father, and finding a cure for the terrible disease that afflicts him, runs much deeper than running a business.
He has been training hard and will run in the ING New York City Marathon on November 4 in honor of his father's lifetime dedication to helping others and his new mission to support the efforts to defeat Alzheimer's through drug discovery. Johnson has raised money through pledges and donations and is just shy of his goal of raising $50,000.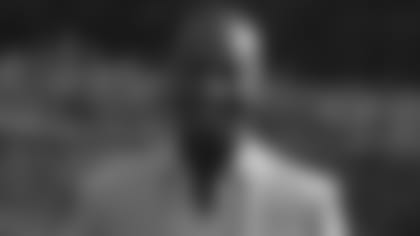 All of the money will be donated to the Alzheimer's Drug Discovery Foundation (ADDF), an organization for which Johnson has become a passionate advocate. The ADDF is solely focused on accelerating the discovery of drugs to prevent, treat and cure Alzheimer's disease and related dementias. Johnson's marathon is dedicated to supporting the ADDF and its work to save families from the hardship his family has experienced over the past five years.
"I believe very strongly in trying to eradicate the disease and just don't want to see anybody else have to go through this," Johnson said. "So where does the marathon come in? I've been volunteering with the organization and trying to spread their message and their cause, but I just felt like I really could be doing a lot more. But what can I do? I don't have unlimited resources. You'll write a check, but I'm not running around doing fundraisers. But I do have a passion for these sorts of athletic events. I said, 'Wouldn't it be great if I could run a marathon and raise some money and raise some awareness for the cause.' I've done something similar for one of my dad's old Michigan teammates. His son and I are friends. He does a bike event down in Miami with the Dolphins, so that really kind of inspired it. I was lucky enough to get an entry into the marathon. I don't want to just finish this race, I want to be competitive and do the best that I can and really try to get my friends and family involved in spreading this story."
Johnson ran cross country – 5k races – in high school, but never anything approaching a marathon's distance of 26.2 miles.
"It was very daunting when I signed up for it," Johnson said. "The training has been wonderful. I've put in some miles."
That qualifies as an understatement. He began training around July 4 and has run 35-40 miles a week, every week, since then. His longest uninterrupted run was 20 miles. When the Giants defeated the Washington Redskins last Sunday, Johnson was completing a half marathon in 1:31:56.
"He's doing pretty well," said Jeff Dengate, a Senior Editor of Runner's World magazine, who has been working with Chris. "He has been getting the hang of running long, running a little bit faster later in the run. So he's definitely getting the mileage up and figuring out that it's going to hurt."
"It's definitely a full-time job," Johnson said. "I'd be lying to you if I said that I'm not tired all the time and hungry all the time, but I feel great. I feel strong. I feel great. I'm running these distances that I never even thought my body would hold up with and now, I don't want to say it's a walk in the park, but it's certainly manageable and that's super exciting."
Two years ago, former Giant Amani Toomer ran the New York City Marathon in 4:13:45. Johnson hopes to finish with a time almost an hour faster, 3:15.
"Some of my friends are starting to tease me that I have to go for under three hours," Johnson said. "I'm about to go out and run as fast as possible and as strong as possible. You can practice as much as you want and train as much as you want, but race day is going to be very, very interesting and not having gone through this before, I'm just very anxious to see what's going to happen. So I'm officially telling people 3:30 in case I want to stop and say hi to friends. You never know what can happen. I hear it's absolutely fantastic to see all these fellow New Yorkers and New Jerseyans and Connecticuters that are on the sideline rooting for you. They have no idea who you are, but they're cheering you on. That's something I can never replicate on a training run, but I know that that's something that will absolutely inspire me on race day and I'm looking forward to it."
Johnson is able to endure the discomfort and long distances of his training regimen because in his mind, he never runs alone. His father is always close to his heart.
On the fundraising webpage he created (http://www.crowdrise.com/chrisjohnsonalzheimers), Johnson calls his dad "my best friend, my life coach, my business partner, my inspiration and, most importantly, my father. I have not met a more humble, dynamic and radiant individual in my lifetime."
Of course, that's why it hurts so much to watch his father lose a little of himself every day to Alzheimer's. Chris said Ron is not aware that his son is running the marathon in his honor and to raise money for such a worthy cause.
"I told him a few times, but just the state of the disease at this point, he doesn't know and is not aware," Chris said. "With that being said, I'm still going to take my number and my shirt and have it framed for him and write him a note that he can have. He may not know per se, but he'll have something that he can look at and read that I did do this for him but not just for him. This really goes back to what my dad would want me to do. My dad has never allowed me nor would he support me sulking or feeling badly for myself or the family. It's always been about helping other people. That's really why I'm doing this.
"It's very difficult to describe to people how scared, embarrassed we were when my dad first started getting sick. We did not know about what was going to happen to him. My dad was scared that he was getting sick. It's been a very, very, very difficult time in our lives. Hopefully one person whose family is going through this can read the story and understand that it's okay, it's difficult, but there are things in the works to eradicate this disease at some point. Listen, you're not alone with this. That is 100 percent aligned with what my dad would want me to be doing and that's exactly what I'm doing. So the fundraising is good. Those monies are going to a pre-clinical trial that will advance the development of drugs to treat this and ultimately cure it. But the real point is trying to find a vehicle to raise awareness. There are not a lot of things out there to raise awareness on Alzheimer's."
Johnson believes his long run can focus some much-needed attention on Alzheimer's, which is a form of dementia that gets worse over time. It afflicts an estimated 5.4 million Americans.
"My dad is a former football star, but it's in our family," Chris said. "My grandmother had it. My uncle had some form of it. There are a lot of other regular folks out there that are scared as heck that their loved ones are going through this. What I'm trying to accomplish with this marathon is just trying to touch as many people as possible and spread the word that you're not alone and trying to get the conversation out to the forefront as much as possible."
![](http://www.pjtra.com/t/R0BKSkZKQ0BLRkVESEBISEtERw)