EAST RUTHERFORD - Kenny Phillips enjoyed a feeling of liberation recently, when the Giants medical staff gave him the go-ahead to begin running.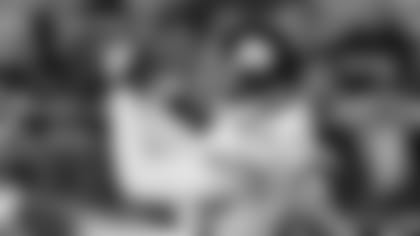 "It was great," Phillips said today. "I was excited. For seven months I couldn't run. It was tough just walking around. It felt really good to get out there and run again. No pain, no nothing. I feel like I'm a hundred percent."
Because they appear to be intertwined, nothing in the Giants' offseason has been as scrutinized as Phillips' condition and the team's personnel decisions at safety, his position.
Phillips seemed headed for a splendid sophomore NFL season in 2009 before it abruptly ended after two games. The Giants' first-round draft choice in 2008 was diagnosed with patella femoral arthritis in his left knee. He underwent surgery and was placed on injured reserve.
Phillips began working out soon after the operation. But he wasn't given permission to run until about three weeks ago.
"I'm pretty much full-go in the offseason program," Phillips said. "I'm running and everything. Not cutting yet, but everything else.
"I've been feeling pretty good. Two or three months after the surgery, I still felt good because I never had pain. Even during the season when I was injured I felt no pain. I felt like I didn't lose anything. I was just ready."
Phillips is confident he will be on the field when the Giants open their season on Sept. 12. Since he last played – and intercepted two passes – at Dallas on Sept. 20, the Giants have significantly upgraded the safety position. They signed Pro Bowler Antrel Rolle, the former Arizona Cardinal, and Deon Grant, who played last season in Seattle and whose 144 consecutive starts is the NFL's fifth-longest active streak.
The Giants hope Phillips, Rolle and Grant form one of the league's best safety trios. But some skeptics viewed the signings of Rolle and Grant as indications the Giants lack confidence in Phillips' ability to return as a top safety. Phillips believes he will pick up where he left off and he's happy to have two new teammates at his position.
"I understand it's a business," Phillips said. "The way our safeties played last year, it's only right that we bring in some guys. To bring in a guy like Deon Grant, he's an 11-year veteran. I'm looking forward to learning from him. I look at is as an opportunity."
General manager Jerry Reese, speaking today at his annual pre-draft news conference, wasn't asked specifically about Phillips, but spoke generally about the players who have had surgery, a group that includes Brandon Jacobs, Ahmad Bradshaw and Justin Tuck.
"I feel good about everybody that was injured last year," Reese said. "I feel like we'll have everybody ready for training camp. We may have some one-a-day guys in training camp, like always. But as of right now, our doctors and trainers are telling me we're going to have a strong, healthy roster for training camp. That's exciting for me to hear that."
Phillips hopes to progress enough to participate in the Giants' veteran minicamp in June but won't rebel if the trainers veto the idea.
"We're not in a rush," he said. "(I'm making) great progress. Who knows? When that time comes, we'll see."
"That's a goal of mine," Phillips said. "I feel I should be able to go by then. If not, we'll just keep working until I get there."
*Are this year's linebackers like last year's wide receivers?
A year ago, an unproven group of wideouts was perceived by many as the weakest position group on the team. Then the Giants drafted Hakeem Nicks on the first round, and Steve Smith (franchise-record 107 catches) and Mario Manningham blossomed and the receivers were among the strongest units in 2009.
As the Giants prepare for next week's NFL Draft, the linebackers are fraught with uncertainty. Two starters – team leader Antonio Pierce and Danny Clark – are no longer with the team. That doesn't mean the Giants will take a backer with the 15th pick in the first round. But like the receivers last year, young veterans have a chance to step up and show what they can do.
"I think there are some linebackers on our team that need to prove that they can do it," Reese said. "Just like last year, I thought there were some receivers – I do have some confidence in some guys on our roster that haven't played a lot. I want them to step out of the shadows and show us what they have. I do expect that. But that won't preclude us from continuing to look to upgrade that position."
Reese was asked who specifically he was speaking about.
"All of the guys that haven't played a lot – (Bryan) Kehl, (Gerris) Wilkinson, Jon Goff played a little bit at the end of the season – those kind of guys. I expect those guys – this is their opportunity to step out of the shadows and show us what they can do.
"(Clint) Sintim hasn't played a lot.  He is a second round pick.  You expect those guys to come in and play. … We expect him to play and come in and show us what he can do.  When you are picked in the second round up here we expect you to play. Your first three picks, you always expect those guys to contribute right away. And he didn't play a lot last year. He flashed a little bit in a couple of games. But we expect him to really come on along with some guys that have been here a little bit longer than him. The names that I mentioned – we expect those guys to show us what they have. Hopefully, they will do that. I think they are looking forward to a challenge."
*Eli Manning recently took a tour of the New Meadowlands Stadium and looks forward to the Giants playing their home games there this season. The Giants will play there for the first time when they face the Jets in the opening preseason game on Aug. 16.
"I went there a few weeks ago and walked the field and the locker room and saw the basic layout," Manning said. "Not everything was finished, but it's exciting. When you walk in there it gets you excited for the start of the season. To play that opening game in there will be a great moment. Coach (Tom) Coughlin said we might be able to get a practice in there in May or June. So that will be good, to get a feel for it and get your bearings about where everything is, so when you play that first game you have a little bit of an advantage because you've been there before."
*Some of the veteran players said they will keep tabs on the draft.
"It's one of those things where nobody makes plans to sit down and watch the draft," center Shaun O'Hara said. "I enjoy seeing the highlights and watching some of the guys in their college careers.
"As a veteran I've always said it's a great draft if they don't draft anyone at your position. And if they do, how high did he go? We're looking forward to bringing in some new members to this team and creating a new identity for this upcoming season."