EAST RUTHERFORD, NJ - No one can accuse the Giants of backing down from a challenge.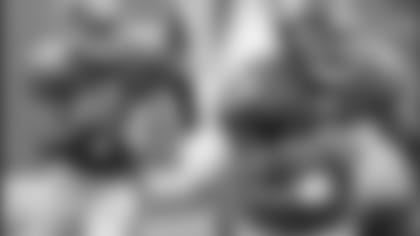 The Giants have many objectives as they prepare for their home game Sunday night against the 3-0 Chicago Bears, but improving their rushing attack just might be at the top of the list. Through three games, the Giants are averaging 115.0 yards on the ground. That almost exactly matches their season-long average in 2009 of 114.8 yards, a figure that left them 17th in the league and prompted an offseason vow to improve the rushing attack.
Thus far, the results haven't been what the Giants hoped. That is due in part to not having a lead in either of their last two games, both losses, which makes it all but impossible to establish a consistent presence on the ground.
"We play from behind and that takes the running game away a lot," said running back Ahmad Bradshaw, who leads the Giants and is sixth in the NFL with 253 rushing yards.
The Giants insist they will get their rushing attack cranked up and that a perfect time would be their upcoming game against the NFC's only undefeated team.
"We haven't got the running game going yet, but we're dealing with a lot," said running back Brandon Jacobs. "We've got a lot of stuff going on. We're still trying to figure out ourselves, and like I said, we've been here before. This is no place we haven't been. So if we come out fighting and turn this thing around, we're going to be all right."
"We want to eat up the clock with running the ball," Bradshaw said. "That's the plan going into every game. We want to show each team that we're physical, and we just have to outplay them running the ball and throwing it over their heads."
This week's NFL statistics show why the Giants face a daunting challenge turning their expectations into reality. Chicago has the NFL's top-ranked rushing defense. While the Giants have averaged 115 yards a game, the Bears have allowed 119 yards on the ground – total. That's only 39.7 yards a game. Opposing teams needed 56 carries to get those 119 yards, a league-low 2.1 yards per carry. Houston, which is second in the NFL in run defense – and the Giants' next opponent – has given up 54.3 yards a game on the ground, 15 yards more than the Bears.
"They're good," quarterback Eli Manning said of the Bears. "They're good against the run, and their front seven is very talented. The D-line and linebackers are fast, smart, and have been playing in this league for a while, and in the same scheme. It's always a challenge to run the ball against them. We have to try to establish something and throw the ball. They have a great pass rush, and they're talented over there, so we have to make sure we protect and mix in the run and the pass."
In Chicago's 20-17 victory over Green Bay Monday night, the Packers hardly tried to run the ball. They had just 15 rushing attempts for 63 yards while quarterback Aaron Rodgers threw 45 passes.
"Some people get discouraged really quick," Jacobs said. "Some people look at the numbers on the paper and get discouraged. And that's what turns some coaches away from certain parts of the game plan. I think Green Bay is a great running team. Of course they lost Ryan (Grant), but they have Brandon Jackson – he's back there and I think he's been doing a good job for them so far. So I don't think it was any reason to get away from it, but I don't know if they had plans on doing it from the beginning, or whatever the case was. But Chicago is very good. They have a very good defense. They play fast. They play physical, and we'll have to bring our "A" game."
To do so, the Giants will have to reduce their turnovers. They have given away the ball on 10 of their 38 possessions, a frequency that can't continue if they are to overcome their 1-2 start. That includes four lost fumbles, two each by Bradshaw and Manning. Last week, Bradshaw fumbled on the Tennessee five-yard line, a deflating third quarter turnover on a play when the Giants were poised to move within two points of the Titans.
Bradshaw was asked today if he is working on protecting the ball.
"I have been doing the same things, I work on it every week," he said. "I make changes during the week, and I'm trying to make the extra effort every play."
Coach Tom Coughlin has had success working with running backs to reduce their rate of fumbles. His most notable success was with Tiki Barber, who lost six fumbles in 2003, the year prior to Coughlin's arrival, and a total of four in the next three seasons. Not coincidentally, Barber had the three-highest single-season rushing totals in franchise history and made the Pro Bowl each season.
Coughlin stressed to Barber that he needed to carry the ball high and tight, an edict that was repeated daily at practice.
"You can fix it, but the individual must put himself in a position where when he is helter-skelter, which, let's face it, Bradshaw is really good at always straining for extra yards," Coughlin said. "He strains and you've got to love him for that. He fights for every yard. He makes the defense pay – he pays a great price – but he strains for every yard. Well, while you're doing that, you do have to take care of the ball and sometimes when he's maneuvering, he gets the ball off of his side and the one that was there (Sunday) was supposed to be an outside play, it got turned back in, or at least he turned it back in. You get turned back inside and there are a lot of people in there looking for the ball and that's kind of what happened. Yes, you can (fix the problem), but you have an awful lot of…under the pressure of performance you have to apply the technique that I'm talking about and that's not easy."
Nor will rushing the ball against the Bears' rugged front seven. But the Giants are determined to do it.
"That's always the goal and we always try and do that," Manning said. "If it doesn't happen, it's not the end of the world. I think we have to play consistent throughout and it's tough. Chicago hasn't given up many points all year, and you have to know that a lot of the games come down the wire, to the fourth quarter, and we have to win the fourth quarter."
*Mario Manningham, the Giants' second-leading receiver, did not practice today because of a concussion he suffered Sunday in the loss to the Tennessee Titans.
"Late Sunday night he contacted people in the training room," Coach Tom Coughlin said. "He really appeared to be fine Monday when we saw him. We didn't expect there would be any slowdown today in practice – there was. So hopefully we can do the test again and see how it comes out. We're a little bit surprised that there's an issue here."
Manningham has 14 receptions for a team-high 238 yards and one touchdown, a 54-yarder at Indianapolis.
In Manningham's absence, rookie Victor Cruz will be the third receiver in practice. Ramses Barden will also get more work.
Center Shaun O'Hara, who missed the Titans game because of his ongoing ankle/Achilles issues, remains sidelined and Coughlin is uncertain when he will return.
"I was hoping initially that it was a two-week period, but I'm not sure now what it is," Coughlin said.
Linebacker Keith Bulluck (toe) and defensive tackle Rocky Bernard (back) also did not practice today.
"Hopefully, we'll get them both tomorrow," Coughlin said.
Kickoff and punt returner Darius Reynaud missed practice because of illness.
Linebacker Chase Blackburn, who missed the last two games with a knee injury, worked fully and said he will play Sunday. Rookie linebacker Phillip Dillard, who has yet to play this season because of a hamstring injury, practiced on a limited basis.
*For the Bears, tackle Chris Williams and safety Major Wright did not work because of hamstring injuries. Guard Roberto Garza (knee), safety Chris Harris (neck) and defensive end Israel Idonije (foot) were limited.
The Bears did not practice today, and their report reflects estimated participation of on an actual practice.
*The Giants filled the opening on their practice squad by signing defensive back Michael Coe, who spent more than two months with them in the same capacity last year. He first joined the Giants' practice squad on Sept. 15, 2009 and stayed until he was signed by the Jacksonville Jaguars on Nov. 25. Coe played the last five games of the season on special teams and had one tackle. He also played eight snaps on defense against New England on Dec. 27.
Coe, 6-0, 184, was a fifth-round draft choice by the Indianapolis Colts in 2007, the 173rd overall selection. He played in six games that season as a reserve defensive back and special teamer. Coe had seven defensive tackles and five special teams stops, plus a fumble recovery. He spent the 2008 season on injured reserve after undergoing knee surgery. Coe was waived by the Colts on Sept. 4.
Coe was a two-year starter at Arkansas before transferring as a senior to Alabama State where his father, Charles, was head coach.
The practice squad position opened yesterday when Michael Johnson was placed on injured reserve and Brian Jackson was promoted to the active roster.
"I liked him when he came over here to us and showed us some ability," Coughlin said of Jackson. "(He is) a – a big kid, a big strong kid – we're going to start him at the corner position and see exactly how that goes. But I'm very interested in watching Brian."
*The game Sunday against Chicago will be Coughlin's 100th regular season game as the Giants head coach. He will become the fifth coach in franchise history to lead the team in at least 100 games. The others are Hall of Famer Steve Owen, Allie Sherman, Bill Parcells and Jim Fassel. Coughlin is 56-43 in regular season games as the Giants coach.
*The NFL and NFL Players will support October's National Breast Cancer Awareness Month with their largest on-field presence and a national screening reminder and fundraising campaign.  In collaboration with the American Cancer Society, the initiative, called "A Crucial Catch: Annual Screening Saves Lives," encourages annual mammograms for women over 40. 
Beginning with games this Sunday and continuing throughout the month, NFL Breast Cancer Awareness games will feature footballs with pink ribbon decals, on-field pink ribbon stencils, and many pink items, including cleats, wristbands, gloves, chin straps, sideline caps, pins, helmet decals, eye shield decals, captains' patches, sideline towels and quarterback towels.