EAST RUTHERFORD, NJ - The Giants know running backs.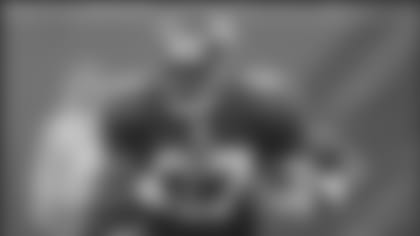 Since 2006, four different Giants backs have rushed for at least 1,000 yards. In 2010, Ahmad Bradshaw ran for 1,235 yards to join Tiki Barber, Brandon Jacobs and Derrick Ward on that list.
No other team has more than three 1,000-yard rushers in those five seasons (Tennessee with Travis Henry, LenDale White and Chris Johnson).
Of course, the Giants have a long history of running productivity. Hall of Famer Tuffy Leemans led the NFL in rushing in 1936 with 830 yards. Bill Paschal topped all runners in 1943 (his rookie season) and 1944 and Eddie Price was No. 1 with 971 yards in 1951. Since Ron Johnson became the first Giant to crack the 1,000-yard barrier with 1,027 yards in 1970, the Giants have had nine runners accomplish the feat a total of 22 times.
Bradshaw and Jacobs continued to build on that impressive legacy in 2010, when they helped the Giants finish sixth in the NFL in rushing with an average of 137.5 yards a game. Bradshaw's 1,235 rushing yards were the seventh-highest single-season total in Giants history and left him fourth in the NFC and ninth in the NFL. Jacobs added 823 yards. The Giants were one of only two teams with a pair of backs who rushed for more than 800 yards apiece. The only other team to have two 800-yard rushers was Kansas City, with Jamaal Charles and Thomas Jones.
It was just the second time the Giants had two 800-yard runners in the same season. In 2008, Jacobs rushed for 1,089 yards and Ward added 1,025.
In the Giants' 21-3 victory over Minnesota (in Detroit on Dec. 13), the Giants rushed for 213 yards, their highest total since they ran for 220 yards vs. Oakland on Oct. 11, 2009. Jacobs (116 yards on 14 carries) and Bradshaw (103 yards on 11 attempts) each rushed for more than 100 yards. It was only the second time in history the Giants had two 100-yard rushers in the same game. They previously accomplished the feat at Buffalo on Dec. 23, 2007, when the runners were Jacobs (145 yards on 24 carries) and Bradshaw (151 yards on 17 attempts).
Last season, Jacobs rushed for nine touchdowns and Bradshaw eight, the first time the Giants had two backs run for at least eight scores in the same season.
In his first season as a starter, Bradshaw led the Giants with four 100-yard games, including a Giants season-high of 133 yards in a victory over Detroit on Oct. 17. Bradshaw has seven career 100-yard games and the Giants are 7-0 in those games. In addition, his 47 receptions last year were a career high and led all Giants who didn't play wide receiver.
Bradshaw was selected the NFC Offensive Player of the Week for his performance in the Giants' 17-3 victory over Chicago on Oct. 3, when he rushed for 129 yards and a touchdown on 23 carries and caught two passes for 14 yards. His three-yard touchdown run late in the third quarter gave the Giants a 10-0 lead. The score was set up by Bradshaw's 25-yard run immediately preceding the touchdown.
Jacobs, meanwhile, was ninth in the NFC and 22nd in the NFL with his 823 rushing yards. His 5.60-yard average was tied for the second-highest among the league's top 50 rushers and was the second-highest in history among Giants backs who qualified for the NFL rushing title. Ward averaged 5.63 yards in 2008.
Jacobs is the fourth Giant with at least 500 rushing yards in four consecutive seasons, joining Joe Morris (1984-88), Rodney Hampton (1991-96) and Barber (2000-2006). He had two 100-yard games to increase his career total to 11, which ties him with Price for fourth on the Giants' career list. The Giants are 10-1 in those games. When Jacobs rushed for 103 yards (on only eight carries, a 12.9-yard average) vs. the Redskins on Dec. 5, it was his first 100-yard game since Nov. 9, 2008, when he ran for 126 yards in a victory at Philadelphia.
Jacobs' career rushing total stands at 4,278 yards, which is the fifth-best in Giants history. He is 360 yards behind No. 4 Alex Webster. He is the fifth player to rush for 4,000 yards in a Giants uniform, joining Barber, Hampton, Morris and Webster.
Jacobs' 73-yard run vs. the Vikings was by far the longest of his career. His previous long run was 44 yards vs. Seattle on Oct. 5, 2008. It was the longest run by a Giants player since Nov. 16, 2008, when Bradshaw had a 77-yard gain vs. Baltimore.
Jacobs' nine rushing touchdowns increased his career total to 49, which ties him with Hampton for second on the Giants' career list. Barber is first with 55.
When Jacobs and Bradshaw each rushed for a pair of touchdowns against Washington on Dec. 5, it was only the fourth time in their history the Giants had two players run for at least two scores in the same game, according to the Elias Sports Bureau.
| | | |
| --- | --- | --- |
| Date | Opponent | Players |
| Sept. 28, 1958 | Chicago Cardinals | Frank Gifford and Alex Webster |
| Oct. 26, 1997 | Cincinnati  | Charles Way and Tyrone Wheatley |
| Oct. 31, 2004  | Minnesota   | Tiki Barber and Mike Cloud |
| Dec. 5, 2010    | Washington   | Ahmad Bradshaw and Brandon Jacobs |
Bradshaw's per-carry average of 4.84 yards (2,558 yards on 529 carries) is the highest in Giants' history among backs with at least 500 rushing attempts. Jacobs' 4.62-yard average (4,278 yards on 926 attempts) is third.
D.J. Ware had 20 carries last season and seventh-round draft choice Da'Rel Scott is an exciting prospect.