Q: How much do you think you're ready to play this Saturday?
A: I'm hoping to play a full game if they let me. I feel like I've worked hard enough, as far as rehab, to go out and play a full game. If they let me.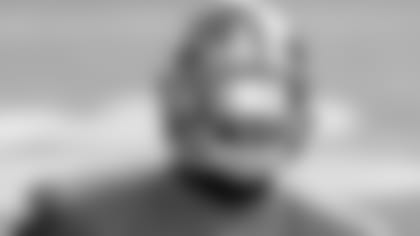 Q: The whole game?
A: Yeah, but that's what I've been working for. I had 11 months to train, and I feel like I'm prepared.
Q: Anything that you feel you need to show them to let you play more?
A: Honestly, no. I showed them everything: breaking on balls, coming up and making plays. I just have to test it out in the game, and go out there and tackle someone. I'm not going to do that at practice.
Q: Six snaps for you the other night, right? Exactly six snaps, and then they took you out?
A: Yeah, they did. I actually had someone count, and they did take me out on the sixth play. The holding didn't count.
Q: How many do you think Tom will let you have this week?
A: I don't know, maybe two times that, probably. I don't know. Not sure yet. Haven't asked.
Q: You're going to try and sell them on more, though:A: You know I am. I'm going to beg for more, no matter what they tell me.
Q: In your head, you need to go out there and make that hit, to show them you're back?
A: No, I don't want to say that's all I need. I just want to go out there and play to say I'm back, basically.
Q: How much do you need before September 12?
A: I just need the game. As long as I get a little bit of game experience, between this game and the next preseason game, I think I'll be ready.
Q: The ball that Ross came over and tried to make the play on Saturday, you think you could've come over and done something? A: I actually think I could've made that play. I really did. I couldn't see Big Ben, he was actually hiding behind the line. I saw him open up that way, so I started cheating and then I couldn't see him, and one of his linemen hit him. He actually threw it that way, so I felt good about knowing he was going to throw that way, and maybe next time I'll get it.
--- ](http://www.nyg2010.com/)**