EAST RUTHERFORD, NJ - When Darius Reynaud went to return kickoffs in practice today, he was joined by a player he didn't even know was on the roster. The Giants had signed defensive back/return specialist Will Blackmon last Thursday, when Reynaud and his teammates began their four-day bye break, but Reynaud wasn't aware until the team returned to work today.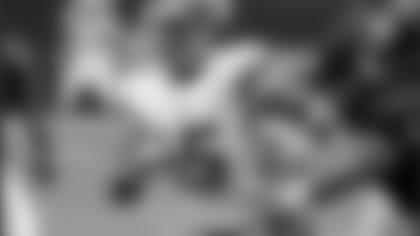 Tom Coughlin veered away from specific pronouncements, so what Blackmon's arrival means for Reynaud is uncertain as the Giants prepare for their game Sunday in Seattle and the final nine contests on their schedule.
Much less ambiguous is the fact that the Giants' return game needs to be more productive. The Giants are 31st in the NFL in both punt and kickoff returns, averaging 5.9 yards on 22 punt returns and 17.5 yards on 22 kickoff returns. Reynaud has handled them all, except for one kickoff return for zero yards by D.J. Ware.
Reynaud is clearly not happy with those numbers but is strong in his conviction that he and the return units can improve.
"I know what I'm capable of doing," said Reynaud, who, with the Minnesota Vikings, was fourth in the NFC in 2009 with a 10.3-yard punt return average. "It's never one guy, it's always the whole unit. So I'm pretty P'd off right now that things haven't gone my way, but hopefully after this bye week, we start off on a good foot."
But will it be his foot? Blackmon arrives with impressive credentials. In four seasons with the Green Bay Packers (2006-09) he averaged 21.1 yards on 66 kickoff returns and 11.0 yards on 47 punt returns and scored three touchdowns. His finest season was 2008, when he played all 16 games and averaged 21.0 yards on 55 kickoff returns and was fourth in the NFC with an 11.1-yard average on 36 punt returns, including two for touchdowns.
Blackmon has twice been named NFC Special Teams Player of the Week. In Week 14 of the 2007 season, he received the honor after returning a punt 57 yards for his first career touchdown and recovering a fumbled punt in the end zone for another score in a 38-7 rout of Oakland. He was recognized again in Week 1 of the 2008 season after scoring on a career-long 76-yard punt return vs. Minnesota.
So what, in his opinion, makes a player a good returner?
"I would just say first of all, good ball skills," Blackmon said. "You have to catch the ball first. And then after that it's just an 'it' factor, it's an instinct thing. It's really tough to explain. I think the number one thing, too, is you have to be fearless to go back there because there are guys running down just to kill you."
Although his 2009 season was cut short after three games because of a torn ACL, Blackmon said he is at full strength and ready to help the team. Blackmon also has played safety and cornerback and is immersed in learning the defense.
"If you understand football, a lot of it is similar," Blackmon said. "The only thing that's different is pretty much the language. If you're in Cover 2, you're playing Cover 2. Obviously some adjustments are different in terms of the language, but it's all relative. It's a copy cat league."
Coughlin said Bruce Johnson, the team's No. 4 cornerback had arthroscopic knee surgery, so Blackmon might get some snaps in the secondary. But his first chance to contribute could be in the return game.
"I've probably done more punts, but I feel I can be effective at both," said Blackmon, who replaced defensive end Mathias Kiwanuka (injured reserve) on the roster. "I just want to come here and contribute anyway I can. My main thing was the fact that I can get healthy and get back on the field and play football. So I'm just here following orders."
If he's ordered to be the return man against the Seahawks, Blackmon will be ready.
"There's only so much you can do in terms of return-wise," Blackmon said. "You can go left, middle, right or counter. So it's pretty basic."
Coughlin was non-committal about his plans after watching Blackmon practice for the first time.
"You can see the athleticism," Coughlin said. "You saw him run a couple of kicks back and he worked well on the scout team and we'll see.
"He's been an outstanding returner and part-timer at both safety and corner, so he's got versatility. He's still young, athletic."
Asked if Reynaud can still have a role on the team, Coughlin said, "sure."
Blackmon was complimentary toward Reynaud, whom he used to face when they both played for NFC North teams.
"I actually for the first time introduced myself to him, but I have nothing but positive things to say about him," Blackmon said. "He does the hardest job of all, that's to catch the ball. There are a lot of guys out there who can run a 4.2, who can run 4.3, they have the speed but they can't get the ball. And he's done a great job in terms of catching the ball and having security. So you can't find many guys who can do that."
Reynaud insists he is not looking over his shoulder at Blackmon.
"That's one thing I don't worry about," Reynaud said. "Like they say, what doesn't kill you makes you stronger. So bringing a guy in like that probably makes me better, probably makes him better. So we'll both probably come in and start off on a good foot on special teams on the return game. I can control only what I can control. So hope for the best, with either one of us."
The Giants have been searching for a returner who can give them better field position since June 15, when Domenik Hixon tore his ACL during a mini-camp practice. Last year, Hixon averaged 15.1 yards on 17 punt returns and 22.6 yards on 57 kickoff returns. The Giants looked at several potential replacements during training camp and in the preseason, including Aaron Ross, Mario Manningham, Victor Cruz, Andre Brown, Tim Brown and Ware. When no one emerged, the Giants engineered a trade on Sept. 3 that delivered backup quarterback Sage Rosenfels and Reynaud from Minnesota.
Reynaud has handled job one of every return man, which is to secure the ball. He has fumbled just once, on a punt return at Houston, and it didn't hurt the Giants because Chase Blackburn recovered. But his longest punt return is 20 yards and his longest kickoff return is a 31-yarder. The Giants' average starting point following an opposing kickoff is the 22.7 yard line, which ranks 30th in the league.
"Some have been on me, some have been on the whole unit," Reynaud said. "So it's never just one person that's the problem on special teams. But like I said, after this bye week hopefully we start off on the right foot going against Seattle."
"Either you have it or you don't," Blackmon said. "There are a lot of guys that just have the instinct. The bottom line is to catch the ball, and after that, it's what can you do with it."
*Coughlin said center Shaun O'Hara has a "mild mid-foot sprain." O'Hara, who was hurt in the 41-35 victory in Dallas last Monday night, did not practice today and Coughlin is not ready to say if O'Hara will be able to play in Seattle. "We'll see how that goes, Coughlin said.
O'Hara missed the Tennessee, Chicago and Houston games with injuries to the ankle and Achilles on his other leg. He was replaced in the starting lineup by Adam Koets.
*Cornerback Bruce Johnson had arthroscopic knee surgery during the bye week. Asked if Johnson will miss the rest of the season, Coughlin said, "We'll see. I'm not ready to comment on that yet."
*Tackle Will Beatty, who underwent surgery to repair a broken bone in his foot following the season opener, has begun running on the side during practice.
"Today was a good sign," Beatty said. "Today we worked on agility and footwork outside on the field for the first time. So the plan right now is to get me on the field as soon as possible, actually playing with the team. We came off the bye week, so right now I'm pushing my marks as planned. The training staff told me it's not too much, it's not too different, it's not more than they expected. I'm not doing less than expected right now. So right now it's up to (vice president of medical services) Ronnie Barnes and his staff on how long he wants me to do footwork and do drills by myself like today - foot felt fine, but you have to see tomorrow how it is because the bone is still healing. So you don't want to overdo it too fast, but each day we're just going to progress slowly and slowly until hopefully I get back on the field soon.
"We're talking a couple weeks (until he's ready to play). It's within the month of November that I'm expected to be out there on the field. So I mean it's just you've got to make you're your conditioning is right, body is right, and there was no torque since the injury. So we have to slowly get back into that."
*Like everyone else on the team, captain and fellow defensive end Justin Tuck was sorry to see Kiwanuka placed on injured reserve last week, ending his season.
"Obviously, it's tough," Tuck said. "We kind of knew it was heading that way but until it happens, you never really think about it. He's a huge talent and he's going to be missed. Again, you just have to continue doing what we've done. Somebody is going to have to step up and try to fill that void. It's a huge void, and right now we just wish him all the best in his recovery. We hope to get him back next year."
*Dallas leftover: The 35 points scored by the Cowboys were the most allowed by a Coughlin team in a victory in his 246 regular season and postseason games as an NFL head coach. The previous high was 31 points in a 36-31 victory at Philadelphia on Nov. 9, 2008.