EAST RUTHERFORD, N.J. – The Giants will face one of their most formidable challenges of the season when they host the New England Patriots on Sunday in their final game before the bye. The Patriots are 8-0, and defeated Miami and Washington in their last two games by a combined 63-17. New England's average margin of victory is 16.6 points. The Giants are 5-4 after their 32-18 victory at Tampa Bay. The Patriots lead the regular-season series, 5-4. In their last two regular-season meetings, the 15-0 Patriots defeated the Giants, 38-35, in the 2007 finale, and four years later, Eli Manning's late touchdown pass to Jake Ballard gave the Giants a 24-20 victory in Foxboro. More famously, the Giants defeated the favored Patriots in Super Bowls XLII and XLVI, 17-14 and 21-14.
The defending Super Bowl champion Patriots have won 21 of their last 23 games, including the playoffs. One of those victories was a 28-24 decision over Seattle in Super Bowl XLIX.
---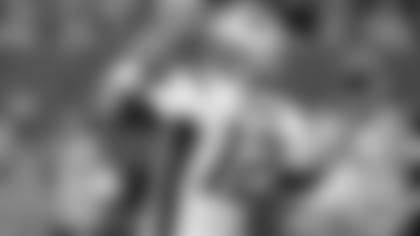 ---

NEW ENGLAND PATRIOTS OFFENSE

With Josh McDaniels calling the plays in his second tour as New England's offensive coordinator, the Patriots have the NFL's No. 1 scoring offense with an average of 34.5 points a game. They have scored points on an NFL-best 50 of their 92 drives this season. New England is second in the league in yards per game (420.3), third in passing yards (325.5) and 26th in rushing (94.8). The Patriots lead the league in first downs (25.1 a game) and third-down conversion percentage (48.5, 49 of 101).
The Patriots run a quick passing attack that is designed to get the ball into their playmakers' hands. They have 346 pass dropbacks, and 191 rushing attempts. New England frequently lines up with an empty backfield, and likes to throw screen passes to both their wide receivers and running backs. The Patriots have a league-low five giveaways and their plus-seven turnover differential is tied for second (the Giants lead the NFL at plus-12).
Breaking news: Tom Brady is one of the best quarterbacks the Giants will face this year. Brady is having an MVP-caliber season, completing almost 69 percent of his passes while throwing for 22 touchdowns and a league-low two interceptions. Brady has an NFL-best 113.5 passer rating. He has the league's quickest release, averaging 2.18 seconds to get the ball out of his hands. Brady's backup is second-year pro Jimmy Garoppolo.
The Patriots last week lost half of their 1-2 punch at running back when Dion Lewis – the team's second-leading rusher and third-leading receiver – suffered a torn ACL, ending his season. Leading rusher LaGarrette Blount (446 yards, five touchdowns) is a physical and powerful first and second-down back with good vision and patience, and the strength to grind it out and close games. James White and Brandon Bolden will assume the jobs Lewis performed. White has been a third-down back, but will likely see his role expand with Lewis out. He has receiving skills and the speed to provide a favorable matchup vs. linebackers. Bolden has some of the same attributes, and is a savvy route runner who finds defensive voids.
Julian Edelman is having the finest season of his seven-year career, with 57 catches for 639 yards, and seven touchdowns. He is on pace for 128 catches, which would be a franchise record. Edelman is tough and competitive with an explosive release. He has a bag of tricks to separate from defenders, including sharp, sudden breaks, and he catches the ball with strong hands. Danny Amendola is very similar in size, speed and skill set to Edelman. He had seven catches for 105 yards when Edelman was nursing a broken finger vs. Indianapolis. Amendola is an outstanding route runner with quick change of direction, and burst out of his breaks underneath. He has the strength to make contested catches. Brandon LaFell started the season on the physically unable to perform list with a foot injury after a career year in 2014. He had a breakout game last week vs. Washington with five catches for 102 yards. Backups Keshawn Martin and Aaron Dobson have 17 catches between them.
New England features three tight ends, including All-Pro Rob Gronkowski, a unique weapon with rare size, speed, athletic ability and receiving skills. Gronkowski has scored seven touchdowns on a team-high 693 receiving yards and 44 catches. He has gifted hands and runs well with the ball in his hands. No. 2 Scott Chandler is a huge (6-7) receiving tight end with good hands. Michael Williams, acquired in a trade with Detroit on Aug. 26, spent the 2014 season as an offensive lineman on the Lions' practice squad. The Patriots moved him back to tight end, his position at Alabama.
The Patriots have rotated players on their offensive line all season, a system that accelerated when left tackle Nate Solder suffered a season-ending torn biceps. In their first 30 offensive possessions, the Pats used nine different offensive line combinations. When Solder went down, Sebastian Vollmer moved from right to left tackle. Vollmer is a steady player with excellent body range, toughness and smarts, but he has a concussion and might miss the Giants game. The right tackle is Cameron Fleming, who has good length and quick hands. Center David Andrews is an undrafted rookie from Georgia who is the only lineman to play every snap. He plays with good competitiveness and gets in blocking position quickly after snapping the ball. Josh Kline has started four games at each guard position, including last week on the right side. He is a tough player with impressive initial quickness. The current left guard is rookie Shaq Mason, who displays natural leverage. The reserves include Bryan Stork, Marcus Cannon and Tre' Jackson; the latter two missed practice this week with injuries.
---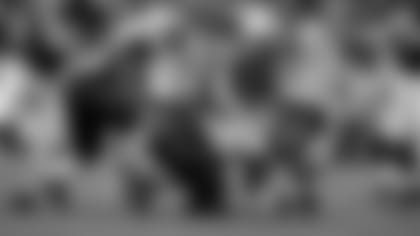 ---

NEW ENGLAND PATRIOTS DEFENSE

After replacing four defensive starters from the team that won the Super Bowl last season, the Patriots' 4-3 defense is ranked eighth in the NFL in yards allowed (334.0 a game) and fifth in points allowed (17.9). The unit is third against the run (89.3 yards per game), 16th vs. the pass (244.8).
New England has solid starters across the board that pressure the quarterback, force turnovers, limit big plays, and don't take penalties. Bill Belichick and defensive coordinator Matt Patricia seem to have a new wrinkle each week. The defense is particularly strong on first down, putting opponents – who have an average of 8.2 yards to go on second down - in a disadvantageous position.
Right end Chandler Jones leads the NFL with 9.5 sacks. He is a well-rounded run and pass player who has a bag of tricks and also produces in the run game. On the other side, Rob Ninkovich has sneaky pass rush skills and outstanding football smarts. He is quick at the snap to pressure and disrupt the quarterback. Jones and Ninkovich rarely leave the field. Tackle Alan Branch filled the departed Will Wilfork's role in the defense. He is a big man with athleticism and lateral quickness. He is strong vs. the run and has solid pass rush movement. Malcolm Brown, the Patriots' first-round draft choice this year, has come on in recent weeks, and has started the last three games. He plays with good strength and effort. Jabaal Sheard plays with natural leverage, and provides quality pass rush and rotational snaps. He plays inside in some sub packages. Dominique Easley is the Pats' best interior pass rusher. Sealver Siliga and Akiem Hicks also contribute.
Dont'a Hightower and Jamie Collins form a productive linebacker tandem that plays every snap and does multiple jobs. Hightower plays the strong side and moves well for a 265-pounder. He is an attacker in the run game and is stout at the point of attack. Collins plays the weak side and leads the team with 51 tackles (38 solo). He is long, rangy, and active and a disruptive blitzer who can also cover. Middle linebacker Jonathan Freeny has a quick forward burst and good play speed. Jerod Mayo is a veteran backup who missed most of the previous two seasons with injuries. Jon Bostic and Dane Fletcher (who could be activated off PUP this week) complete the linebacker corps.
New England lost three key defensive backs in the offseason in Darrelle Revis, Brandon Browner and Kyle Arrington. Malcolm Butler, who clinched the Super Bowl victory with his last-minute interception, has ascended to the team's top cornerback. He has exclusively followed the opposition's top receiver in some games. Butler has good change of direction and transition quickness. The other corner is Logan Ryan, who leads the team with four interceptions and is second with 43 tackles (33 solo). He is a physical player with good bump and run skills.
Rookie Justin Coleman has been elevated to the third corner, and lines up all over the field. New England has a strong and deep group of safeties. Devin McCourty, a five-time captain and defensive leader, can play in the box, on top, or in man-to-man coverage. He is an athletic playmaker with outstanding consistency. Patrick Chung, a Patriot for the second time, is a smart and instinctive down-low safety with god recognition and cover skills. Duron Harmon is a productive third safety.
---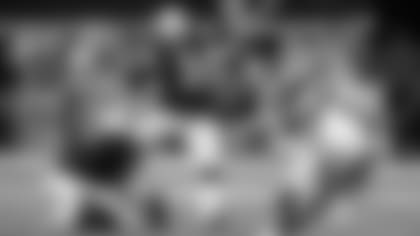 ---

NEW ENGLAND PATRIOTS SPECIAL TEAMS

Three-time Pro Bowl kicker Stephen Gostkowski has made a league-high 28 consecutive field goal attempts, including 19 this year, and leads the NFL in both points (88) and touchbacks (42). He has hit 16 of 20 (80 percent) of his career attempts from 50-plus yards. Gostkowski led the league in scoring each of the previous three years. Left-footed punter Ryan Allen has good leg strength and directional ability to his left. Amendola is the primary return specialist with a 9.3-yard punt return and 25.3 kickoff return average. Edelman is also used as a punt returner and averages 8.1 yards. Matthew Slater is arguably the NFL's best coverage specialist, the role for which he has been selected to four consecutive Pro Bowls. He has five special teams tackles this season, and 111 (regular and postseason) in his career.
Playmakers on Patriot's first-team offense, defense, and special teams, presented by Nike