EAST RUTHERFORD, N.J. – Regardless of whether they will be alive in the NFC East title chase or not, the Giants very much want to win their final two games, beginning Sunday night in Minneapolis against the Vikings.


NEWS
>
[Odell Beckham Jr. suspension upheld](http://www.giants.com/news-and-blogs/article-1/Odell-Beckham-Jr-suspsension-upheld-out-vs-Vikings/58c6fc7a-9898-471b-ba0c-d49c926f94f6)
>
[Giants vs. Vikings Storylines](http://www.giants.com/news-and-blogs/article-1/Giants-vs-Vikings-Storylines-What-to-watch-for/d1a6f4c4-edcf-4ae4-a418-7805066d0785)
>
[Linval Joseph on dangerous Vikings D](http://www.giants.com/news-and-blogs/article-1/Friend-Linval-Joseph-part-of-dangerous-Vikings-D/df64cfb8-61c1-4785-a69f-9b259686c6c5)
PHOTOS
>
[Know Your Opponent: MIN Playmakers](http://www.giants.com/photos/photos/Know-Your-Opponent-Minnesota-Vikings/3fd3a719-ac03-4ce6-9ce0-6e25edb928d1)
VIDEOS
>
[Giants Online: Vikings Preview](http://www.giants.com/videos/videos/Giants-Online-Vikings-Preview/daa396bb-c1b5-4d70-8cca-4a49aabb8f1d)

The Giants are 6-8 after their last-second 38-35 loss to Carolina. Minnesota broke a two-game losing streak and improved to 9-5 with a 38-17 victory over Chicago. The Giants trail in their regular-season series with Minnesota, 13-10, but lead the postseason series, 2-1. The teams last faced each other on Oct. 21, 2013, when the Giants ended a six-game, season-opening losing streak with a 23-7 Monday night victory.
The Giants' most recent road game vs. the Vikings wasn't played in Minnesota; it was moved to Detroit after the Metrodome roof collapsed during a snowstorm. On Dec. 13, 2010, the Giants won, 21-3, in a game that was played on a Monday night in Ford Field.
That victory ended the Giants' four-game losing streak in the series.
---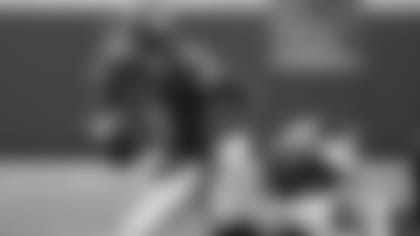 ---

MINNESOTA VIKINGS OFFENSE

Minnesota's offense is ranked 28th in the NFL with an average of 323.5 yards a game. The Vikings are fifth in rushing yardage (131.6 a game) and 31st in passing (191.9). Their 21.1 points-per-game average is, appropriately, 21st in the league.
As the statistics suggest, the Vikings run an old-school, run-first scheme that bleeds the clock and minimizes turnovers (only four teams have fewer than the Vikings' 15).
That's a good strategy to follow when you have the running back widely considered the NFL's best, as the Vikings do in Adrian Peterson. The nine-year veteran leads the league in rushing attempts (286), yards (1,314) and 100-yard games (six; Minnesota is 6-0 in those games). He has scored nine touchdowns, including an 80-yarder. Peterson, the NFC Offensive Player of the Month in November, is an explosive runner with rare jump cut ability, lateral quickness and burst. He hurt his ankle last week vs. the Bears, but is expected to play. Matt Asiata is the third-down back who occasionally spells Peterson on the early downs. A jack of all trades, he has 24 rushing attempts and 19 receptions and contributes in pass protection. Jerick McKinnon is a change-of-pace back with good running and receiving skills.
Fullback Zach Line has good blocking range and is used on goal line and short-yardage rushes, and can catch the ball.
Second-year quarterback Teddy Bridgewater has completed 66.3 percent of his passes for 2,964 yards, 13 touchdowns and eight interceptions. But he has been sacked 38 times in 14 games. In the victory over Chicago last week, he threw four touchdown passes – and only three incompletions. Bridgewater is also the Vikings' second-leading rusher with 178 yards and three scores. He has good arm strength, is effective in play-action, and completes a high percentage of his passes underneath. The backups are Shaun Hill and Taylor Heinicke.
The Vikings have a lot of speed at wide receiver. Rookie Stefon Diggs has emerged as Minnesota's biggest playmaking wideout. He is tied for the team lead with 47 receptions and is first with 693 yards. Diggs has good quickness at the snap, is a precise route runner, and strong at the reception point. Mike Wallace (36 catches) is a vertical speed receiver, with an explosive takeoff who is a dangerous run-after-the-catch threat. He can run through tacklers. The No. 3 receiver is Jarius Wright, who has quick feet and good straightline speed. Adam Thielen is an efficient route runner with quickness and strong hands. Charles Johnson has impressive straightline speed, good size, and extends away from his body to make catches. Former first-round draft choice Cordarrelle Patterson has seen his role in the offense diminish.
Minnesota uses all three of its tight ends. Kyle Rudolph, the team's co-leader with 47 catches, is Bridgewater's security blanket, the player he looks to when a play begins to break down. The 6-6, 265-pounder is a steady blocker with outstanding hands. Rhett Ellison is a throwback-type with toughness and competitiveness, and he is very smart in both the run and pass game. Ellison has soft hands, and is a good runner with the ball in his hands. MyCole Pruitt is a tight end/H-back hybrid with good receiving and blocking skills.
The offensive line has been built to clear holes for Peterson and Co. The group has impressed despite the preseason loss of right tackle Phil Loadholt to a torn Achilles tendon. Rookie T.J. Clemmings replaced him, and has displayed solid physical tools and foot speed to make all the blocks. Left tackle Matt Kalil has started every game since the Vikings selected him fourth overall in the 2012 NFL Draft. Big and thick, Kalil has good quickness to position his blocks, and has grab strength to control defenders in the run game. Former tackle Mike Harris is the right guard. The biggest attacker of the group, he is versatile and competitive. Left guard Brandon Fusco has good run and pass awareness. Center Joe Berger is a steady run and pass blocker. When Minnesota uses an extra lineman, it is usually Austin Shepherd, who has four-position versatility and natural stoutness. The other backups are Zac Kerin, Jeremiah Sirles and Nick Easton.
---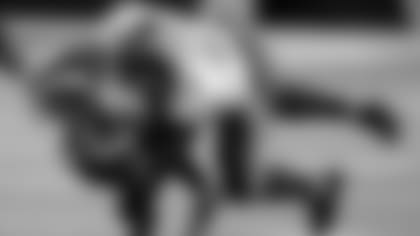 ---

MINNESOTA VIKINGS DEFENSE

Minnesota's 4-3 defense is ranked 13th in the NFL, allowing 342.4 yards a game. It is 20th vs. the run (112.9 yards per game) and seventh against the pass (229.5). With an average of 19.4 points allowed per game, Minnesota is tied for eighth in scoring defense. The Vikings have allowed their opponents to score touchdowns on just 18 of 38 trips inside the 20-yard line, a 47.4 percentage that is the league's fourth-best.
The Vikings' top player at each level of the defense has had injuries, but they hope to return this week. Defensive tackle Linval Joseph, who spent his first four seasons with the Giants, has missed the last three games with a toe injury. Strongside linebacker Anthony Barr has a broken left hand. Safety Harrison Smith has knee and hamstring issues.
Joseph has outstanding strength, is very instinctive, and is an excellent point of attack anchor. He is a steady performer in the middle of the line. The other tackle is Sharrif Floyd, who has good upfield movement, speed, balance and change of direction. He has a good first step to penetrate. Right end Everson Griffen leads the Vikings with 8.5 sacks. He has a big bag of pass rush tricks, and is extremely active. Brian Robison plays with a high motor, strength and toughness. Rookie Danielle Hunter has come on strong as a backup end. He has a burst at the line, a plan to attack the quarterback, and is effective chasing from the back side. Reserve tackle Tom Johnson has footspeed, quickness and pass rush ability. Kenrick Ellis, who was with the Giants in training camp, is a backup nose tackle with a powerful upper body. Another former Giant, Justin Trattou, is an active rusher who keeps working to get to the quarterback. Zach Moore is a versatile inside player.
The defensive leader and captain is 32-year-old weakside linebacker Chad Greenway, who is an instinctive and productive player. Barr has rare size (6-5, 255) and is a rangy athlete with easy movements and play speed. He is an explosive blitzer. Middle linebacker Eric Kendricks was the NFC Defensive Player of the Month in October, and is the team's leading tackler with 89 (68 solo), including 4.0 sacks. He shoots gaps, plays with natural leverage and has a good downhill burst. Rookie backup Edmond Robinson has good size, length, athletic ability and solid instincts against both the run and pass. Brandon Watts is quick in coverage, and Justin Trusnik is tough and competitive.
Smith is an old-school safety, a savvy playmaker who is the quarterback of the defense. The strong safety is Andrew Sendejo, who has physical run-stopping skills. Left cornerback Terence Newman is a 13-year veteran who still makes plays with his intelligence, anticipation and competitiveness. He has a team-high three interceptions. On the other side, Xavier Rhodes is big, long, strong and fast. He is often matched up with the opposition's No. 1 receiver, so it will be interesting to see where he lines up with Odell Beckham Jr. suspended for the game. The nickel back is veteran Captain Munnerlyn, who has good underneath cover skills. Rookie Trae Waynes, Robert Blanton, Anthony Harris and Josh Robinson also contribute.
---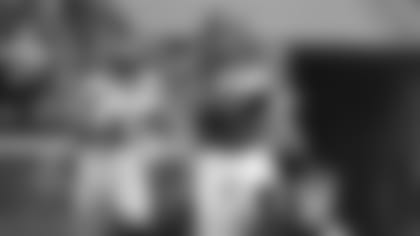 ---

MINNESOTA VIKINGS SPECIAL TEAMS

The Vikings have very good special teams. Patterson has four career kickoff return touchdowns, including two this season, 19 career runbacks of 40 or more yards, and his 31.1-yard average leads the NFL. Punt returner Marcus Sherels burned the Giants for an 86-yard touchdown in 2014. He has a 65-yard score this season and is averaging 9.5 yards per return. Kicker Blair Walsh has made 27 of 32 field goal attempts, including four of six from 50-plus yards. Jeff Locke is a left-footed punter with good hang time and the control to drop his kicks inside the 20. Minnesota has several outstanding cover specialists, including Waynes, who leads the team with 10 special teams tackles. Minnesota's punt team is second in the league, allowing an average return of only 5.0 yards.
Playmakers on the Vikings first-team offense, defense, and special teams, presented by Nike